Are you planning a new kitchen and wondering if there are any top kitchen design trends you can incorporate? Choosing the right kitchen design can be tricky, especially if you want to stay on trend. It's difficult to discern which kitchen trends are on their way out and which will truly elevate your kitchen to the next level. But not to worry! We've outlined the top five kitchen design trends for UK homes that show no signs of disappearing in 2023.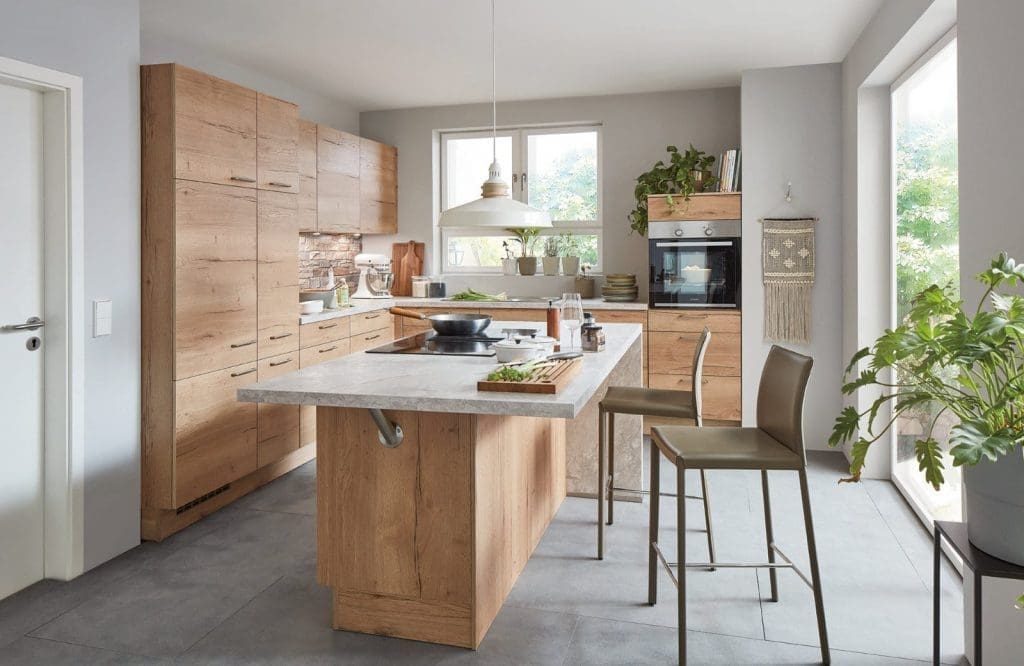 2023 Kitchen Design Trend: Eco-Friendly Kitchens
As the world becomes increasingly environmentally conscious, it's no surprise that the eco-friendly kitchen design trend is set to grow in popularity in 2023. Homeowners in the UK are beginning to incorporate environmentally friendly elements into their kitchens to lessen their carbon footprint. A key feature of this kitchen design trend is the use of sustainable materials. This includes bamboo, recycled glass or reclaimed wood, which can be used for surfaces like worktops, or as part of your cabinets and flooring. These materials not only have a lower environmental impact, but can also add character and warmth to your kitchen design!
How To Achieve an eco-friendly Kitchen
Energy-efficient kitchen appliances are an important aspect of an eco-friendly kitchen. Many new appliances on the market are designed to use less energy, which not only saves money on electricity but also reduces carbon emissions. Smart technology can also play a role in eco-friendly kitchen design, allowing homeowners to monitor and control their energy usage through apps or voice commands. The eco-friendly kitchen design trend often makes use of waste reduction and recycling strategies like composting and recycling bins. These are small changes that can easily be incorporated into your kitchen design for an overall eco-friendly space!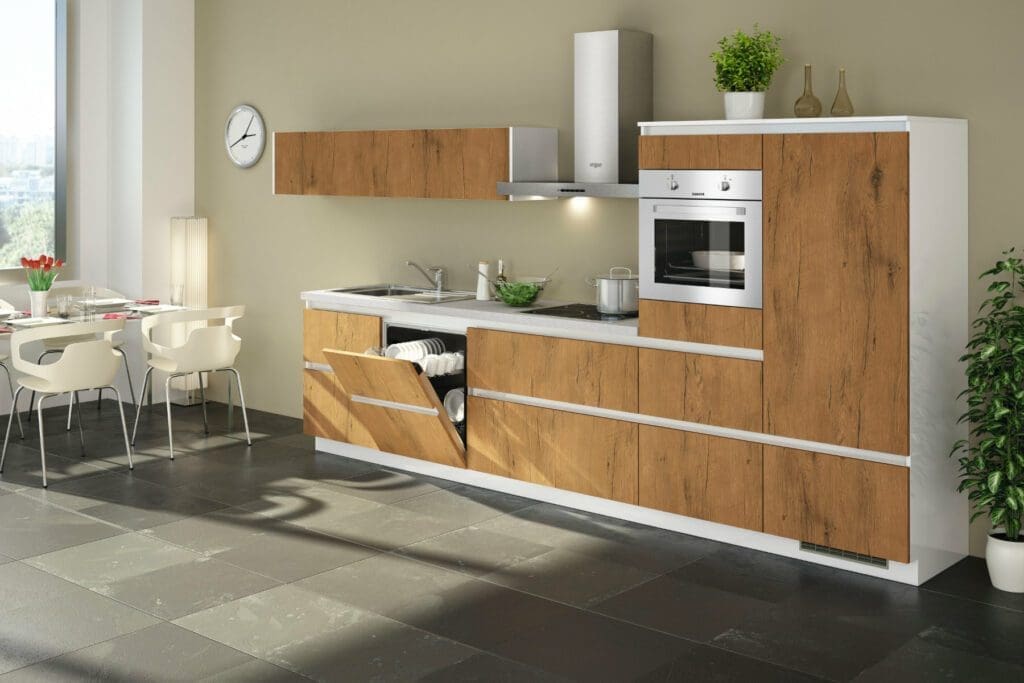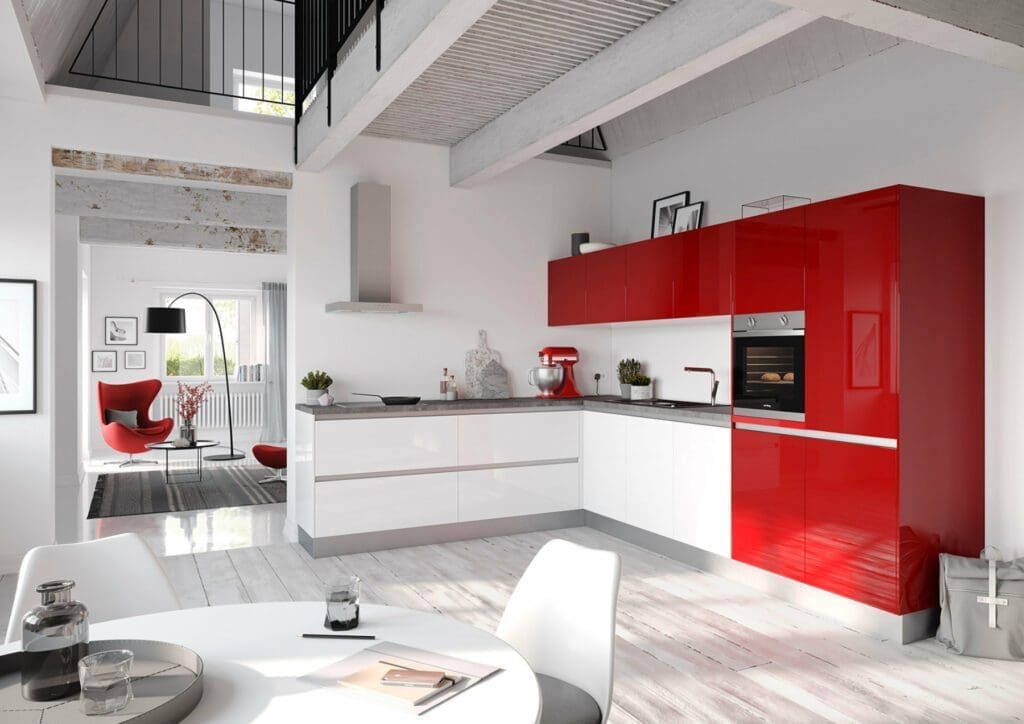 Bold Colours and Patterns Are a Popular Kitchen Design Trend
Bold colours and patterns are set to make a big statement in kitchen design in 2023. This trend is a great way to bring lots of character and playful energy to your kitchen! From vibrant blues and reds to interesting geometric patterns, pops of colour and fun patterns can help create a lively kitchen atmosphere.
One way to incorporate this 2023 kitchen design trend into your space is by adding colour to your splashback. A colourful or patterned splashback can add visual interest and depth to your kitchen design without being too overwhelming. Alternatively, you could opt for bold cabinet colours or a patterned feature wall to make a statement! Another trend that's gaining popularity in among UK homeowners is the use of patterned worktops. Whether it's a bold geometric design or a more subtle pattern, a patterned worktop can add lots of personality to your kitchen.
Open Plan Kitchens Are On the Rise in 2023
Another kitchen design trend that appears to be sticking around in 2023 is open plan spaces. Open plan kitchens have been growing in popularity in the UK over the past few years, as they're an excellent way to create a multifunctional living area that combines cooking, dining, and socialising into one space.
An open plan kitchen design allows for a more seamless flow between different living areas, which is especially useful in smaller homes or flats where there might be minimal space available. It also creates a sense of spaciousness and airiness, which can be a welcome change from the traditional closed-off kitchen design. A well-designed open plan kitchen should allow for easy movement between different areas while still having a clear separation between the kitchen and living areas.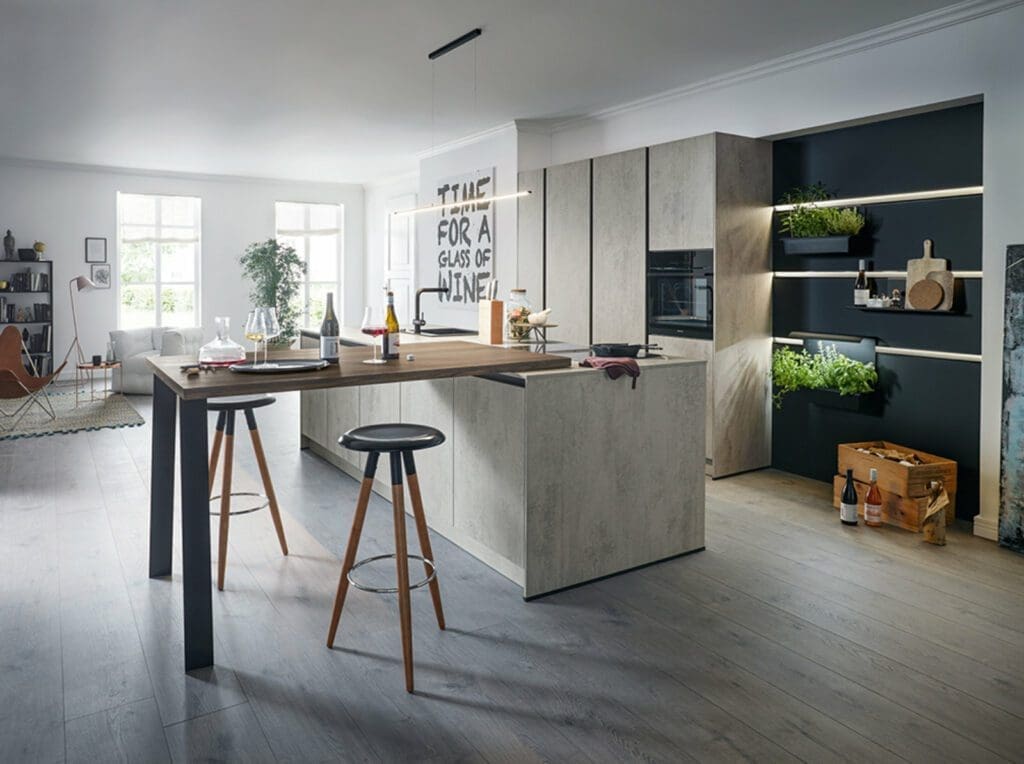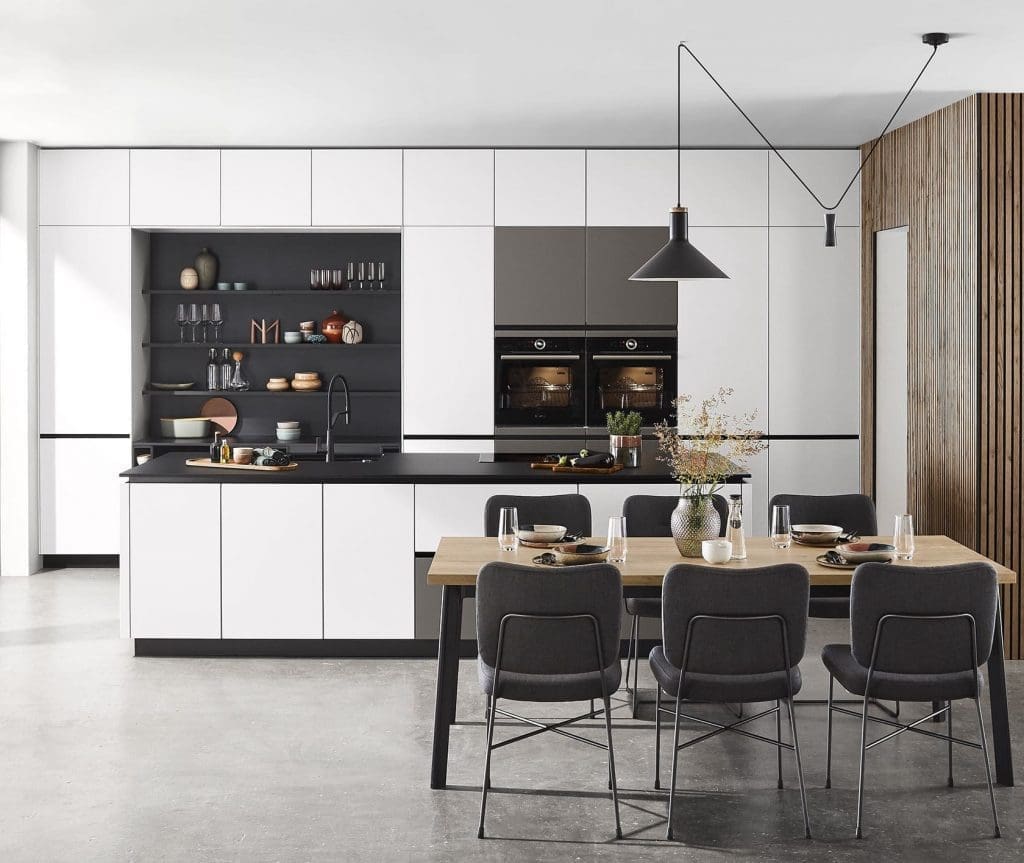 Minimalism Is a Top Kitchen Design Trend of 2023
A minimalist kitchen aesthetic is a design trend that's become favourable in recent years in light of homeowners wanting to modernise their spaces. This style of kitchen design is characterised by clean lines, simple colour schemes and a focus on functionality and practicality. One of the key benefits of a minimalist kitchen design is its ability to create a sense of calm and serenity in the home. By eliminating clutter and unnecessary details, a minimalist kitchen will help create a peaceful and relaxing atmosphere.
Another benefit of the minimalist kitchen design trend is its practicality. By focusing on functionality and simplicity, a minimalist kitchen can be highly efficient, not to mention easy to maintain. This is particularly useful if you have a busy lifestyle and are looking for a trendy kitchen that doesn't require too much time and energy. When it comes to achieving this look, cabinets and worktops should be kept simple. This means including lots of clean lines and sleek surfaces, with a focus on functionality over ornate design details.
Top Kitchen Design Trends 2023: Smart Kitchens
Smart kitchens are the future of kitchen design and are set to be a major trend in UK homes in 2023. A smart kitchen incorporates technology and automation to create a more efficient, convenient and connected kitchen experience. You'll find that most appliances from hobs and ovens to refrigerators and dishwashers are available in Smart versions. These appliances can be controlled remotely through smartphone apps or connected to Smart home systems such as Alexa or Google Home, making for convenient use and less manual input.
Another key feature of a Smart kitchen is the integration of Smart lighting and temperature control systems. These systems can be controlled remotely, allowing you to adjust lighting and temperature settings according to your specific needs and preferences. You can also incorporate advanced cooking technologies into your Smart kitchen, such as induction hobs and steam ovens, which offer precision cooking capabilities and a more efficient cooking experience.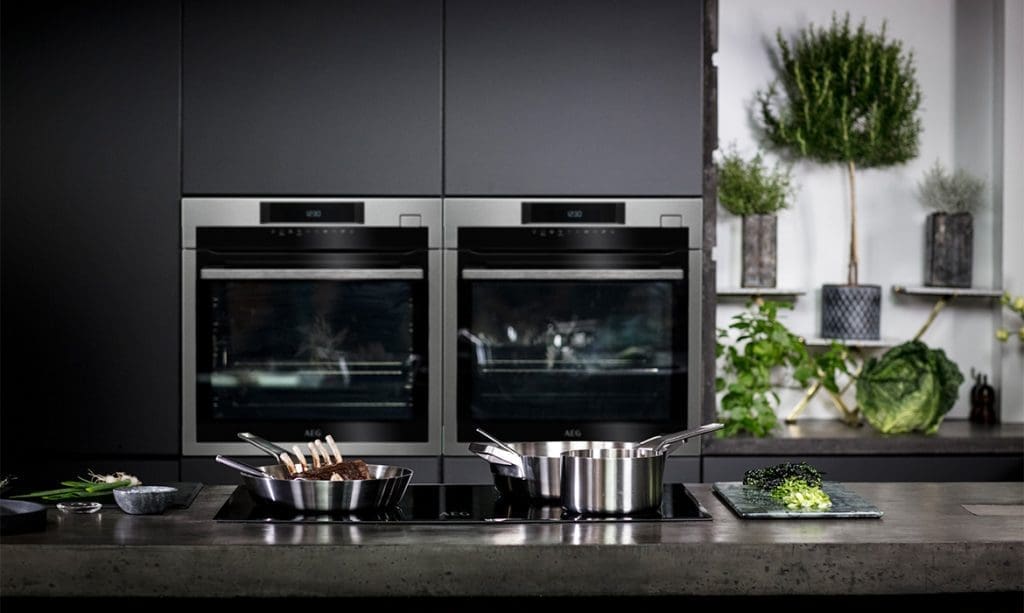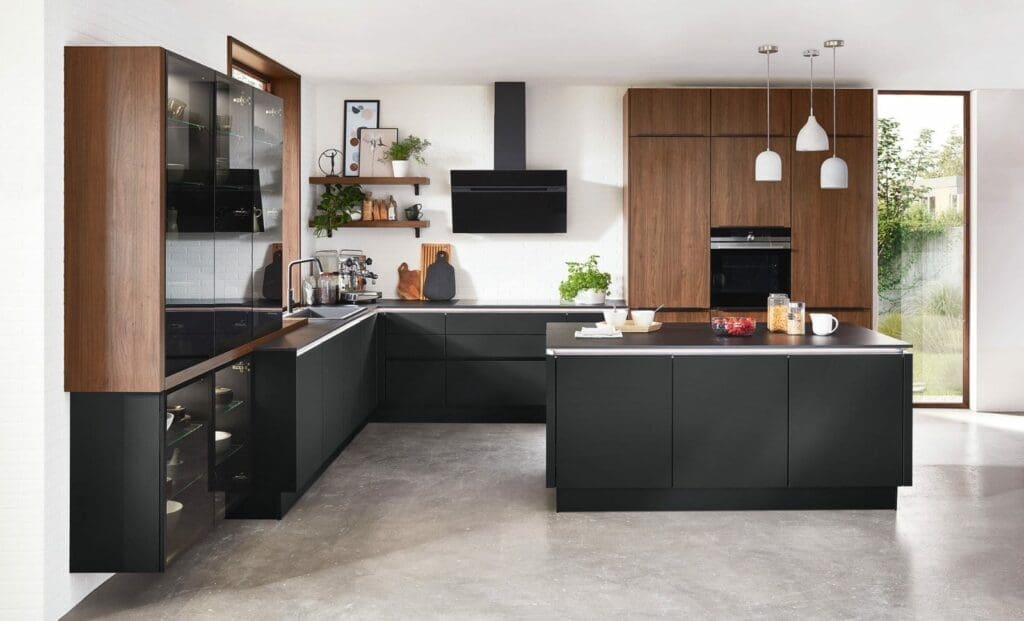 Have You Found Your Favourite Kitchen Design Trend of 2023?
Now you should have an overview of the top five kitchen design trends that are gaining popularity in UK homes in 2023. This year is seeing an increase in minimalist aesthetics, but also in the use of bold colours and patterns to make a statement. If you want to stay on trend, try incorporating eco-friendly elements and Smart appliances into your kitchen for a functional space that's sure to fit in with current styles!
For expert advice on kitchen design trends, find your local Kitchen Expert today!