Are Wood Kitchens Coming back?
Over the past decade there has been a very definite trend towards modern wood kitchen designs.  Whether it's real wood, or a wood effect kitchen door such as laminate, wood kitchens can give your kitchen a sleek and stylish look that is perfect for today's contemporary homes. In this blog post, we will discuss the top 10 reasons to choose a modern wood kitchen design!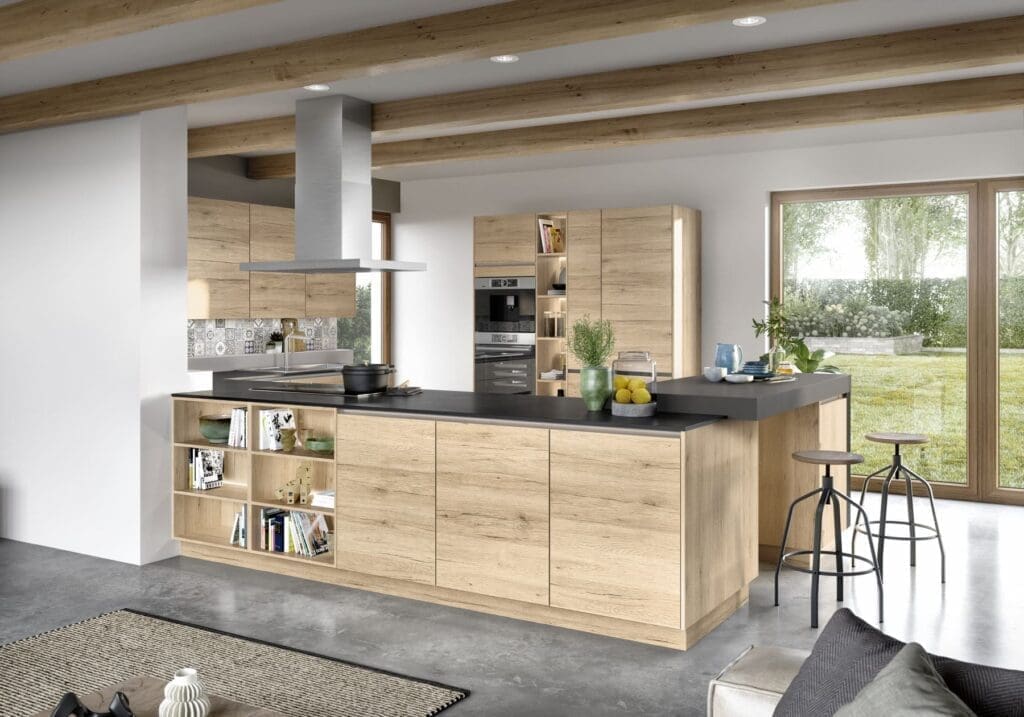 1) Modern Wood Kitchens Looks Natural
Whilst it sounds obvious, one of the great things about wood kitchen designs is that they look so natural! Real wood kitchen doors contain naturally occurring knots and blemishes which add character and definition to the overall kitchen scheme. And in wood-effect kitchen doors – typically made from good quality laminates- these natural 'faults' are often deliberately, and very well, recreated to achieve the same effect.
2) Wood Kitchens Create A Relaxed Setting
The modern kitchen is not just about cooking anymore. It's also a place where many families gather for meals and socializing, so it needs to be inviting as well. How do you achieve this? Well, one of the best ways is by using wood in your decorating schemes! Wood has a natural, rustic feel so no matter the style or colour it can add a touch of warmth, softness and elegance. This is perfect for today's modern kitchens which are required to offer a stylish yet comfortable setting for escaping the stresses of modern life. And as natural products are generally known for their healthy and enriching attributes, it follows that such positive and uplifting qualities should transcend within a kitchen environment – as well as creating an appealing kitchen look!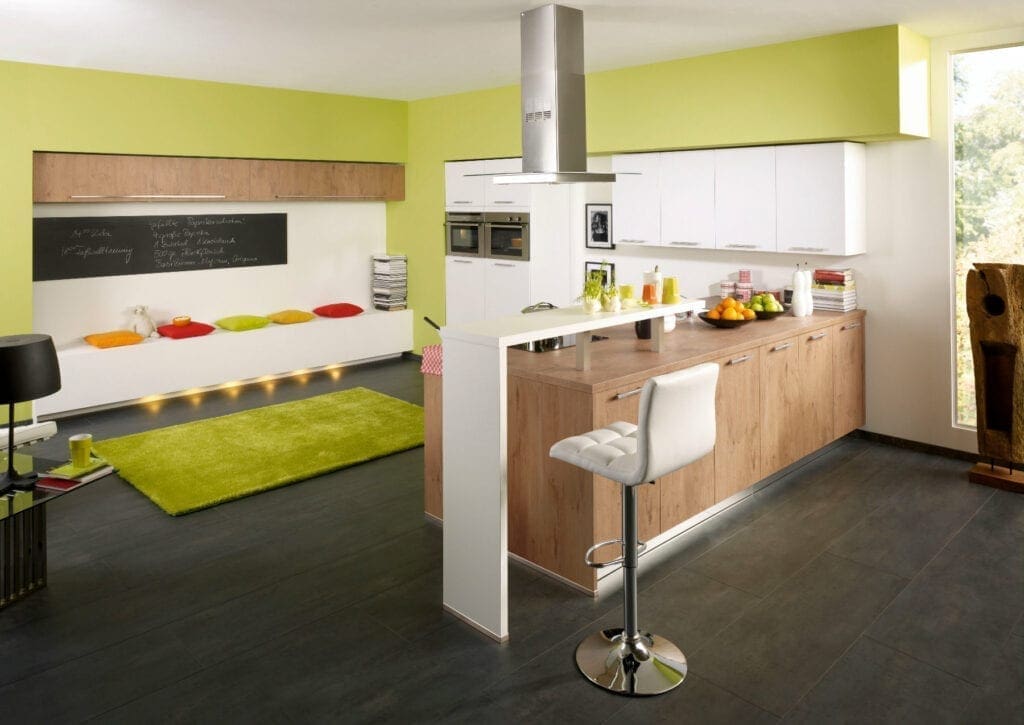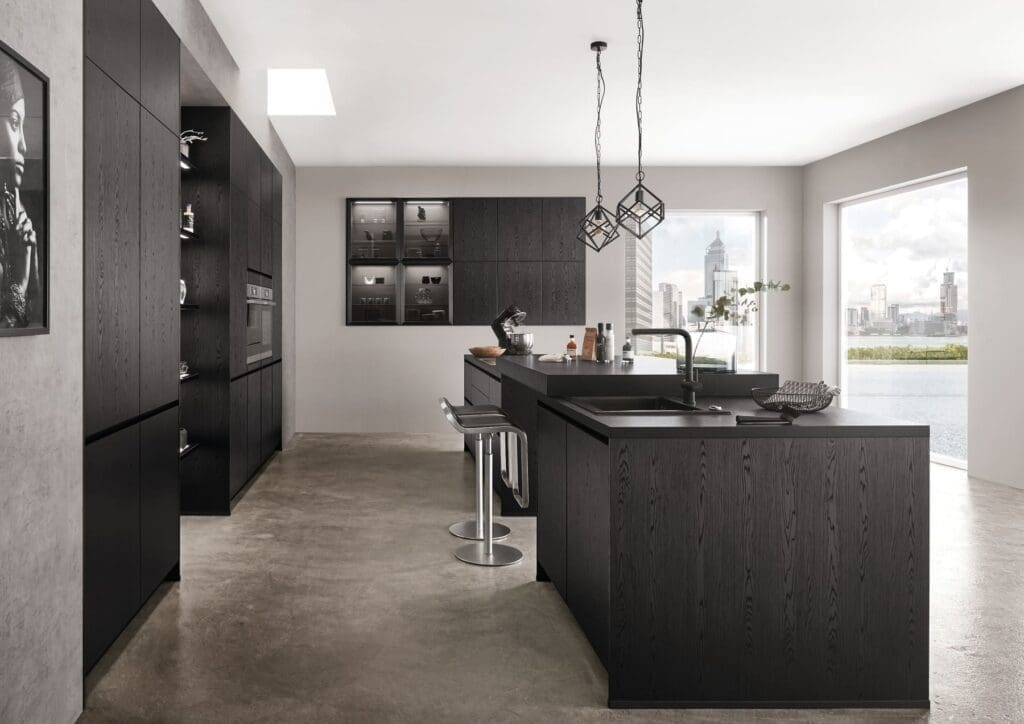 3) Modern Wood kitchen Style Choices
The general trend for modern wood kitchens has been further fuelled by the release of increasingly diverse and stylish modern wood kitchen door options. As well as real wood kitchen doors in a natural or painted finish, wood laminate kitchen doors are also available in many styles and colours; Whether warm natural oak, statement black oak kitchen doors, or finishes with a rough-cut effect, there are many appealing modern wood options to choose from. This means you are sure to find a style that perfectly suits your taste, lifestyle, and home.
4) Modern Wood Kitchens are Versatile
In recent years we have seen many more modern wood kitchen settings, with a variety of wood kitchen grains and colour stains frequently infused with contrasting kitchen finish materials. This mixing and layering of different materials achieves diverse looks and allows much room for personalisation within a kitchen design. And you don't have to worry when you use modern wood doors in your decorating scheme because wood will go with almost anything! Light with light, or dark with dark, virtually anything goes! For example, a natural modern wood kitchen veneer is a popular contrast with a smooth black matt lacquer, and beautifully finished with industrial metal accents. Alternatively, a light Oak kitchen veneer is the perfect complement for light grey gloss or matt kitchen doors. It effects a stunning two-tone modern wood kitchen design, but with a definite softness about it.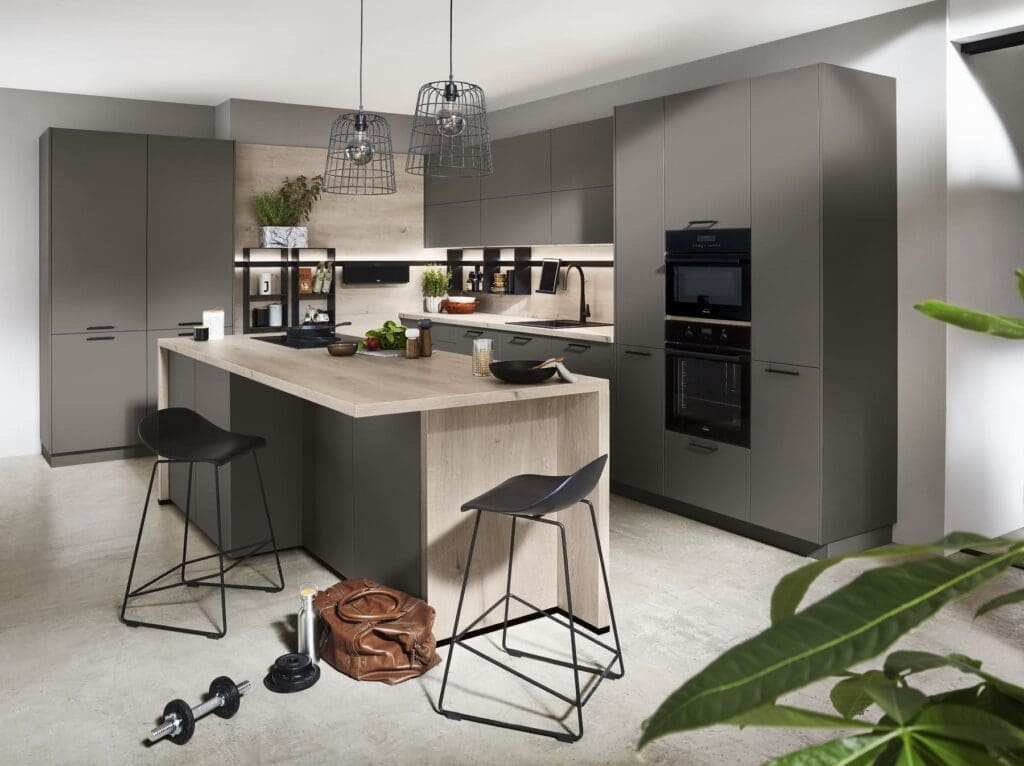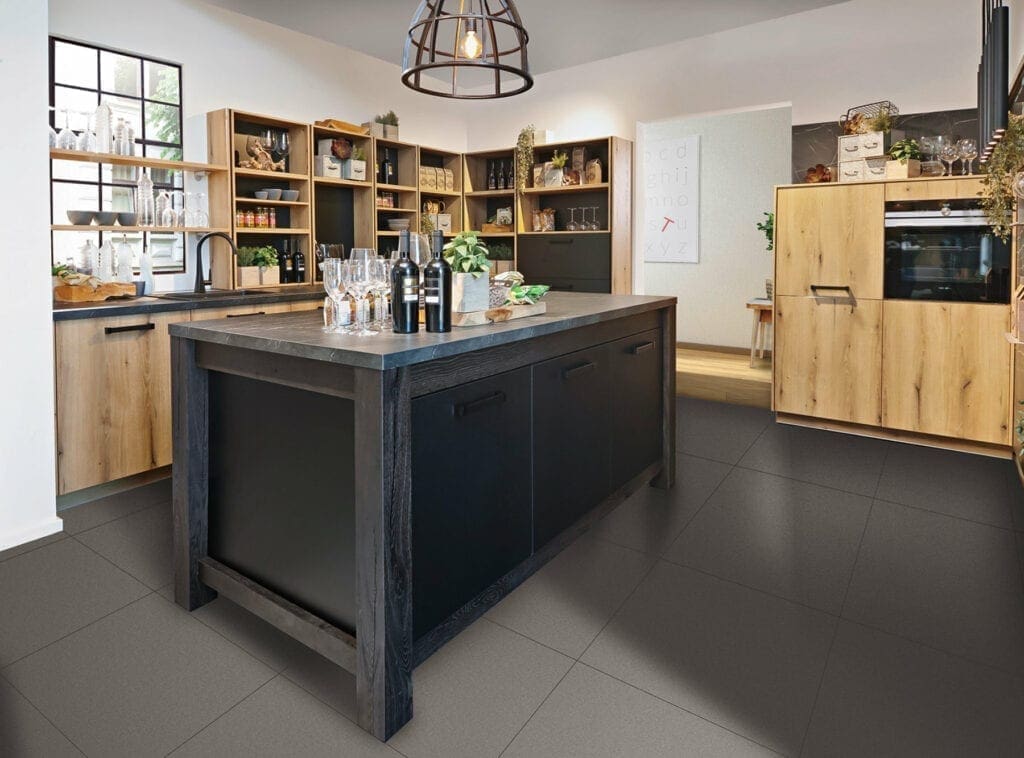 5) Timeless Modern Wood Kitchens
One of the best things about wood is that it's timeless! It doesn't matter if you want a modern or traditional look for your kitchen design, this material will always be in style. Wood has been used throughout history to create beautiful furniture and architecture so why not incorporate it into your own home?
6) Modern Wood Kitchens Are Affordable
Another great thing about wood kitchens is how affordable some are! Yes, there are many very expensive real wood finishes, but you don't have to spend a fortune to get that beautiful wood look in your kitchen. In fact, many different types of wood are very affordable and easy to work with, or alternatively many wood laminate kitchen doors are now so well made and realistic that they can be hard to tell apart from some real wood kitchen options.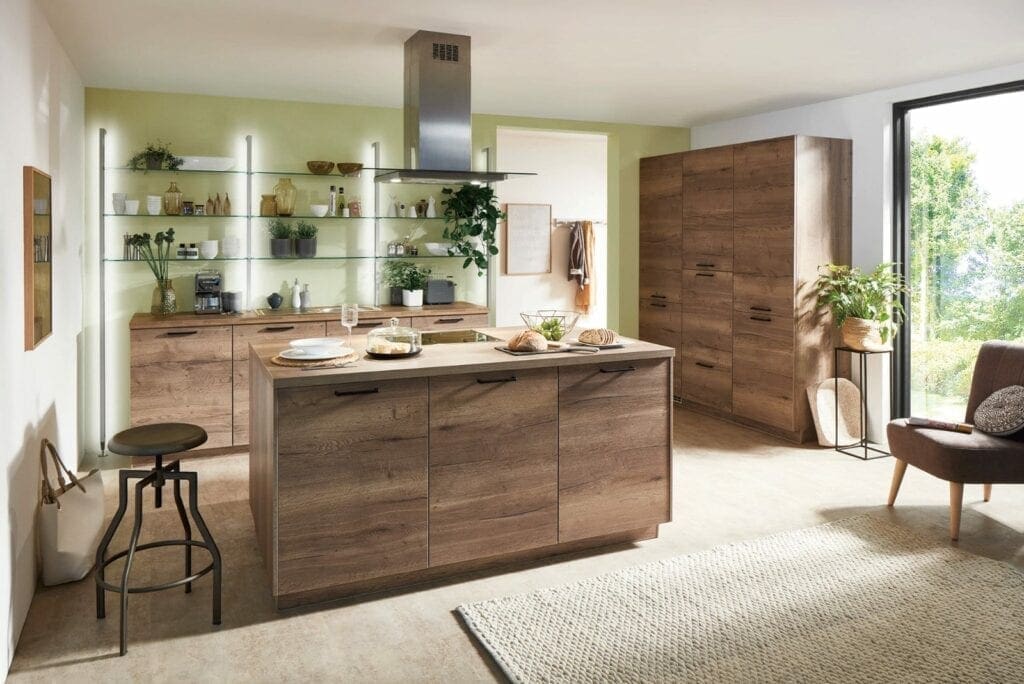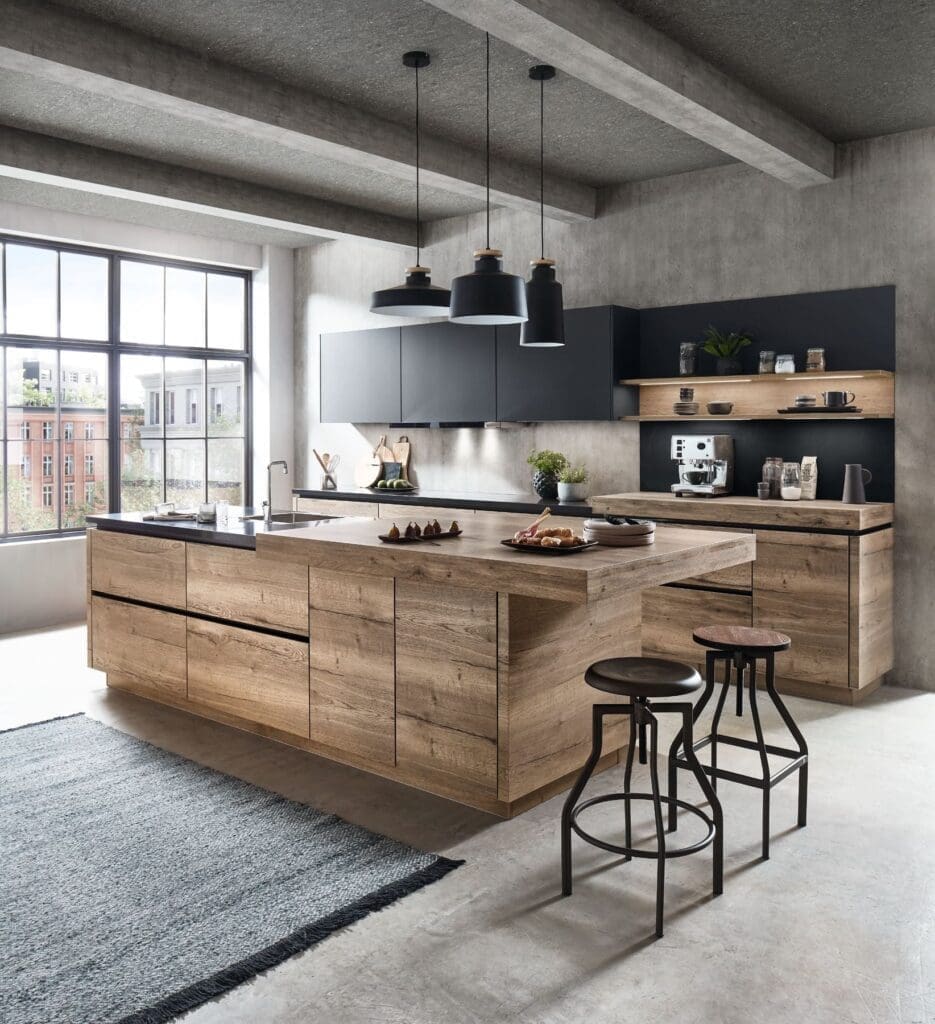 7) Wood Kitchens Are a Natural Product
One of the reasons for the modern wood kitchen trend is the enthusiasm for natural materials within kitchens, reflecting increased awareness and concern for global sustainability issues. Many modern kitchen manufacturers are focused on using sustainably sourced and organic materials as much as possible, and wood is a prime example of this, whilst limiting the use of artificial, man-made materials within kitchen builds. The widespread trend of natural forms and materials being infused within industrial post-modernist styles, creates a balanced harmony of man with nature.
8) Modern Wood Kitchens Are Easy to Clean and Maintain
Another great thing about wood kitchens is how easy they are to clean! All that's required is an e-cloth or else a damp cloth with some water. This means no more scrubbing away at grease stains or food splatters on your worktops! After all, if there's one thing everyone hates about cooking, it's the cleaning up at the end!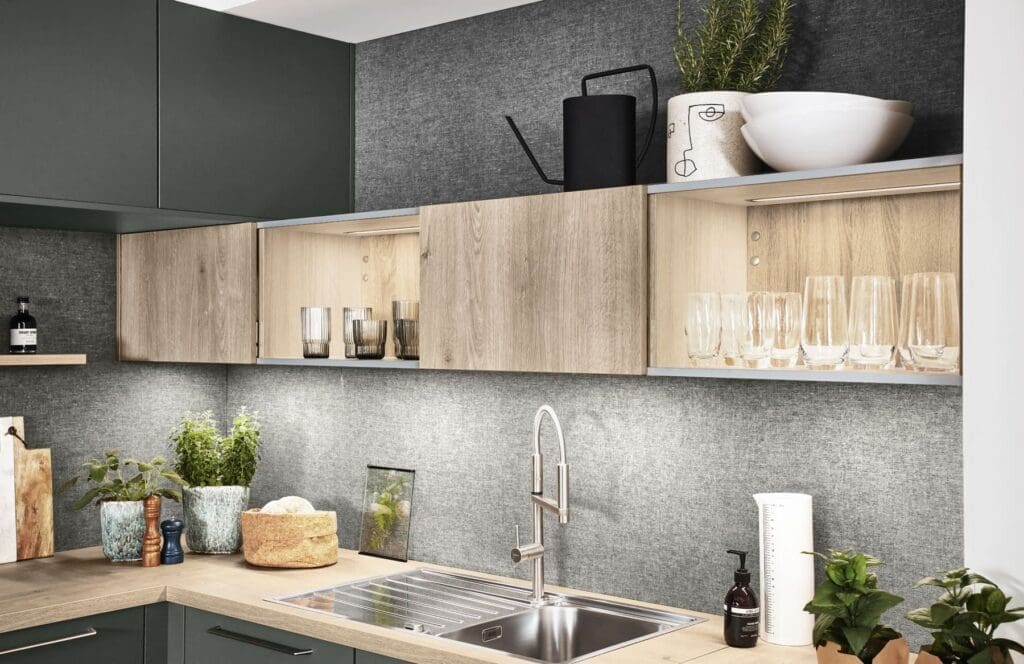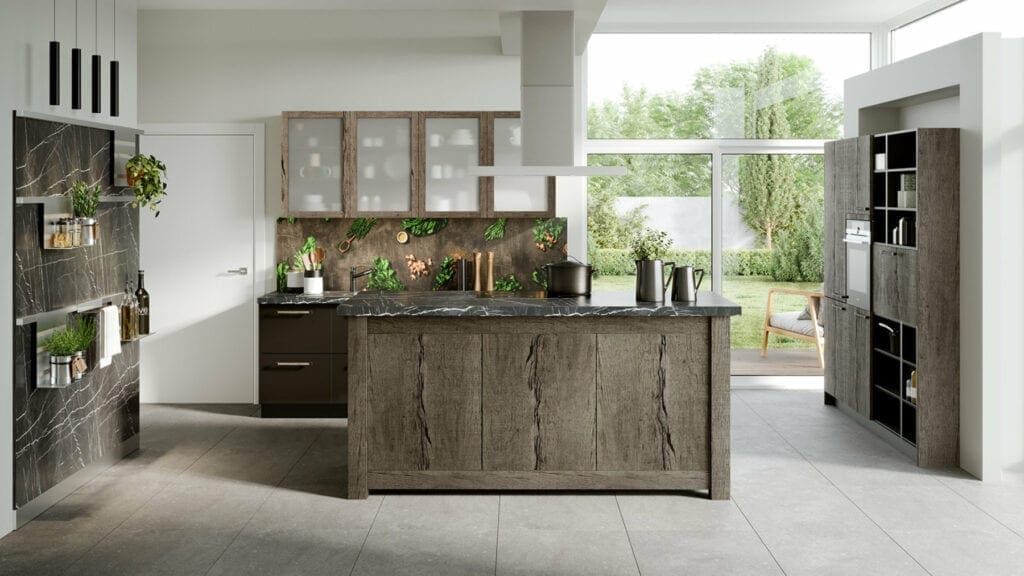 9) Durable Modern Wood Kitchens
One of the best things about wood is that it is very durable. It doesn't scratch or dent easily, so it will last for many years without any problems. Similarly, wood effect kitchens are also highly durable, having been made from high quality materials and built to withstand everyday use in the kitchen.
10) All-Wood Kitchens are Trending
Neutral kitchen trends are popular for 2022 and this includes wood kitchen tones, whether natural or painted, appealing for the soft and clean look they bring to a kitchen. But where two-tone kitchen designs are popular, increasingly homeowners want all wood kitchen designs, particularly in natural oak. The appeal of the outdoors is all wrapped up within this wood, with richly textured surfaces ensuring an all-wood kitchen look complete with heart and character. It brings an appealing energy to a kitchen within a stylish yet comfortable space.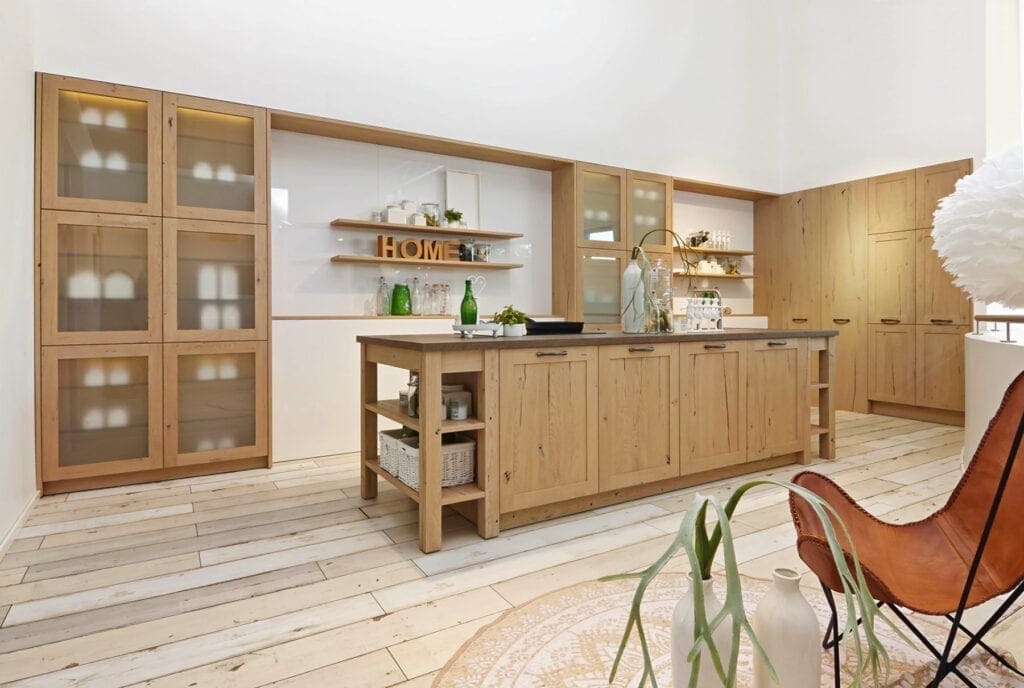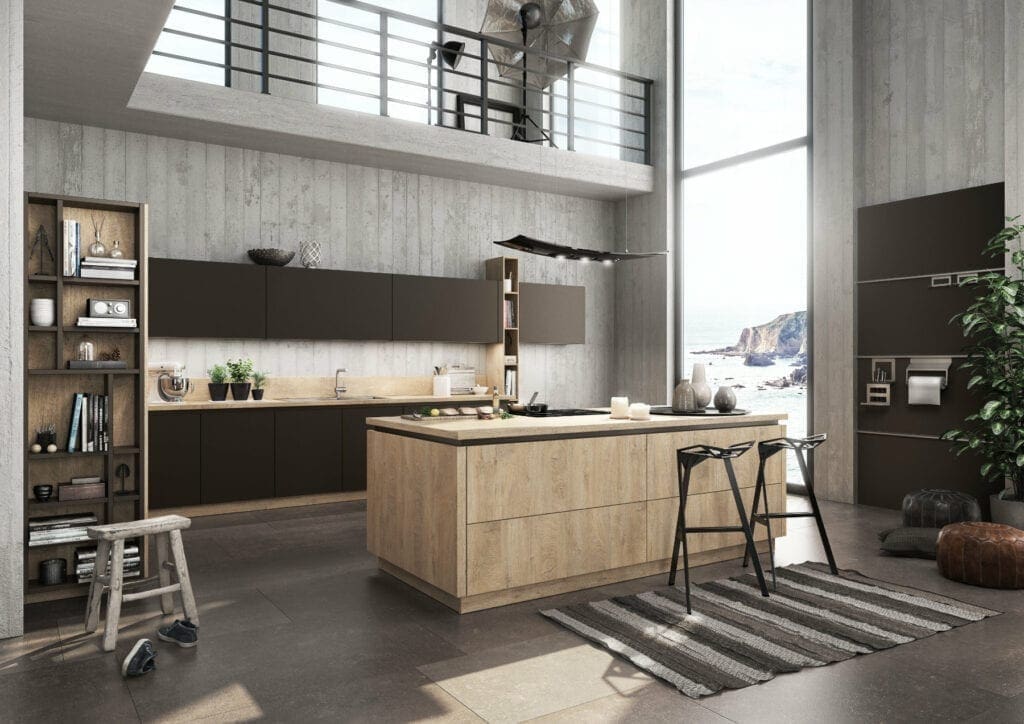 Find Your Perfect Modern Wood Kitchen
The mass appeal of modern wood kitchens and worktops is the versatility and freedom that nature's extensive palette of colour, texture and quality allows. This provides the opportunity for many unique, exciting and beautiful kitchen looks, perfectly tailored to meet the tastes and needs of every individual homeowner. To find your nearest kitchen showroom and discover your perfect modern wood kitchen finish contact the Kitchen Experts today.