Planning a family kitchen design? …You don't have to be a Kitchen Expert to know that the kitchen is the heart of the home and so needs a kitchen look and layout that reflects this. After all, the kitchen is where families gather to cook meals and eat together, it's where homework gets done and it's where birthday parties and celebrations are planned.
To accommodate such a variety of uses it is especially important to have a kitchen that's designed for ease of use and functionality; this applies for the present, but also in the future when children are older and their needs changes. With this in mind, here are 10 factors to consider when planning your family kitchen design.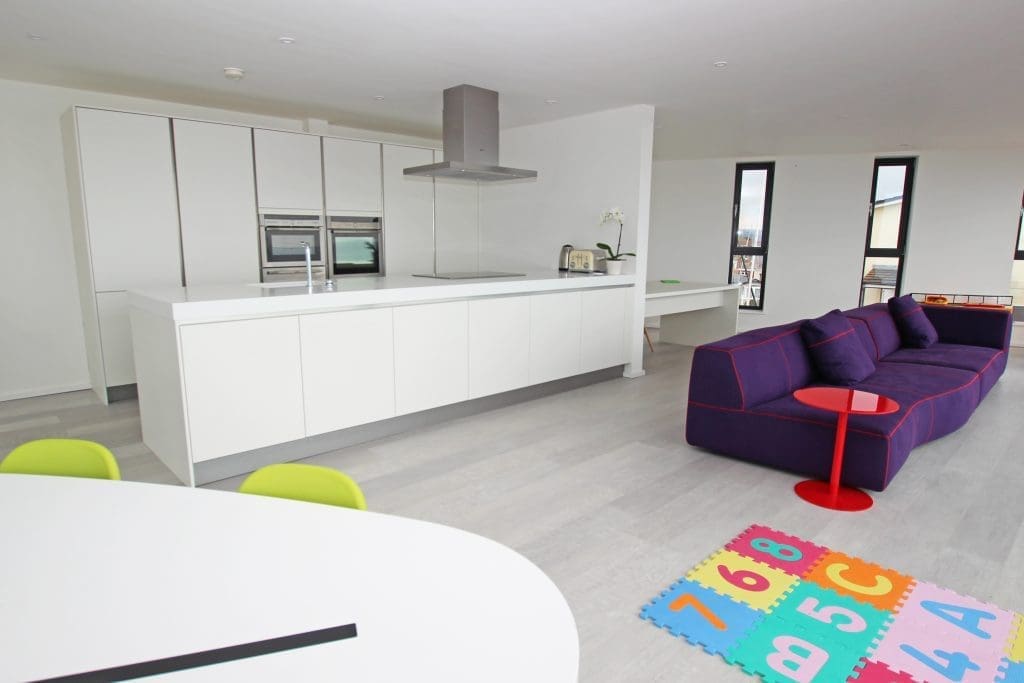 1) Family Kitchen Design Ideas: A comfortable layout
The layout of your family kitchen should be comfortable and practical. Make sure there's enough room to move around and that everything is within reach. Where possible, choose an open kitchen floor plan so rather than separate rooms for your kitchen, dining and living room, these are integrated within an adjoining space.
As well as opening up the physicality of the room, this arrangement is better for bringing your family together in a social and welcoming hub. Whilst your children are small it means you can keep an eye on them even whilst preparing meals, and as they get older you can continue to be with them, chatting and spending time together as you cook, eat, help with homework or just generally hang out in your kitchen. 
2) Family Kitchen Design Ideas: Easy to clean surfaces
With so much going on in a family kitchen, it's important to have surfaces that are easy to wipe down and keep clean. Look for materials such as matt or textured kitchen doors rather than gloss as they don't show prints, marks and smudges so easily. You can also invest in anti-fingerprint kitchen doors, specifically for this purpose.  Similarly opt for worktop choices that are easy to clean, such as Quartz, or else if budget is limited then high-quality laminates are also easy to maintain.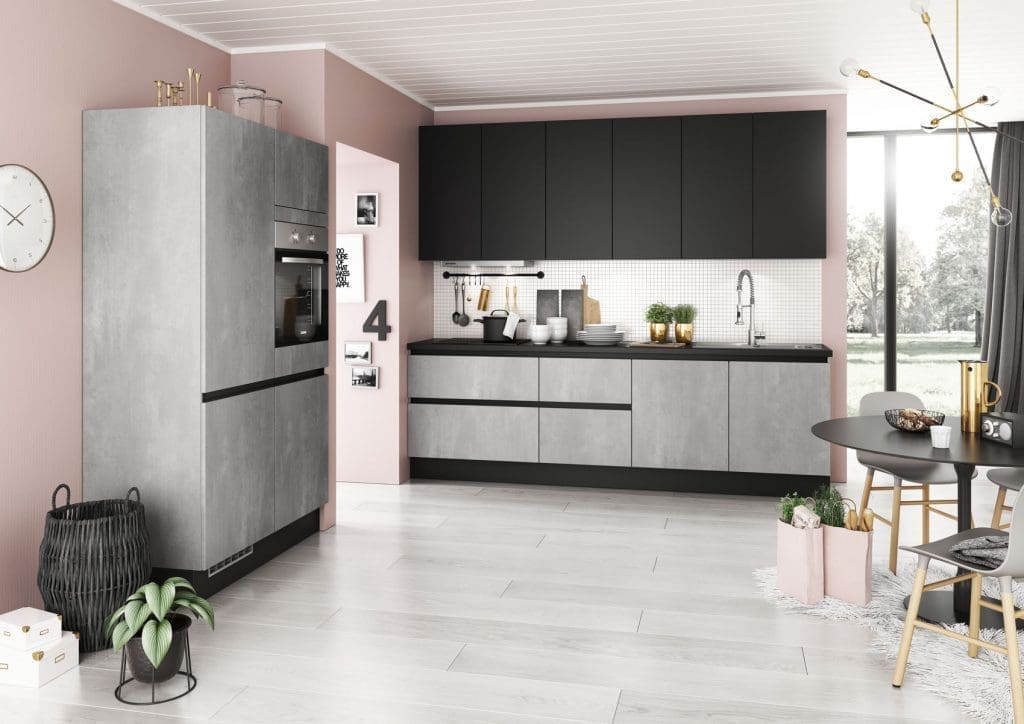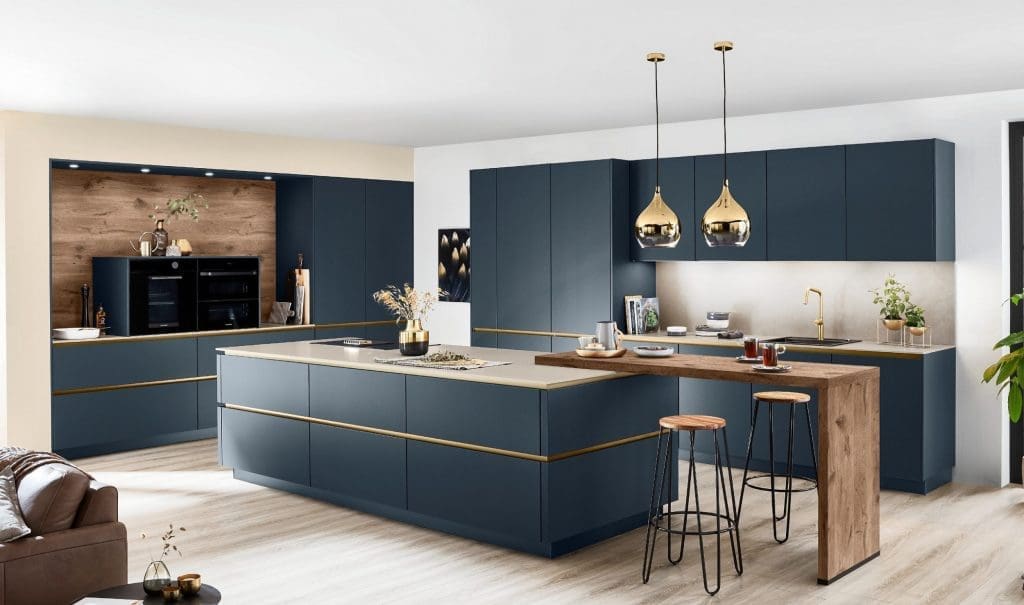 3) Family Kitchen Design Ideas: Spacious countertops
Whether your kitchen is large or small the importance of kitchen worksurface space should never be overlooked, and particularly in a family kitchen design. You'll need plenty of worktop space for food preparation, eating, helping with homework, doing arts and crafts…and more besides.
You also need to consider when your children get older that they might often bring friends back and so you'll likely need space to accommodate a few extra ones as well! Look for features like a kitchen island with barstools or a fold-down table that can be used when needed. Ultimately, you need to make sure your family kitchen has enough room for all to use it easily and comfortably.
4) Family Kitchen Design Ideas: Plenty of storage
A family kitchen is often the centre of the home, so it's important to have a place for everything, and a well-organized kitchen will make your life a lot easier. From the early stages of planning consider your storage needs in realistic terms and especially as a family kitchen needs to be able to accommodate all the family's belongings, as well as food storage. Ample shelving, cabinets and drawers are therefore a must within any good family kitchen design, and the cupboards or drawers on the far side of an island are  typically a great place for storing everyday items that your children will use.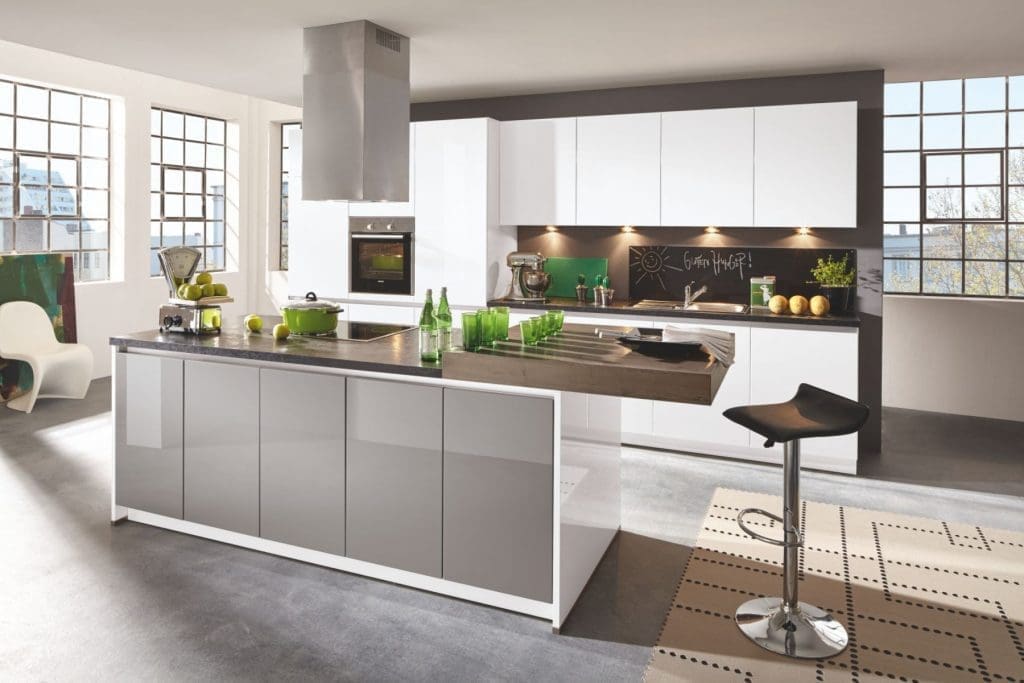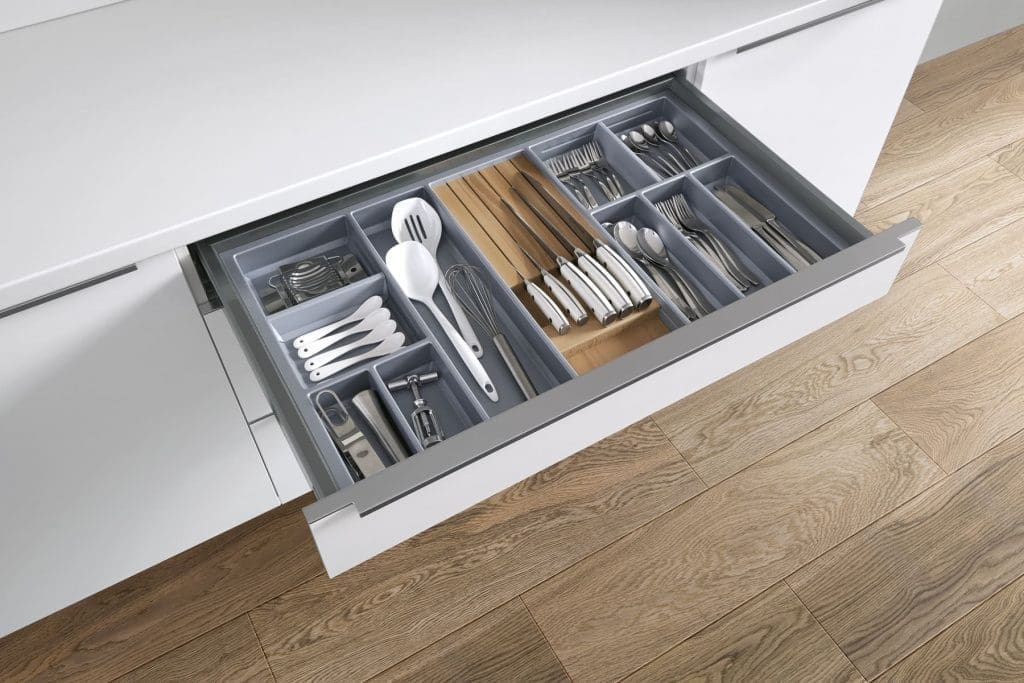 5) Family Kitchen Design Ideas: Child-safety features
 If you have young children, you'll need to consider their needs when designing your family kitchen. Features such as low worktops and benches, worktops with rounded edges, step stools and child-proof appliances can make life a lot easier. You also need to arrange your kitchen essentials so anything hazardous is out of reach of children. For example, glassware and crockery should be stored out of reach to prevent breakages, and similarly sharp knives should be kept well out of reach, either in an internal drawer or in a knife block out of reach.  
6) Family Kitchen Design Ideas: Child-friendly features
Whilst hazardous kitchen goods need careful thought, the kitchen setting also offers much opportunity for encouraging independence in children. Younger children especially will want to be where you are, so why not include generous low-level kitchen storage which they can access themselves for their toys, books, games, art supplies, etc?! Alternatively, you could keep children's plates and cups here, encouraging them to reach for them themselves when they are hungry or thirsty. The uses for this storage space can easily change to accommodate different ages and needs as children grow.
Similarly, a well-organised fridge can also encourage independence. In tall fridges, storing children's food on lower fridge shelves allows children to reach what they want themselves, whilst anything you don't want your children to have can be stored higher up. Particularly with large families you need to preserve food for as long as possible, and so fridge fresh drawers are a great option for this in a busy family kitchen design.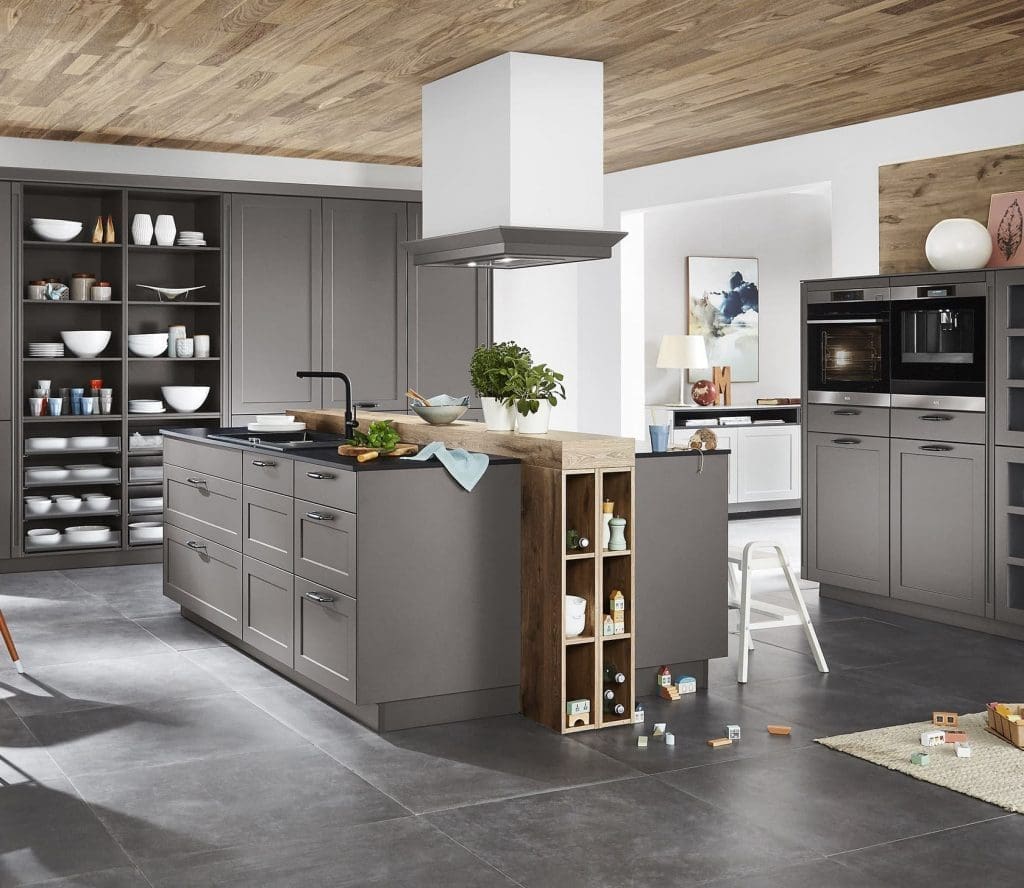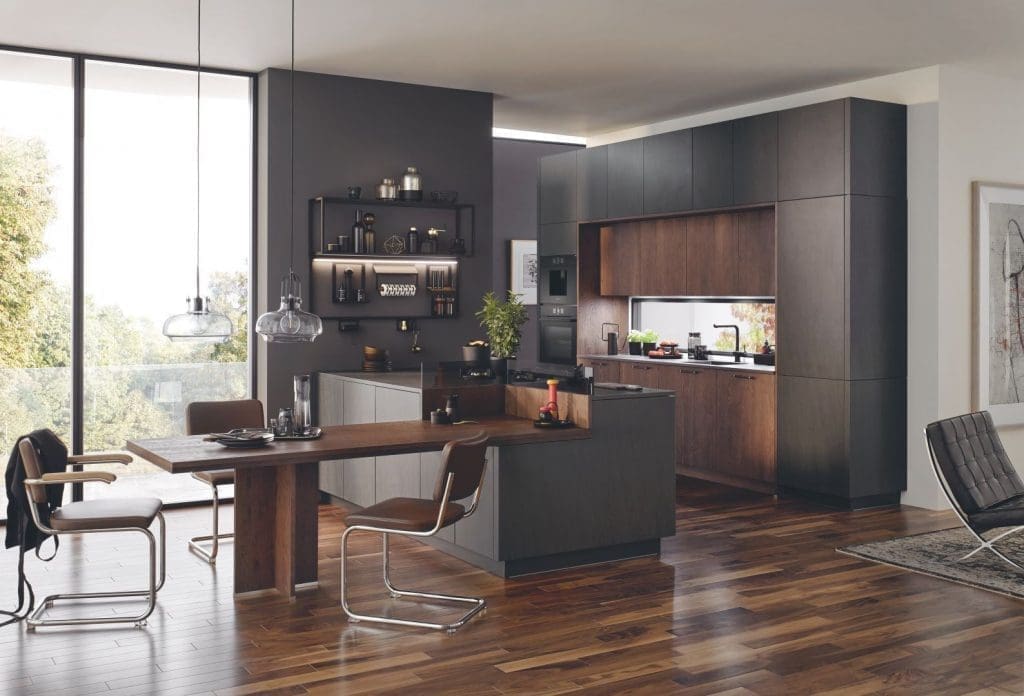 7) Family Kitchen Design Ideas: Where to put your Fridge
The busiest, most hardworking, and typically the most used kitchen appliance within any home is the kitchen fridge! Whether you're hungry, thirsty, or even just bored, the fridge door is opened multiple times over the course of the day, and so the last thing you want is for this to get in the way of prepping or cooking meals! For this reason, the best place for a kitchen fridge is on the end of a run of units, where it becomes easily accessible without having to venture too far into the kitchen. This is a safer option whilst someone is cooking, but also keeps family members out of the way for whoever is using the kitchen!
8) Family Kitchen Design Ideas: A kitchen island with seating
Whether for snacking, chatting about how the school day's been, helping with homework or playing a board game, a kitchen island with generous surface area is a great site for the family to spend time together, and in fact, encourages it. Alternatively, even a small peninsula is sufficient to offer the same benefits. For smaller children, bucket stools are a safer option allowing them to join in, but they can easily be changed without great expense as they grow older.
For a busy family kitchen, it is also a good idea to include a number of electrical sockets on the island. These can be fitted on the underside of the island or as flip-up sockets integrated within the surface of the worktop.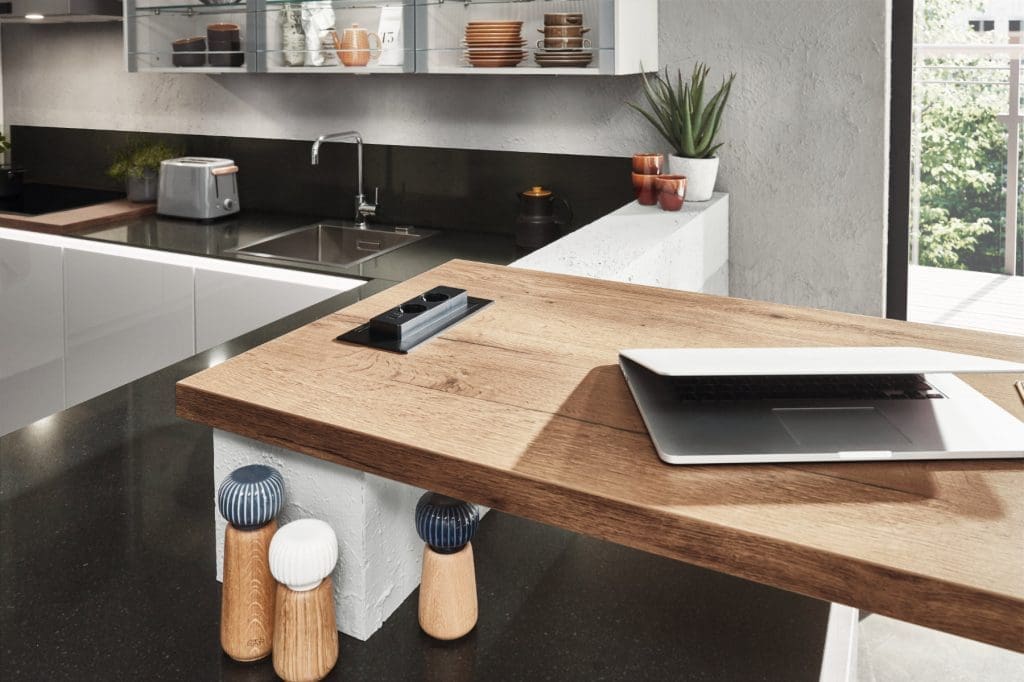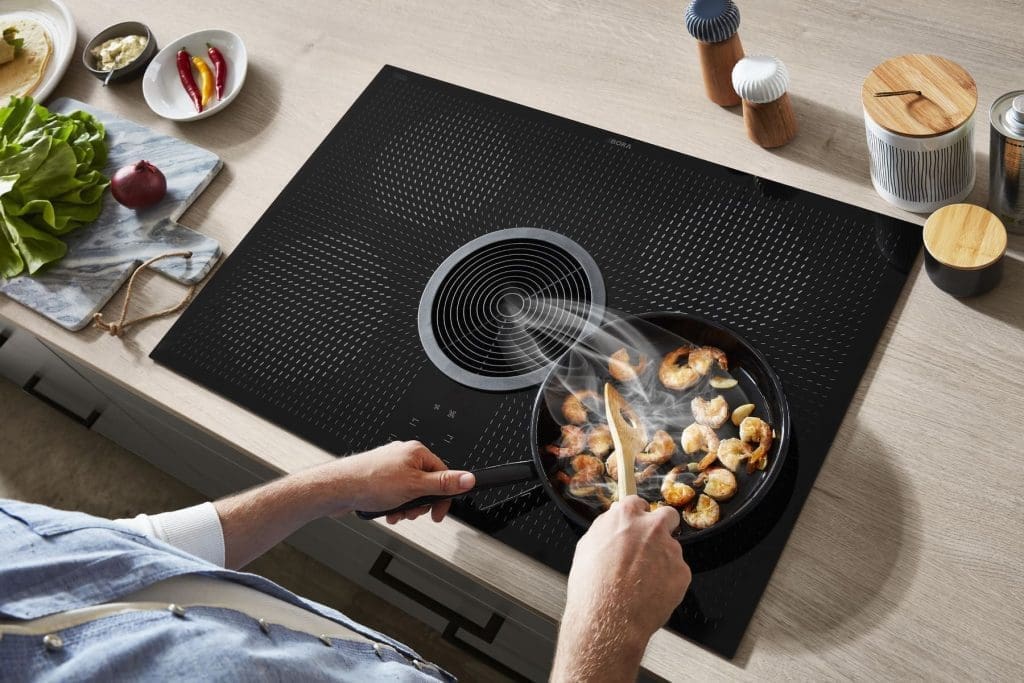 9) Family Kitchen Design Ideas: Easy to use and safe appliances:
With a family kitchen, you'll be using kitchen appliances more often than in a single-person household, and as your children grow older, they will also begin to start using appliances themselves. For this reason, you should look for appliances that are easy to operate and maintain, and which are also very safe. For example, an induction hob is much safer than a gas hob, because there's no flame and as heat transfers directly to the pan, the surface of the hob doesn't get too hot but is also very quick to cool.
You can also invest in appliances with safety locks, and even Smart appliances connected to your phone so you will receive an alert if your oven or washing machine is switched on whilst you're out of the house!
10) Family Kitchen Design Ideas: A kitchen chalk board
Whether using it to practice drawing and writing with young ones or reminding older children what they need each day for school, a kitchen chalkboard is a great and fun way of encouraging communication, creativity and organisation. From shopping lists, recipes notes, or games there are many different uses for a kitchen chalkboard. And as long as the surface is flat, a chalkboard can be introduced anywhere, be it a complete wall chalkboard or even as a splashback, whilst the dark colour tone also ensures a chalkboard will work for any kitchen décor without looking out of place.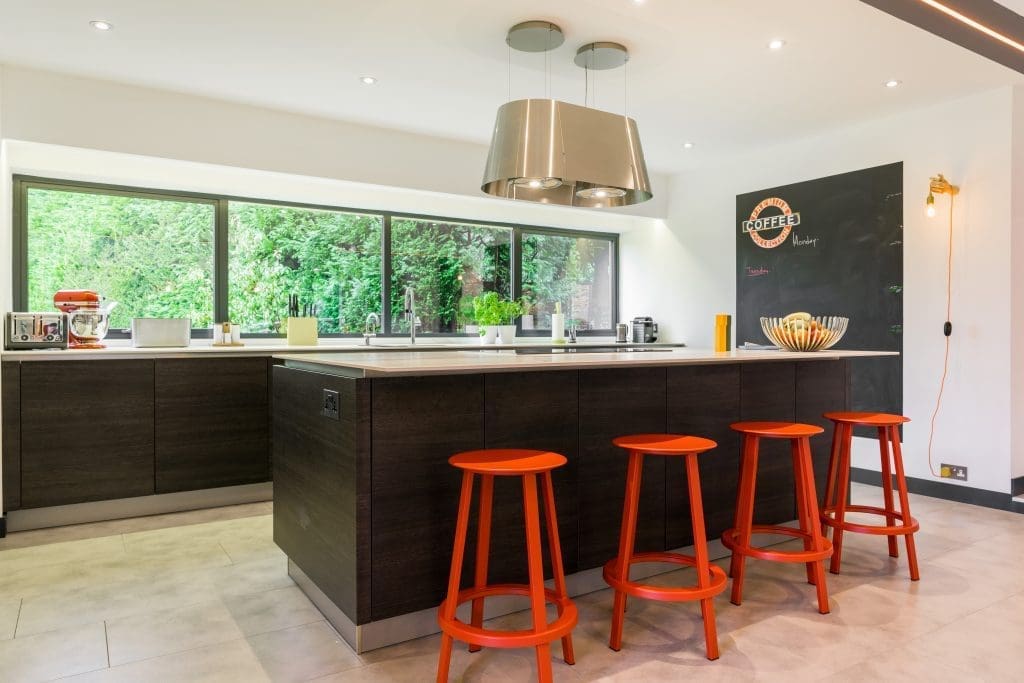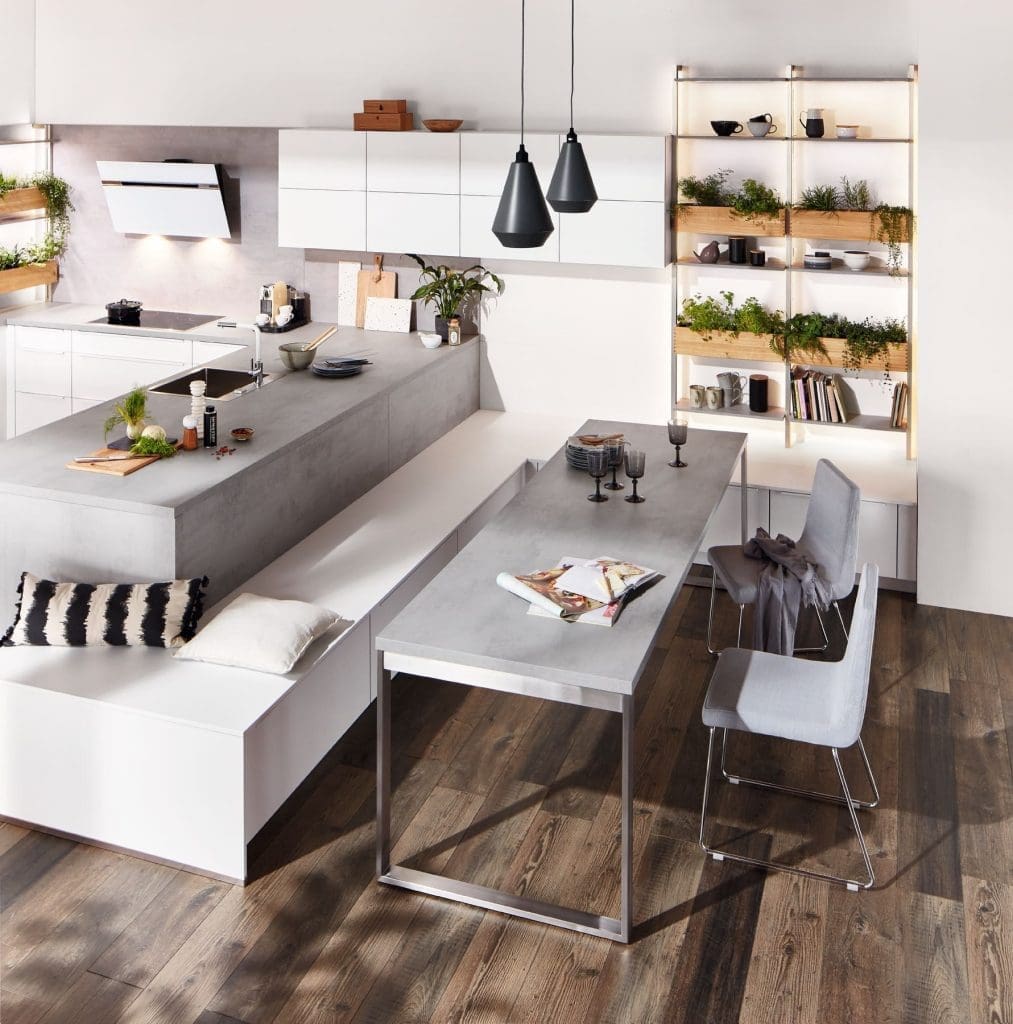 Still Looking for Family Kitchen Design Ideas?
For all of us, a kitchen is a personal space, and particularly a busy family kitchen which typically has to meet the needs of multiple people of very different ages within the same household. The best way to ensure this is by seeking design advice specific to your family's needs from an experienced kitchen designer. Find your local kitchen expert today and you can start the journey towards your perfect – and long-lasting – family kitchen design.