Bring Wow Factor With a Waterfall Kitchen Island Design
If you're looking to incorporate some 'wow factor' within your kitchen then a waterfall kitchen island is a simple but highly effective way of achieving this!  Also known as a wrapped kitchen island, rather than the worktop finishing in line with the top edge of the cabinetry -as on a standard worktop- instead the worktop flows over the side of the island, extending vertically to the floor. Replacing the kitchen island's end panels this creates a fluid kitchen look, and with its clean and minimal lines the style of the waterfall kitchen island is usually very contemporary.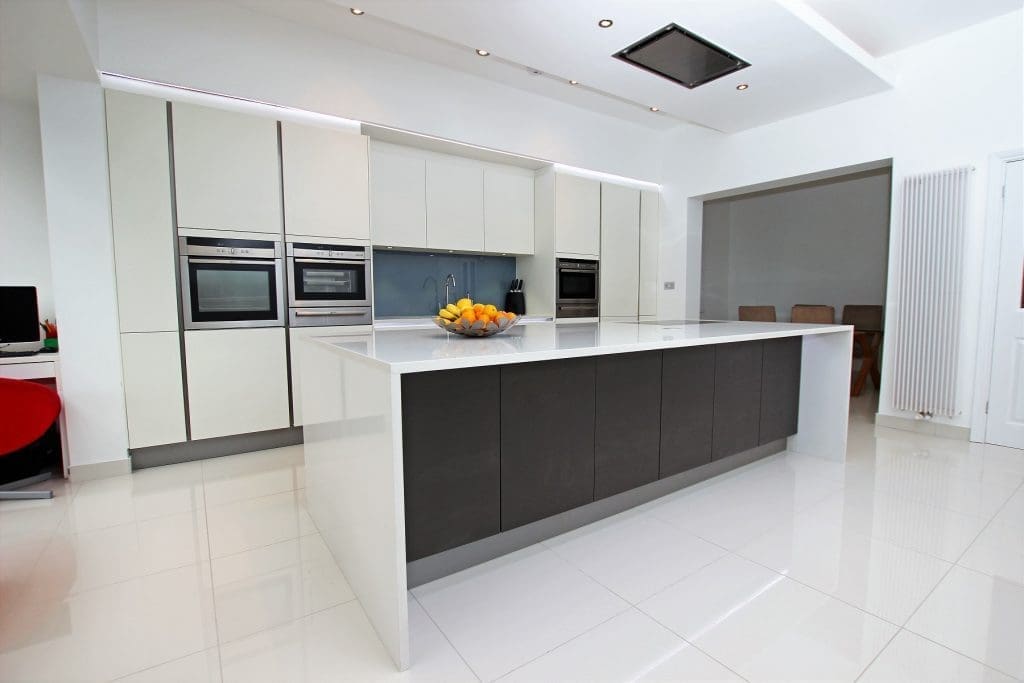 Get A Unique Look With A Waterfall Island Kitchen
The waterfall island kitchen trend has become increasingly popular in recent years and it is easy to see why; not only does it look stunning, but it adds an extra layer of interest to a kitchen's look and creates a wider scope for design possibilities. Contrasting material, texture and colour is very much on trend within kitchen design and the modern waterfall island is the perfect platform for achieving this within a unique and very personalised kitchen design.  
Make an Eye-Catching Statement
It might be that you want to complement gloss or matt kitchen furniture with a contrasting colour, or else with richly textured wood or stone. Or a light-toned worktop might be just what you need to successfully balance darker kitchen cabinetry. Alternatively, the waterfall island kitchen edges are ideal for showing off statement worktop designs such as on-trend veined worktop patterns. Whatever way you choose to include it, the elegant pairing of an island with waterfall edge is certain to make it an eye-catching feature within your kitchen.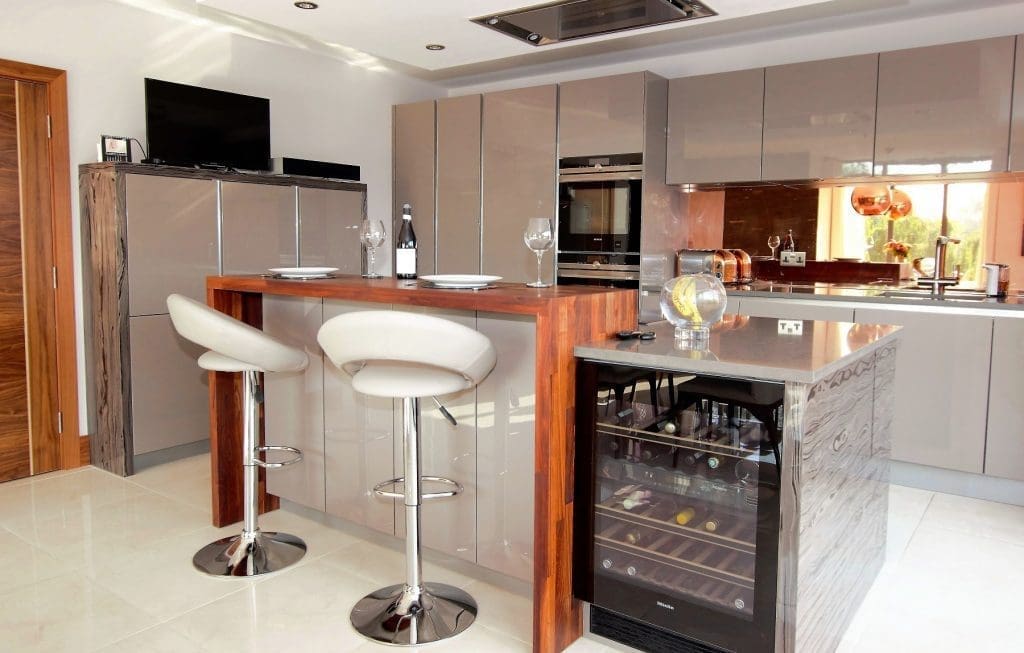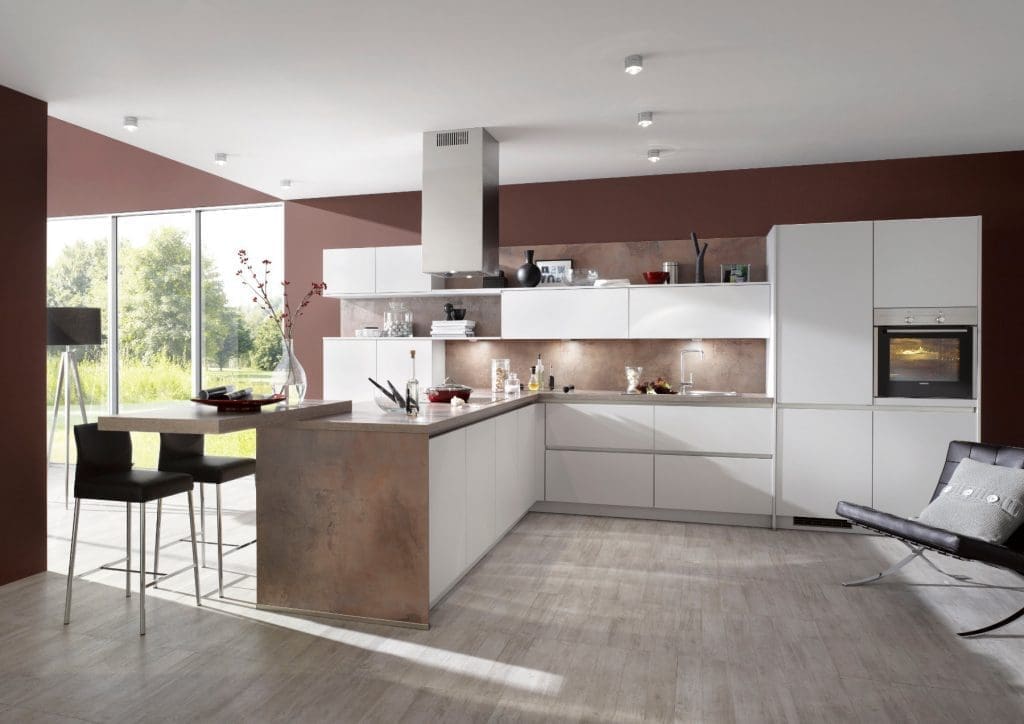 Waterwall Kitchen Worktops for Peninsulas
Waterfall kitchen worktop edges are usually implemented on both ends of an island, creating a well-balanced look for the layout. But this style also works beautifully for kitchen peninsulas, making a feature of the peninsula's end which isn't fixed to the wall. And one of the advantages of the waterfall edge on a peninsula is you have one less side to finish, and so the cost can be significantly less.
A Waterfall Kitchen Island with Seating
Though principally decorative, the waterfall island edge is functional too as its in place to protect cabinetry and often conceals appliances as well.  But another possibility for its use is to extend the worktop's edge to create a casual seating area.  This is easily achieved by projecting the worktop horizontally over the back of the island far enough to create an overhang, underneath which you can fit some stools. Creating a casual breakfast bar in this way is particularly useful given that kitchen islands (or peninsulas) are typically the social hub for homes. They are a place not just for cooking and eating but for work, family gatherings and entertaining too.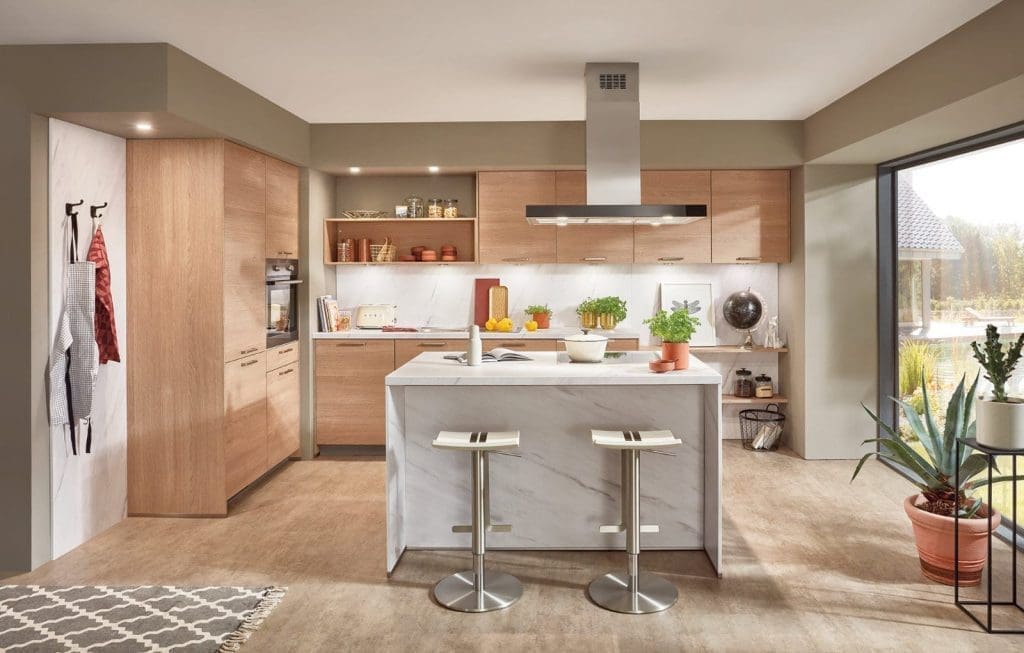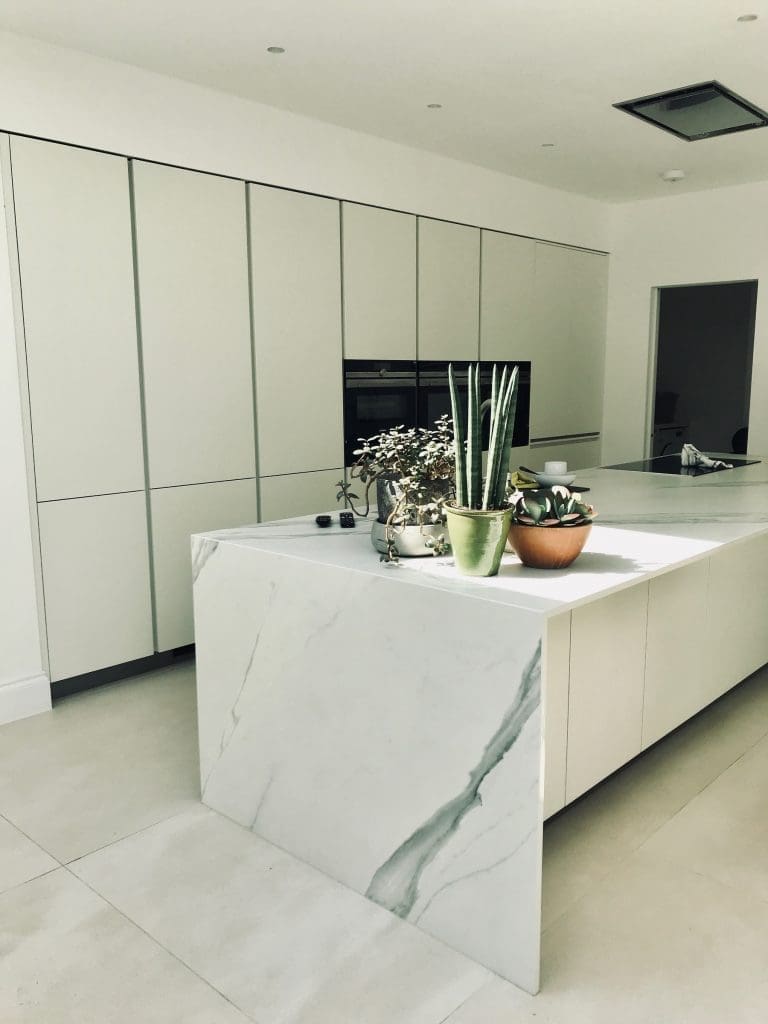 Planning Your Waterfall Kitchen Island
If you're considering adding a waterfall kitchen island to your home, there are a few things you should think about during the planning stage. First, it's important to choose the right size island for your space. You don't want it to be too big and overwhelm your kitchen space, which also makes it impractical for use, Similarly, you don't want it to be too small either. Second, you'll need to decide what material you want your island to be made from. There are many options available, including wood, granite, marble, and more.
Finally, if you're planning to incorporate a sink on your waterfall island, you'll need to choose the right type of sink to complement its style. There are many different options available, so be sure to do your research before making a final decision. 
Talk to a Waterfall Island Kitchen Expert!
Offering a sleek and stylish look, waterfall kitchens can really make a statement in your kitchen, bringing an easy touch of luxury and glamour. For help in planning your perfect waterfall kitchen design talk to your nearest Kitchen Expert today.