Modern German kitchens are characterised by clean lines and streamlined, flat kitchen door fronts. The look is sleek, uncluttered, and minimal, emphasising the beauty of the kitchen's doors and surfaces. Modern German kitchens are functional and efficient, incorporating innovative kitchen storage systems so that everything has a place, and everything can easily be kept in its rightful place! Over the past 10 years modern German kitchen trends have evolved to incorporate a plethora of colours, textures, and styles, bringing homeowners and ever wider choice in creating stylish yet personal kitchen designs.
Modern German Kitchen Retailers
When it comes to choosing a luxury modern German kitchen there is an abundance of UK companies offering the latest and greatest in modern kitchen innovation. Working with many of the leading German brands, Kitchen Experts are well placed to see the newest and best trends in kitchen design, and here our top ten modern German Kitchen trends:
1) Handleless Kitchen Designs
For years now, one of the most popular and defining attributes of a modern German kitchen is the popular handleless kitchen design. Appealing for its stylish look and practical nature, handleless kitchen doors are the perfect fit for modern and contemporary kitchen settings. What's more designers continue to find new ways to develop handleless German Kitchen designs, be it, through floating islands, bespoke coloured channels, mood lit handleless channels, and more.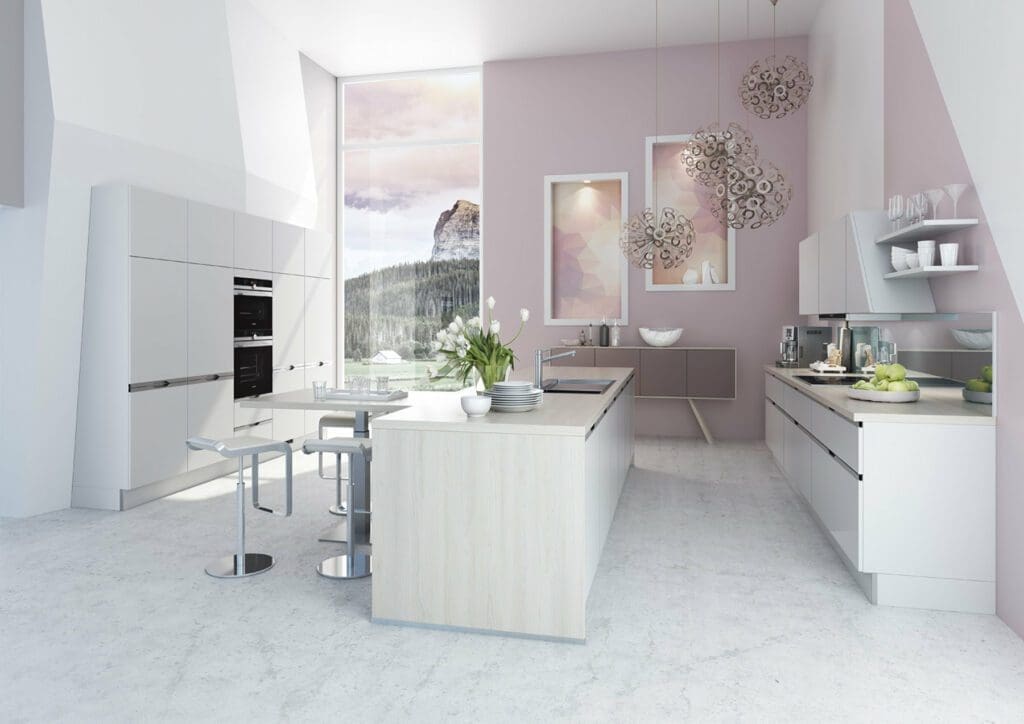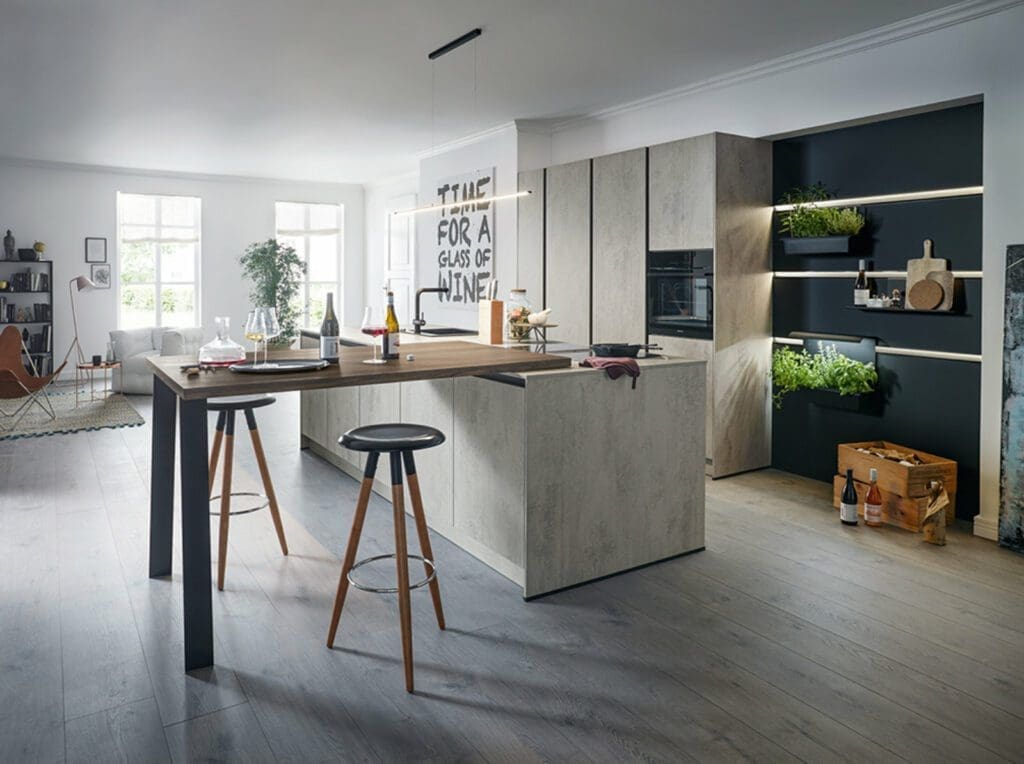 2) Textured Kitchen Finishes
Where modern German kitchens used to predominately feature flat doors in gloss or matt, increasingly kitchen trends have shifted significantly towards the use of texture. Be it wood, stone, or ceramic surfaces, these richly textured doors appeal as much to the sense of touch as to our sight, and what's more they are practical and very easy to maintain. For example, where a gloss kitchen door will show fingerprints or spills, the same just isn't obvious on a modern wood grain or rich stone veneer.
3) Contrasting Kitchen Finishes and Textures
Again, breaking away from the single tone kitchen look, modern German kitchen trends heavily feature beautiful two-tone kitchen designs. Through mixing and matching lacquers with stone effect doors from the same colour palette (or else a contrasting one) homeowners are transforming their spaces with distinctive and highly personal kitchen designs. Two tone designs are extremely popular within modern German kitchens, often making kitchens seem more spacious, bringing visual interest, and even helping you stay within your specified project budget.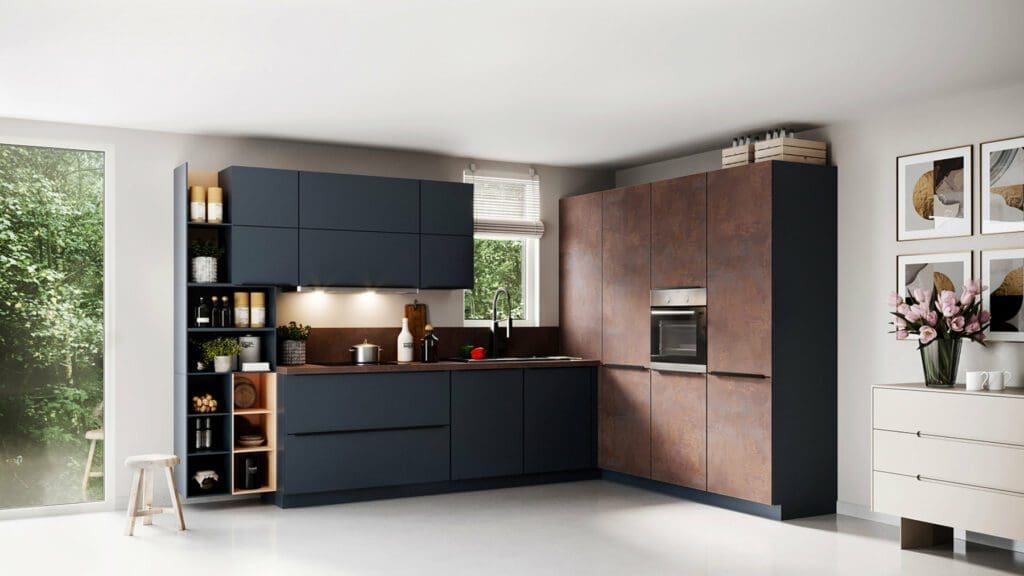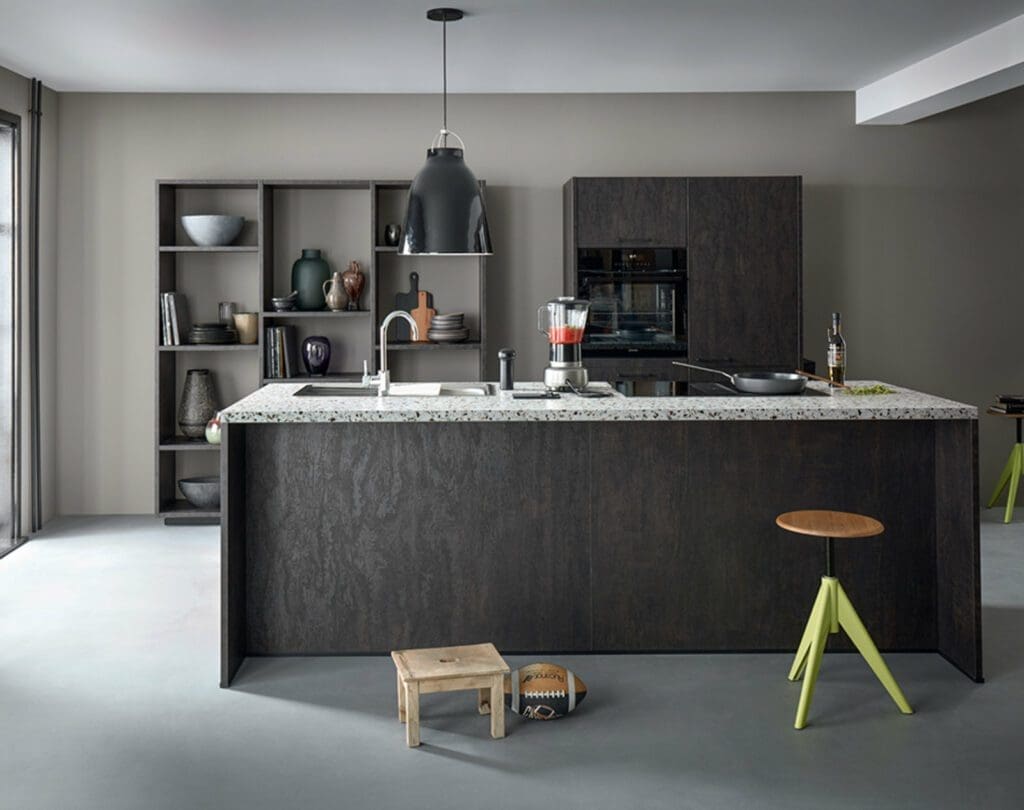 4) Dark and Moody Kitchens
A modern German kitchen trend that really came to the fore in the last few years – and is not going away any time soon – is the desire for dark and moody kitchens, creating a dramatic statement within the home! Where the prospect of dark kitchens was once a little daunting, homeowners are now fully embracing moody greys, navy, and black kitchen doors within modern design. Dark tones are synonymous with luxury, and especially contrasted with on trend metallics, which can soften the look whilst enhancing an opulent kitchen feel.
5) Metal Boxes and Frames
With the rise in demand for the industrial kitchen trend, kitchens have seen increased used of raw materials such as wood, stone, and metal. Metal is particularly desirable, offering a unique, long-lasting finish, with great flexibility for how it can be incorporated within design. One such use is within metal frames or even cubes, fitted to walls or suspended from ceilings. Growing in popularity, these metal frames make an eye-catching feature for housing vases, glasses, or greenery. The statement metal can even be carried through to table legs, taps or Crittal windows, further emphasising an edgy, industrial kitchen style!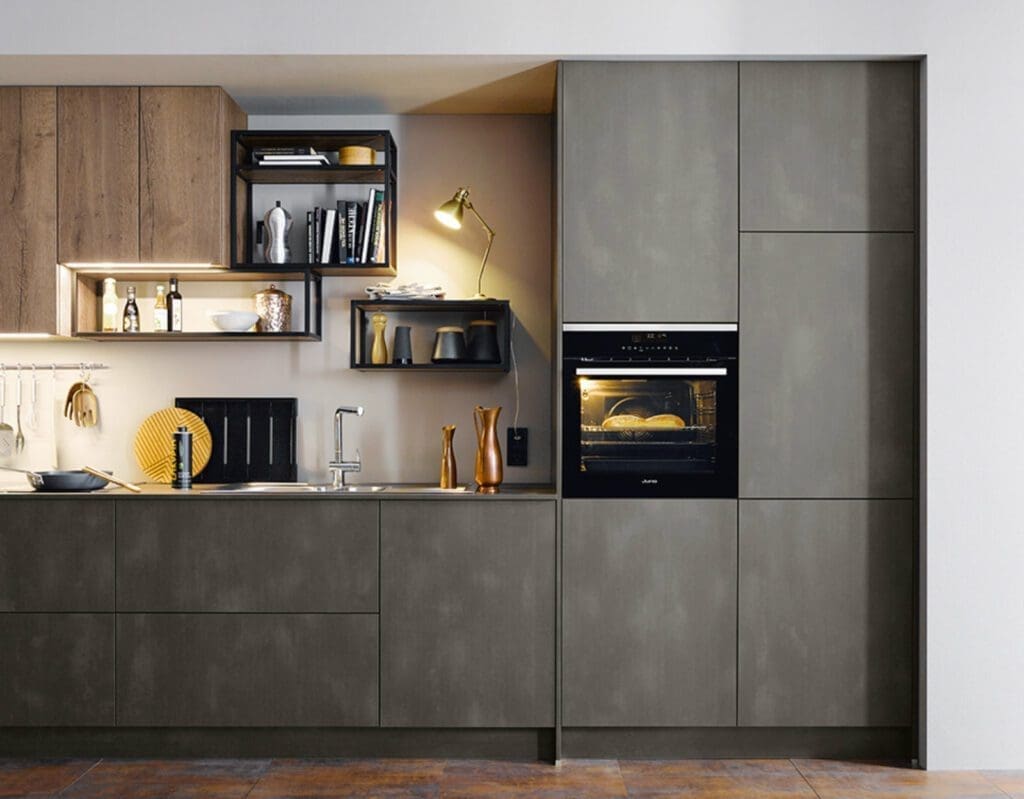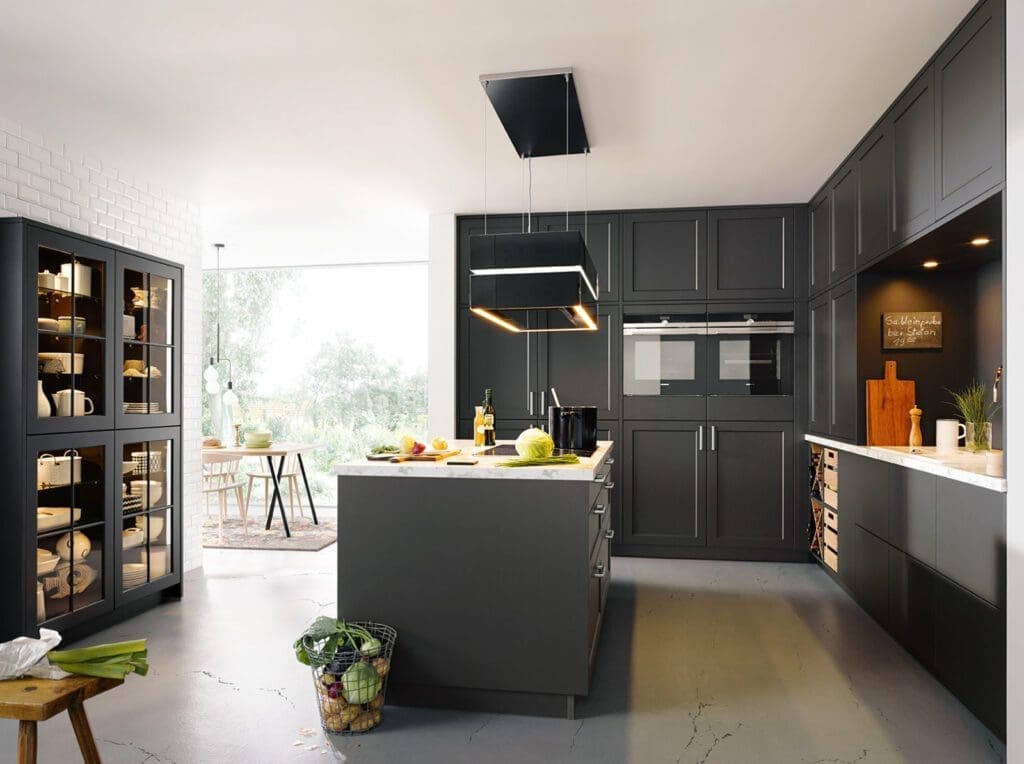 6) Transitional Kitchen Spaces
Whilst traditional kitchen styles will always have their place, modern German kitchens enable an inspiring modern twist! Known as transitional kitchens, these feature traditional styles such as In-frame or classic Shakers, but inclusive of modern kitchen elements. For example, modern handles, on trend hues for painted woods, or even handleless shaker doors are all effective in making a traditional kitchen space appear instantly more modern!
7) Open and Broken Plan Living
Where separate dining rooms were once popular, in modern homes open plan kitchen layouts are now the norm, and modern German kitchen manufacturers had to sit up and listen! This means built-in, hidden appliances for a better aesthetic, low noise dishwashers and washing machines so you can still hear the TV, and efficient extractors so your living room doesn't constantly smell of last night's dinner! Open plan kitchens have revolutionised how we cook, eat, and socialise all in the same space, but increasingly modern German kitchen designs now focus on broken plan living! That is, creating distinct areas (or zones) within your space in which to carry out different tasks or even just have a little more privacy. For example, a simple raised breakfast bar or freestanding shelf unit is all that might be needed to hide a stack of dirty dishes, when you're sat in your living room, creating a more enjoyable space all round!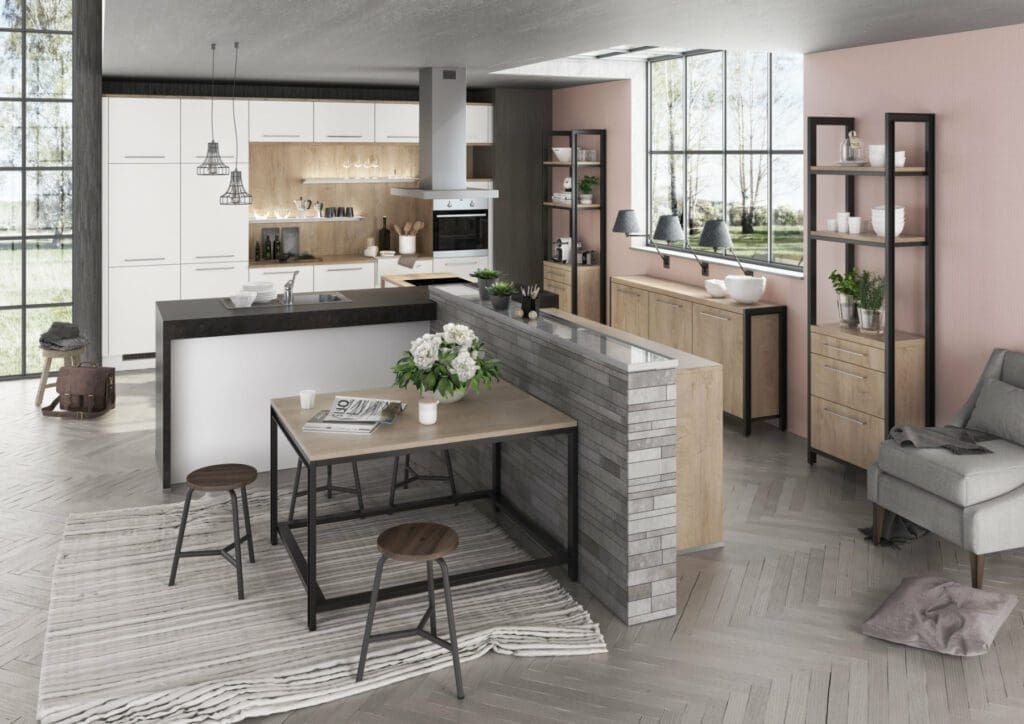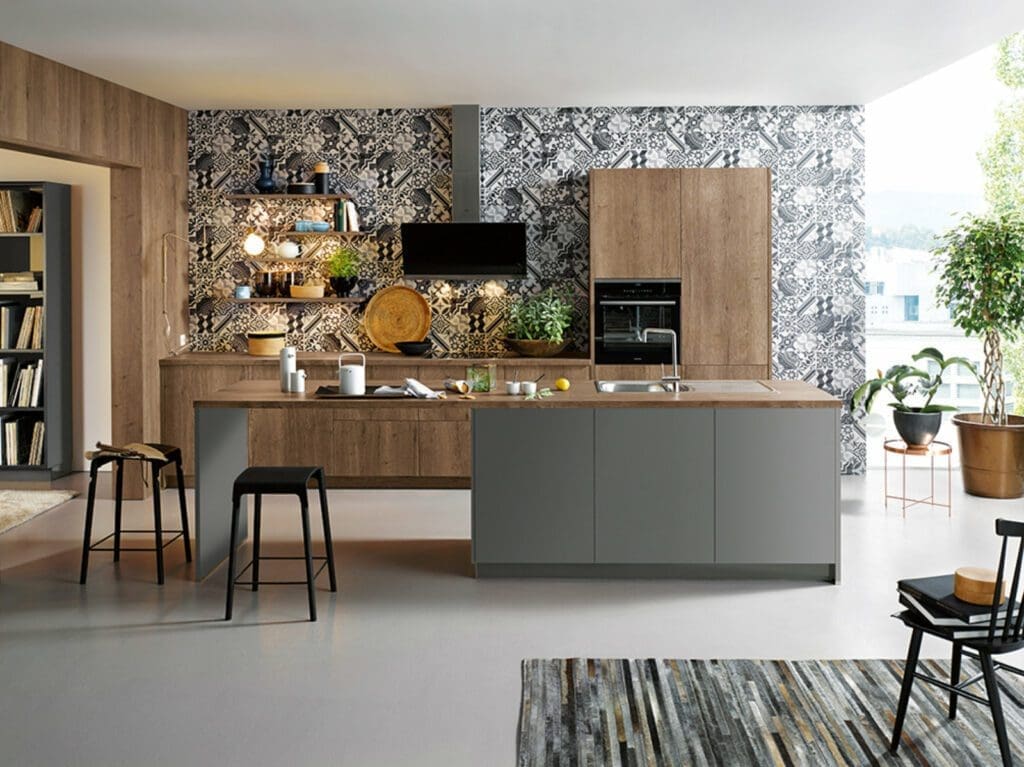 8) Modern Wood Kitchen Doors
Formerly synonymous with traditional kitchen designs, wood kitchen doors are now a regular and hugely popular feature within modern German kitchen trends. With a breadth of modern wood kitchens to choose from, including many high quality and very realistic wood laminates, modern wood kitchens denote a stylish yet affordable kitchen choice. In conjunction with the popular trend for dark kitchens, modern wood kitchen doors also feature heavily in two tone kitchen contrasts, bringing a softer, warmer quality to the resulting kitchen design.
9) Statement Kitchen Metallics
Homeowners aren't playing it safe like they used to and in modern German kitchens people increasingly want to make an eye-catching and unique statement, and this is frequently coming in through their use of accessories. Step in, statement lighting, bar stools, copper taps or warming brass handles, with the latter perfect for emphasising on trend blue and green kitchen tones. Relatively simple and inexpensive to change, taps and handles allow an easy means for updating a modern German kitchen look should you feel like a change further down the line.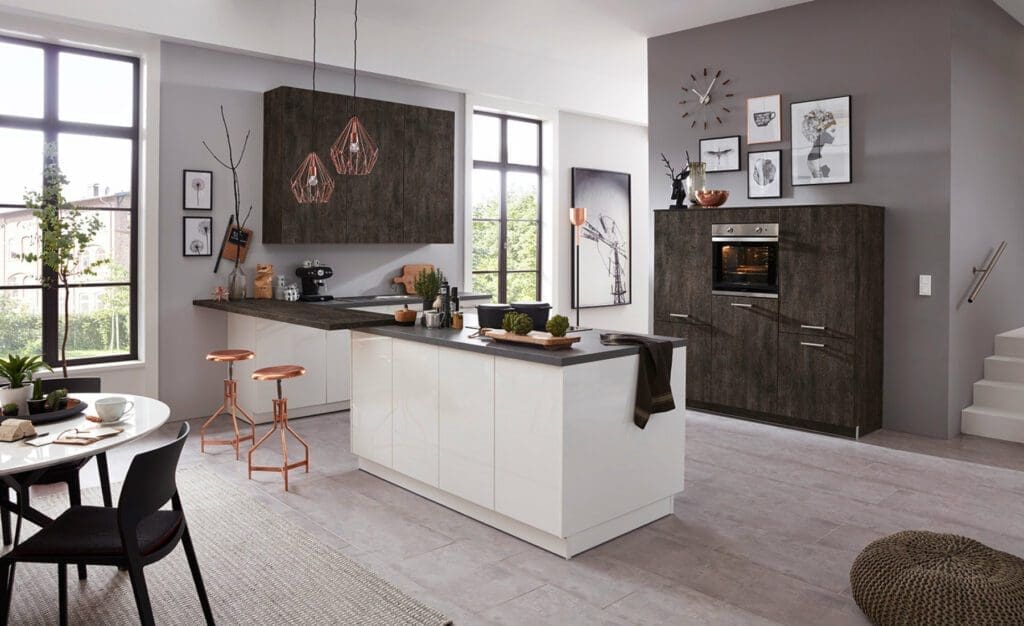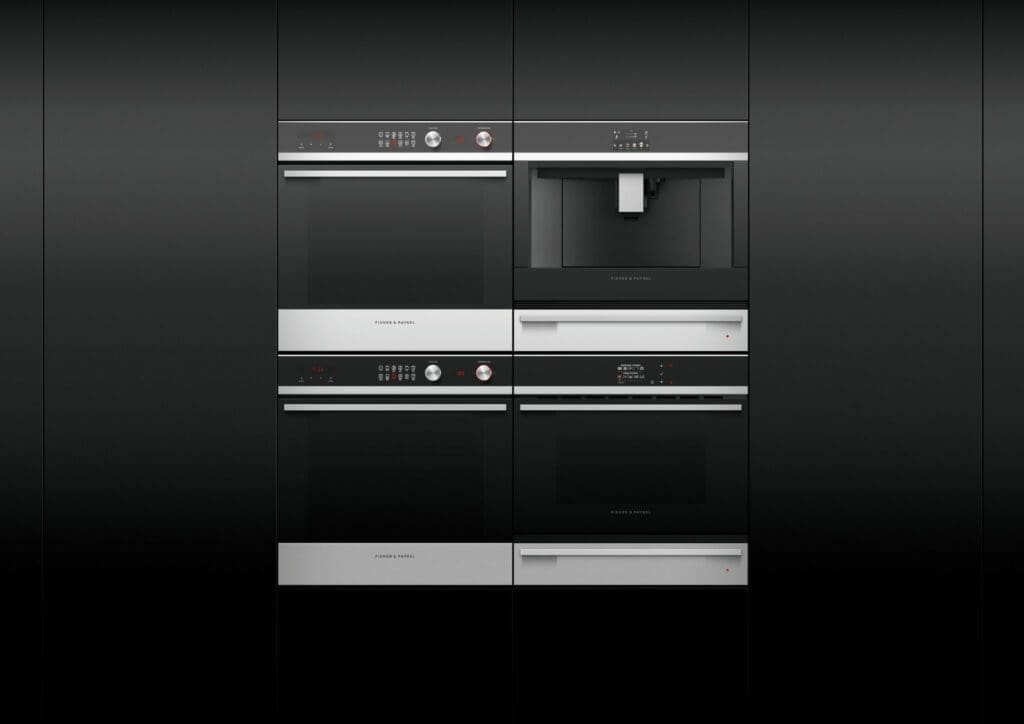 10) Smart Kitchen Technology
What modern German kitchen would be complete without the latest in smart kitchen technology? German manufacturers are at the forefront of innovation when it comes to technology, designing ovens, fridges, washing machines, and even lighting with tuneable temperature, all of which can be controlled from the touch of a button on your everyday Smartphone or iPad.