The Power of Colour: How to Choose the Best Kitchen Colour Palette for Your New Design
The kitchen is often considered the heart of the home – it's where we cook, entertain, and gather with family and friends. Choosing the right colour palette for your kitchen design can have a significant impact on the overall ambience of the space. Here, we'll delve into the power of colour, explore popular colour trends for UK kitchens, and provide tips on how to choose the best kitchen colour scheme for your space.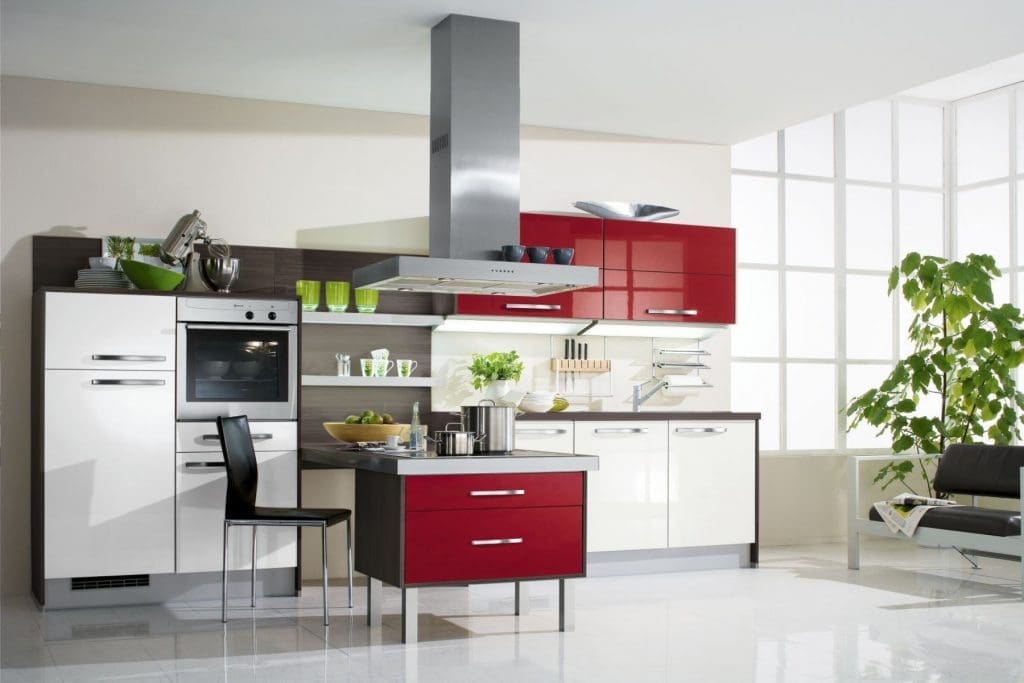 Understanding Colour Psychology in Kitchen Design
Colour is a powerful tool in interior design, as it can evoke emotions and influence our mood. Each colour carries its own psychological effects, and understanding these can help you make informed decisions when selecting a palette for your kitchen.
Red Kitchens: Red is associated with energy, passion, and warmth; it can stimulate appetite and conversation. It works well as an accent colour, particularly in more traditional or country-style kitchens.
Blue Kitchens: Blue is often associated with tranquillity and relaxation, and it can make your kitchen feel calm and serene. Lighter shades work well in coastal or nautical-themed kitchens, while darker shades can add depth to modern designs.
Green Kitchens: As the colour of nature, green can create a sense of freshness and vitality. It works well in both contemporary and traditional kitchens and pairs well with natural materials such as wood and stone.
Yellow Kitchens: A bright and uplifting colour, yellow can make your kitchen feel cheerful and welcoming. It works particularly well in smaller spaces, as it can create a sense of openness and light.
Popular UK Kitchen Colour Trends
In recent years, the UK has seen a variety of kitchen colour trends emerge, some which quickly have their moment and disappear, whilst others have enduring staying power. The latter of these trends which are set to stay can be a great starting point when selecting the best kitchen colour palette for your space.
Monochromatic Kitchens: Monochromatic colour schemes utilise various shades, tints, and tones of a single colour to create a cohesive and harmonious look. This trend is popular with contemporary and minimalist designs and can make a small space feel more expansive.
Two-Tone Kitchens: A two-tone kitchen features cabinets or units in two contrasting colours or finishes. This can create a dynamic, visually engaging space and works particularly well when combining a bold colour with a more neutral shade.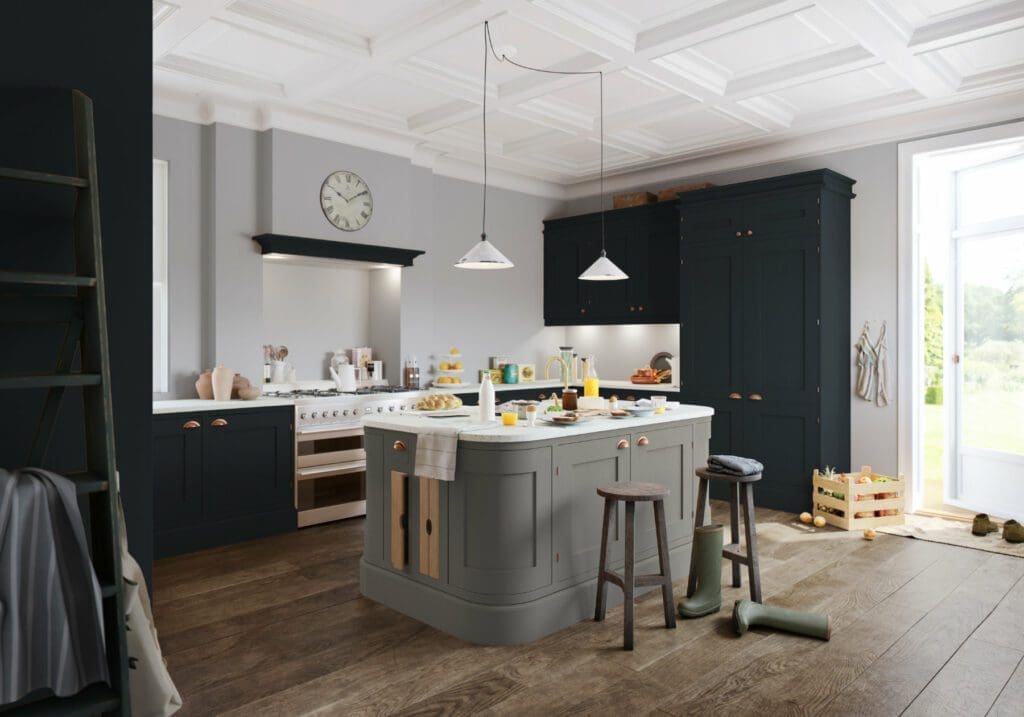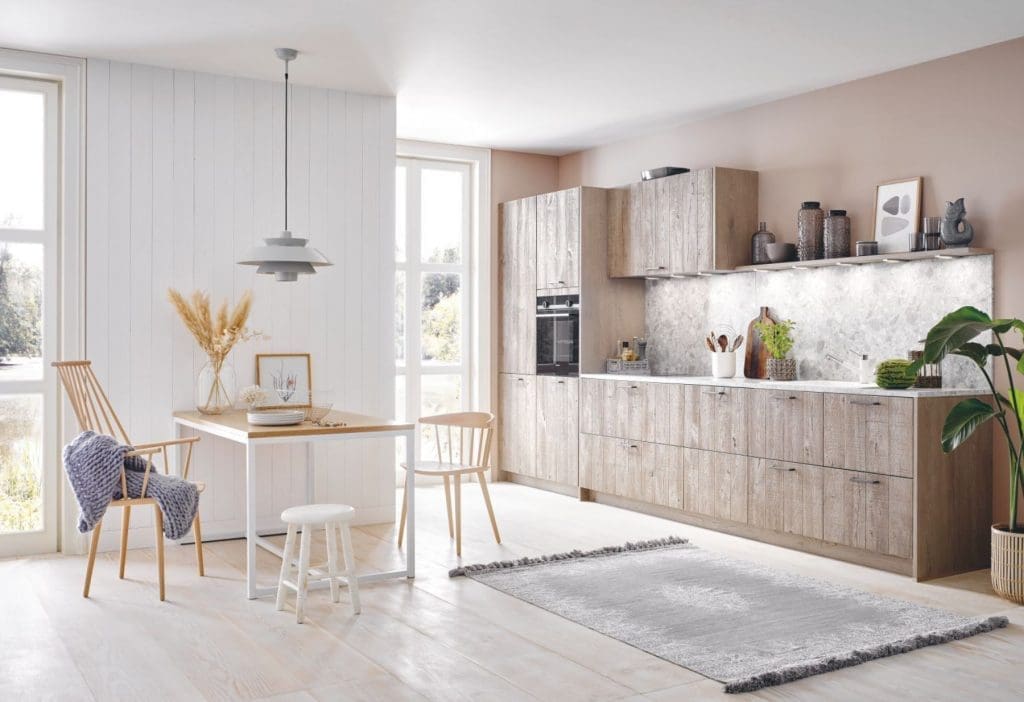 Popular UK Kitchen Colour Trends
Earthy Neutrals: Inspired by nature, earthy neutral kitchen tones such as beige, taupe, and grey have become increasingly popular in UK kitchen design. These colours can provide a warm and inviting atmosphere while allowing other design elements, such as fixtures and accessories, to take centre stage.
Bold Accents: Incorporating bold accent colours, such as teal, mustard, or burnt orange, can add a sense of personality and individuality to your kitchen design. These colours work particularly well when paired with more neutral base colours, such as white or grey.
Tips for Choosing the Right Colour Palette for Your Kitchen
Selecting the best kitchen colour palette can be a daunting task. Here are some tips to help you make the right decision:
Consider the size and layout of your kitchen: Lighter colours can make small spaces feel larger, while darker colours can add depth and dimension to a larger room. Consider how the colours you choose will impact the perception of space within your kitchen.
Evaluate your personal style: Your kitchen should be a reflection of your personal style and taste. Consider the colours and finishes that appeal to you, and think about how they can be incorporated into your design.
Take inspiration from your home's architecture: The architectural style of your home can provide a useful starting point when selecting the best kitchen colour palette for your space. For example, a Georgian-style home might lend itself to a more traditional colour scheme, while a modern, open-plan space may be better suited to a contemporary palette.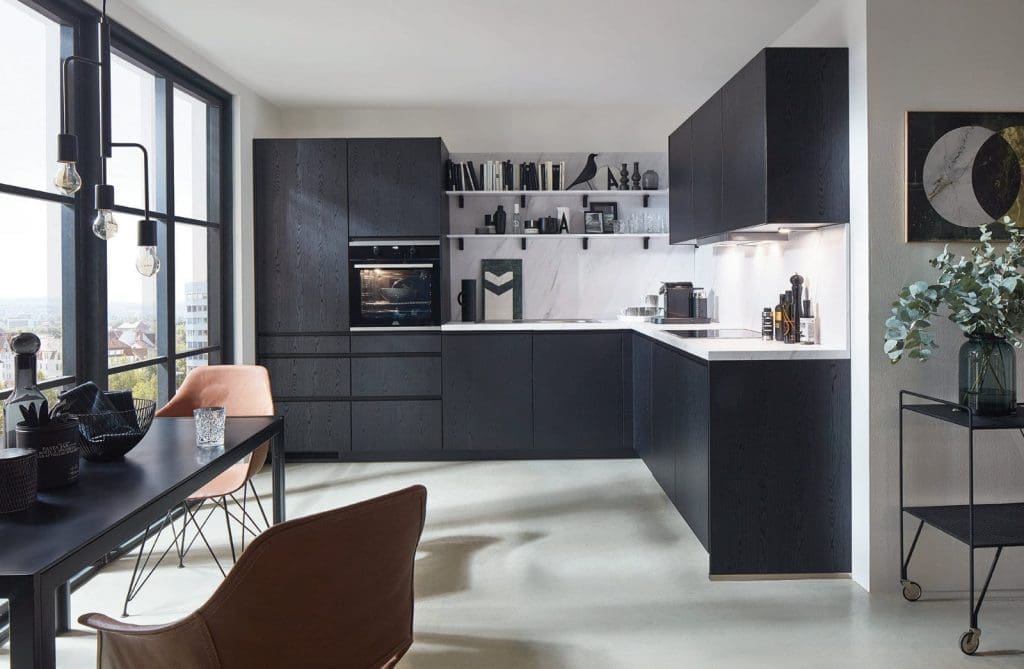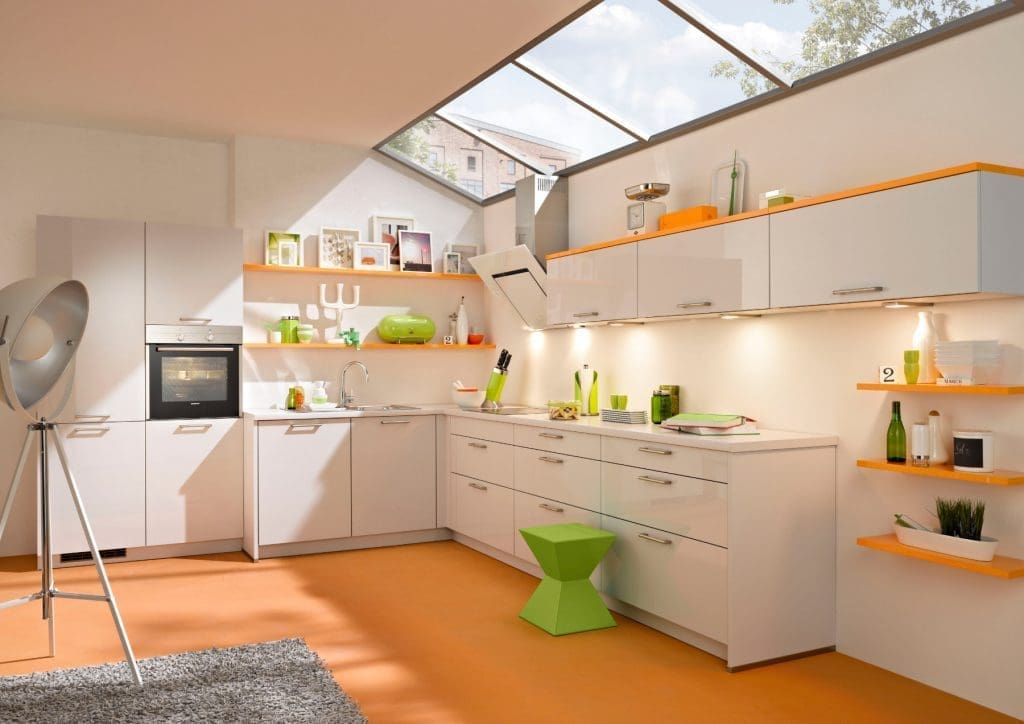 Tips for Choosing the Right Colour Palette for Your Kitchen
Factor in the function of your space: Think about how you use your kitchen on a day-to-day basis. If you do a lot of cooking or entertaining, you may want to consider a colour scheme that is both inviting and practical. Conversely, if your kitchen is primarily a space for relaxing, you might opt for a more soothing palette.
Test colours before committing: Colours can look very different in different lighting conditions and on various surfaces. Purchase sample pots of paint or swatches of materials, and test them in your space before making a final decision.
Consult a kitchen design professional: If you're struggling to make a decision or want to explore more options, consider consulting with a professional kitchen designer. They can offer expert advice and guidance on selecting the best kitchen colour palette for your space.
Create a Cohesive Kitchen Look with Complementary Colours and Finishes
Once you've selected your colour palette, consider how it can be complemented with other design elements such as worksurfaces, flooring, and accessories. This can help create a cohesive and harmonious look within your kitchen.
Worktops: Choose a worktop material that complements your chosen colour scheme. For example, if you've opted for a cool blue palette, you might consider a white marble or quartz worksurface to create contrast and interest.
Flooring: Your flooring choice should also complement your colour scheme. Consider materials such as wood, tile, or vinyl in shades that coordinate with your chosen palette.
Accessories and Fixtures: Finally, consider how your choice of fixtures, such as taps and handles, as well as accessories like lighting and textiles, can help to tie your colour scheme together. Opt for finishes that work well with your chosen colours, and consider using accents of your chosen palette in items such as tea towels or decorative objects.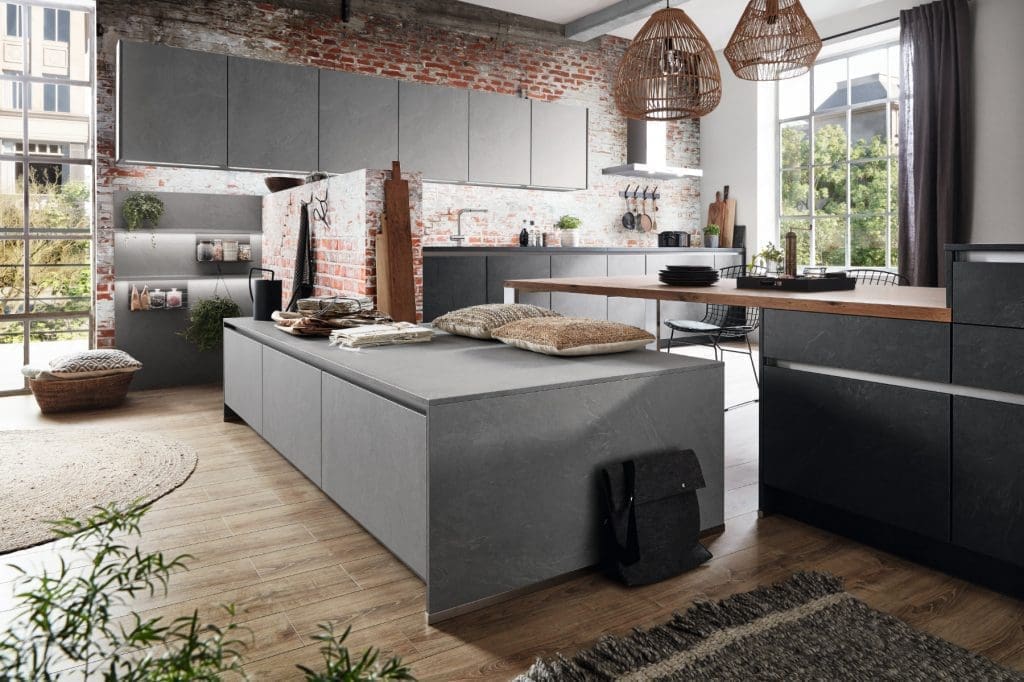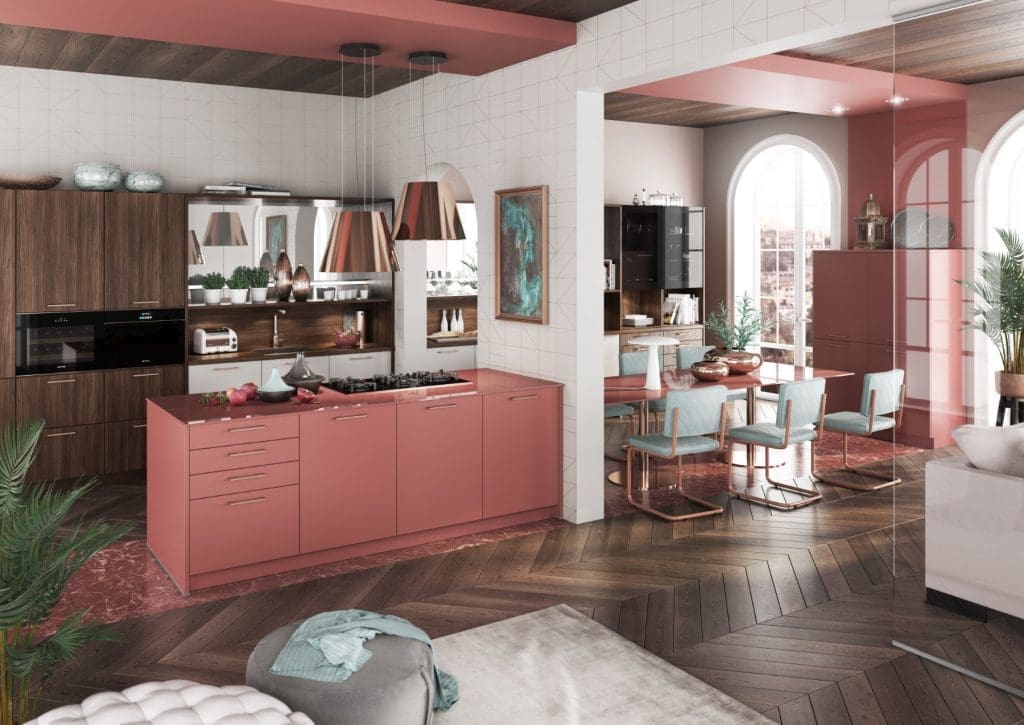 Embrace the Power of Colour in Your Kitchen Design
Colour is an incredibly powerful design tool, capable of transforming the look and feel of your kitchen. By understanding colour psychology, taking inspiration from current kitchen trends, and considering your personal preferences, you can create a stunning and functional kitchen that truly reflects your individuality. Don't be afraid to experiment with different colours and finishes to find the best kitchen colour palette for your space.
For help in finding the best kitchen colour palette for your new design, talk to your local Kitchen Expert today!