Kitchen Trends To Avoid
Wondering which modern kitchen trends you should avoid?! …If you're planning a kitchen renovation, you may be looking at all the latest interior and kitchen trends and wondering which ones to incorporate into your new space. But while some trends stand out and are definitely worth considering, others are best left behind. After all, kitchens are a costly investment, and not easy to change once fixed in place. So, here we look at some of the modern kitchen trends to avoid if you're looking for a timeless, lasting kitchen look: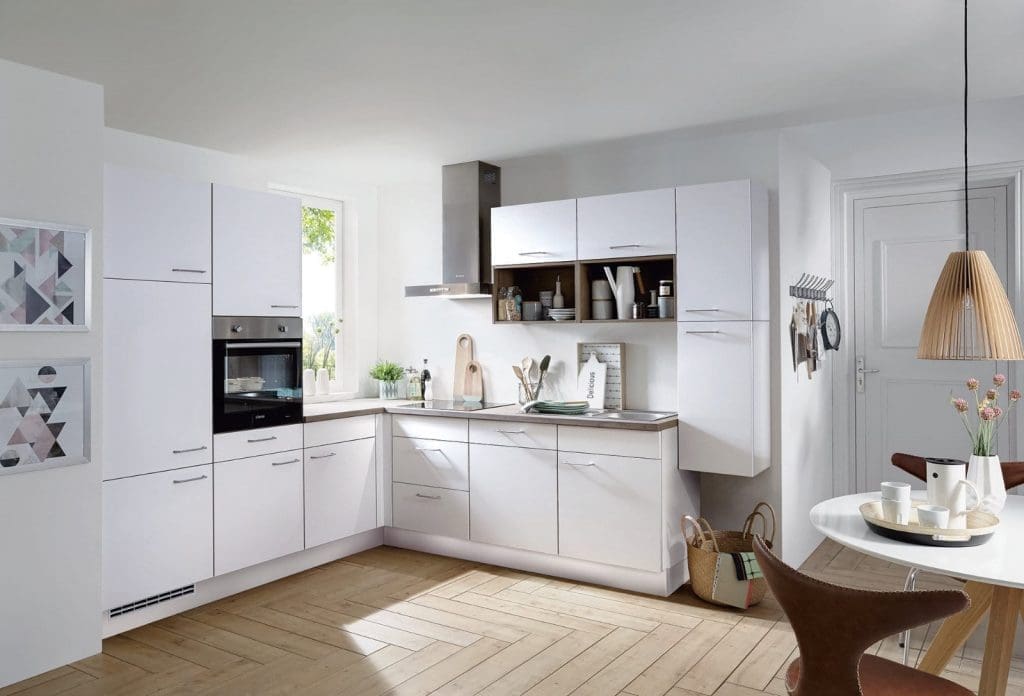 1. Kitchen trends to avoid: All-white kitchens
All white kitchens were very popular in the early 2000s, but they can start to look dated after a while, and let's face it, they can also appear a little dull or even soulless. Not entirely a kitchen trend to avoid, but if you're looking for a modern white kitchen that will stand the test of time, try using other colours and textures as well. Introducing warm tones and natural materials such as wood or stone will add depth to the space whilst creating a welcoming kitchen atmosphere. Alternatively, playful hints of colour can help to modernize an all-white kitchen whilst reflecting personality too. If you're going for a white kitchen, be sure to add colour with easily introduced accent pieces such as artwork, dishes, stools, or cookware.
2. Open Shelving
Open shelving is a great way to show off your dishes and cookware, but it's actually quite impractical and not very functional. If you choose to go with open shelving, you have to keep it organized, minimal, and free of clutter at all times to maintain your kitchen's aesthetic; a feat easier said than done in most households! The other drawback is it can be a dust magnet, or attract airborne grease generated through cooking. Not all designers would agree it's a kitchen trend to avoid but if the decorative aspect is important to you then consider glass-fronted cabinetry; otherwise, for a modern kitchen, closed cabinets prove a much better storage solution.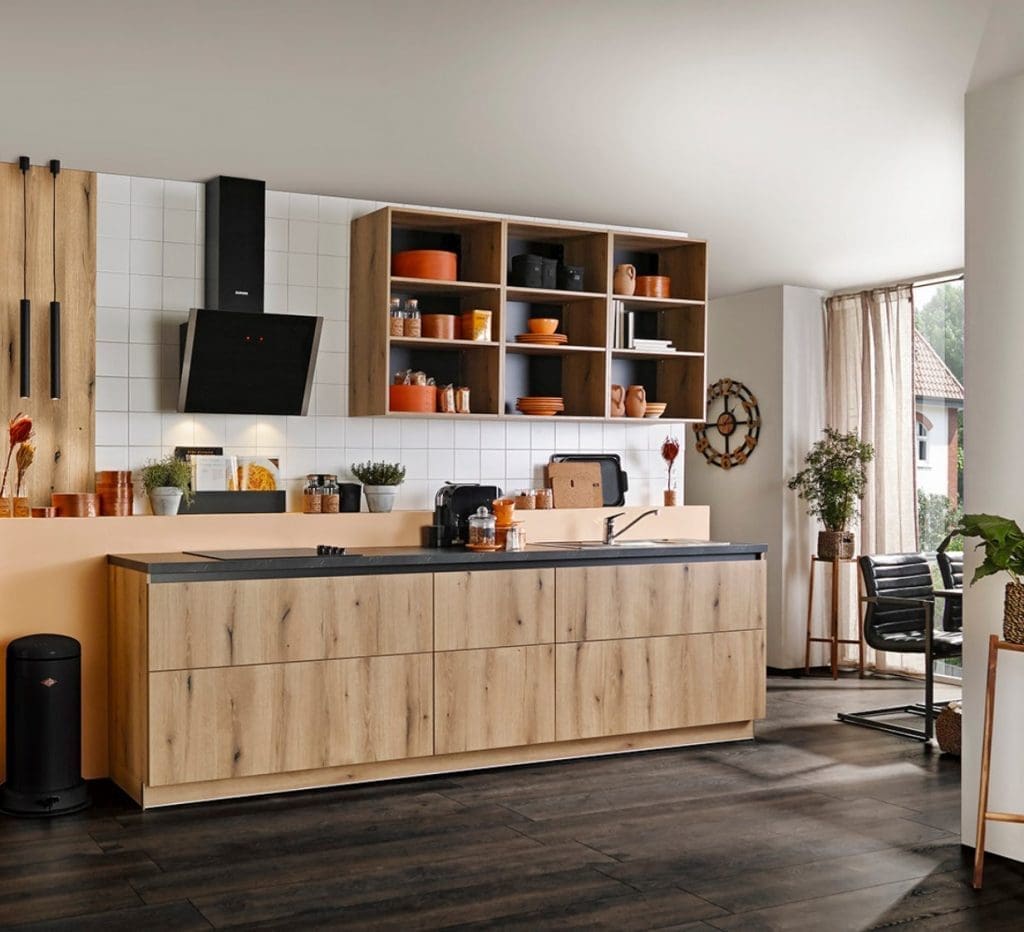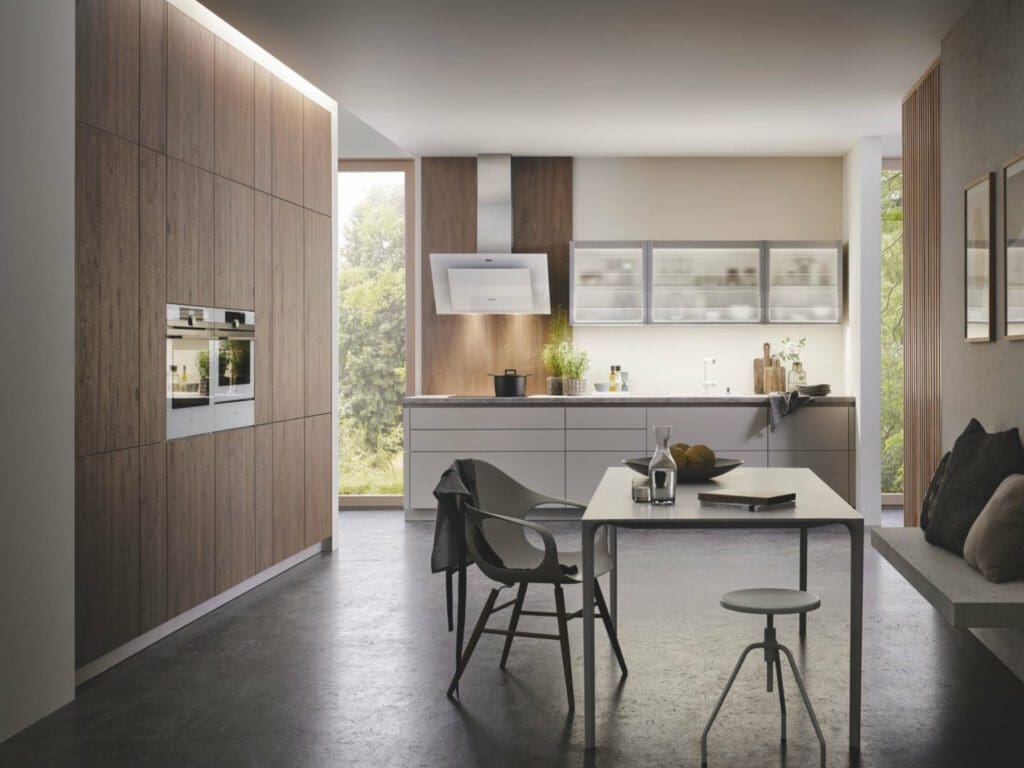 3. Stainless Steel and Bright Appliances
Stainless steel appliances were once considered very modern and sleek, but now a kitchen trend to avoid as they usually appear dated. If you're looking for a modern kitchen, there is a wealth of other materials and colours to consider such as black, charcoal, or white. There are also many bright and pastel kitchen appliances to choose from but whilst a bright pop of colour may at first feel refreshing, these colour trends are unlikely to last.  Instead, a matt black kitchen appliance may prove a wise choice, with its understated nature better for a longer lasting finish. Similarly, minimalist kitchen appliances with sleek, streamlined handles and unobtrusive dials are also more likely to stand the test of time and preserve an appealing kitchen aesthetic.  
4. Kitchen trends to avoid: Granite Worktops
Granite is still sought after for kitchen worktops but can easily date and especially in darker colours is a kitchen trend to avoid! Speckled granite used to be much in demand but now stands out for all the wrong reasons! Natural stone is also harder to maintain which is why worktop materials such as quartz and marble are now more popular and with greater kitchen staying power.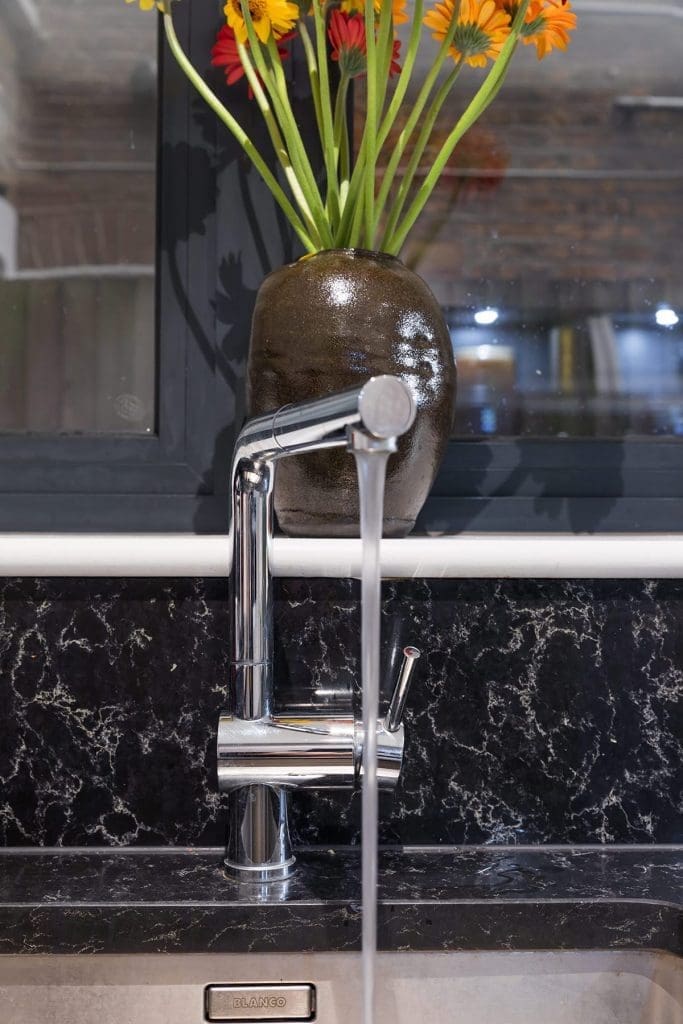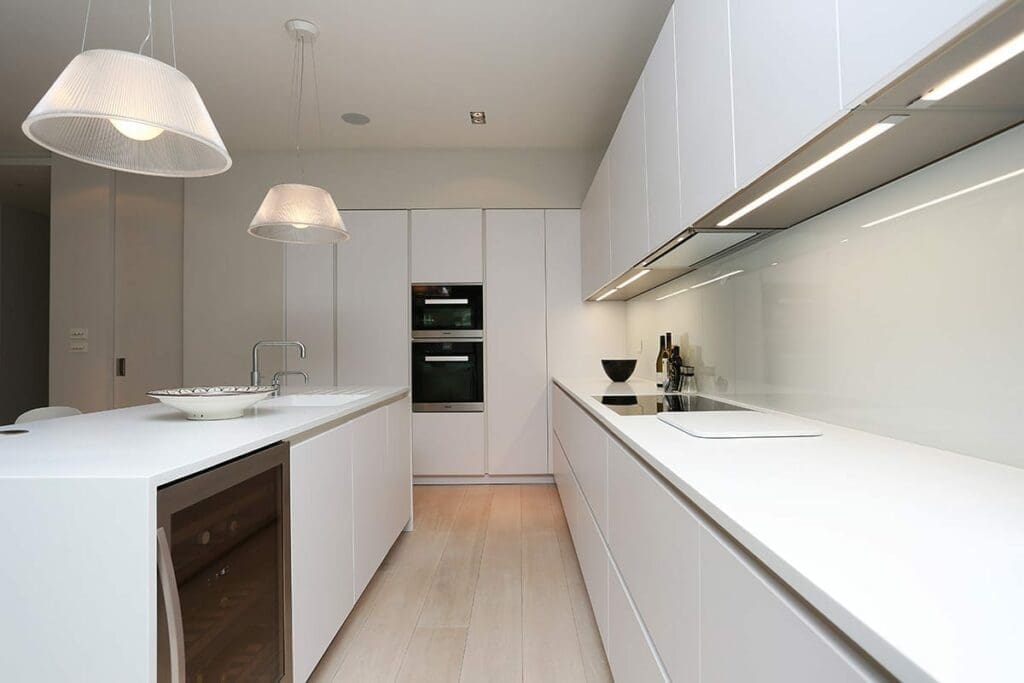 5. Fluorescent Lighting
Fluorescent lighting was once considered very modern, but it can actually be quite harsh and not very flattering. Similarly frosted lights appear dated and are a kitchen trend to avoid as they can also make the kitchen feel more enclosed.  If you're looking for a modern kitchen, try using LED lighting instead – it's much more flattering and can help to create a more inviting space. Similarly, open light fixtures and clear glass shades are ideal for maximising the amount of light your kitchen receives, creating a better aesthetic whilst also enhancing usability within the kitchen.  
6. Kitchen trends to avoid: Patterned backsplashes
Patterned backsplashes were once popular in modern kitchens, but they can quickly start to look dated and busy, and particularly with bold patterns. As well as limiting scope for other décor, a splashback is not easy to change once in place so you may end up stuck long-term with a look you quickly tire of. Instead, if you're looking for a modern kitchen, try using a solid colour backsplash instead.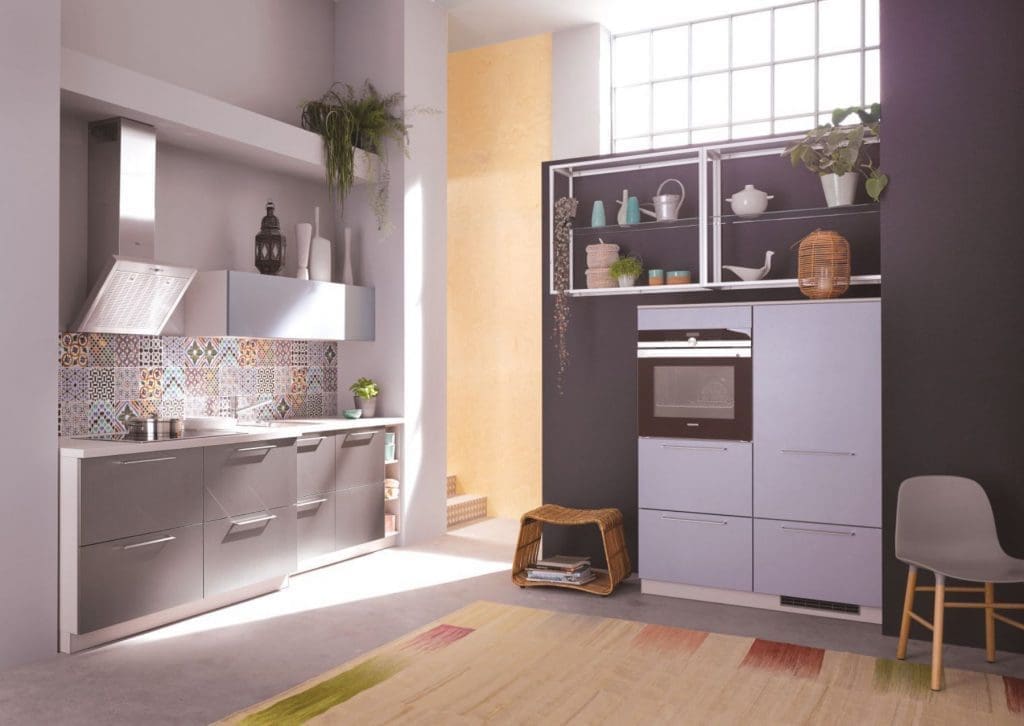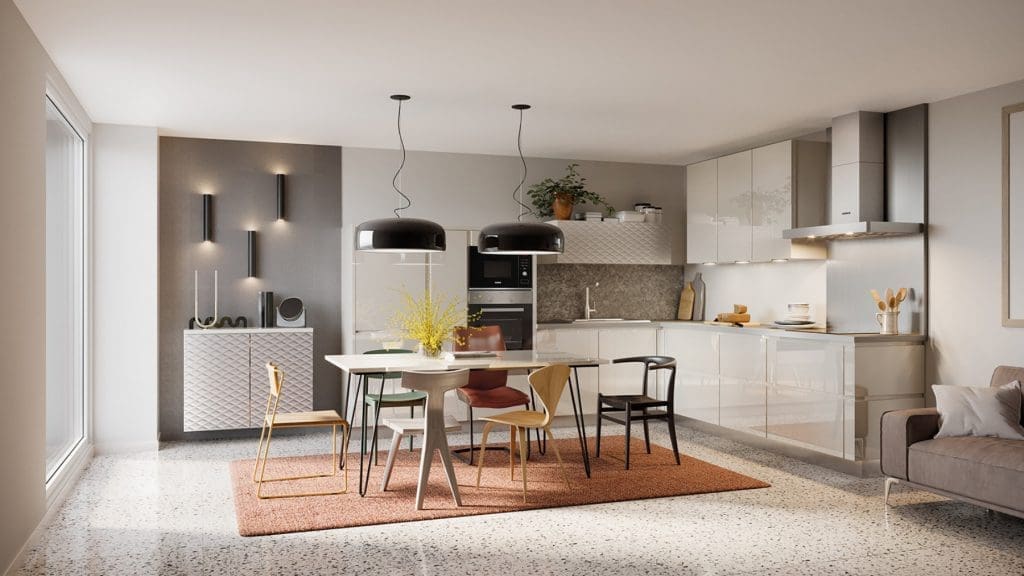 7. High Gloss Kitchen Cabinets
Whilst it was once one of the most sought-after kitchen styles, the trend for high gloss kitchens has long since come and gone, yet they are still widely available for purchase among manufacturers. The look gloss kitchen doors create is very different from their matt kitchen counterparts, which is far more modern, understated and less likely to date. Gloss kitchens are also harder to maintain as they show up dirt or finger-marks more easily than matt or textured surfaces. Whilst there is still a place for gloss kitchens in kitchen design, less is more, and they are far more visually effective as a compliment to other tones and finishes rather than used throughout the entirety of the kitchen.
8. Ornate kitchens
Ornate kitchen details have proved popular in recent years and are great for adding character and personalisation, yet they tend not to age well. Instead, the trend towards minimalism is increasing and with this the desire for ornate handles, fixtures and hardware is dwindling.  Trends come and go, but a classic, timeless kitchen will always be in style and a simple, pared-back kitchen look will always stay relevant for longer. This also bodes well if you later decide you want to sell your home as there's more scope for a new owner to add their own touches. So, for a lasting look, ditch the trendy fixtures and opt for a more understated finish. 
9. Visible Small Appliances
Where once you would expect to see a kettle, toaster and microwave on top of the worktop in any kitchen, these items are increasingly defunct. Kettles are gradually disappearing in favour of instant hot water taps, whilst microwaves are hidden behind cupboard doors, or else a separate appliance is unnecessary due to the inclusion of a combination microwave oven. In favour of a minimal aesthetic and whilst also increasing usable worktop space, remaining appliances such as the kettle, are easily accessible but often hidden out of sight behind pocket doors, a tambour unit or pantry.
10. Fully Open Plan Kitchens
Whilst the trend for open plan spaces is certainly not going anywhere, 'kitchen zoning' is a better option than a free open layout as it allows for a much more organised space which is easier to use. For example, you can have separate kitchen zones for prepping food, cooking, washing up, dining and entertaining.  Compared with a fully open plan space, having separate areas for different purposes is more important than ever given the number of people still working from home following the pandemic. 'Broken plan' living is a further derivate of this concept, using physical dividers such as cabinetry, a table, bookcase, partition, or flooring which have been carefully thought out and positioned to further emphasise separate areas within the same open plan space.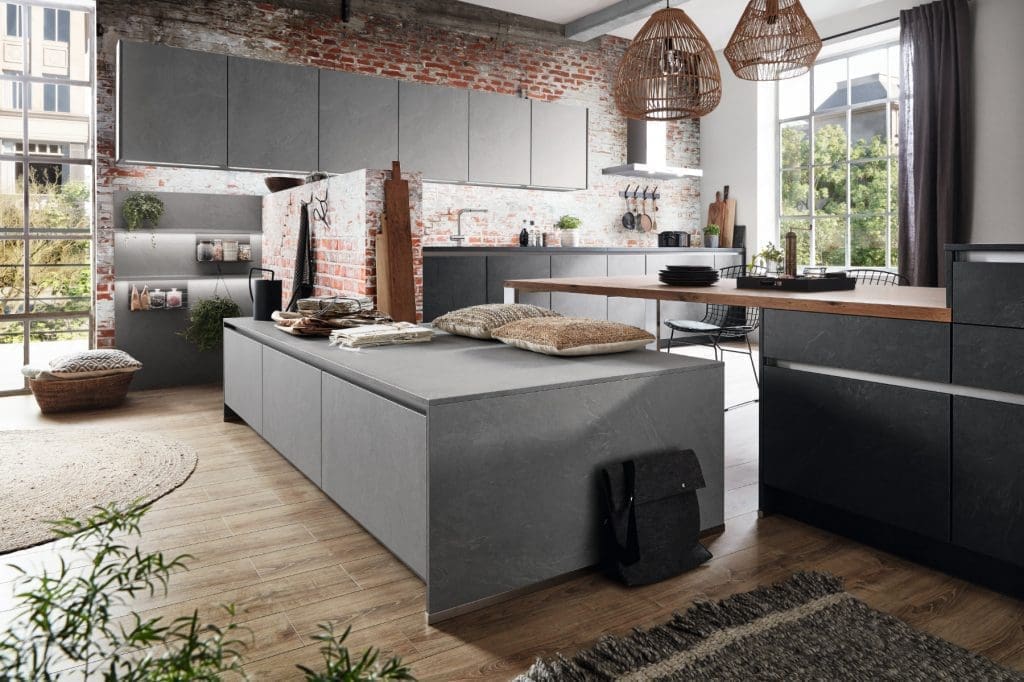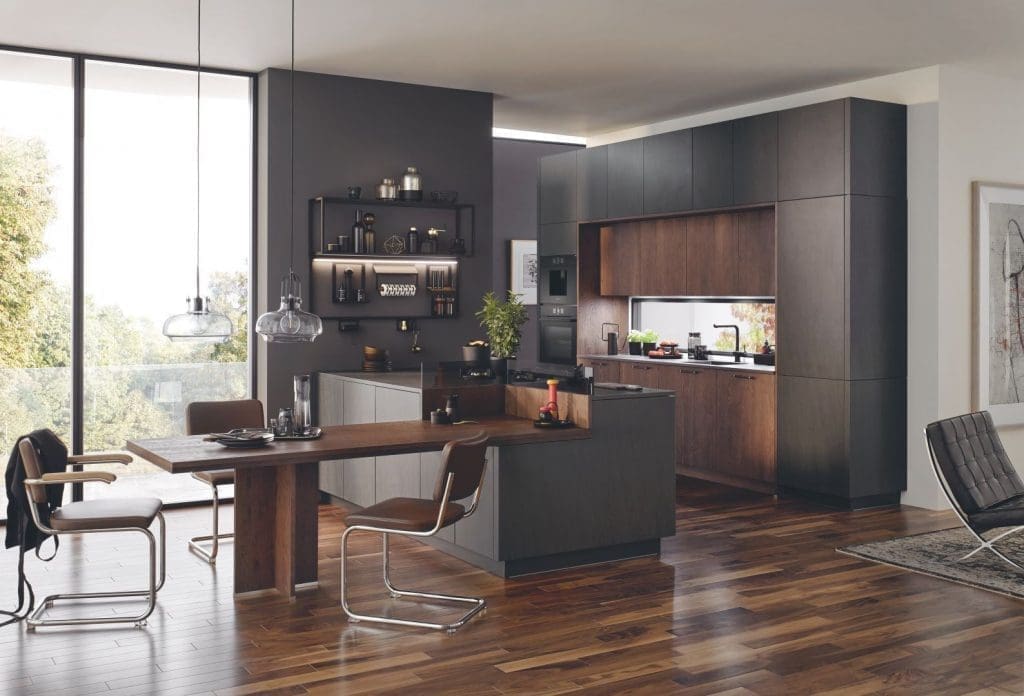 Talk to an Expert on Kitchen Design Trends
Ultimately, if you're looking for a new kitchen it pays to look to the future and decide if the on-trend styles you love so much right now, will likely hold the same appeal in 10-15 years' time! Speaking to an experienced designer will always help you in knowing which kitchen trends to avoid, and instead, help you cultivate a stylish look with an enduring finish.
To find your nearest Kitchen Expert who can advise on all aspects of kitchen design and planning, contact us today.