Are you considering a vented hob as part of your new kitchen design? Vented hobs tick all the boxes for modern cooking and are becoming the preferred hob choice for kitchens; stylish, efficient, and easy to cook with, they also eliminate the need of a separate extractor fan. In this article we'll explain how they work, the advantages disadvantages, alternatives, and costs of these innovative new kitchen appliances.
How Do Vented Hobs Work?
A vented hob (also known as a venting hob) is a ceramic, induction, or gas cooktop with an integrated extractor fan in the middle. It's a two-in-one appliance that works as both a stove and an extractor simultaneously. There are several different burners on top of the hob, but instead of there being an extractor fan up the back or side, the cooktop has its own high powered venting system that draws smoke and smells through a filter system.
Depending on whether your appliance has recirculating or else is ducted outside, it will either force the smells and vapours through the venting system or suck it outside. They are popular in British homes because they give you the combination of cooking flexibility and convenience with efficient removal of smells and vapours to improve air quality and keen the cooktop clean.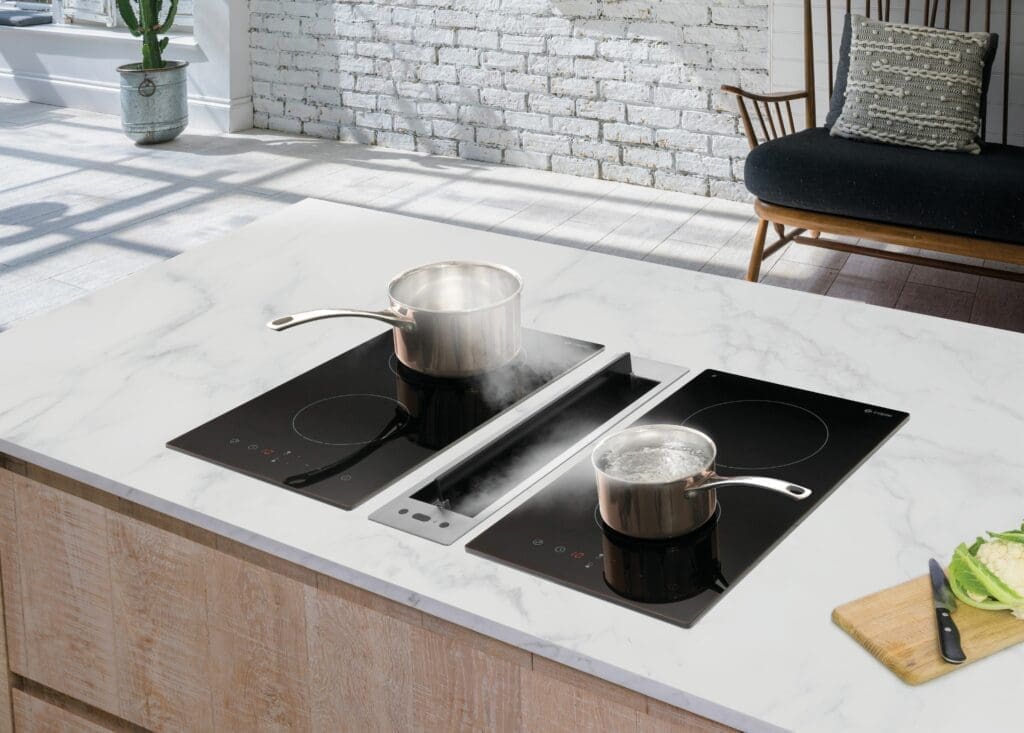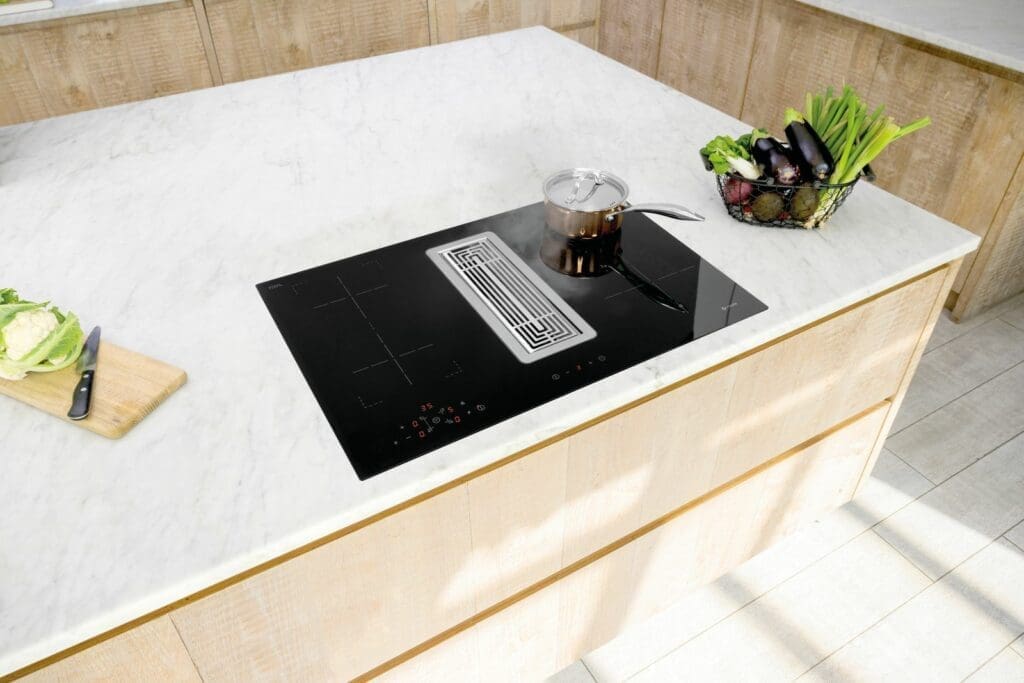 What Are the Benefits of a Vented Hob?
There are several benefits of having a vented hob over an extractor fan:
Vented hobs allow you to cook with larger pots and pans than you can with many extractor fans, as the heat stays on the hob where it is needed, not sucked up into the roof.
They create a more evenly distributed heat, which means you can get a hotter part of the hob where you need it.
They are easy to clean as there is no extractor fan over the hob, meaning that food doesn't drop through the extractor into your cupboards below.
They are safer to use, but also make it less likely for anyone in the kitchen to bump into or knock over an extractor fan.
They give your kitchen a more modern look as there is no exterior appliance showing. In fact, they are aesthetically perfect as they sit flush with your worktop and blend in with the room.
Venting hobs are much quieter than other cooking appliances, especially if you invest in a mid- high range model with a recirculating system.
Disadvantages of Vented Hobs
Vented hobs are more expensive than many other types of hobs
Because of the central extractor there is no space if you want a 5th ring on your hob; most models have 4 rings.
They need to be installed by a qualified gas fitter
They need to be vented to the outside
They are not suitable for outdoor use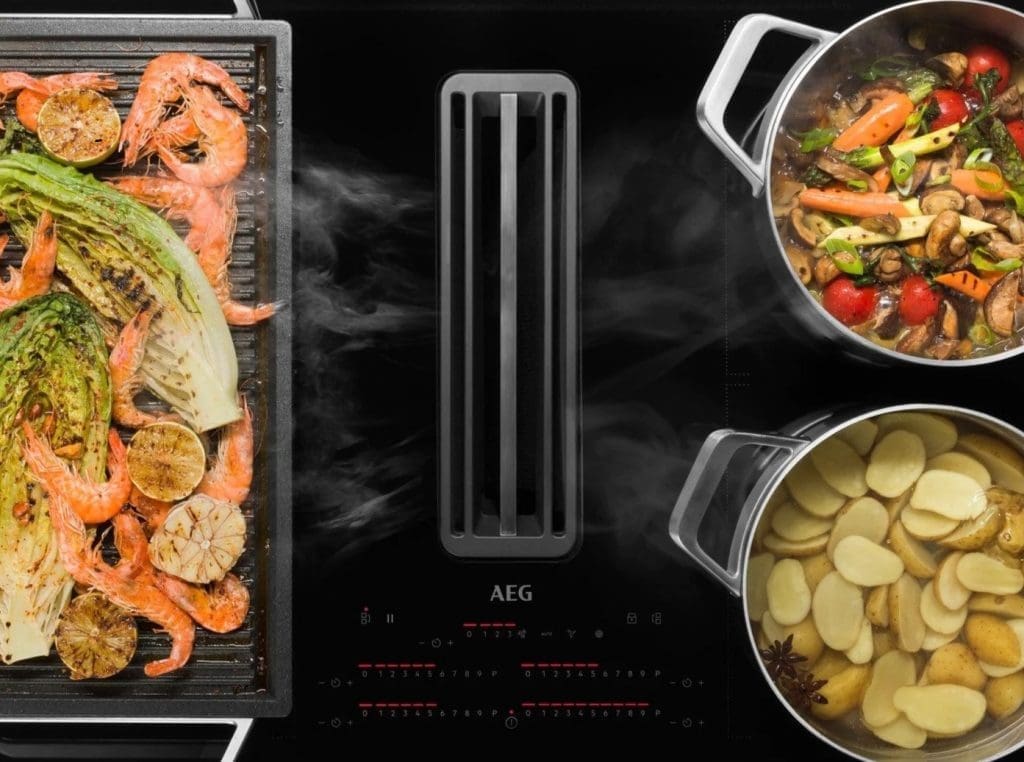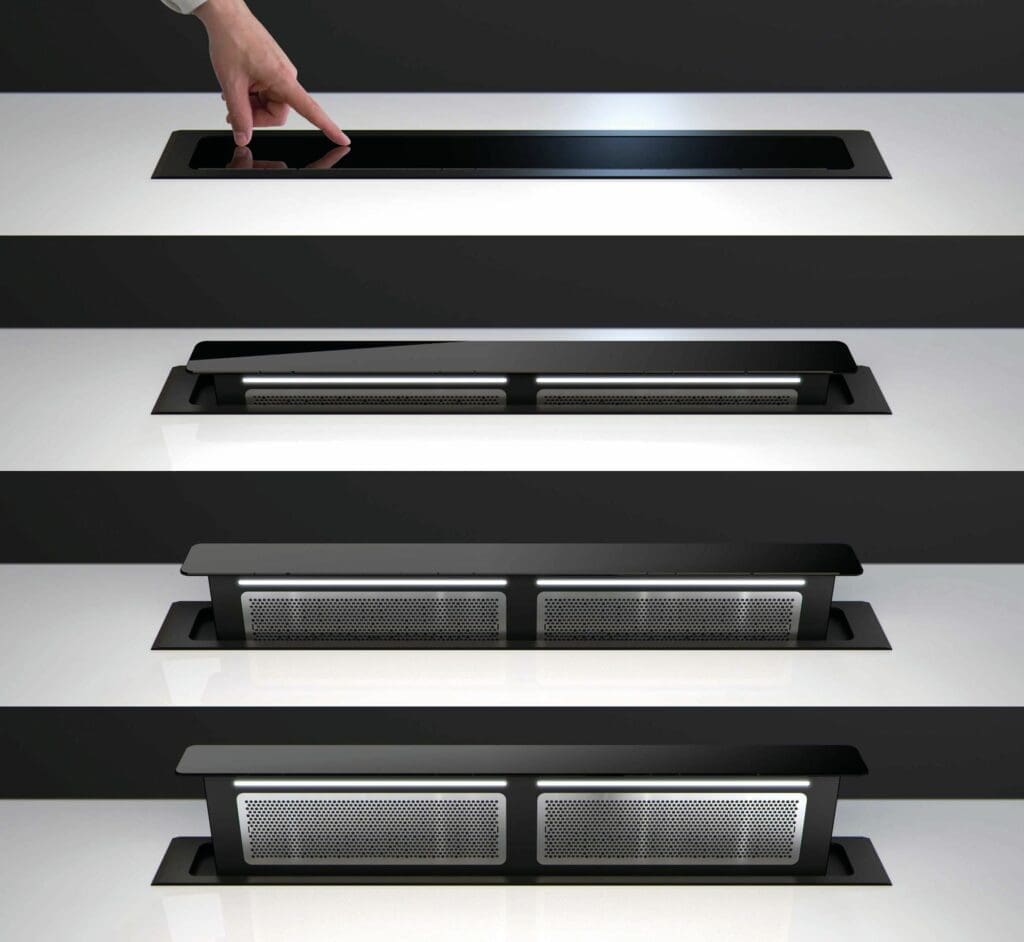 Where Can I Place a Vented Hob?
Vented hobs have an extraction system to stop any smells and are best placed in the centre of your kitchen where you have good flow around your hob. They do not need to be against a wall, but it is much harder to ventilate when you can't get air back into the room. They can be used under windows and are a popular choice for small kitchens eliminating the need of a separate extractor where space is at a premium.
Why are Venting Hobs Good for Kitchen Islands?
Vented hobs are often found on kitchen islands where other extraction methods aren't possible or desirable. Locating a hob on an island is a great choice for a social kitchen space, enabling you to face your family or house guests whilst you're cooking, but with this often comes the dilemma of where and how to position your extractor system to get rid of cooking smells and grease.
Venting hobs are the perfect solution for this as they are easy to install under an island, creating an efficient extraction system, and while some will need their own gas line installed just for the hob, others may be able to share a gas line with your ovens. Vented hobs are also good for kitchen islands because they can be vented beneath an island without taking up any valuable work top space.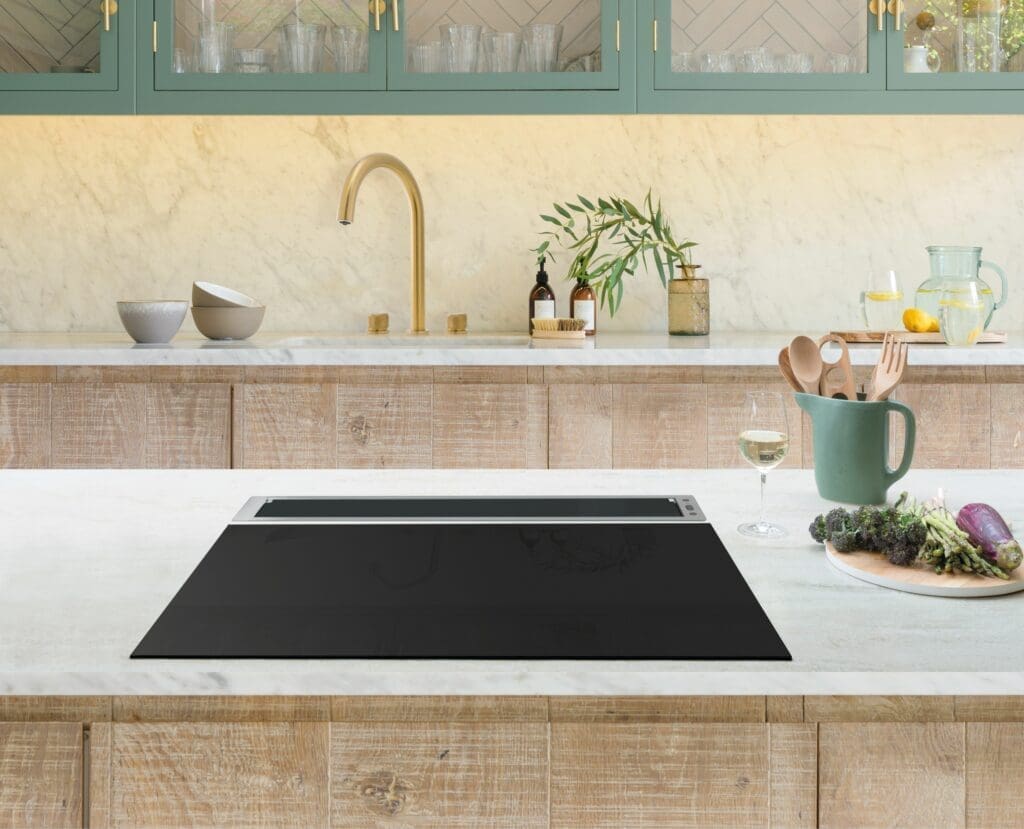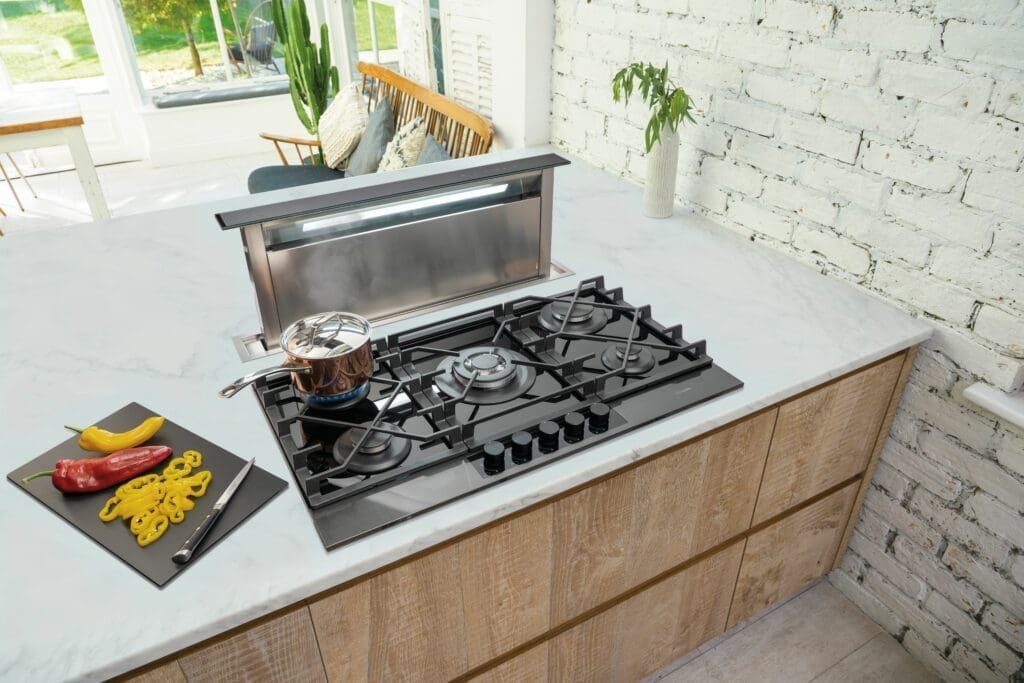 Are Vented Hobs Expensive?
Vented hobs are more expensive than standard electric or gas hobs, but less expensive than having an extractor fan to remove the smells and vapours. They range in price depending on the size of your hob, how many burners you want, and whether it is recirculating or ducted. They are now very popular in the UK and can cost anywhere between £500, to upwards of £2,000 for models with more advanced filters and control systems.
Which Brand Makes the Best Vented Hobs?
AEG, Fisher & Paykel and Caple are brand leaders in vented hobs. Appliance models from these brands will be on the higher end of the price scale, but for this you can expect a high quality appliance that looks good and operates perfectly.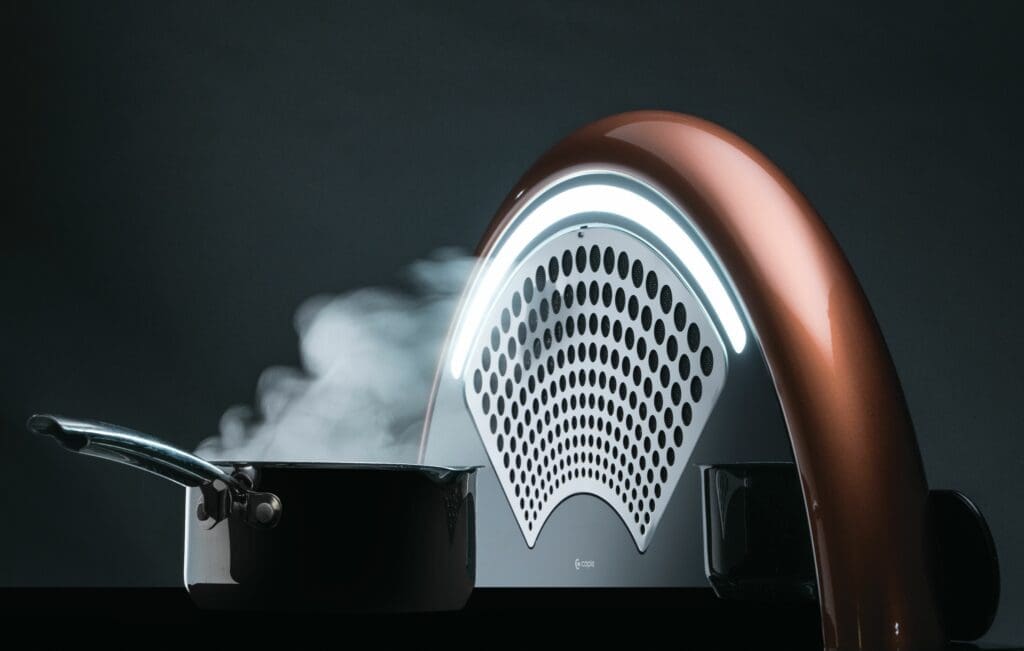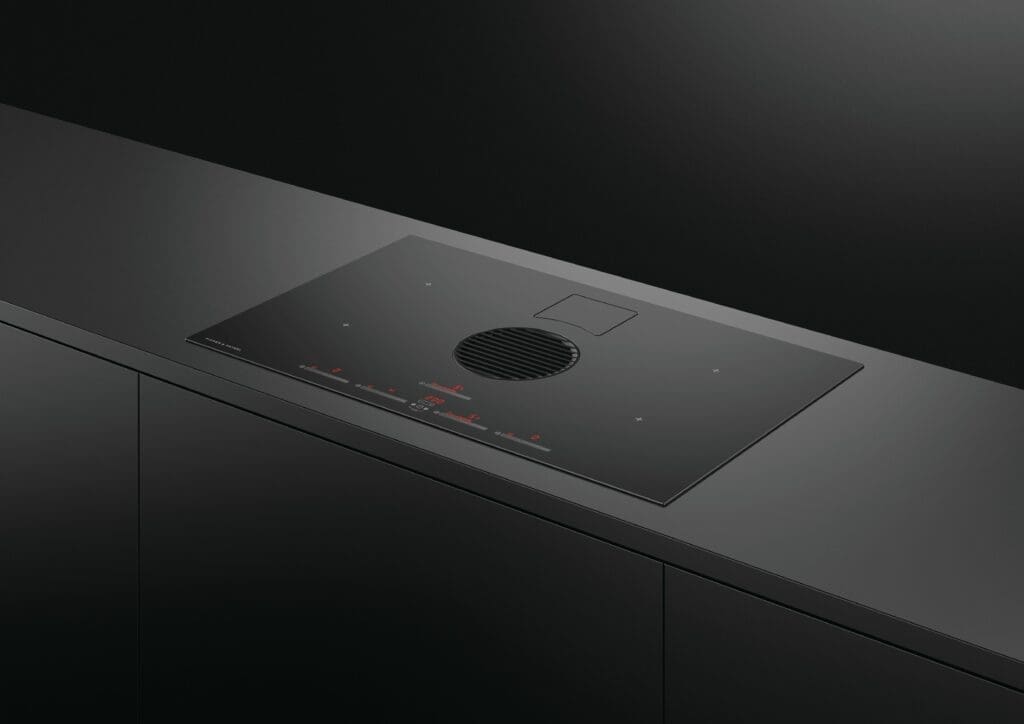 Alternatives to Vented Hobs
You can achieve a similar outcome to a venting hob with a standard hob with a downdraft arrangement. Should you do this, you may lose any connectivity benefit such as the extractor being automatically activated, and power varied according to the hob setting. Depending on the appliances selected, this may be a more expensive solution- and don't forget the additional costs of machining another cut out in the work surface, installing two separate appliances etc.
Beyond downdrafts, a number of different hob types in combination with any extract appliances in combination can create the same solution.
Where Should You Not Have a Vented Hob?
Vented hobs can usually be fitted anywhere indoors, provided that the installation meets relevant safety standards but they are best suited for the kitchen space—a location that will see a lot of activity during cooking. Venting hobs can be installed anywhere, though notably absent from this list is any bathroom or bedrooms as there will not be enough airflow to disperse odours.
Vented hobs should never be located near doorways or adjacent to a window—the risk of carbon monoxide fumes entering the home is simply too great. They should also not be installed in garages as the build-up of gas and oil may damage sensitive components such as VFD. Venting hobs are not suitable for outdoor use, and you should avoid placing them in rooms with poor ventilation.
Buying a Vented Hob?
If you're interested in learning more about vented hobs and how this type of cooking might work for you our team of Kitchen Experts can answer all of your questions, no matter how big or small they may seem. As you can see from our list of features above, there are many reasons why venting hobs make an excellent choice. So, whether it's a vented hob for the first-time homebuyer who wants an easy-to-clean option without sacrifice cooking power; we have what you need!
Contact your nearest Kitchen Expert now for recommendations on which model would best suit your needs, taste and budget too.