Looking for great kitchen storage ideas? …A cluttered kitchen can make cooking and meal preparation a frustrating and overwhelming task. But with a little bit of organization and the right kitchen storage solutions in just the right places, you can easily enjoy a kitchen space which is both functional and efficient. Here, we discuss some tips and tricks for maximising kitchen space and achieving optimal organisation.
Make Use of Vertical Storage Potential
One of the best ways to maximise kitchen space is to make use of vertical wall space. Instead of letting items pile up on worktops and in cabinets, use wall-mounted shelves and pot racks to store cooking utensils, pots and pans, and other kitchen essentials. This not only frees up kitchen worktop space, but it also keeps items within easy reach. Framed kitchen wall units are very much on trend right now; they are perfect for combining kitchen storage potential with a sleek and contemporary kitchen aesthetic.
Invest in Multi-Functional Kitchen Furniture
Another great way to maximize kitchen space is to invest in multi-functional kitchen furniture. For example, a kitchen island with storage underneath can serve as both a food preparation area and a place to store pots and pans, while a pull-out pantry can provide much-needed storage space in a small kitchen. Talk to an expert kitchen planner when starting out on your new kitchen project who can assess your intended space and advise on the best possible furniture solutions available to maximise on it.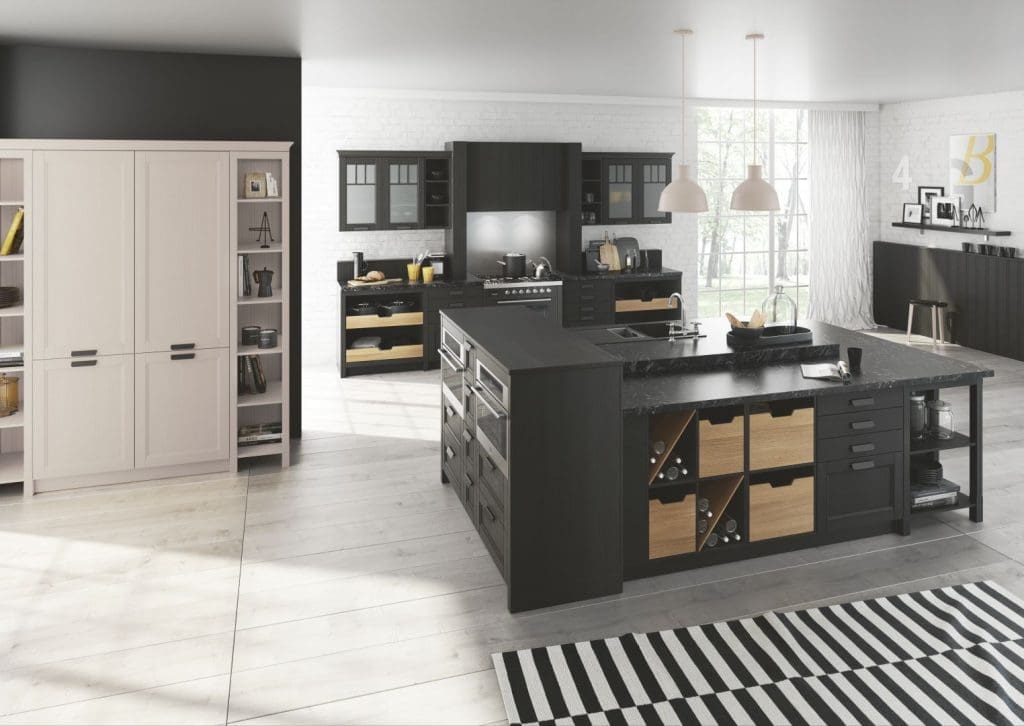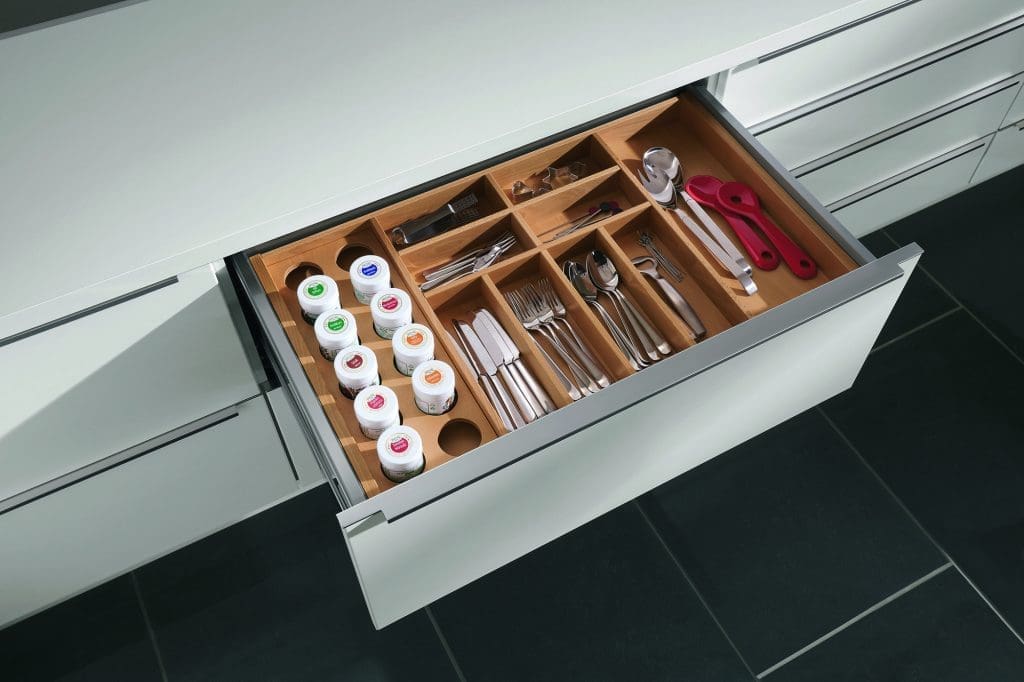 Organize Your Kitchen Cabinets and Drawers
One of the most important aspects of kitchen organisation is keeping your cabinets and drawers in order- everything should have a place, so that everything can be in its place! Use drawer dividers and internal organisers to keep utensils, cutting boards, and other items in place, and consider pull-out shelves to make it easier to access items in the back of the cabinet without having to stretch and strain. This includes corner cabinet solutions such as kitchen le mans units and corner carousels.
Declutter Your Fridge
It may not be the first thing that springs to mind when you want to maximise space, but a fridge can quickly become cluttered with out-of-date food, Tupperware, or takeaway containers. Not only is this unhygienic but it makes it difficult to find and access what you want from your fridge at any given time. Make a habit of regularly decluttering your fridge and using clear storage containers to keep leftovers and other items organised.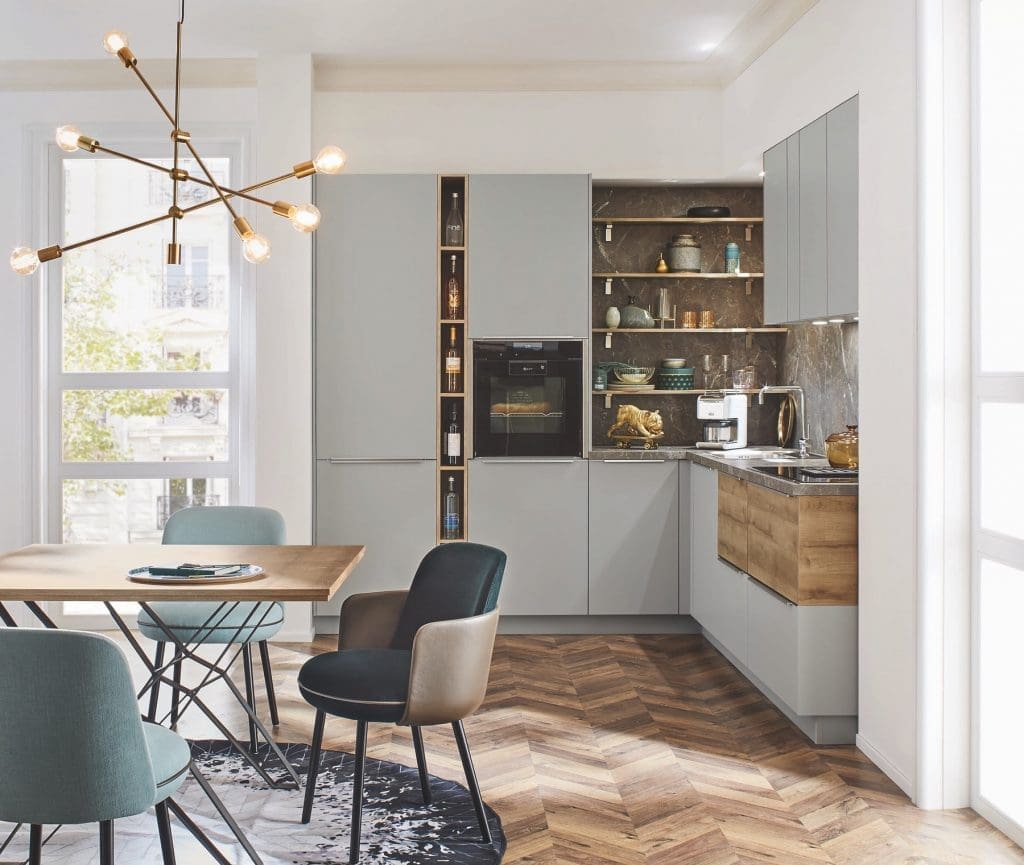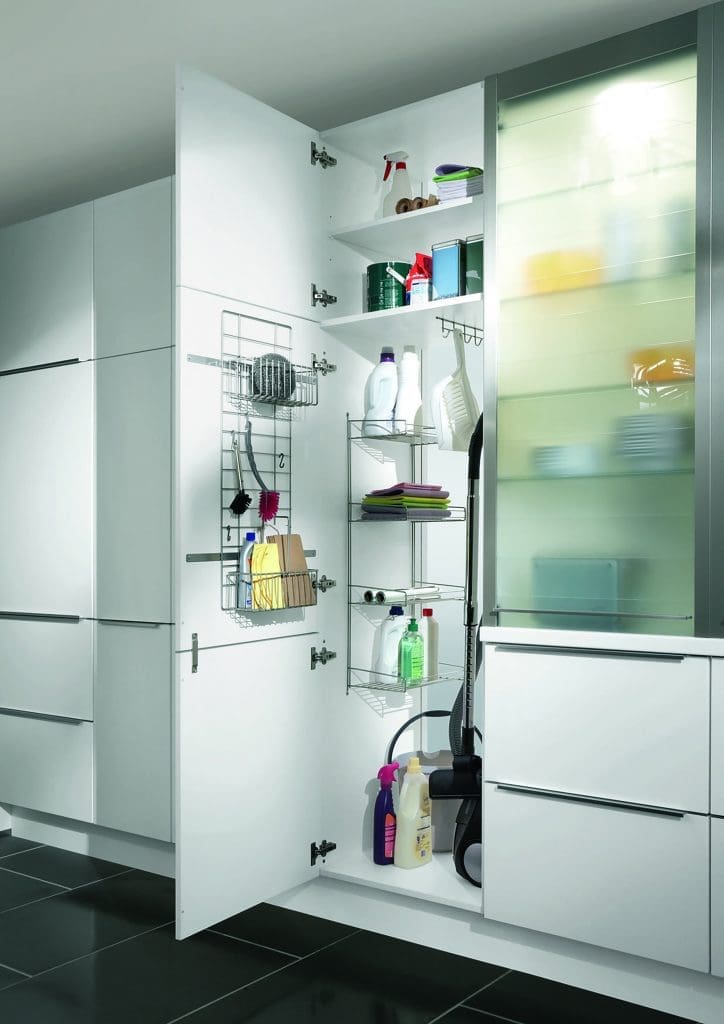 Use the Back of Kitchen Cabinet Doors
The back of kitchen cabinet doors is often wasted space in the kitchen, but it can be put to good use with the help of integrated shelves or organisers. Such organisers are typically used to store spices, recipe cards, and other small items, keeping them within easy reach but out of the way.
Utilize the Space Above the Fridge
The space above a tall fridge is another area that is often overlooked when it comes to kitchen storage and organisation. But with the help of a footstool or small ladder for access, this space prove really useful for cookbooks, baking pans, or any other items that you don't use on a daily basis.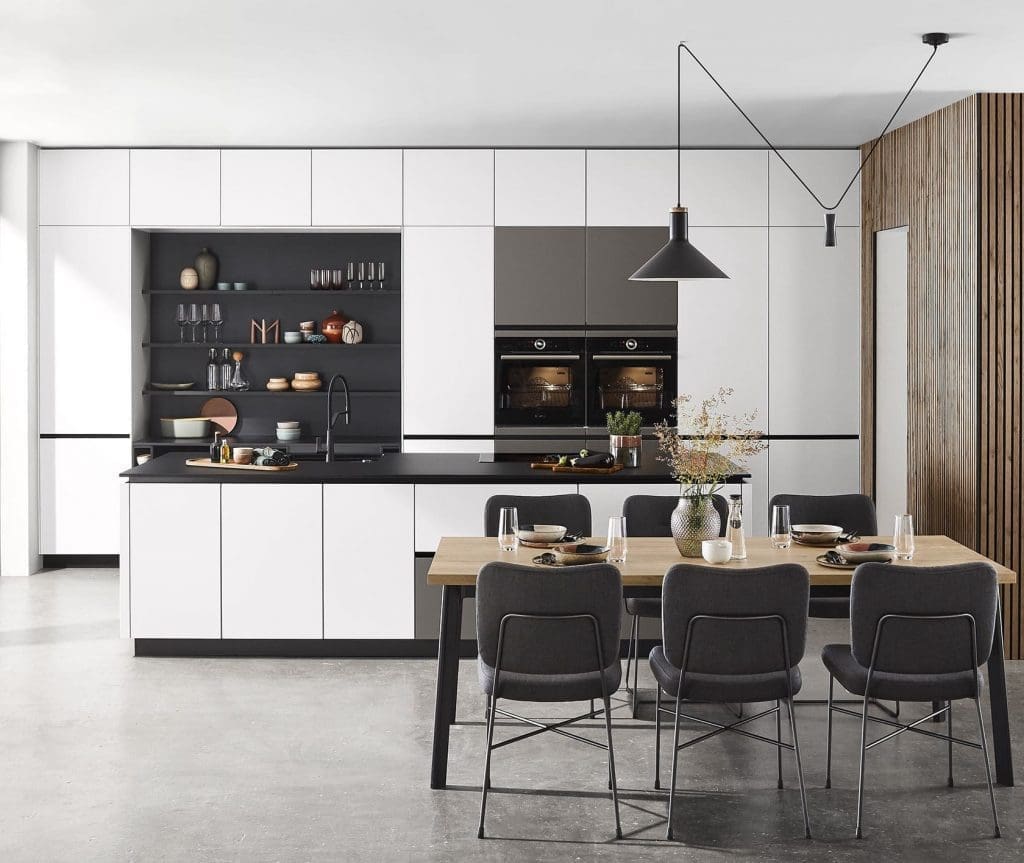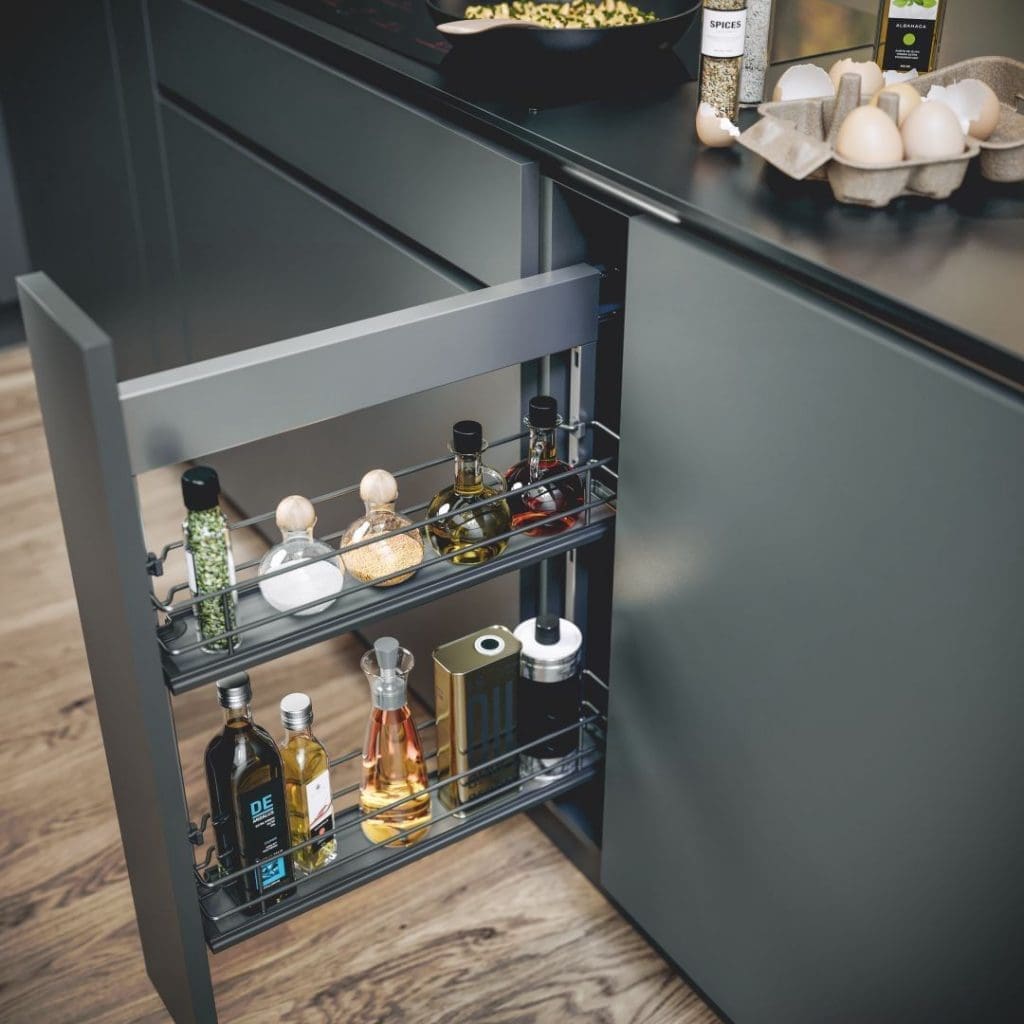 Make An Extra Cupboard In Place of Filler
When planning your kitchen design there is often scope- with a little imagination- for extra cupboard space in place of a filler panel! Often the space on the sides of appliances such as the refrigerator and stove is wasted, but it can be put to good use with the help of a few shelves. These shelves can be used to store spices, cooking oils, and other small items, keeping them within easy reach but out of the way.
Make Use of the Under-Sink Area
The under-sink area in the kitchen is another area that is often cluttered and disorganised. But with the help of a few organisers, this space can be transformed into a functional and efficient area for neatly storing your cleaning supplies and other items.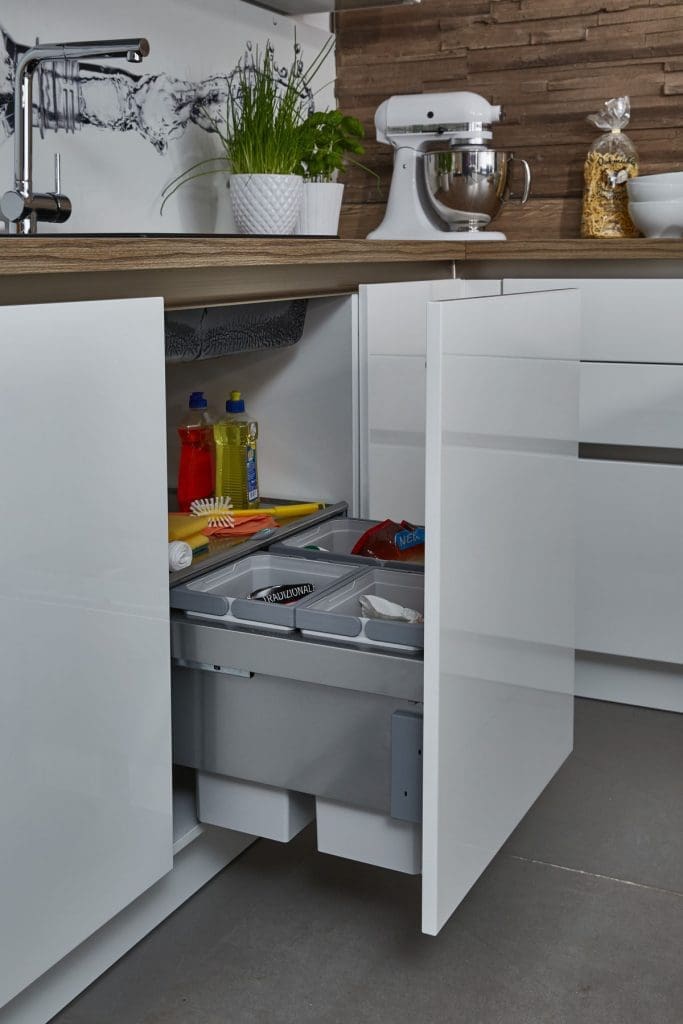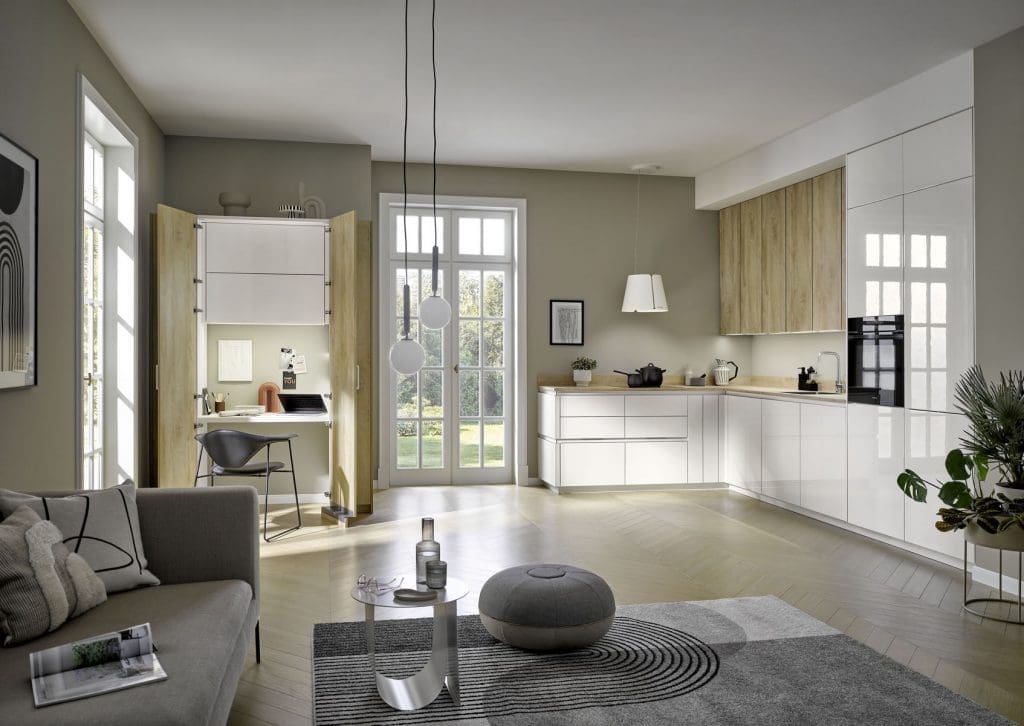 Talk To An Expert Kitchen Storage Planner
In conclusion, a little bit of organisation and the right kitchen storage solutions can go a long way in maximising your kitchen space. By making use of vertical space, investing in multi-purpose furniture, organizing your cabinets and drawers, decluttering your fridge, using the back of cabinet doors, utilising the space above the fridge, and making use of the under-sink area, you can create a functional, efficient, and clutter-free kitchen. These tips and tricks are a great start for helping you enjoy cooking and meal preparation, but for bespoke kitchen planning advice, it is always best to talk to your nearest Kitchen Expert.