Gloss kitchen doors have a light-reflective quality and appeal for the fresh, timeless look they bring to a kitchen setting. They are available in a wide variety of kitchen colours but there are also many different types of gloss kitchen finish that you can choose from. These vary in terms of look and quality, with different materials and manufacture processes affecting the resulting gloss kitchen look and lifespan. Here we explain some of the different gloss kitchen finish options, including distinguished and luxurious gloss lacquer, gloss acrylic and gloss glass kitchens: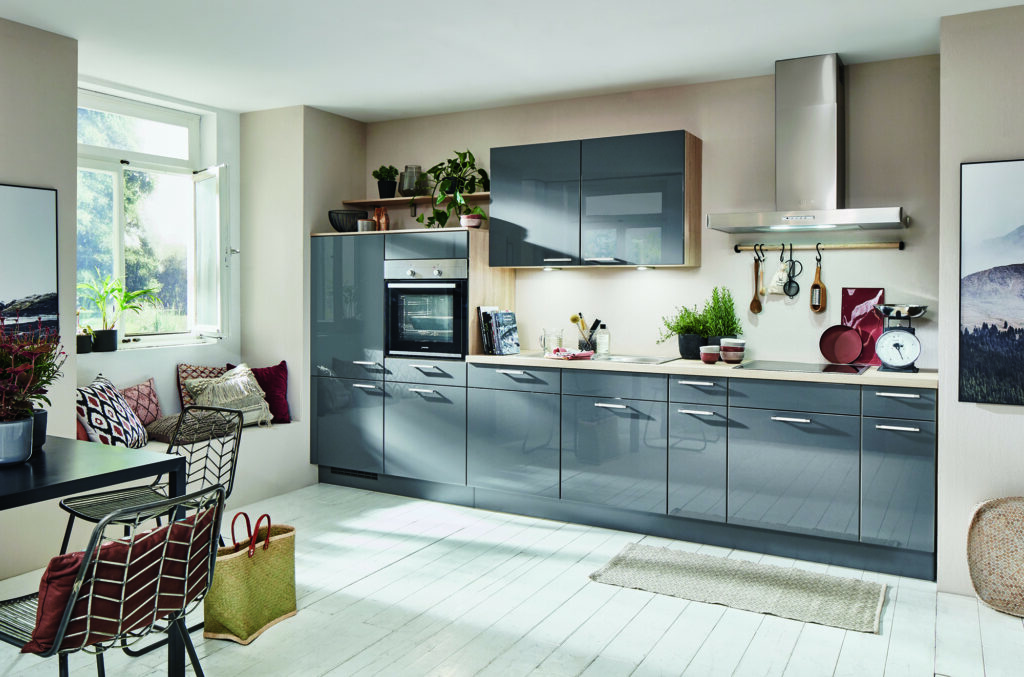 different types of gloss kitchen – Gloss glass kitchens
The gloss glass kitchen door is highly distinguished, with a deep and highly reflective surface quality, similar to that of a mirror. It creates contemporary kitchen designs, with the surface of the door reflecting light back across the kitchen for a bright and elegant look. The glass is produced from toughened safety glass ensuring that as well as a high quality, smooth and flawless look, it also has a scratch resistant and durable surface. In contrary to its elegantly delicate look, a good quaity gloss glass kitchen finish is remarkably robust and can withstand the everyday knocks, scrapes, and bumps that kitchens are frequently subject to.
Gloss lacquer kitchen finishes
Gloss lacquer kitchens are manufactured and finished to an extremely high standard. Similar to kitchen laminates and acrylics, they have an MDF core but it is the finish process that really sets the gloss lacquer kitchen apart. This is a repeated spray lacquer process, coating the lacquer over an initial primer which has been smoothed, sealed and filled. The spray lacquering gradually builds up a deep and very even coating of the lacquer colour. The result is an ultra-smooth door surface with a clear and highly reflective gloss kitchen finish. The multi-layering process, all-side setting, and jointless lacquering provides a surface which is optimally protected against moisture, highly resistant to chemicals, and which can withstand any amount of wear and tear.
Carried out by sophisticated machinery, it is the labour-intensive, lengthy process it undergoes that makes the gloss lacquer kitchen door a more expensive option than laminate or foil wrap doors. However, it is this same process that also ensures an extremely high quality durable door with a stunning and consistent surface finish, and a deep and clear reflection. Dark kitchen colours are also available within this type of finish, rich in tone, and exuding the same impressive glossy lustre.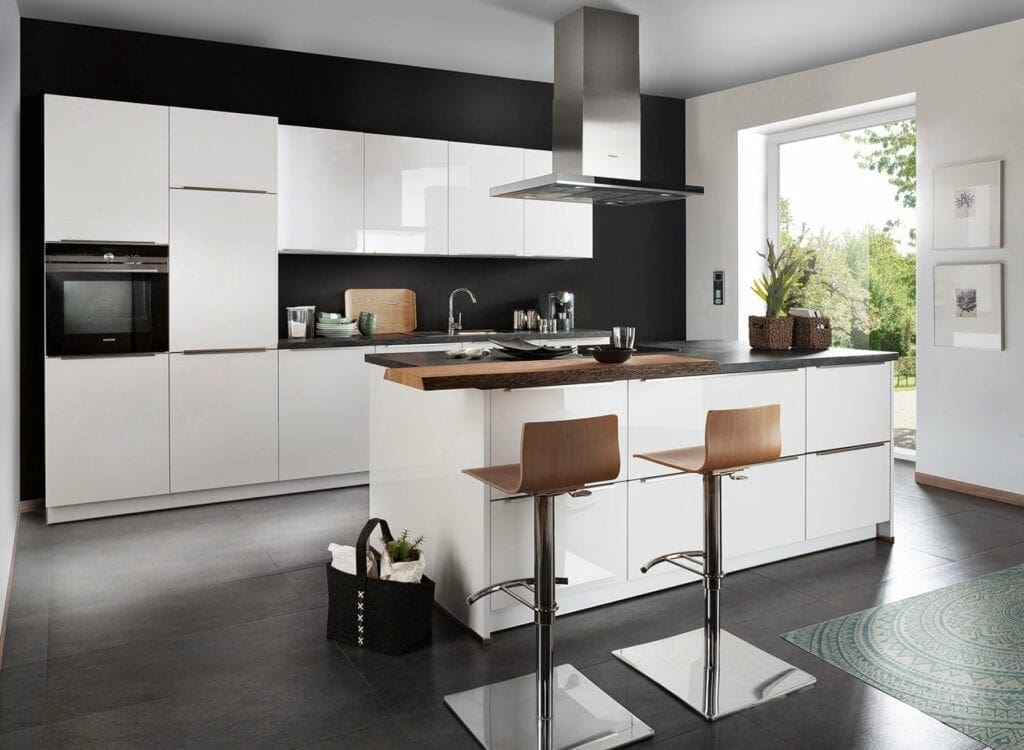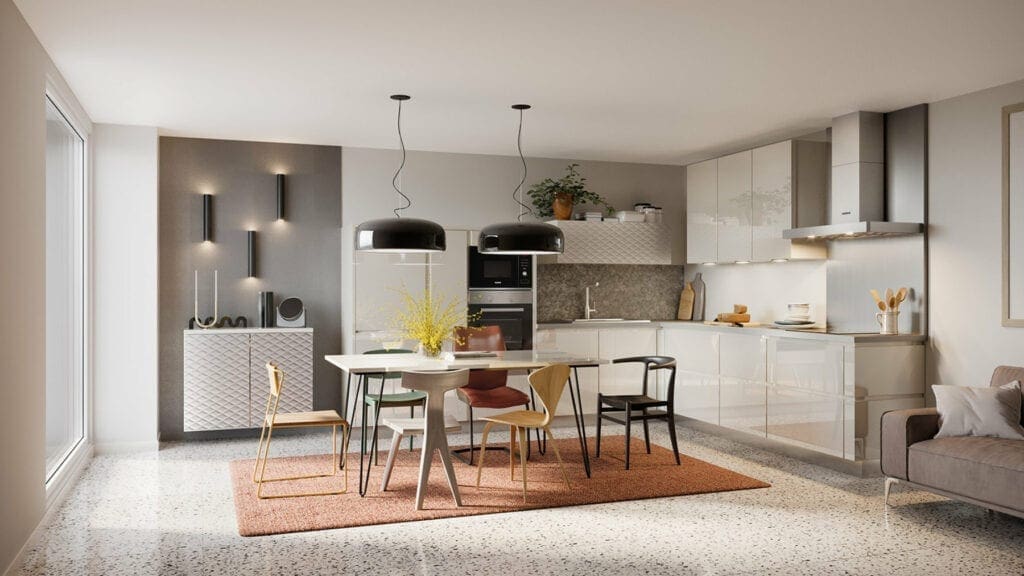 High gloss lacquer kitchen door edge options
As with other styles, it is not a case of one-size-fits-all and there are different types of gloss kitchen finish edging available for your gloss lacquer doors. High gloss lacquer kitchen doors are available with all sides in either high gloss lacquer or high gloss laminate, edges with or without visible gloss sides, a high gloss lacquer with softly rounded edges, or of course in the new laser edge kitchen finish. Within this type of edging all sides of the kitchen door are fused with a laser for a high standard of quality and hygiene, and a near seamless appearance.
Gloss acrylic kitchen finishes:-
Parapan Kitchens
If purchasing an acrylic kitchen, it is essential to first establish which type of acrylic kitchen door you are buying, as there are two types, and they differ significantly! Solid acrylic kitchen doors such as Parapan® are described as solid because they are composed entirely of 18mm thick acrylic all the way through. Because of this they are the more expensive acrylic kitchen option but produce an even colour, with a smooth and highly reflective finish, comparable with the gloss lacquer kitchen. Solid acrylic kitchens are also very hardwearing, stain resistant and non-porous.
Acrylic faced kitchen doors
The other option for acrylic kitchens is acrylic faced doors. These are produced by bonding acrylic to an MDF board which is then sealed at the edges. The acrylic faced door is a less costly option but the quality is also less. This means they are less durable and more difficult to maintain on a day-to-day basis; the doors can sometimes prove soft and this makes them prone to damage if not handled with due care.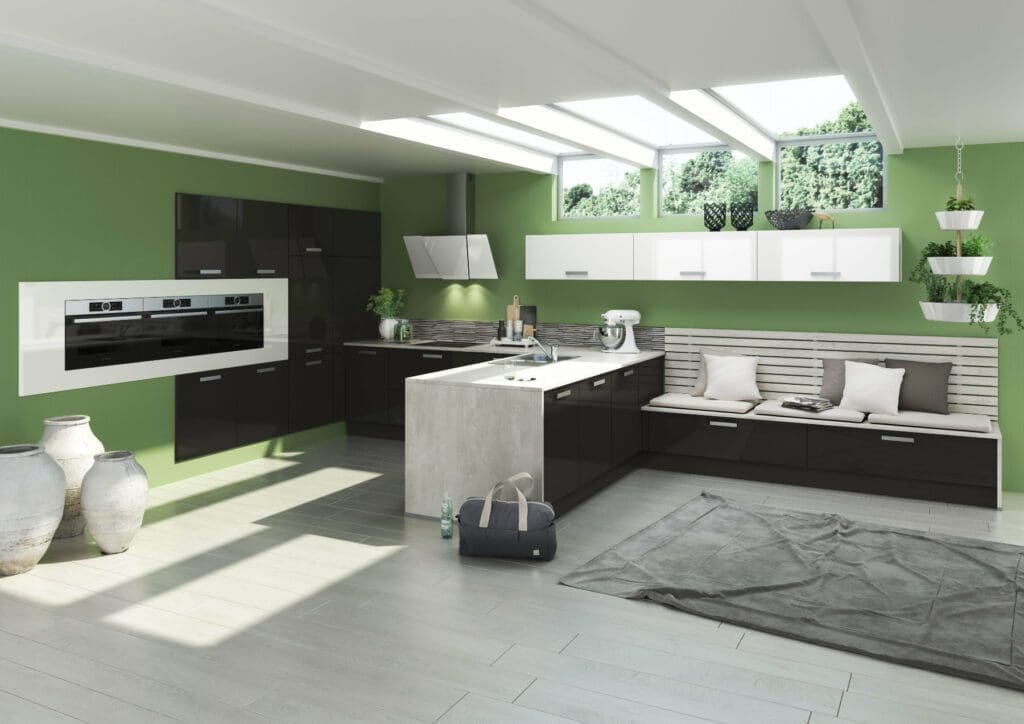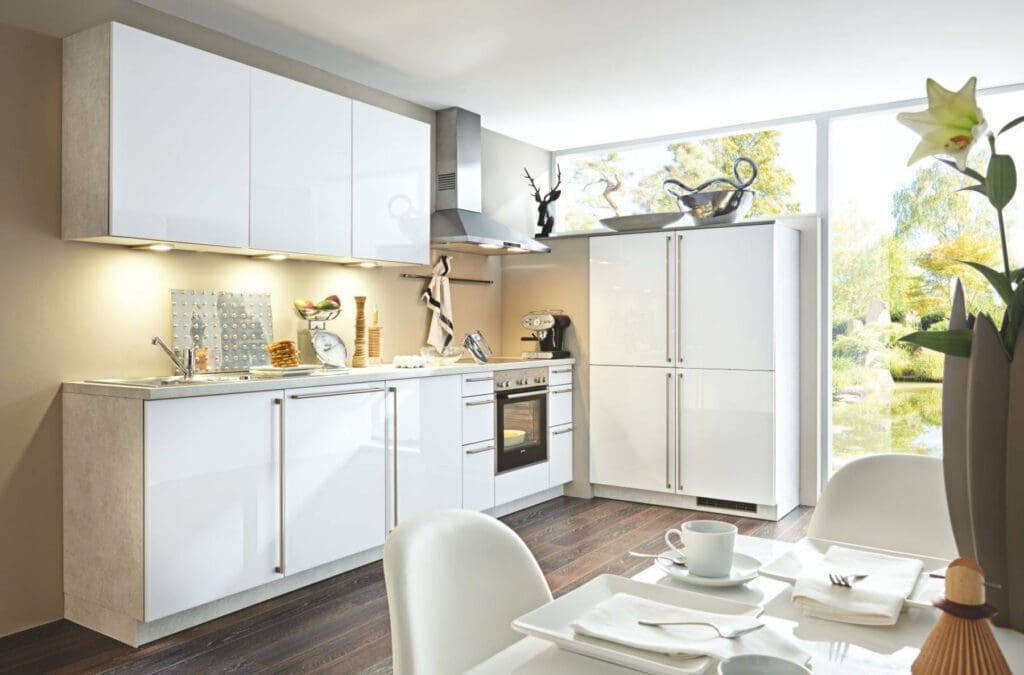 Laminate kitchen finishes
The quality of laminate kitchen doors can vary significantly between manufacturers. Certainly, in today's kitchen market, there are high quality laminate kitchen doors available which can be hard to tell apart from more expensive kitchen finishes! Many German kitchen manufacturers use a heat-pressed adhesive (PUR-hotmelt) to prevent delamination and ensure the highest possible water and temperature resistance for the surface of the door, making maintenance and usability easier, as well as increasing durability and longevity. This adhesive also improves kitchen hygiene as bacteria cannot penetrate the surface of the door.
Yet the choice doesn't end there…laminate kitchen edges vary too!
In the gloss laminate kitchen range alone, there are different types of gloss kitchen finish and edging options, with door prices also varying depending on your choices. For example, where the back of the door is usually pre-laminated as standard, some doors allow for all sides, including the back, to be finished in your choice of laminate colour. Similarly, if square door edges are not for you then you might opt for a gloss laminate finish with softly rounded edges, or else a laminate including all sides laminate with glass or stainless-steel edge effect.
High Gloss Foil or Vinyl Wrap kitchen doors
'Vinyl wrap' and 'foil wrap' kitchen doors refer to the same type of finish. The least expensive kitchen option, there is a preconceived notion of these doors being low quality – something many manufacturers (quite rightly) object to. This is particularly true of gloss foil doors by German kitchen manufacturers who's foil door undergo a stringent manufacture process. For example, a strong and high-quality composite wood substrate is first pre-machined and profiled, before a semi-molten foil is vacuum-formed and sealed over the substrate. This prevents delamination, which occurs when the foil comes away from the substrate. There are different types of gloss kitchen finish but this is is a common problem for lower grade foil kitchen doors and one of the main reasons for foil kitchen doors acquiring a bad reputation. Instead, the end result of the foil manufacture process is a high-quality kitchen finish with a glossy opaque surface reflection, which is easy to care for. Gloss foil doors are available in a variety of colours, although not usually darker tones as these can show up any surface imperfections, not apparent within lighter tones.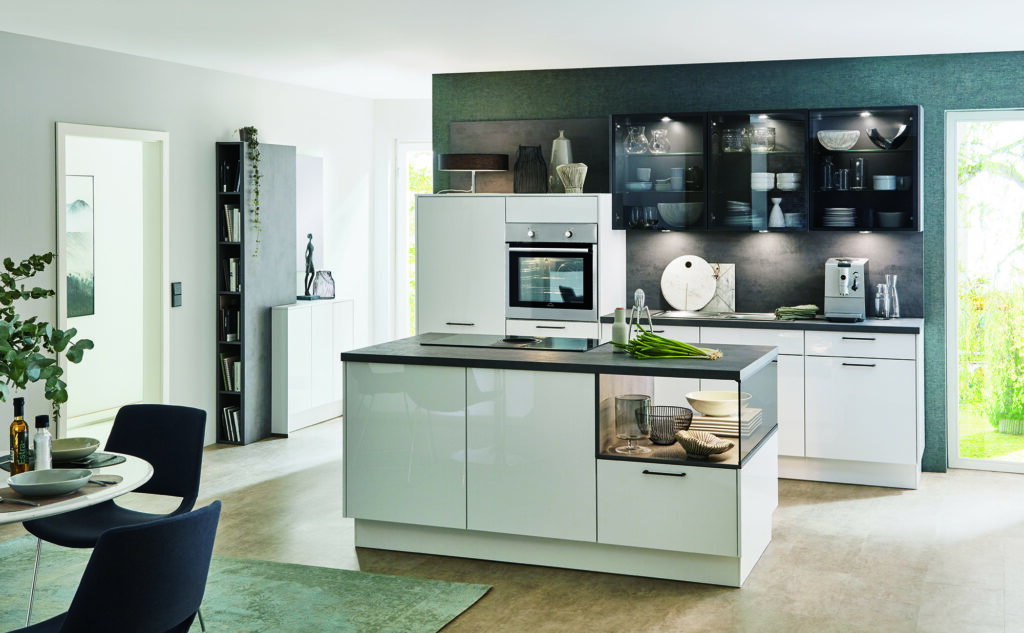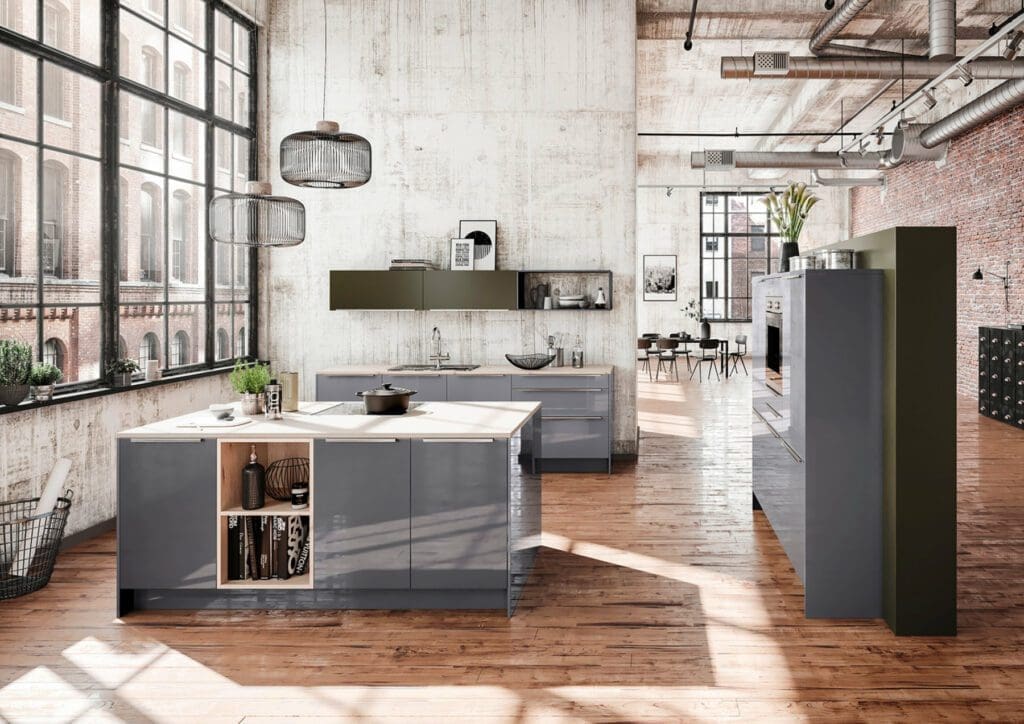 Explore The Different Types Of Gloss Kitchen
As stated, gloss kitchen doors vary significantly in terms of look, quality, durability, and price and there are different types of gloss kitchen doors to consider. Before making any decision, it is fully advisable to visit a reputable kitchen showroom so you can explore your options and personally experience the different grades of gloss finish on offer. Use our 'Find A Showroom' tool today to find a Kitchen Expert near you for further expert advice and information.