If you're considering a matt kitchen for your home then you first need to know what a matt kitchen is, what are the benefits, as well as what are the different types of matt kitchen that are available for you to choose from. Here we will explain in detail the different matt kitchen finish options, helping you make an informed decision.  
What is a Matt Kitchen Door?
A matt kitchen features a flat-faced kitchen door with a solid and even colour base. Unlike gloss kitchens, this solid consistency of colour means that a matt kitchen door's surface absorbs rather than reflects light and so its appearance won't change under different lighting. Overall, this creates a very different look compared with gloss kitchens; a look often described as more muted and understated. The flat and fuss-free surface of a matt kitchen door tends to be minimalist and contemporary, translating to a look which is both timeless, elegant, and which ultimately creates much flexibility for creating varied and highly personalised kitchen looks.
Matt Kitchen Colours and Styles
Matt kitchen doors are available in a wide range of colours, ranging from dark to light, as well as many vibrant hues such as blue, red and luxury green tones. Whatever matt kitchen colour you choose, matt doors can hold their own, effortlessly creating a stylish and appealing kitchen scheme. Yet equally, matt kitchen doors are very versatile and accommodating of other colours, which means they blend well with other tones in luxury two tone kitchen designs. Similarly, their sleek and uniform fascia forms an excellent foundation for contrasts with bolder textures, allowing these to take the centre-stage without competing for attention and making your kitchen look too busy!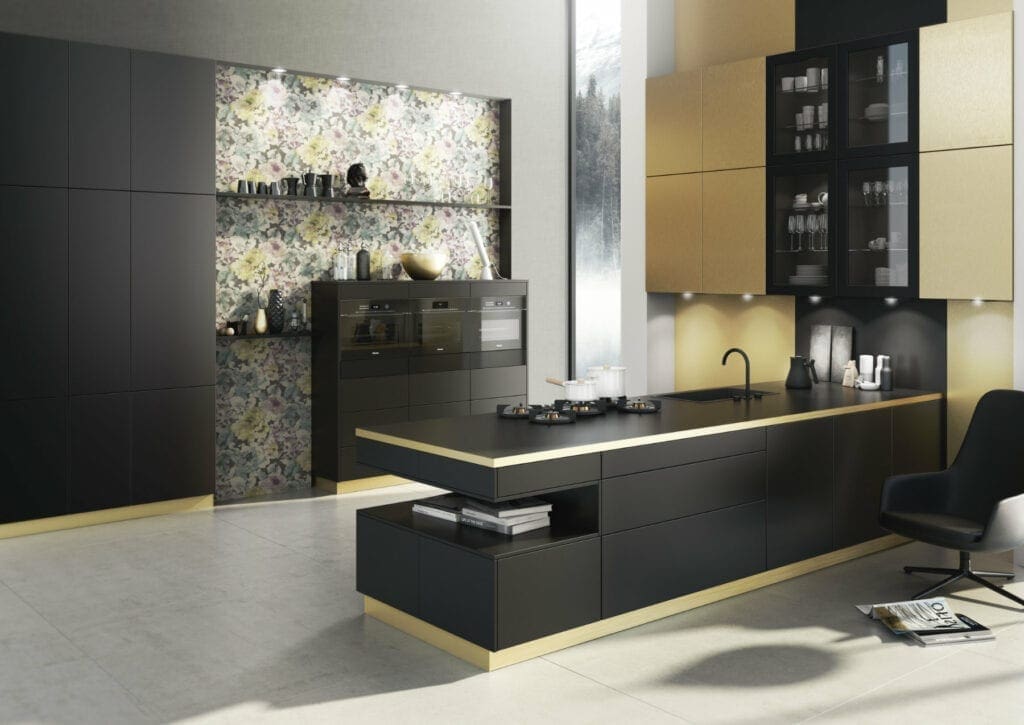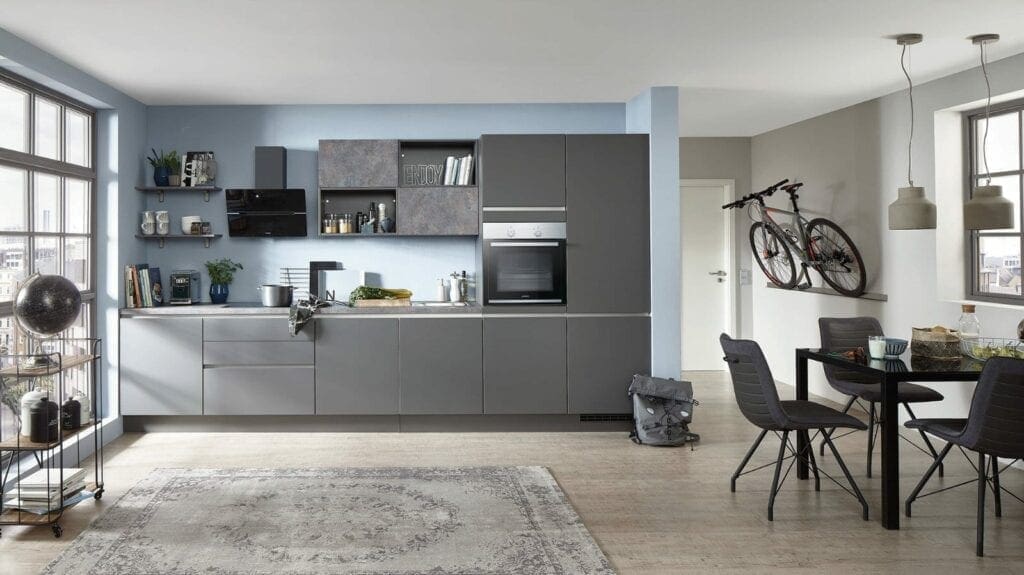 Different types of Matt Kitchen Finish: –
When it comes to matt kitchens one size definitely doesn't fit all, and as well as a variety of colours there are also different types of matt kitchen finish that you can choose from. These vary in manufacture process, with doors being engineered from different materials, and undergoing different finishing processes. This means that the quality, overall look, and of course the price of a newly finished kitchen can vary significantly between manufacturers, and so understanding the different types of matt kitchen is important when making your final decision.
Anti-Finger Print Kitchens
Whilst matt kitchen doors are better than gloss kitchens for not showing marks, spills, and fingerprints, in recent years many of the top German kitchen manufacturers have gone one step further in producing matt kitchen doors specifically designed to prevent marks showing in the first place. Anti-fingerprint kitchens are created using an innovative lacquering process which protects the door's surface. As it's a newer technology there are generally fewer colour options in anti-finger print kitchen doors compared with other matt finish options, and they tend to be more expensive. However, the major benefit is that they help protect your kitchen's sleek aesthetic whilst ensuring a practical, low maintenance kitchen for everyday use.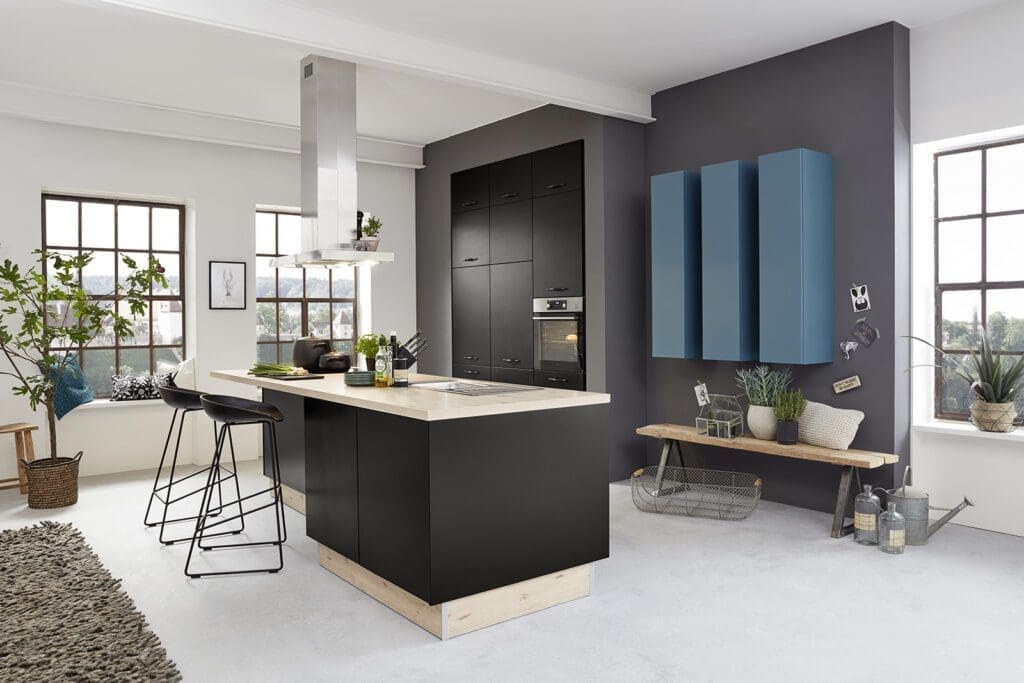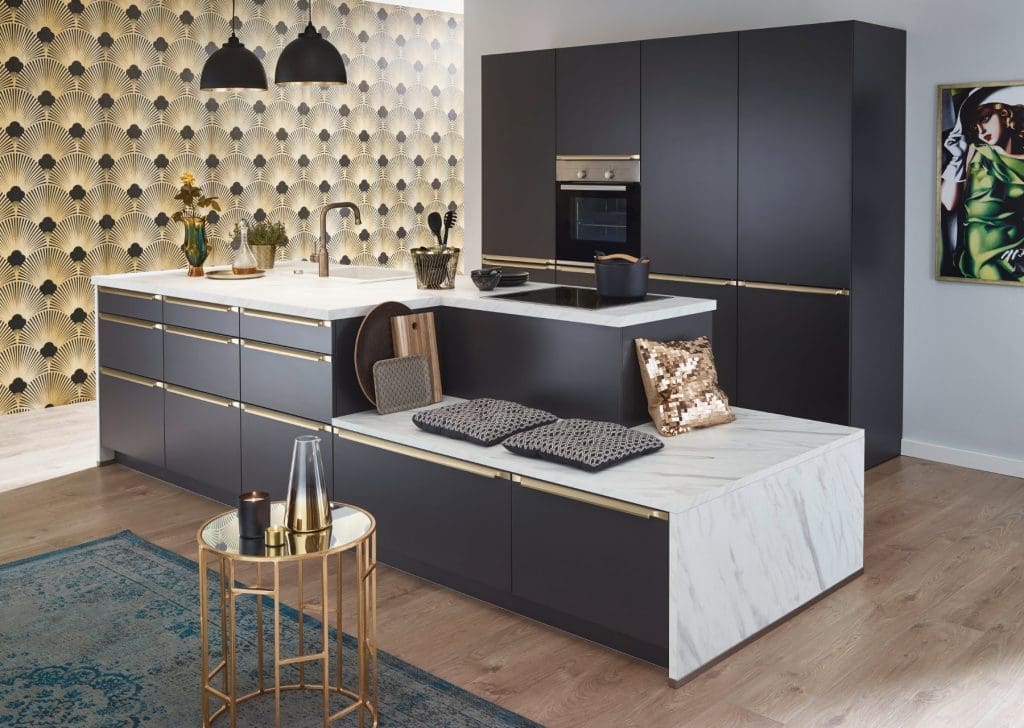 Matt Lacquer Kitchens
Matt lacquered kitchen doors effect a timeless, lasting kitchen look with a silky-smooth feel; but this comes only as the result of intensive manufacturing whereby the doors undergo a repeat paint or spray lacquering process to affect a high quality, smooth finish. Matt lacquer kitchen doors are available as fully lacquered doors, wherein the doors are fully lacquered on the front, as well as all four sides. Alternatively, matt lacquer kitchen doors are available as lacquered and edged doors, which are lacquered on the front of the door but edged on the sides. The fully lacquered matt kitchen door is more expensive, but it has no visible edges and is also more durable.
Matt Laminate Kitchens
The least expensive option for a laminate matt kitchen is MFC (Melamine faced chipboard) doors but more often, and for fitted kitchens, a better-quality matt laminate kitchen is created using a High Pressure Laminate (HPL). More hardwearing than Melamine, the HPL kitchen door is a flat door, individually edged on all 4 sides, and finished with a 1mm laminate coating. Available in the widest choice of colours, laminate matt kitchen doors are a cost-effective option, hard-wearing, and easy to clean too. Generally speaking, the quality of laminate kitchen doors has come a long way over the years and if choosing a new kitchen today you will have the option of many high-quality laminate doors which can be hard to tell apart from other more expensive grades of kitchen finish.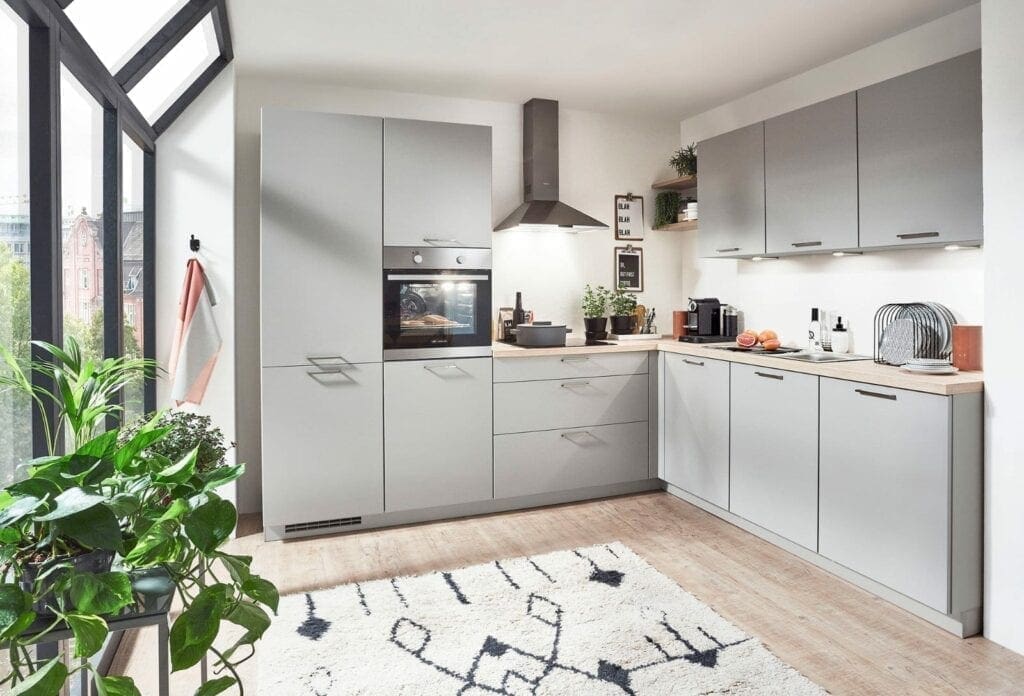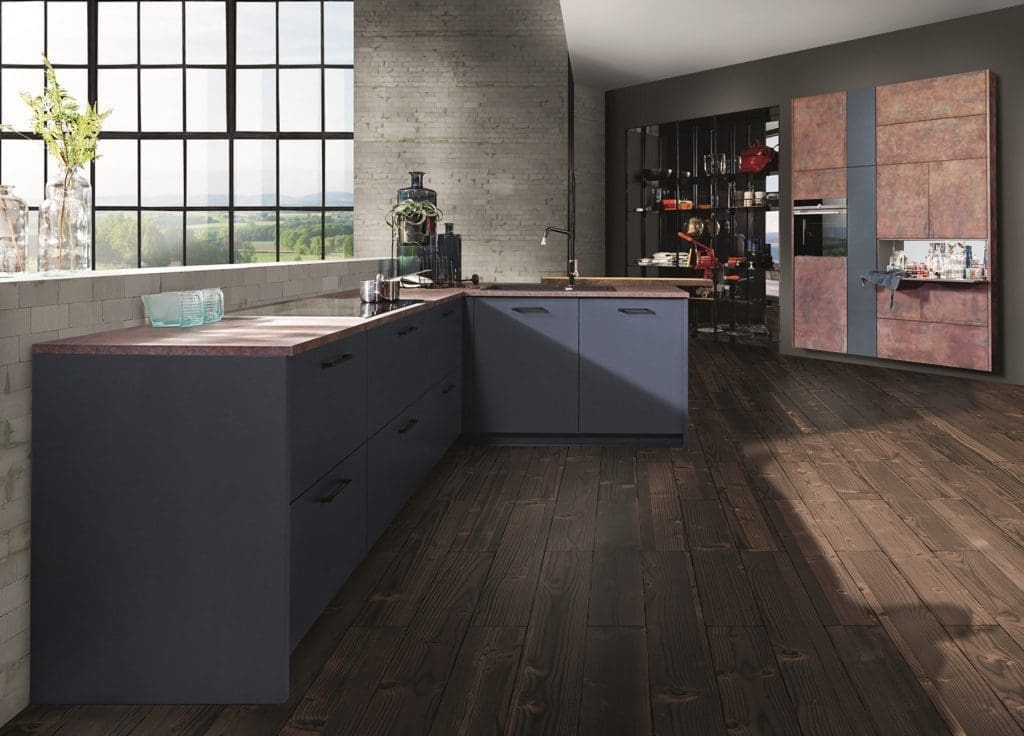 Achieve your Perfect Matt Kitchen Look
The array of luxury colours and matt kitchen finish options available means that matt doors are the perfect lasting choice regardless of whether you want a kitchen that's sleek and modest, or else something more vibrant and eye-catching! For help in exploring different types of matt kitchen finish in more detail to make the right choice for you, contact the Kitchen Experts today and we can put you in touch with your local matt kitchen specialist.