Open shelving is very popular in modern kitchen design due to its versatility and ample storage possibilities. Having open shelves in your kitchen can make a statement in your home while also adding a unique and functional element to your kitchen. However, a common pitfall of open shelving is that it can easily become cluttered and dusty if you don't keep it tidy, which can easily spoil your beautiful kitchen aesthetic. Here, you'll find some useful tips on how to make open shelving work for your new kitchen design!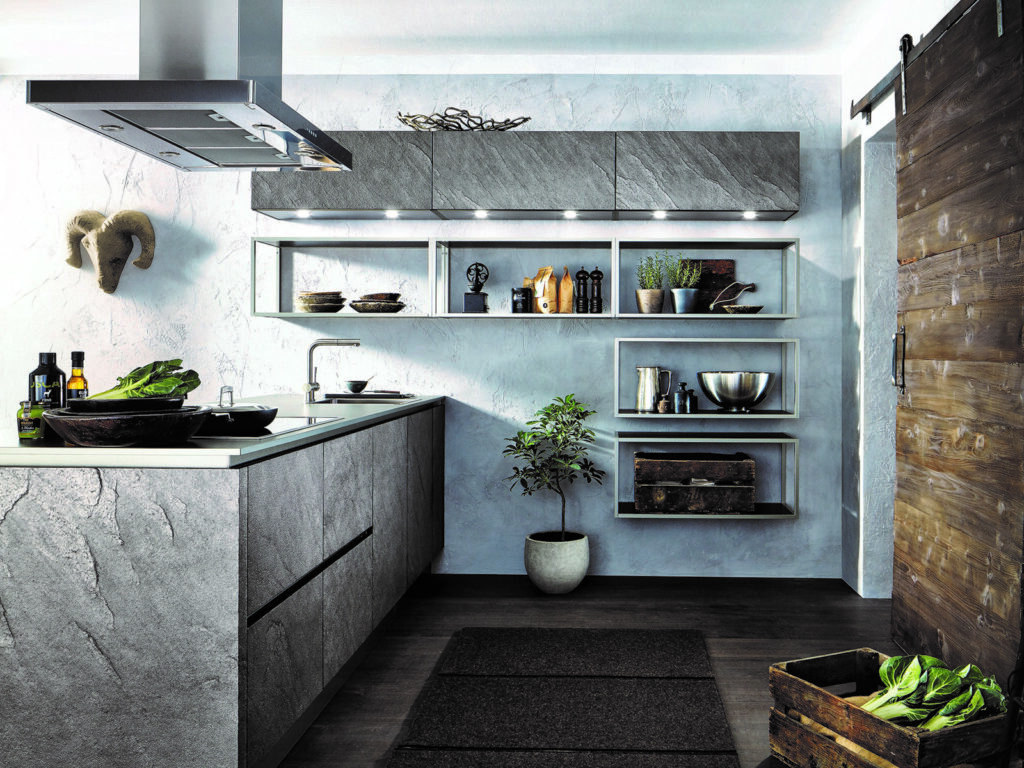 Why choose open shelving for your kitchen?
First, you might be wondering why your kitchen would benefit from open shelving at all. Open kitchen shelves have many advantages to offer, both in terms of functionality and how they look. If your kitchen has limited space, they're a great way to add additional storage space. For example, corner shelves provide lots of opportunity to store dishes, cookware and any other kitchen essentials. Open shelves are also great for displaying any collections or decorative items you might want to show off! They're generally versatile, easy to install, and can be styled in a way that greatly enhances your kitchen's design.  
Store everyday objects on your open shelving
Open shelving often looks aesthetically pleasing in a kitchen, but one downside is that it can easily become dusty – and visibly dusty! This can make your shelves quite arduous to maintain. However, if you place objects on them that you use every day, they are far less likely to gather dust due to the constant use.
This can make the upkeep of your open shelving much easier, while also ensuring that your frequently used items are within easy reach. For example, an open shelf is a great place for storing mugs and glasses that you use every day, but it's not ideal for dishes or glassware that are used only occasionally, since you'll have to dust off the dishes each time before using them.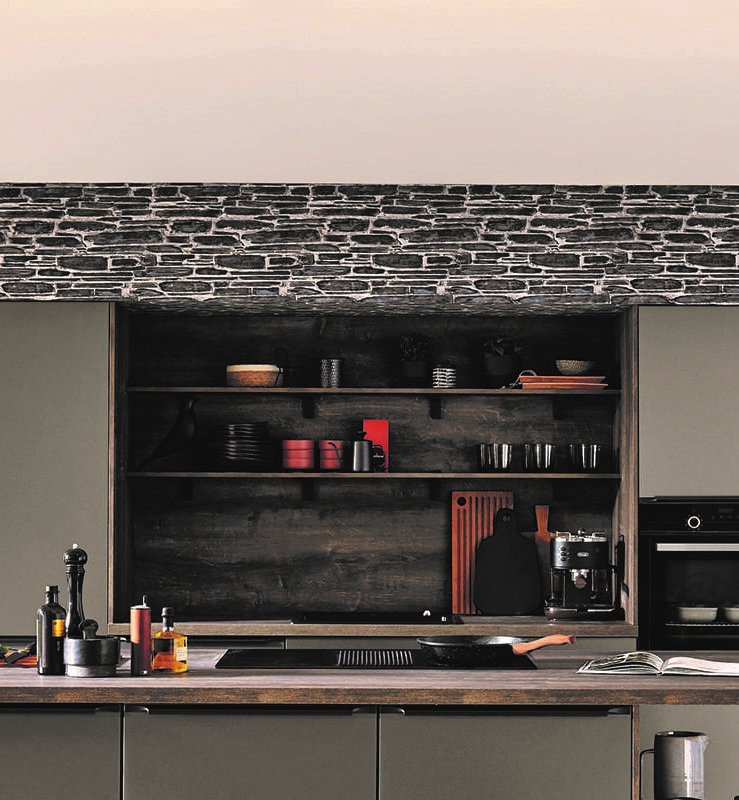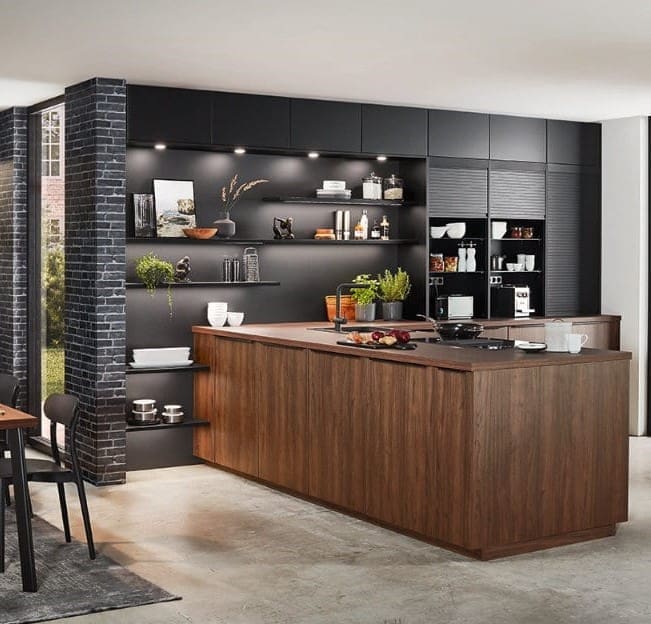 Create a mini pantry using glass jars
Another great way to make open shelving work for your kitchen is by making it a part of your kitchen's food storage zone. You can place frequently used consumables such as cereal, pasta, and coffee into glass jars to keep them dry while also displaying them on your open shelves. This way, they're within easy reach, and if you keep them in airtight jars, they will keep for much longer.  Storing consumables on open shelves can also bring some welcome variety to your kitchen, giving a different look from what you are used to within your kitchen! 
Frequently wipe and dust your surfaces
The best way to ensure that your open shelves don't gather too much dust is simply by wiping them down regularly. This is a slightly cumbersome process, especially if you have to remove everything first, but it's certainly worth it in the long run. Open shelving is one of the easiest places for dust to settle and an area you have to pay specific attention to. Spotless kitchen shelves help create a pristine and aesthetically pleasing kitchen atmosphere! Wiping them down once a week will help your general kitchen hygiene and keep your open shelves looking beautiful.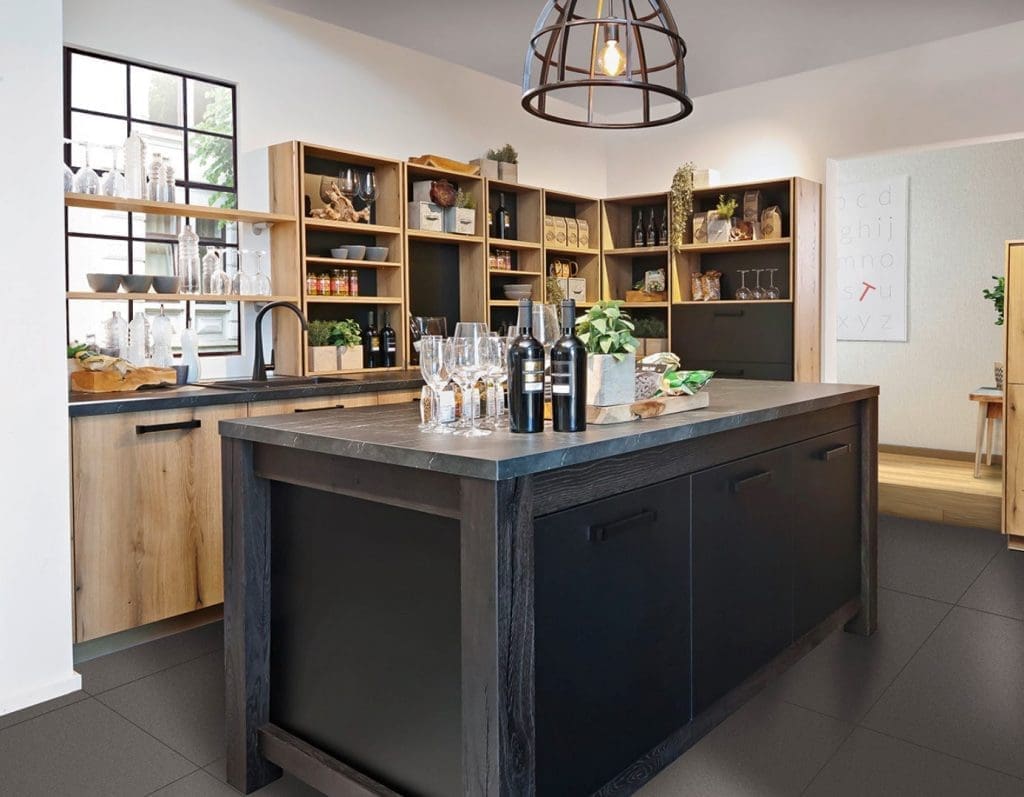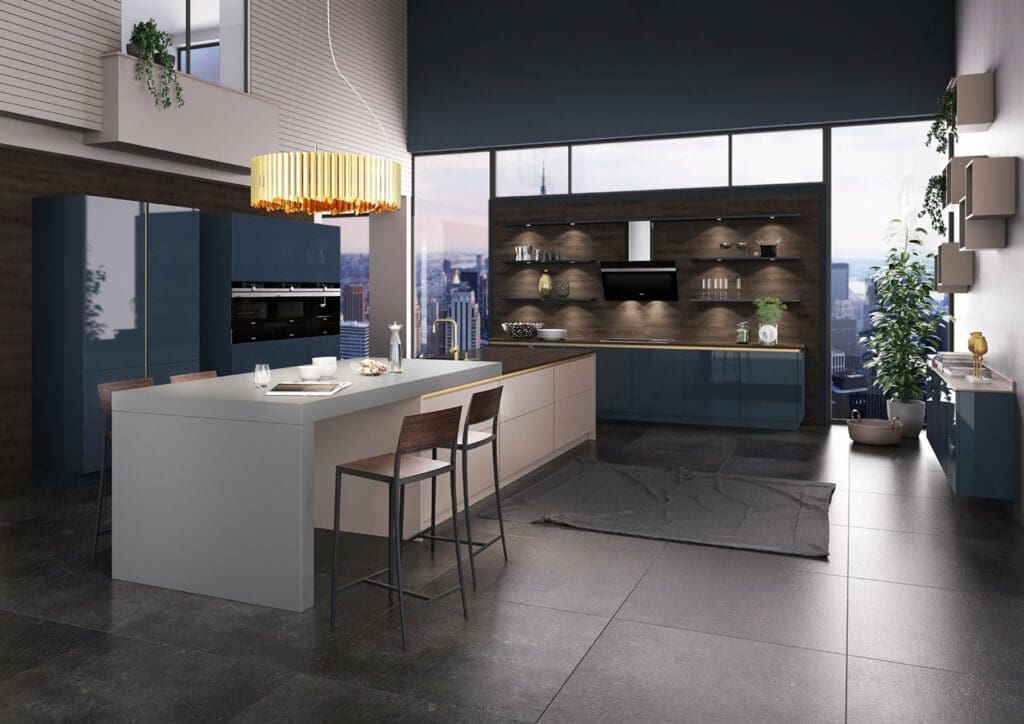 Avoid cluttering your open shelves
Because open kitchen shelving provides such an ideal storage opportunity, you might be tempted to fill your shelves with as many items as possible …but be careful to not overcrowd them! Kitchen shelves cluttered with a random array of objects can detract from your kitchen's aesthetic and make the space look messy. A useful tip is to organise your open shelves according to their purpose. For example, try turning one shelf into the designated consumables shelf, and dedicating another shelf to glassware only. This way, you can still get the most out of your open shelves without overcrowding them and risking a chaotic feeling in your kitchen.  
Choose a neutral colour palette
The colour of your open kitchen shelves is an important factor in terms of pulling your kitchen design together. A neutral colour palette is ideal to avoid any clashes. For example, whites or earthy tones will ensure you can place almost anything on your shelves and they will still blend nicely with the overall kitchen aesthetic.
However, coloured shelving is also a great way to make a statement in your kitchen! Black framed shelves are ideal for a hint of contemporary industrialism, whilst a vivid colour such as red or blue is perfect for making an eye-catching focal point within your design! For example, pairing a collection of all-white dishes with a bright red tone adds a welcome pop of colour, whilst bringing a bold new dynamic to your kitchen.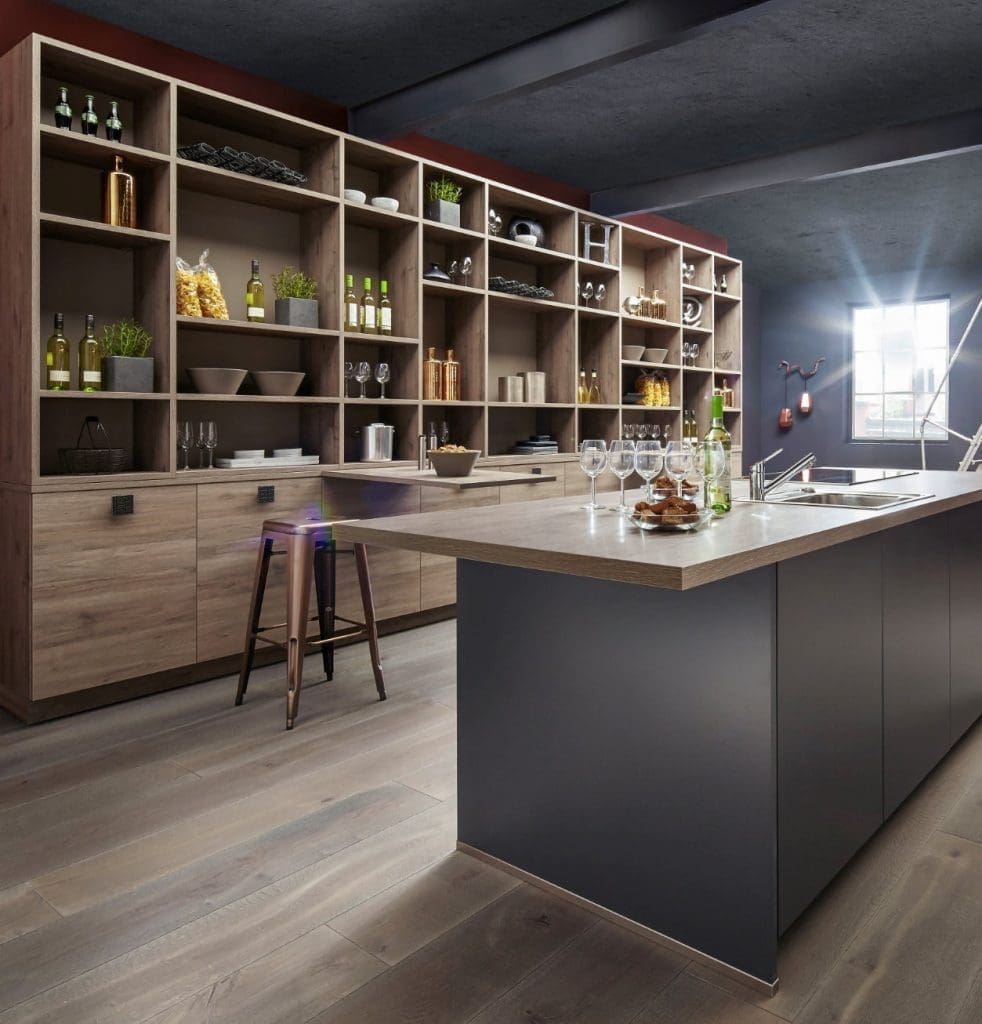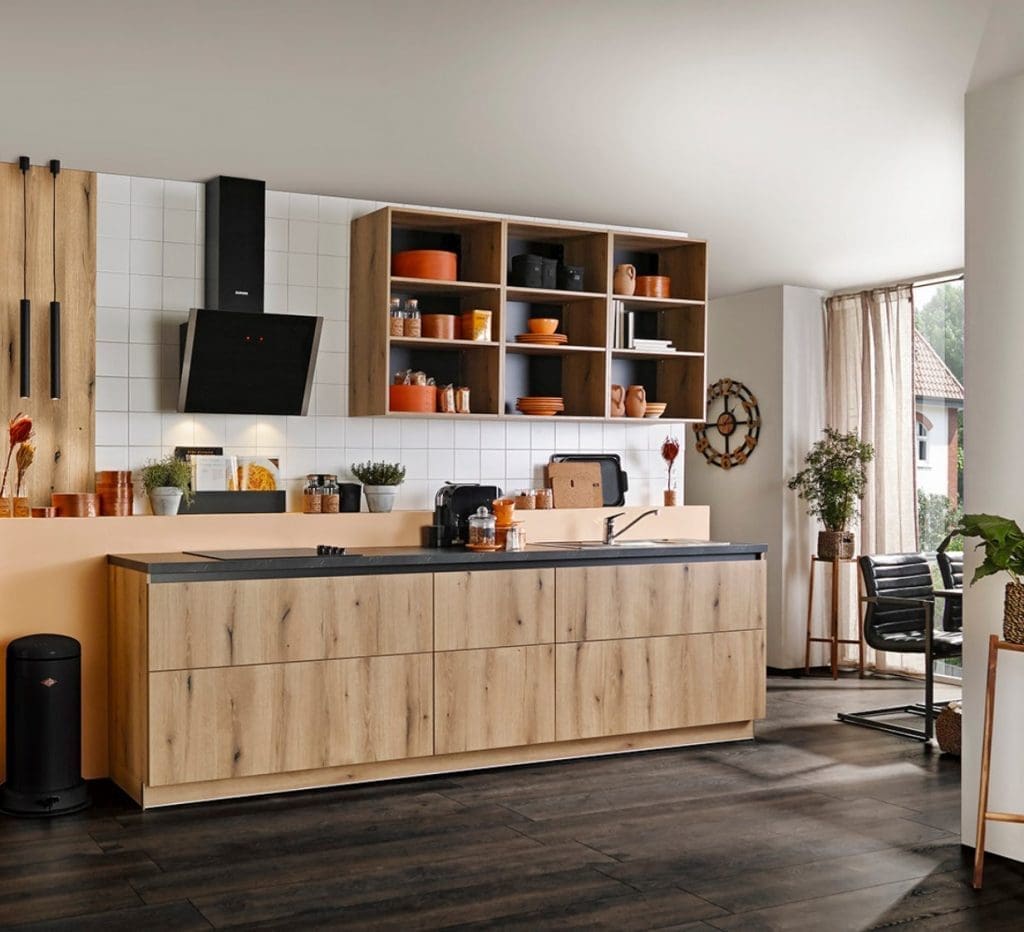 Organise your open shelves according to use
Another way to make open shelving work for you is to store your most frequently used items on lower shelves and rarely used items higher up. This can make your time in the kitchen much more efficient and ensures your shelves are functional rather than just nice to look at! Additionally, you can try organising your shelves according to different kitchen zones. For example, if you have a shelf right above or next to your cooking area, this would be a great space to store your spice collection rather than rarely used dishes.  
Turn your open shelves into a statement piece
If storage is not in short supply, consider turning your open shelves into creative spaces where you can display your favourite statement pieces! If you have any artwork or ornamental dishes and glassware, an open kitchen shelf is a perfect way to showcase these without cluttering the rest of your kitchen.
Dedicating one shelf to decorations can help keep your kitchen looking tidy and less disordered. A clever way to make an open shelf stand out is to illuminate it from the top or install some lighting underneath it. If you're planning a more neutral and simple kitchen design, this could be an ideal way for you to create an aesthetically pleasing focal point!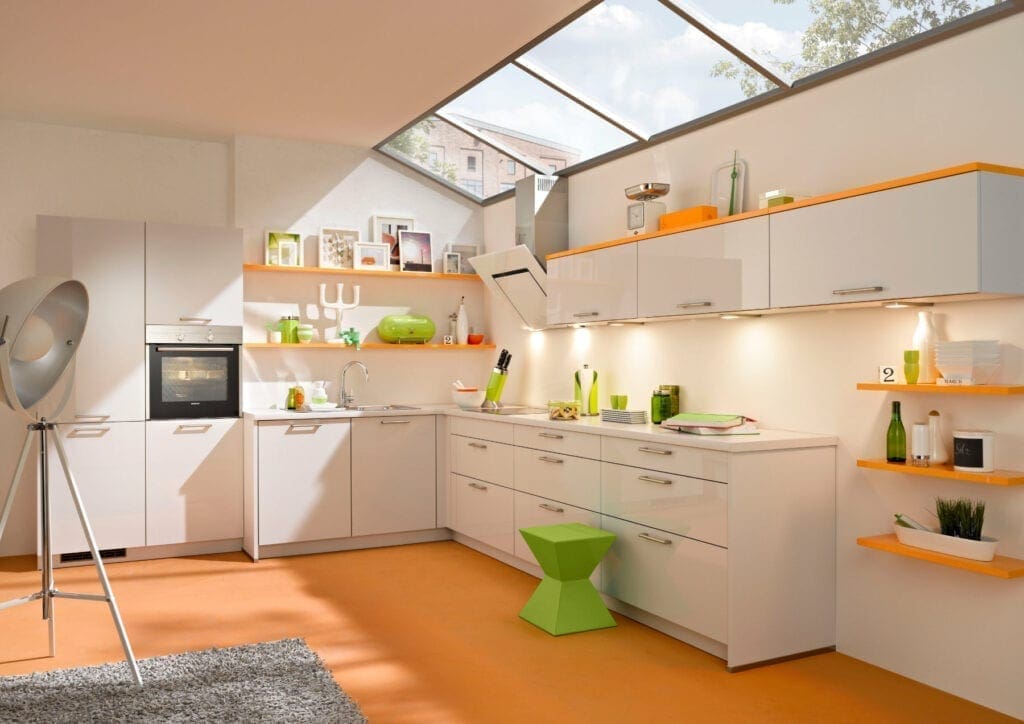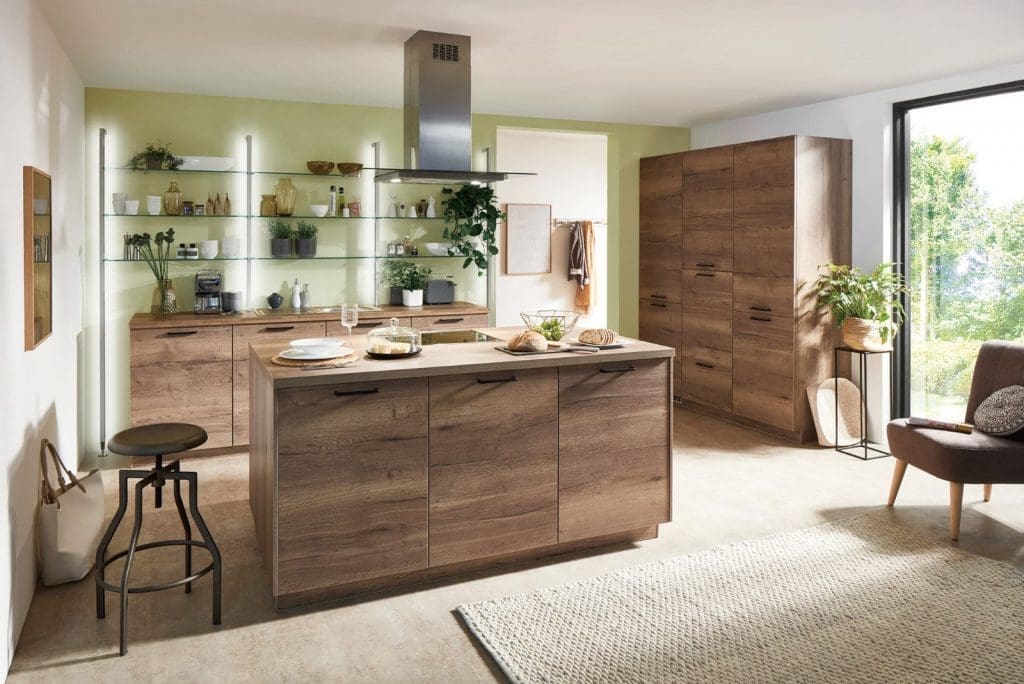 Talk to your local Kitchen Experts
Now you know the best tips and tricks to make your open shelving work for your new kitchen design! Open shelves can be a great advantage in terms of storage and enhancing your kitchen's aesthetic but it's important not to clutter and overcrowd them. Utilise your shelves according to their purpose and stick with a neutral colour scheme to ensure you're getting the most out of your open shelving!
Need help planning your perfect kitchen space? …Talk to your local Kitchen Experts today!