Top Sustainable Kitchen Ideas and Practices to Help You Go Green!
Lately, homeowners have increasingly started looking for sustainable kitchen design ideas because they want to lower their impact on the natural Environment. If you're one of those people, then you've come to the right place for how you can achieve this! From sourcing your kitchen from eco-friendly manufacturers, to employing sustainable practices like recycling, there are plenty of ways you can do your part in reducing waste and going Green. Here you'll find some ideas to help you implement and maintain a sustainable kitchen design.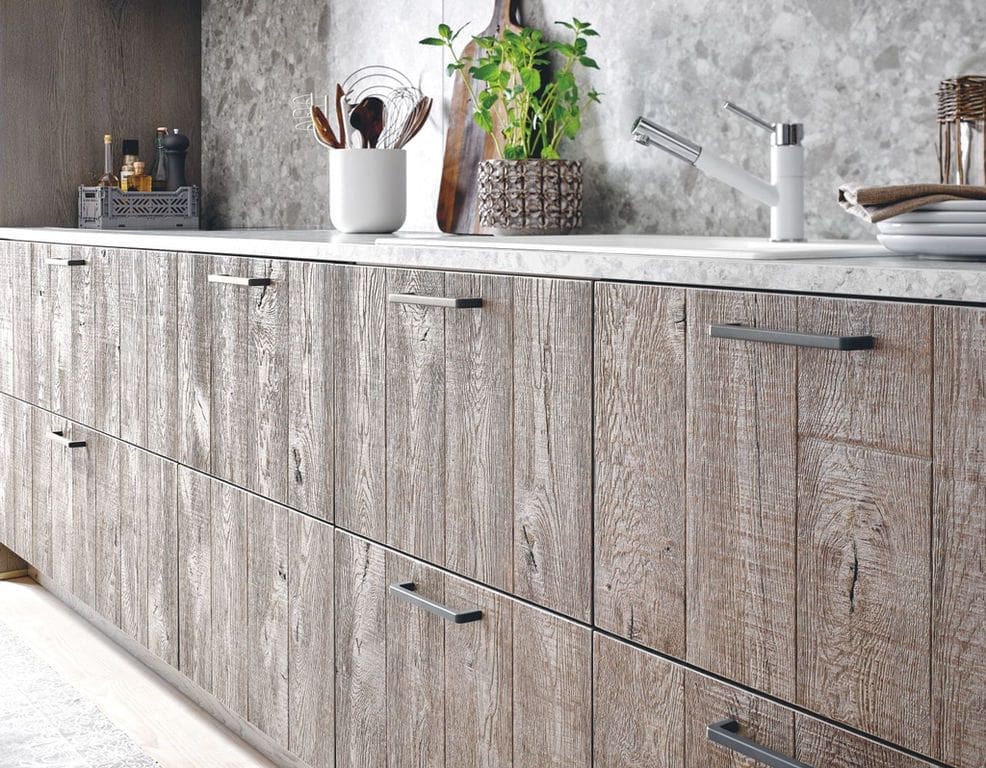 What to Avoid in Your Sustainable Kitchen
Many materials and products used in kitchens, such as flooring, adhesives and paints, contain VOCs (volatile organic compounds). These react with nitrogen oxides and create air pollution. If you're going for a sustainable kitchen, ensure that none of the materials within your kitchen's makeup contain VOCs. It's also best to avoid anything that contains formaldehyde. Most kitchen manufacturers are becoming increasingly conscious of the environment and there are recognizable accreditations you can look out for when choosing your brand.
 For example, many popular German kitchen brands such as Bauformat and Nobilia, work hard to retain the Blue Angel eco-label seal from the German Federal Environmental Agency. This award is given to environmentally friendly goods and services which meet the Agency's high standards for health and safety, as well as usability. In looking out for such awards and by using some of the natural materials suggested below, you can easily work towards achieving an eco-friendly kitchen design for your home.  
Sustainable Kitchen Countertop Ideas
A great way to make your kitchen design more sustainable is by incorporating recycled materials into your countertops and surfaces. Eco-friendly worktops can be made from a wide choice of materials such as natural stone, engineered stone, cement or even recycled wood, glass or rubble! Quartz is a popular kitchen worktop material and is also sustainable! Additionally, if you're looking to use metal countertops in a more industrial kitchen design, opt for recycled aluminum.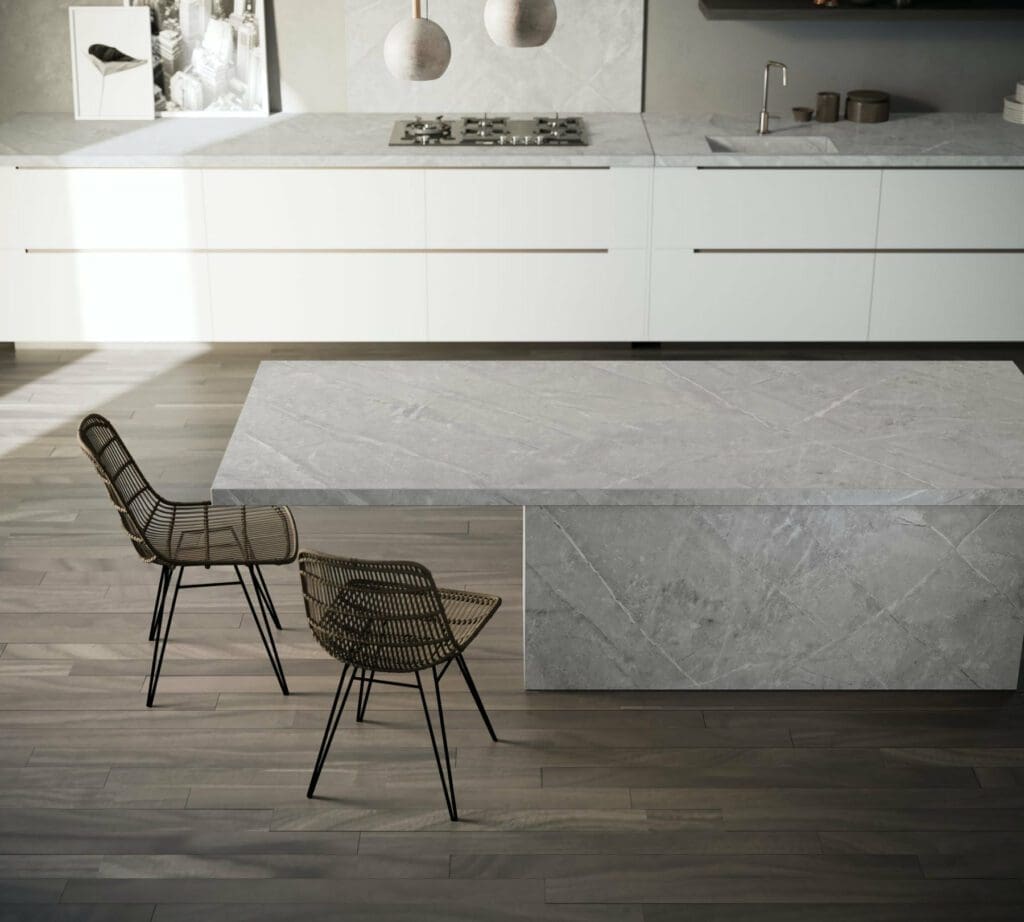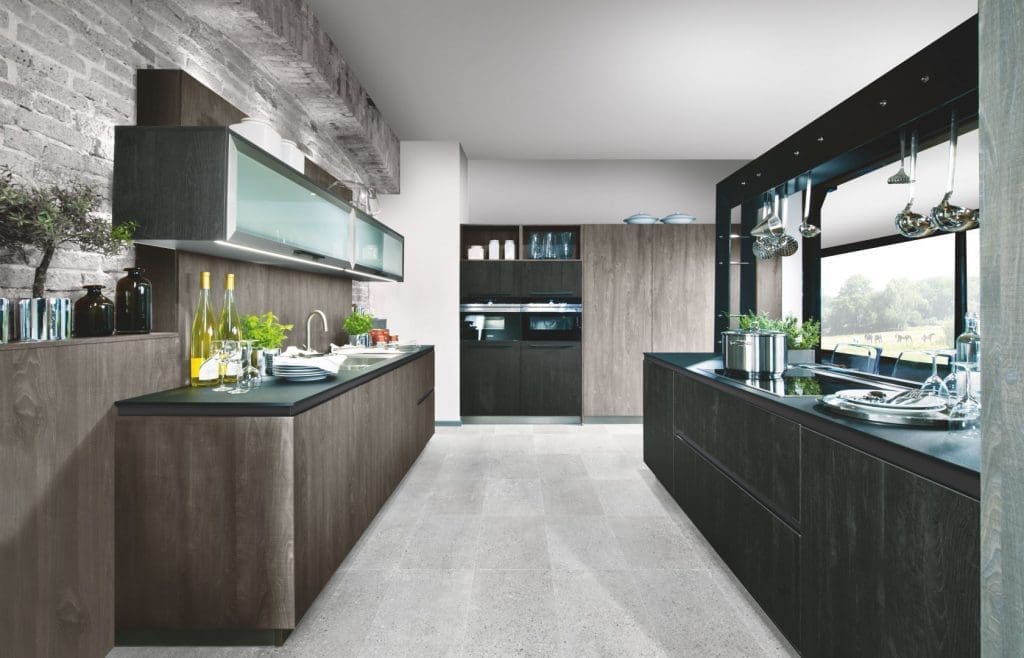 Go Green With Your Cabinets
If you're remodeling your kitchen cabinets, look for materials that are recycled and non-toxic. Here, make us of FSC-certified wood, like timber, which has been ethically sourced from responsibly managed forests. Another great material for sustainable cabinets is bamboo. These materials are made with non-toxic glue, so you'll have cabinets free of harmful chemicals.
Some companies that specialise in eco-friendly kitchen cabinets include Nobilia, Brigitte, and Bauformat. Nobilia and Bauformat for example, sustainably sources their wood-based materials from sustainable forestry and only use low-emission paints. Bauformat's processes are digitized to save on paper, and they even have their own e-charging stations for their hybrid delivery vehicles.
Sustainable Kitchen Lighting
A simple, easy way to start implementing your sustainable kitchen design is with your lighting. Switching the lightbulbs in your kitchen with LED bulbs is extremely eco-friendly, as you'll be saving lots of energy. LED bulbs can save up to 90% energy when compared to regular light bulbs! They're better for the environment and will save you money in the long run.
For a truly sustainable kitchen, you should rely on artificial lighting as little as possible. You can do this by working with an expert kitchen designer to incorporate elements (where possible) that promote natural light in your kitchen. For example, you can include a skylight, large windows and glass doors in your design to maximise on natural light.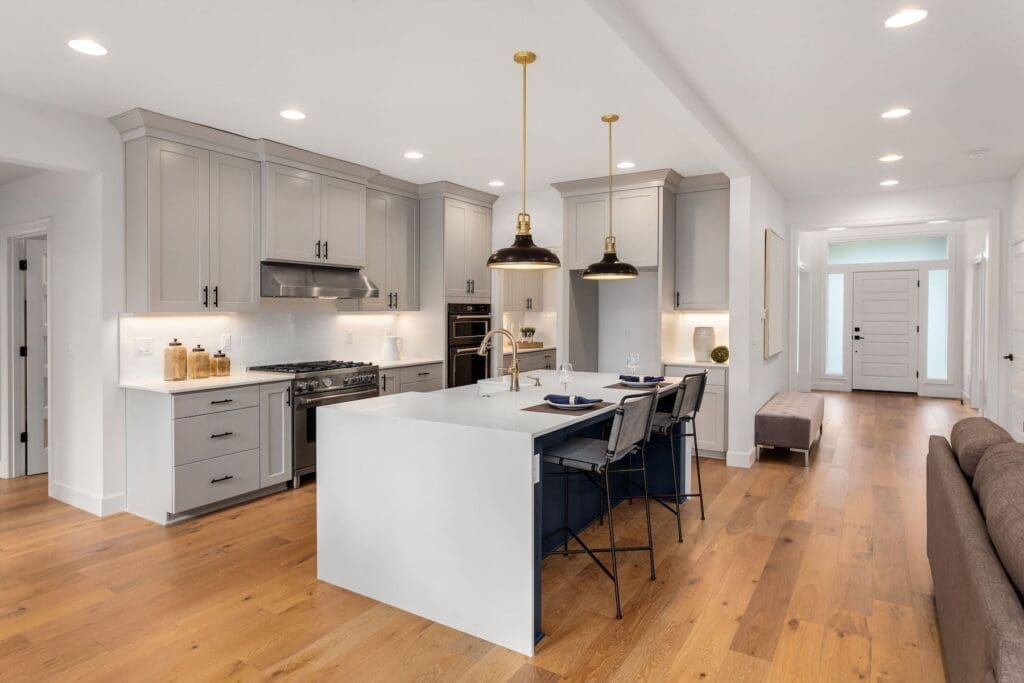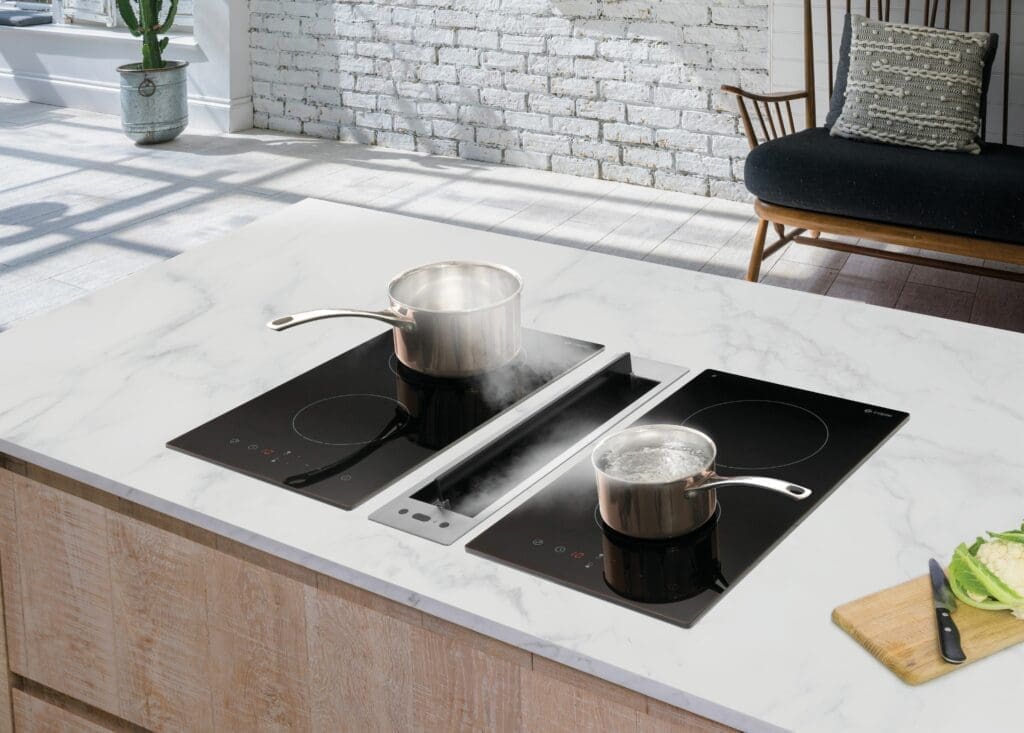 Your Stove and Sustainability
As most people use their stove every day, a more eco-friendly and energy-efficient stove is a great way to ensure a sustainable kitchen. The best way to do this is by using induction cooktops, which work by transferring heat directly to your pan. A safer option compared with gas or ceramic, they save on energy – and have the added benefit of saving you time as well! 
Other Eco-Friendly Appliances
You might be wondering what other appliances in your kitchen could be swapped out to ensure a more sustainable kitchen design. One idea would be to add a boiling water tap to your kitchen, which gives you hot water instantly. This way, you won't waste energy – or water- through boiling water in a kettle. In terms of saving water, you could invest in a motion-sensing tap that turns off automatically when not in use.  Additionally, you can make use of Smart appliances; These are not only convenient but also use far less electricity than regular appliances.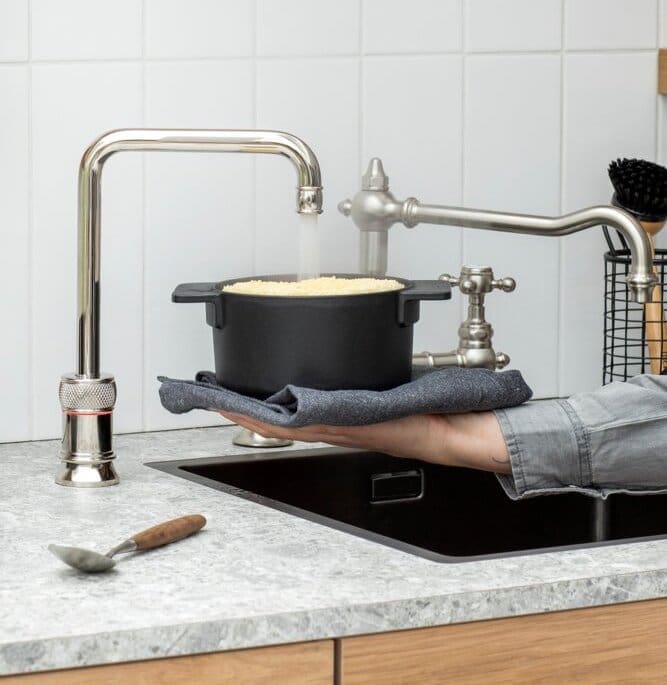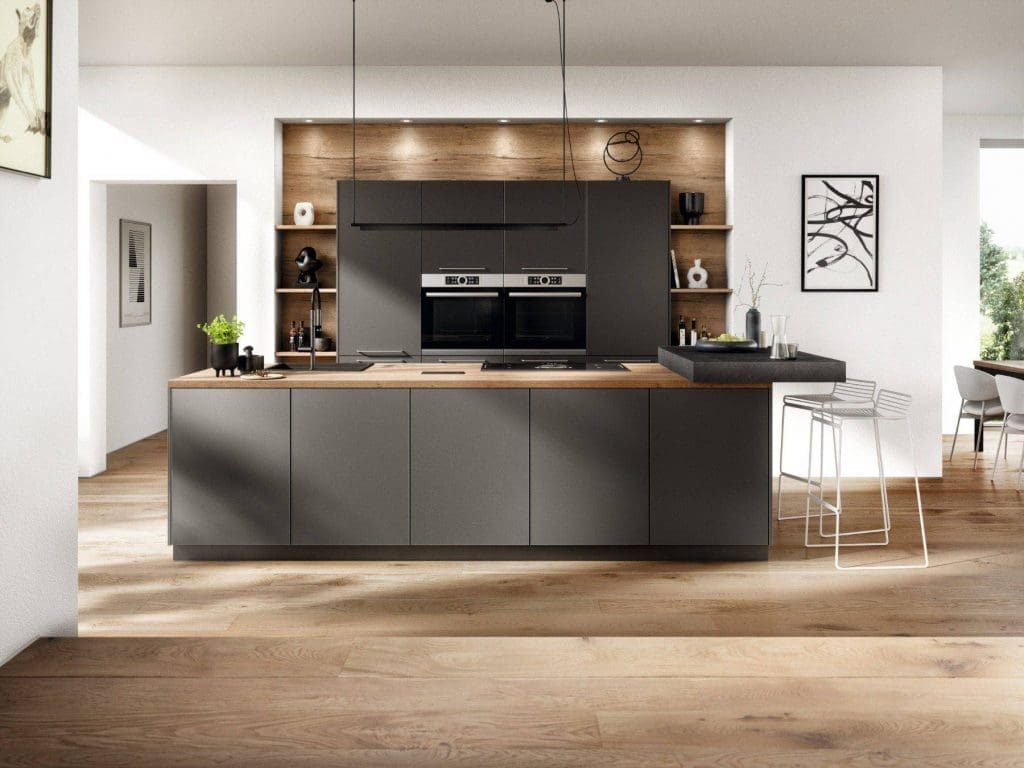 Sustainable Kitchen Flooring Materials
When it comes to flooring for your sustainable kitchen, you might want to look into eco-friendly materials, such as cork, linoleum or bamboo. Bamboo and cork are both natural materials that are biodegradable, not to mention durable and easy to maintain! You can also opt for linoleum floors, which are making a comeback at the moment. If you're absolutely set on wood flooring, look for wood or plywood that has been certified by the Forest Stewardship Council (FSC), which ensures that the wood is sustainably sourced. 
Practices That Promote a Sustainable Kitchen
Finally, there are plenty of habits and practices you can include in your everyday routine that are eco-friendly and help create a sustainable kitchen. Firstly, you can reduce food waste. Try not to buy more food than is absolutely necessary. If you do have leftovers, avoid throwing them in the bin. Another option is to look into composting! Composting is a great way to dramatically reduce your kitchen's food waste. Be sure to recycle other forms of waste for maximum sustainability.
You can additionally ensure that the utensils and products you frequently use are eco-friendly and will last a long time, so as to reduce waste. This includes using reusable dish towels and utensils made out of wood or metal.  When it comes to keeping your sustainable kitchen clean, avoid toxic chemicals that can be found in most conventional cleaning products. Look into alternatives for these, such as combining vinegar and bicarb soda to make your very own non-toxic cleaner.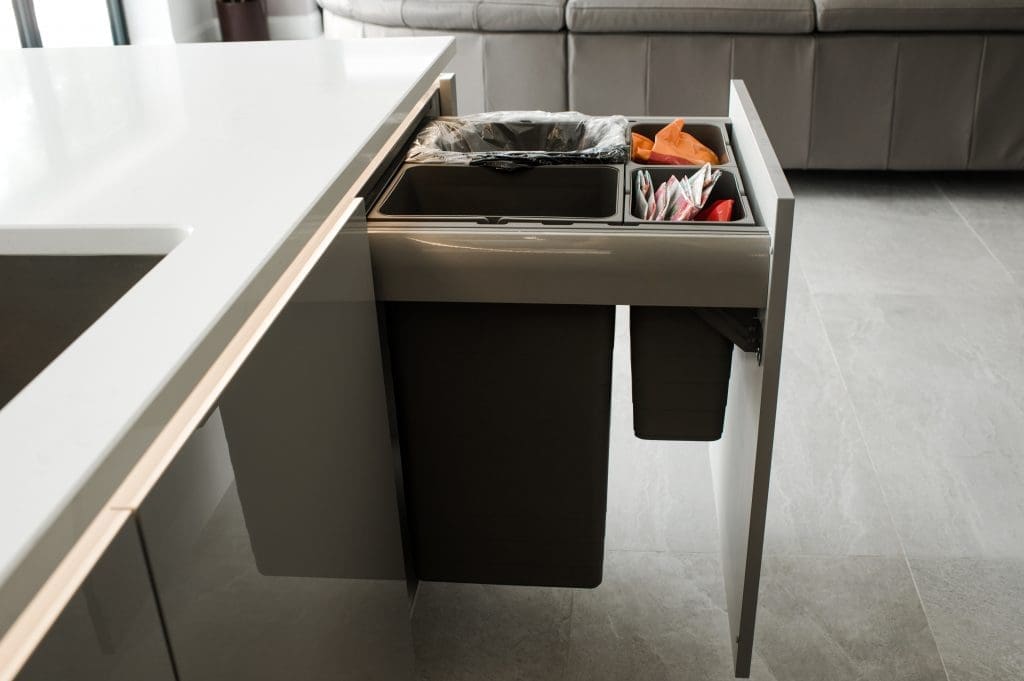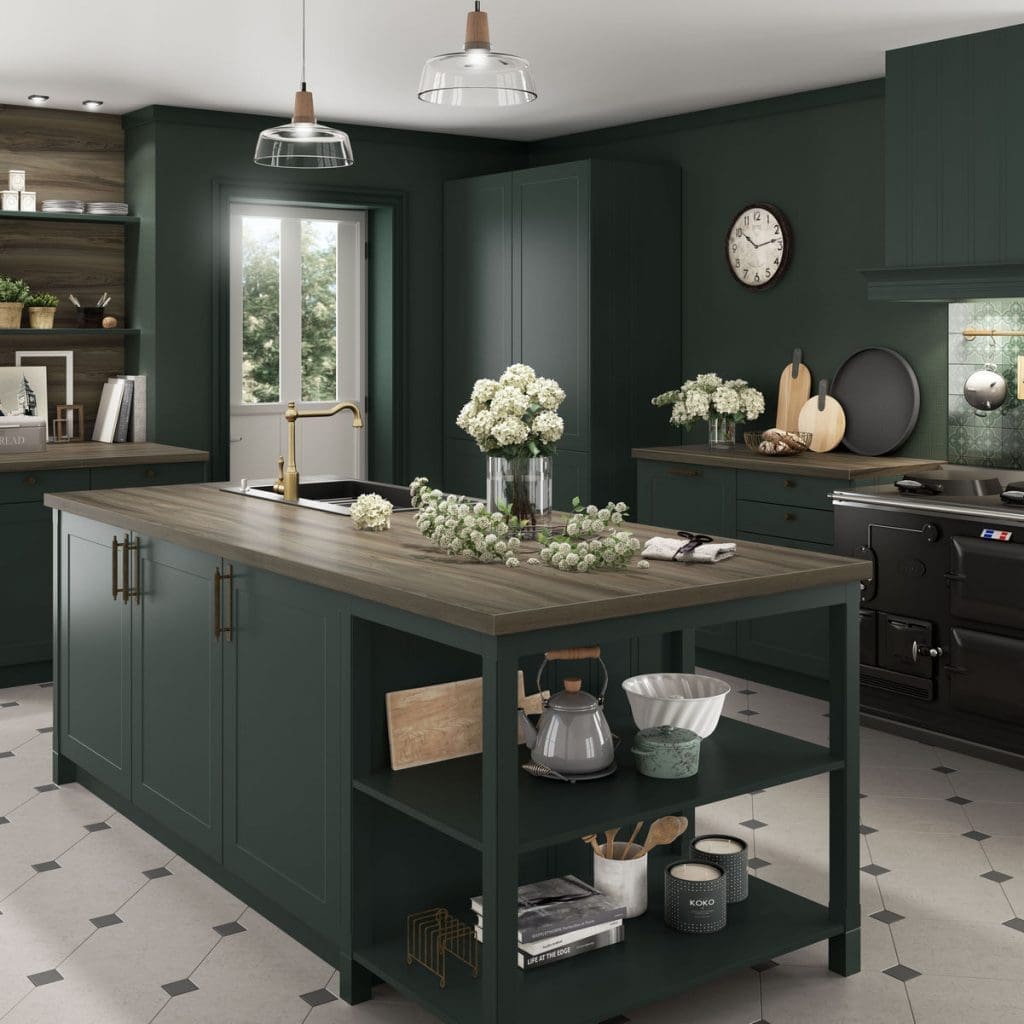 Find Your Nearest Sustainable Kitchen Supplier
Hopefully, you've now gathered plenty of ideas to use for your sustainable kitchen design but it is always best to speak to your nearest kitchen expert. Remember to use non-toxic, sustainably sourced, and natural materials for your kitchen surfaces. With some small changes to your daily routine and kitchen design, you can already do your part in making your kitchen more sustainable and lessening your impact on the environment!