10 Modern Kitchen Must-Haves To Better Your Home And Lifestyle!
If you've recently decided to redo your kitchen, you may be looking for modern kitchen must-haves to incorporate within your design. In the aftermath of the Global pandemic and with people spending much more time in their kitchens, we now have different ideas of what a modern kitchen looks like. Current kitchen trends include everything from combining kitchen and living room elements to adding a hint of luxury to your kitchen through wine coolers or statement lighting. If you're in the mood for a change then here we will help you determine which current kitchen must-haves, you need on your list!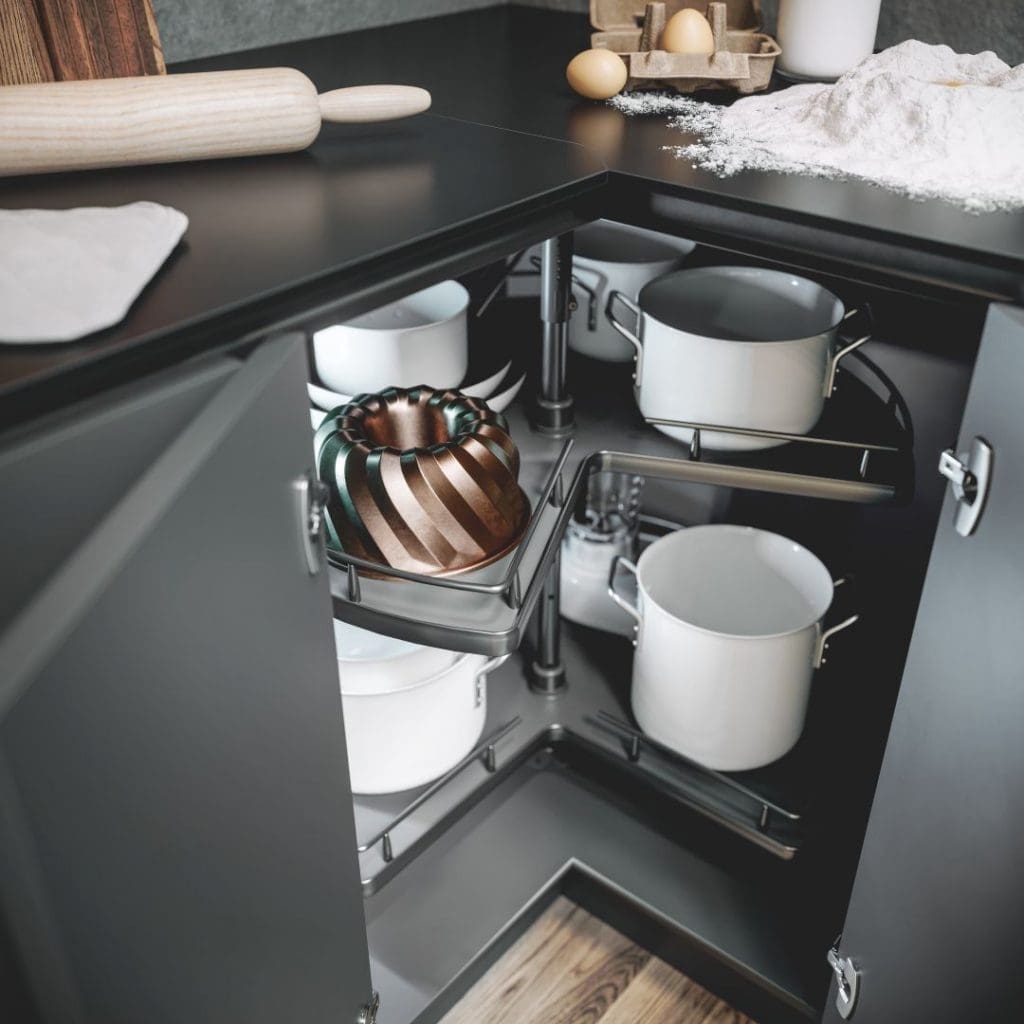 1. Kitchen Storage Must-Haves
Some very important modern kitchen must-haves are cabinets and drawers that maximise on space and avoid your kitchen essentials from cluttering your kitchen. For example, deep drawers are a popular kitchen must-have, as they allow generous space for plates, pots and pans, whilst also making these heavy-duty kitchen items easy to access and lift.
Similarly, innovative storage options such as le mans corner and carousel units maximise hard-to-reach cupboard space such as the space at the back of a corner cupboard.  Many modern drawers and cabinets have hidden storage such as internal drawers, or integrated spice racks, making creative and convenient use of space. Another option is to incorporate pocket doors, a pull-out pantry or utility cupboard. 
2. Built-In Kitchen Appliances
With more and more people looking for a minimalistic, sleek design in their kitchen, integrated appliances housed within purpose-built cabinets are a sure-fire way to streamline your kitchen look. Similar to hidden storage, integrated appliances are a modern kitchen must-have which help bring an elegant kitchen aesthetic. This even applies for small kitchen appliances such as kettles and toasters which can be neatly stored out of sight behind tambour units or pocket doors. This keeps worktops clear, yet your appliances are still readily accessible for everyday use.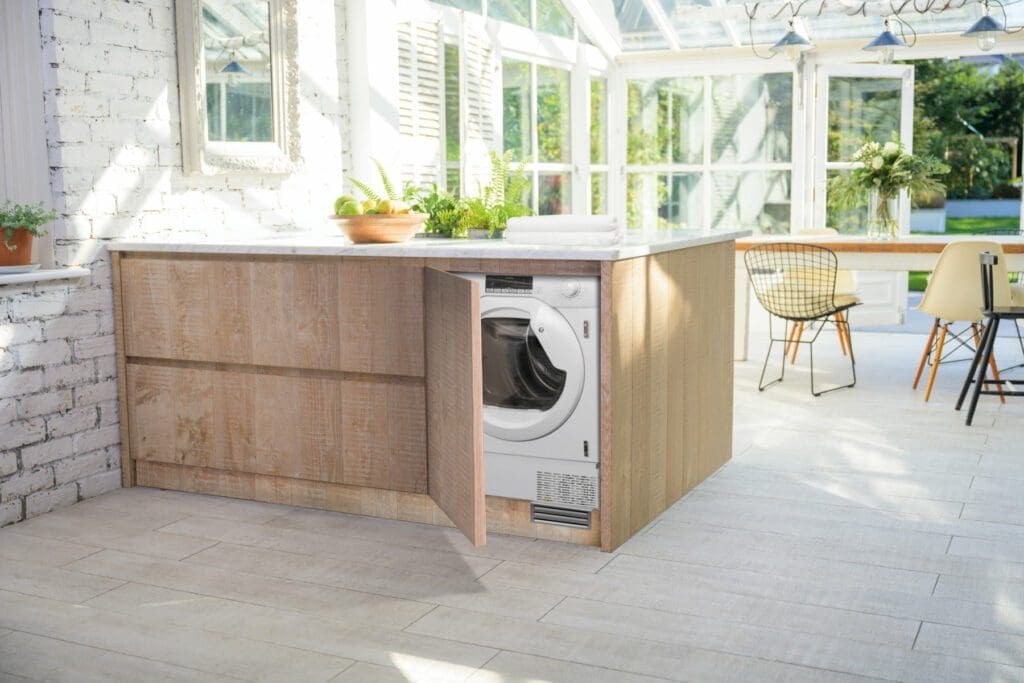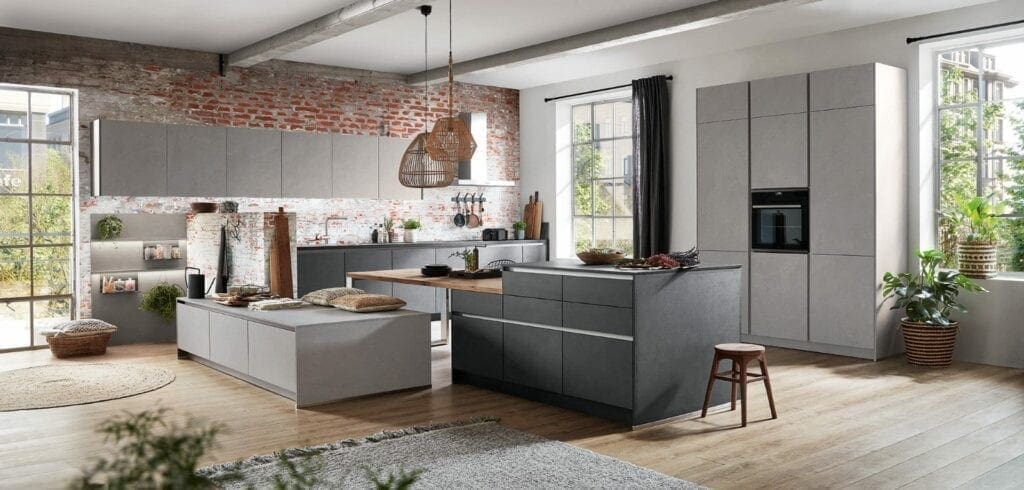 3. Make the Most of Your Kitchen Island
Another modern kitchen must-have is a multi-purpose kitchen island. Households are increasingly looking for a kitchen island that can serve as a cooking station, as well as a spot for dining, working, relaxing or socialising. In this respect, kitchen island seating is also a modern kitchen must-have. This arrangement is ideal for carrying on a conversation and catching up with family, or entertaining guests, as you prepare and cook meals.
Here, you can also follow the current trend of integrating living room elements within your kitchen, such as the kitchen island replacing a more traditional dining table, complete with comfortable chairs or bar stools.   You can also incorporate storage within your kitchen island to get even more out of your available space.
4. Reduce, Reuse, Recycle
With an increasing awareness of our responsibility to the environment at the forefront of people's minds, a great feature to incorporate within your kitchen is a pull-out kitchen bin system that separates your waste from your recycling. With clearly separated containers, this makes your waste easier to sort and encourages family and guests to do the same. Pull-out bins like this are a must-have kitchen feature if you want a more sustainable kitchen but a further benefit is your bin is hidden from sight. Integrated within your cabinets, this means that your bin- and any smells- won't stand out among your sleek and polished kitchen surfaces!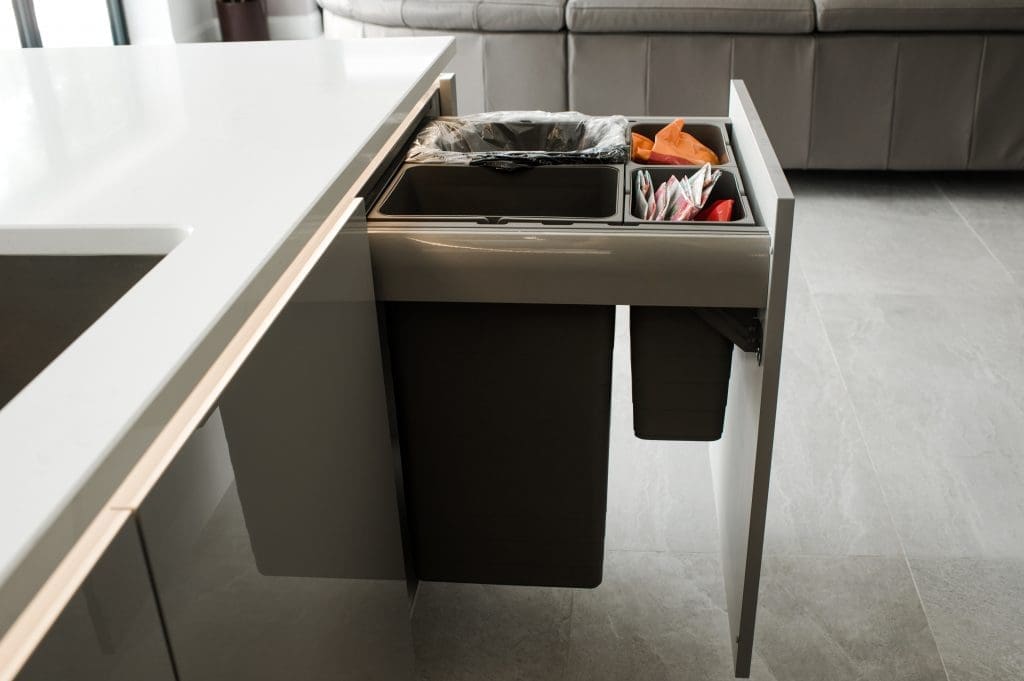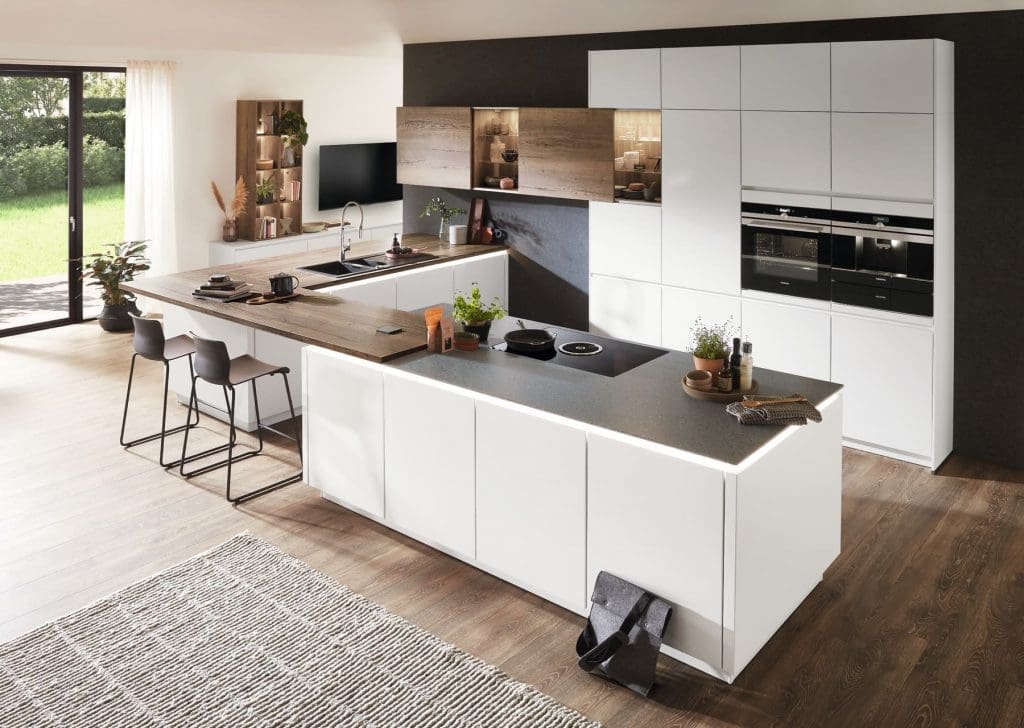 5. Ensure Sufficient Worktop Prep Space
A must-have kitchen feature within any good kitchen design is sufficient worktop space which allows easy use of the kitchen and helps maintain a clean, modern kitchen aesthetic. Otherwise, fill your worktop with appliances and utensils, and your kitchen will quickly look cluttered whilst also making it much harder to prepare meals.
As mentioned, integrated storage and appliances are ideal for clearing worktops and providing necessary breathing space. This is particularly true for smaller kitchens where space is limited.  There are also options for extending your worktop such as worktop overhangs, sliding worktop extensions, sink fillers, and pull-out tables or drawers. 
6. Modern Kitchen Must-Have Lighting
One way to add a unique flair to your kitchen is with versatile lighting solutions. Overhead kitchen lighting is essential, but you can also play around with different types of lighting throughout the rest of your kitchen as well. For example, you might invest in under-cabinet lighting; this brightens your kitchen and adds to a stylish aesthetic.
Lighting is also a modern kitchen must-have in terms of creating a warm atmosphere and liveable space for you to spend much of your time in. You can even change the temperature of your lighting from daylight, warm or cool, or for a bolder kitchen statement opt for colour changing lights! Smart lighting that can be changed with just the press of a button is perfect for creating the exact atmosphere you're going for.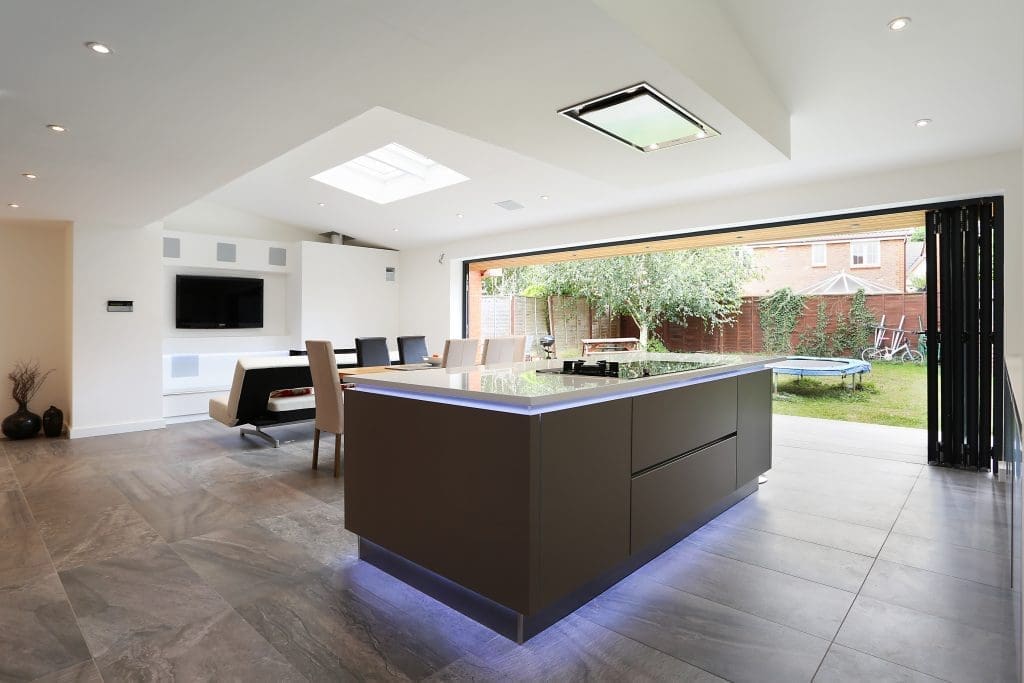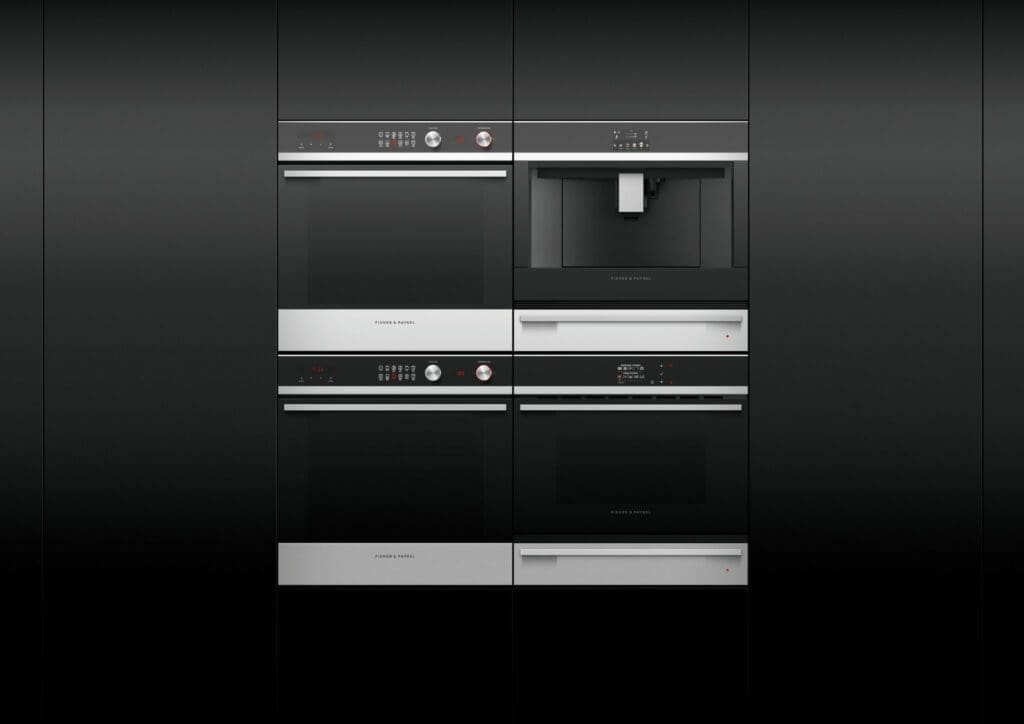 7. Smart Appliances
Another modern kitchen must-have which is increasing popular comes with the ever-widening choice of Smart kitchen appliances.  From self-cook ovens, fridges with cameras so you can see what you need whilst you're shopping, and dishwashers you can switch on whilst you're still in the office, smart appliances are highly convenient and easy to use. You can control all of them from your phone, tablet or smartwatch, making your life and time in the kitchen much easier…not to mention the modern flair and feeling of luxury these innovative appliances bring to your kitchen.
8. Built-in Kitchen Must-Have Features
Again, it's all about convenience, but luxurious rather than essential kitchen features such as coffee makers, wine coolers and ice makers can easily make the modern kitchen must-have list! For entertaining guests, or even just coming home after a long day at work, it's nice to have these features at hand, whilst they add to your homes feel of elegance and refinement.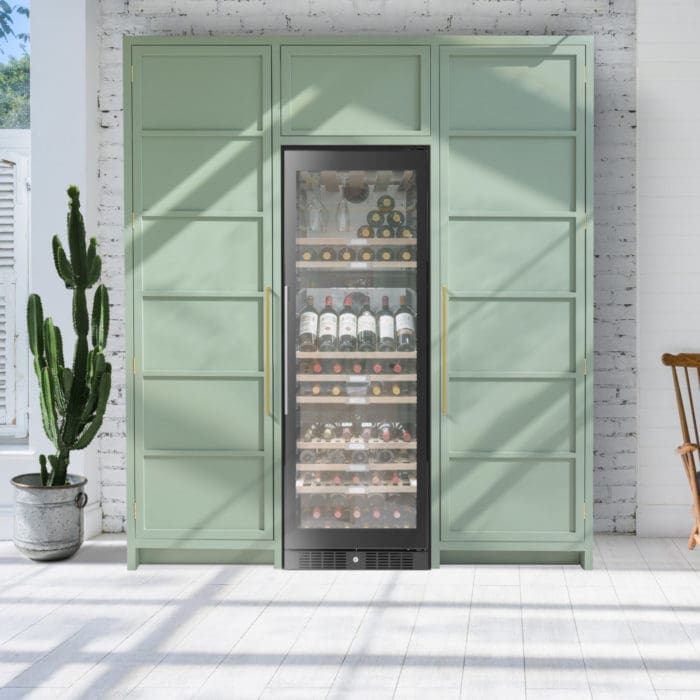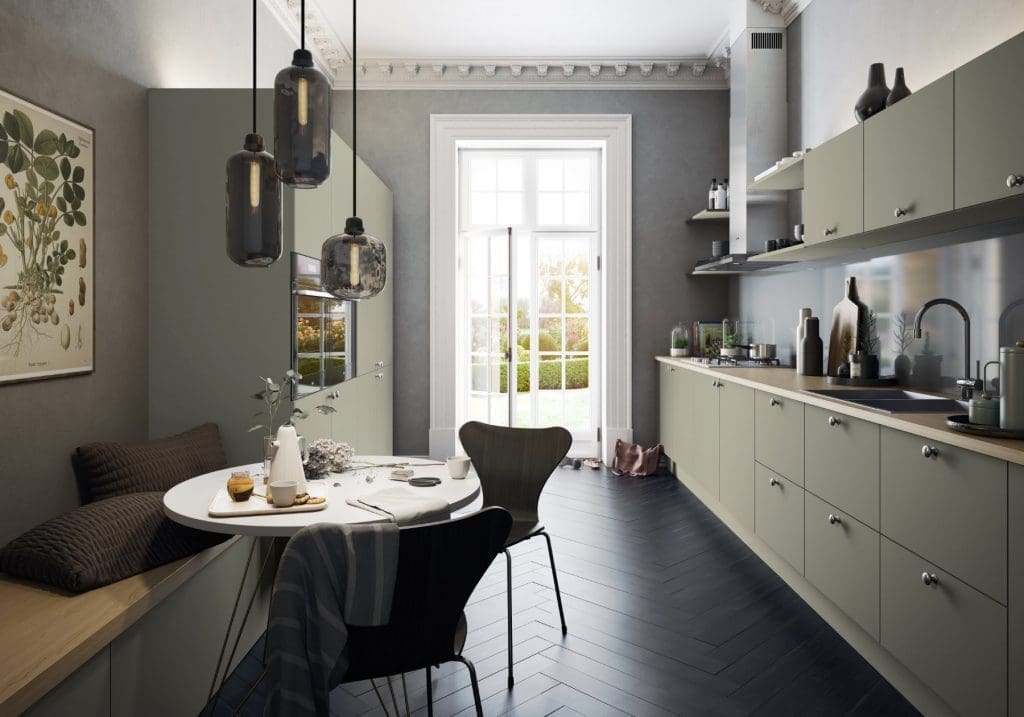 9. Think About a Second Sink
You might not pay too much attention to your sink when designing your kitchen, but necessary and highly functional, it has great importance in terms of bringing your modern kitchen together. A double sink feature is a modern kitchen must-have for best use of the kitchen, as this allows for easy multitasking while cooking. A smaller, secondary sink provides space to quickly rinse vegetables or store pots and pans while still in use.
With a choice of luxurious colours and finishes, your sink can even become the statement piece within your kitchen! Whatever you go for, a definite kitchen must-have in terms of sinks is a scratch-resistant material, for example, a ceramic sink helps prevent scratches, is easy to clean, and makes your kitchen look sleek and modern! 
10. Natural Kitchen Materials
A popular kitchen must-have right now is the inclusion of natural materials such as wood and stone.  Bringing all the positive attributes of nature into your home these materials make an excellent choice for a beautiful kitchen look, complete with a warm and welcoming ambience. If real wood and stone are outside of your price bracket there are also many wood and stone effect kitchens to choose from, which are outstanding in both look and quality.  These finishes also make a great choice as they are easy to clean and maintain, meaning they will last you long-term.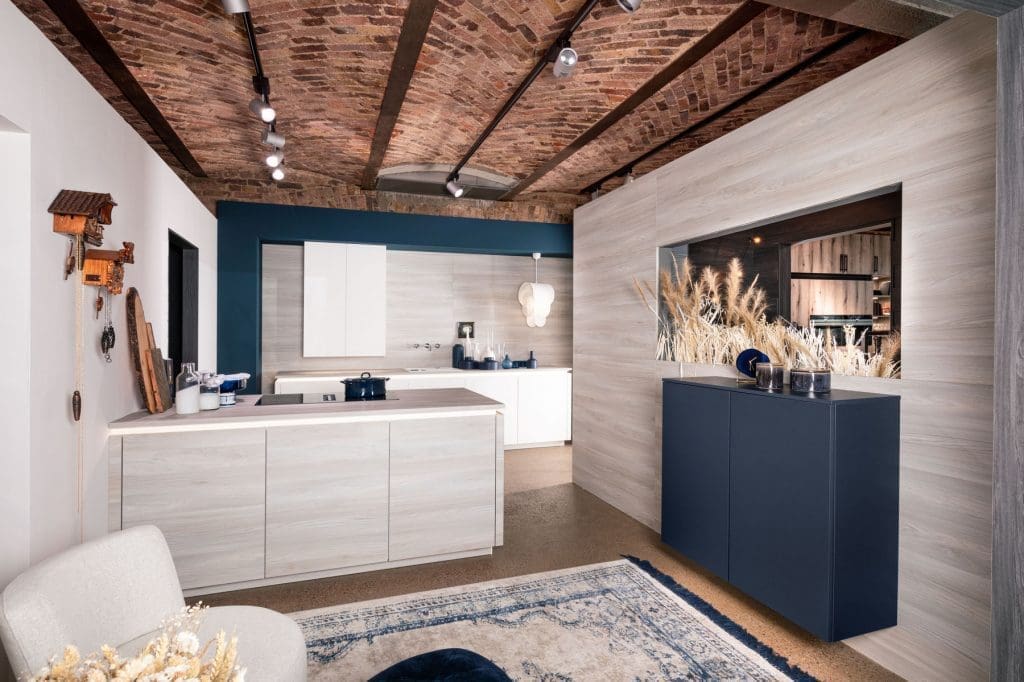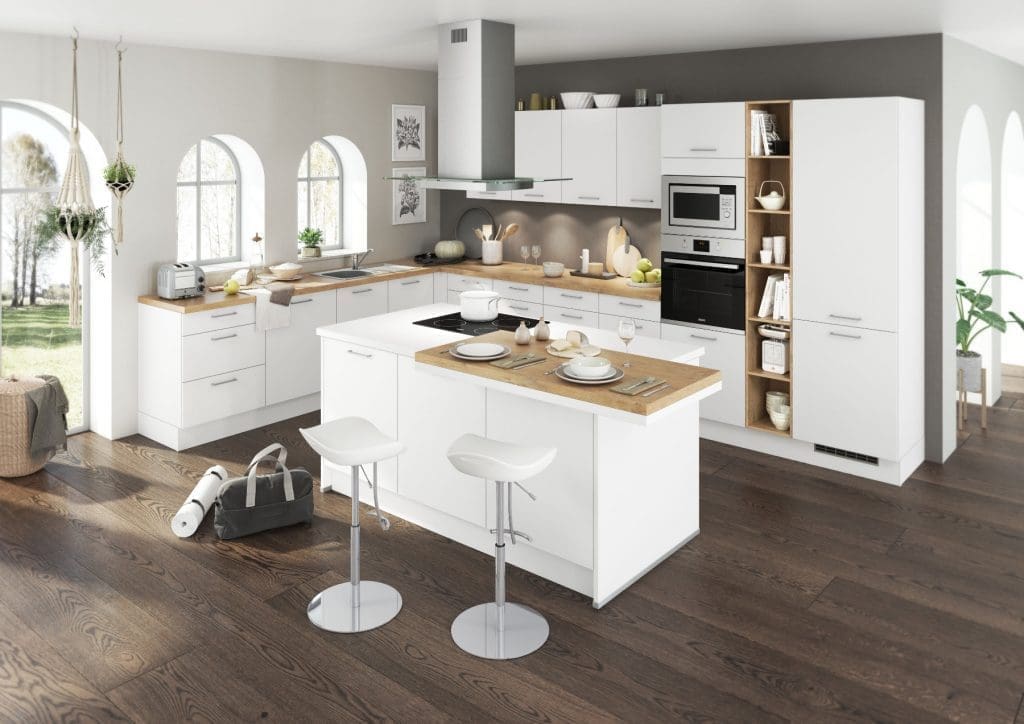 Get Expert Help in Planning your Modern Kitchen Must-Haves
Including any of the above modern kitchen must-haves into your design plans will help you achieve a stylish kitchen look and upmarket feel. Features like built-in wine coolers and smart appliances can easily add a lavish air to an otherwise simple kitchen design. Whether it's with under-cabinet lighting or storage space for your appliances, these essentials are guaranteed to spruce up your kitchen space! For more information or help in planning your perfect kitchen contact your nearest kitchen expert today.