Choose the best kitchen island appliances according to space, layout and personal need
When choosing kitchen island appliances, it is important to make sure that the appliances you select will meet the needs of your family and fit in with the overall style of your kitchen. A good place to begin is with how you want to use your kitchen island; Is it predominantly an extension of your kitchen work prep space, a place for sitting, socialising and dining, or an easy blend of both?
Work out how you want to use your kitchen island and from here you can start planning the best kitchen layout. This includes whether you should have appliances on your kitchen island.  If you decide this is right for you, then here are some kitchen island appliance ideas and planning tips to keep in mind for getting the most out of your island…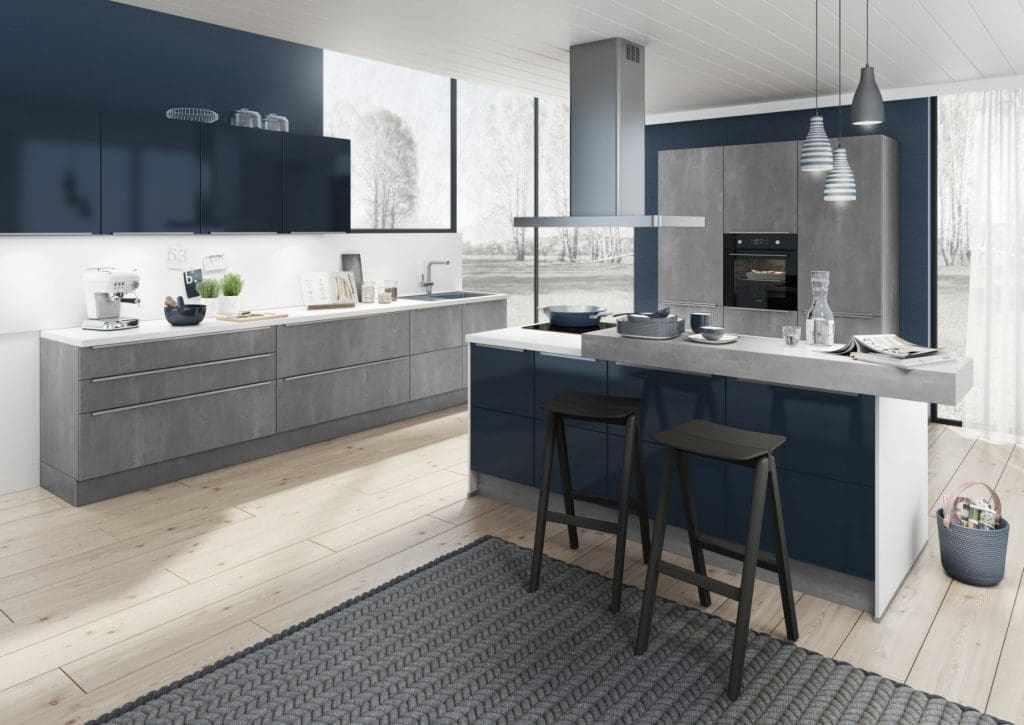 Kitchen Island Appliances: Hobs
For a variety of reasons, one of the best kitchen appliance choices to include on a kitchen island is a kitchen island hob. This is particularly true of induction hobs over gas or ceramic as they are extremely safe during cooking because their surface doesn't get hot. This is ideal if you have seating around your kitchen island and want to create a social space where you can continue to engage with family or guests during cooking.
Another great benefit of a hob on a kitchen island is that there are many different choices available; if you're passionate about cooking you can also choose from different types of hobs to enhance your cooking style, E.g., Teppanyaki grills, griddle plates, flex induction hobs, domino hobs, and more- all of which offer great flexibility and variety during cooking. 
Kitchen Island Appliances: Extractors
Of course, if you're going to include a hob on your kitchen island then you also need to consider a suitable form of extraction, and again there is a great amount of choice. Island extractors, ceiling extractors, and downdraft extractors have long proved popular choices, all performing the same function of extracting grease and cooking smells to keep your kitchen well-ventilated.
However, in recent years vented hobs are a newer innovation which has come to the fore; these are similar to downdraft extractors in that they are built into the island, but vented hobs differ because the downdraft cooker hood is built into the hob itself. Buying one appliance rather than two can save on cost, whilst the vented hob also takes up less kitchen space, particularly key on an island.  Finally, modern vented hobs exude a sleek surface aesthetic, fitting seamlessly within any stylish, modern kitchen design.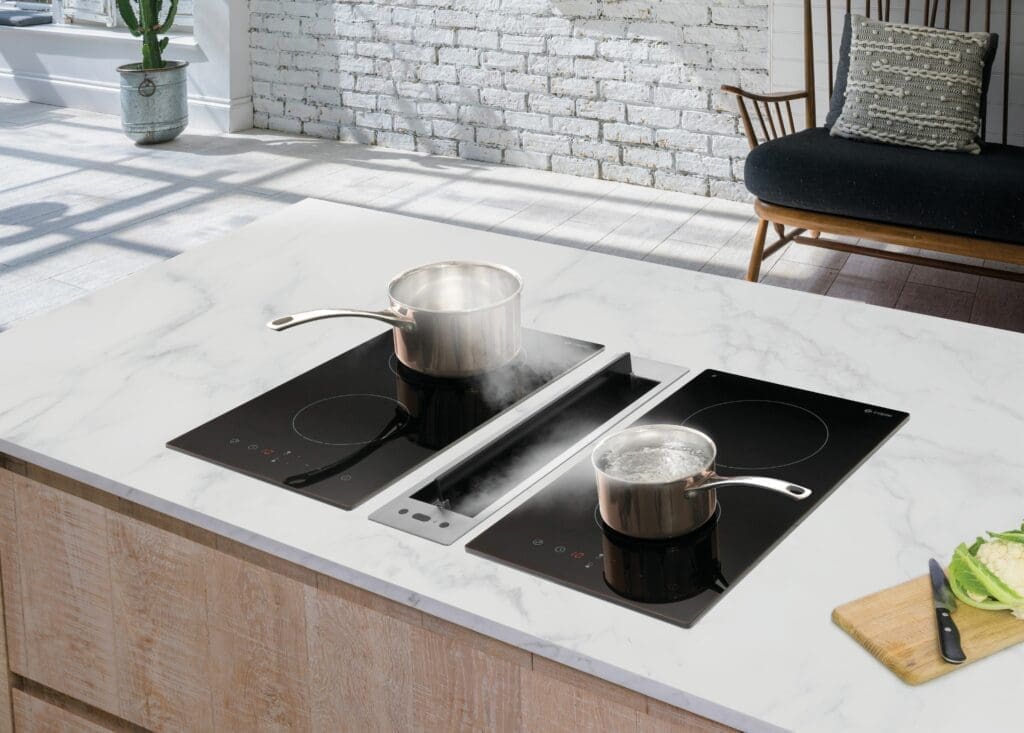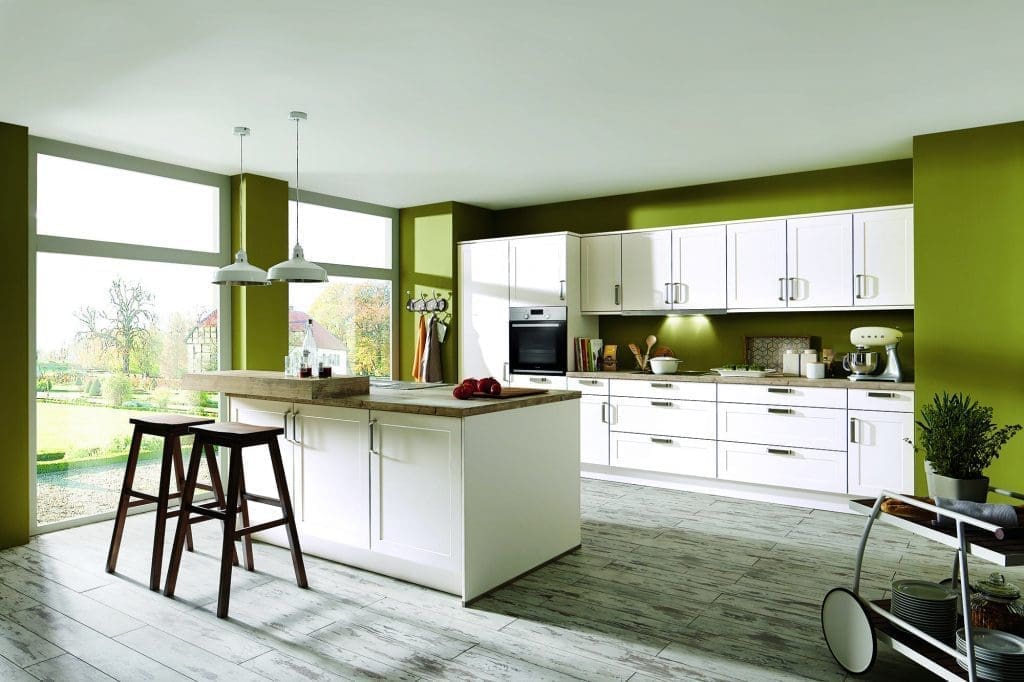 Kitchen Island Appliances: Sinks
A kitchen island sink can prove great for adding extra prep space to your kitchen, or else for creating a 'kitchen wash zone' separate from your kitchen prep and cook areas. There are many different styles of kitchen island sinks on the market, so it is important to choose one that fits your specific needs as well as the style of your kitchen. Available in a choice of statement colours and materials, you can even make a standout feature of your sink!
However, before deciding to locate your sink on a kitchen island you should think carefully about whether you can keep this area clean and tidy. After all, the island is usually the main focal point of the room and draws the eye, which means a pile of dirty dishes stacked in the sink will never go unnoticed and can easily spoil your kitchen's look.  If you foresee this being a problem but still want a sink on your island, then consider incorporating a raised breakfast bar which can extend from the front or side of the kitchen island, and which will act as a screen, hiding the working area from view. 
Kitchen Island Appliances: Dishwashers
If you do go ahead with locating your sink on your kitchen island, then in turn this also makes the island a good location for your dishwasher as well. After all, plates and dishes are often rinsed at the sink before being put straight into the dishwasher, and so it makes sense to have it on the same side as your sink and in easy reach, rather than across the kitchen!
This is fine in principle, but always be careful of the space around your island and particularly if the throughway is quite narrow or a heavy traffic area as the last thing you want is an open dishwasher causing a trip hazard.Whether a dishwasher is suited to an island really comes down to individual circumstances such as how big (or small) the space, how busy the household, and even how young or old each of your family members are.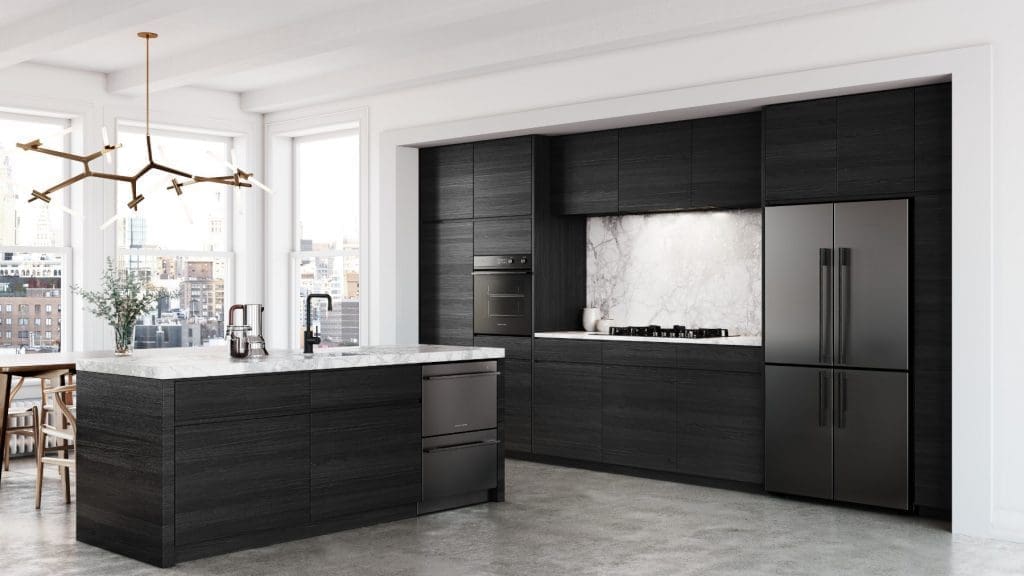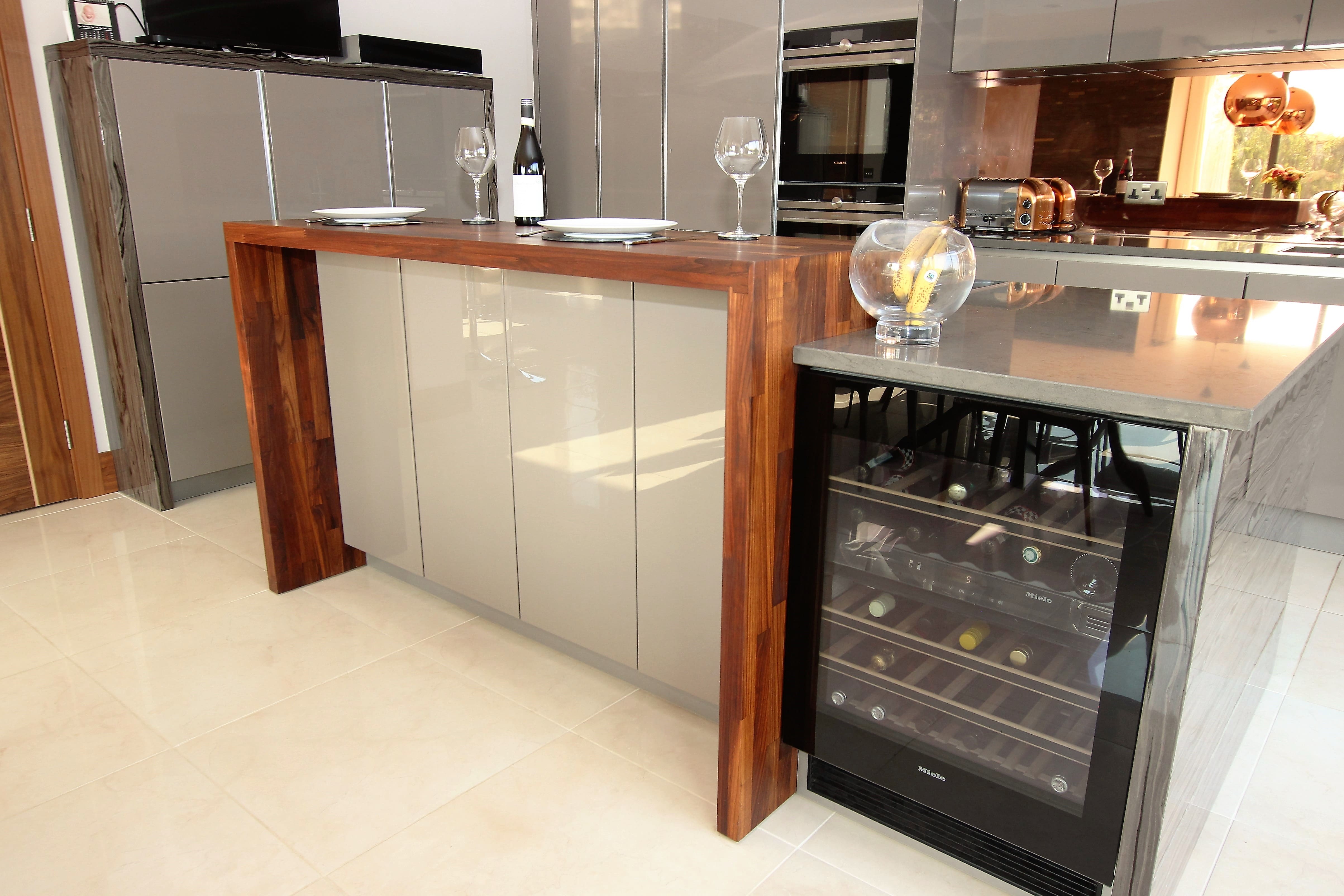 Kitchen Island Wine Coolers
Unless you're having a party, a wine cooler isn't usually an appliance you need regularly access throughout the course of the day and so it makes perfect sense to locate this kitchen appliance on a kitchen island! A luxury rather than an essential kitchen appliance, wine coolers are highly desirable, and with a sleek appearance, are perfect for further enhancing a stylish and high-end kitchen aesthetic.
Pull Out Kitchen Bin Systems
Not a kitchen appliance but also worth mentioning for kitchen islands is a pull-out kitchen bin system integrated within your kitchen units, so it's hidden from view unless open. Depending on your kitchen layout and again, how many people live in the house and use the kitchen, these can make a great choice for a kitchen island.
Regularly accessed by all throughout the course of each day, the hard-working kitchen bin should ideally be place on the end of a run of kitchen units, and similarly on the outer edge of an island. This makes it easily accessible without it getting in the way of someone cooking, washing up, or sitting at the island. This can prove an easier spot for emptying the bin, whilst an easy-to-access bin with separate waste compartments should l also encourage recycling amongst family and guests.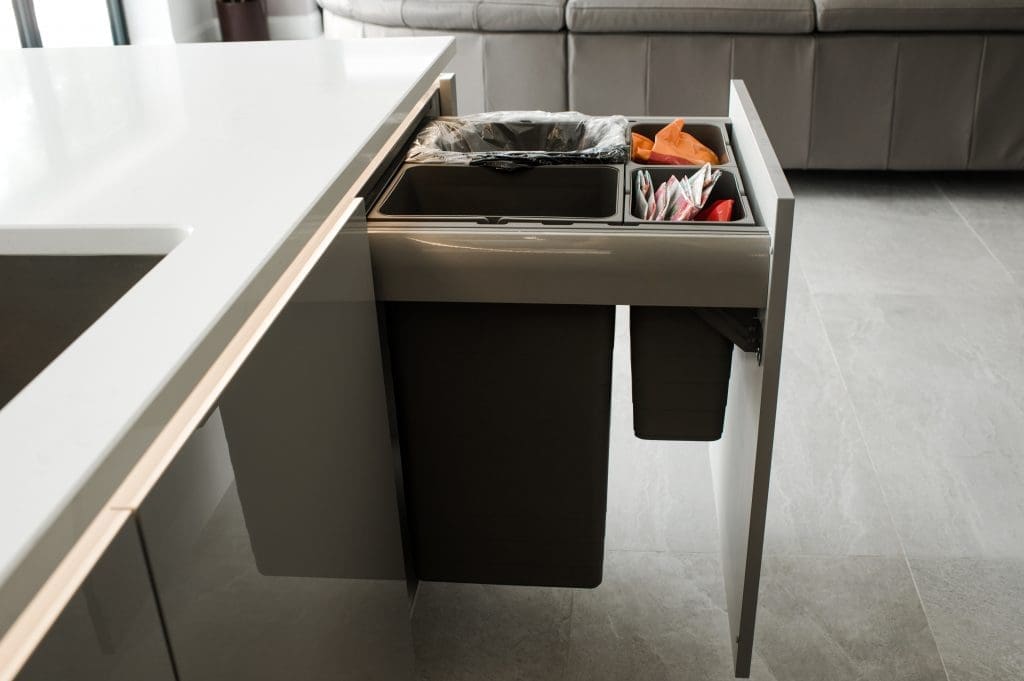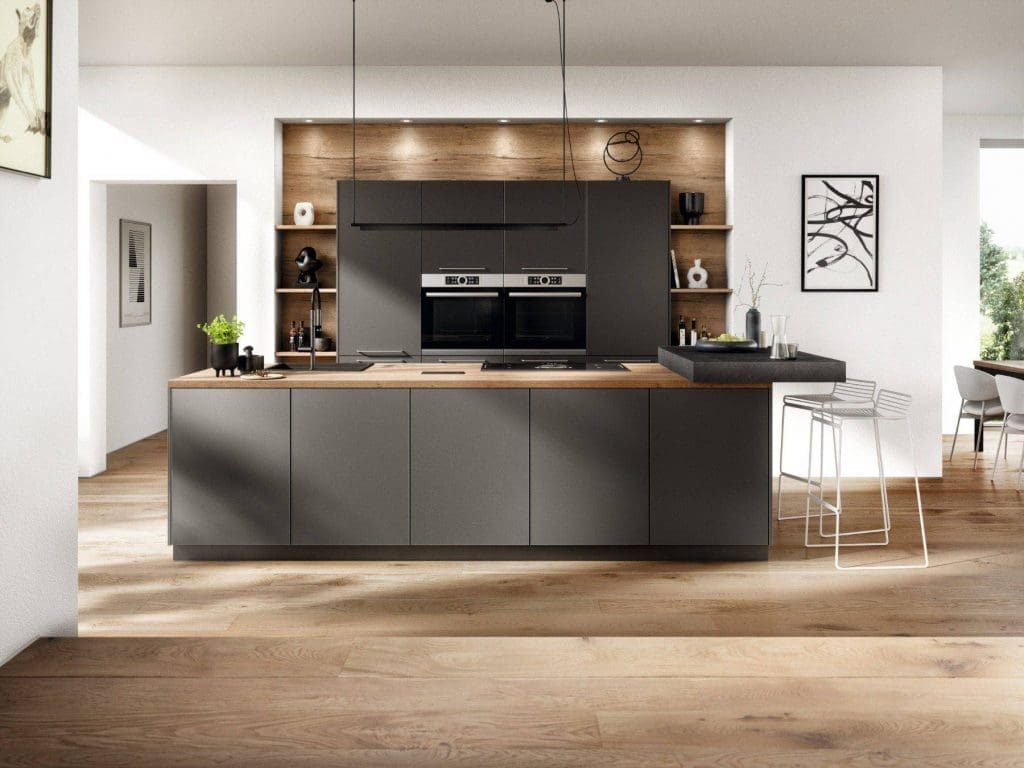 Plan Your Perfect Kitchen Island Appliances
Need help planning your kitchen island appliances? For help in assessing your space and choosing the best layout and kitchen island appliances for you and your family, contact your nearest Kitchen Expert today!