The kitchen has always been the heart of the home, and with the increased interest in culinary arts and entertaining at home, having a functional yet stylish kitchen space has become essential for many homeowners. If you're looking to create a contemporary kitchen design in the UK, you've come to the right place. In this ultimate guide, we'll explore the latest trends, tips, and inspiration to help you create your dream kitchen that's both practical and aesthetically pleasing.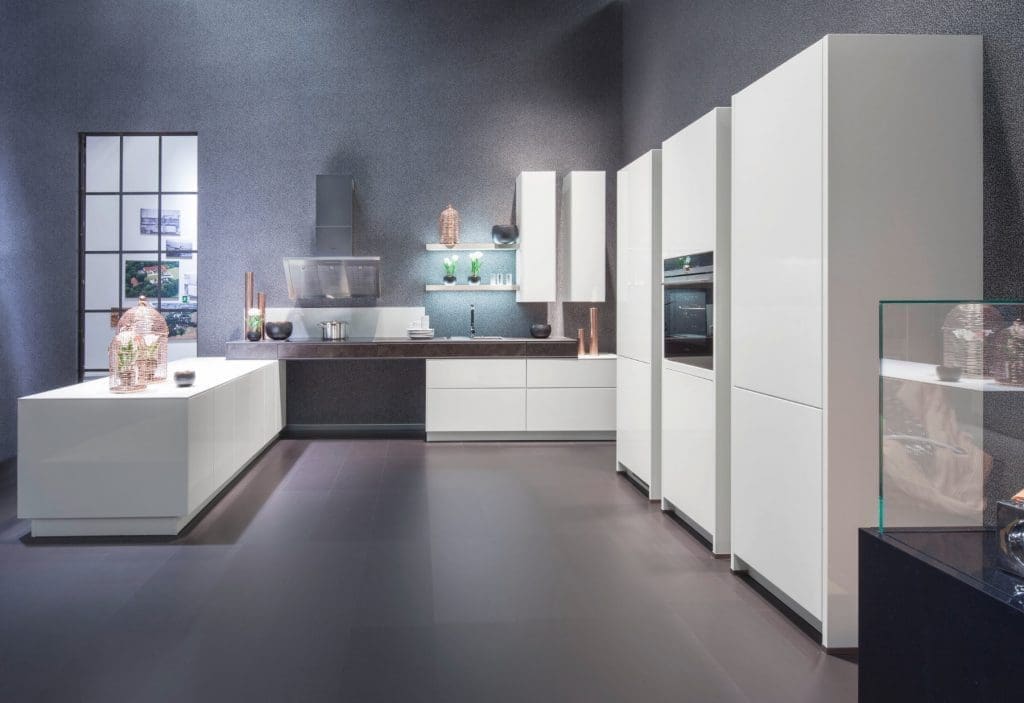 The Latest Trends in Contemporary Kitchen Design
1. Minimalist Kitchens with Clean Lines
One of the most significant trends in contemporary kitchen design is minimalism. The minimalist kitchen style focuses on clean lines, uncluttered spaces, and a simple colour palette. Opt for handleless kitchen cabinets and sleek appliances that seamlessly integrate into your cabinetry for a streamlined, elegant kitchen look.
2. Smart Kitchens
Smart kitchen technology is becoming increasingly popular, with connected devices and appliances that make your life easier and more efficient. From voice-activated lights to Wi-Fi-enabled ovens, smart technology can be integrated into almost every aspect of your contemporary kitchen design.
The Latest Trends in Contemporary Kitchen Design
3. Monochrome Kitchen Colour Schemes
Monochrome colour schemes are a contemporary kitchen classic, with grey, white, and black proving popular choices for modern kitchens. These schemes provide a timeless elegance and a neutral canvas, allowing you to add pops of colour and personality through accessories and appliances.
4. Open Shelving and Glass Fronted Cabinets
Open shelving and glass fronted cabinets can create a sense of space and allow you to showcase your favourite dishes and cookware. This trend also encourages organisation and decluttering, ensuring your kitchen remains a functional and inviting space.
5. Bold and Textured Splashbacks
While minimalism dominates contemporary kitchen design, bold and textured kitchen splashbacks offer an opportunity to add a statement piece. Geometric patterns, metallic finishes, and vibrant colours can inject personality and visual interest into your space.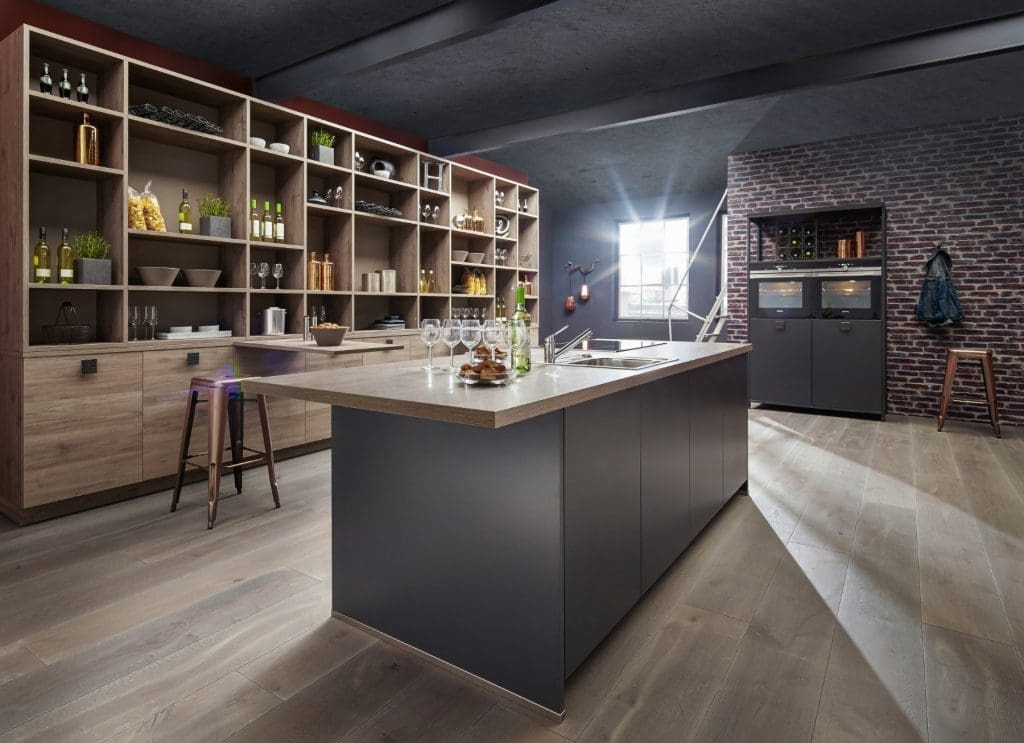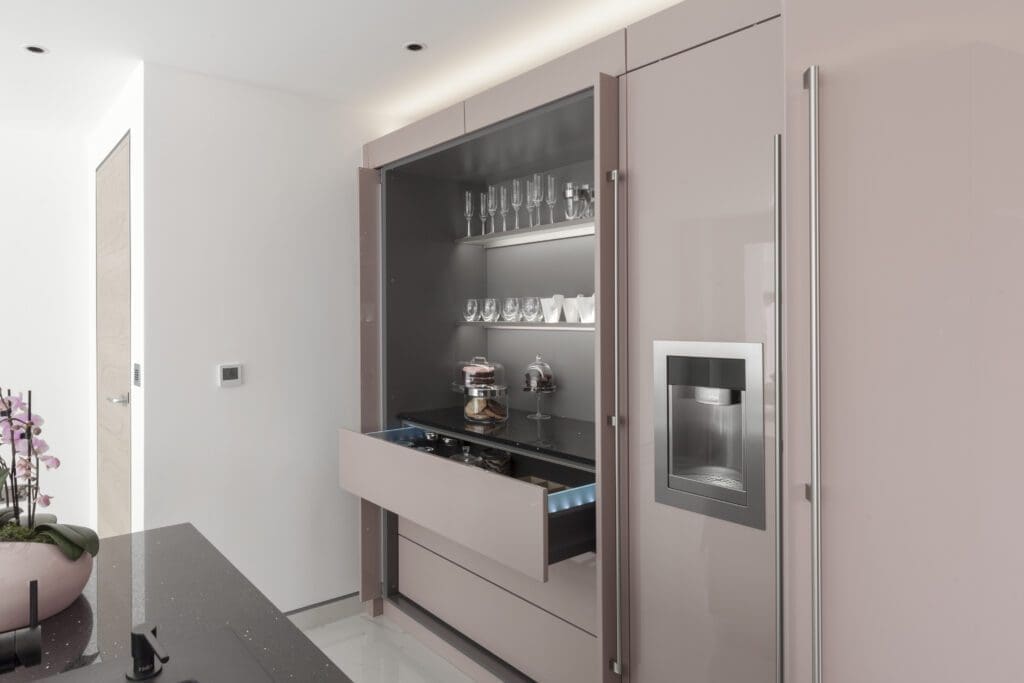 Top Tips for Designing a Contemporary Kitchen
Plan Your Layout Carefully
The layout is the foundation of any great kitchen design. Consider the 'work triangle' – the distance between your sink, hob, and refrigerator – to ensure efficient movement and workflow. Open-plan layouts are popular in contemporary kitchen design, but make sure you have designated zones for cooking, dining, and storage.
Choose High-Quality Materials
Invest in high-quality materials for your kitchen surfaces, cabinetry, and appliances. Not only will this improve the look and feel of your space, but it will also increase the longevity of your kitchen.
Incorporate Adequate Kitchen Storage
In any modern kitchen, storage is key. Plan for ample storage by incorporating tall cabinets, deep drawers, and clever solutions like pull-out racks and built-in spice racks. This will help keep your kitchen clutter-free and functional.
Top Tips for Designing a Contemporary Kitchen
Pay Attention to Kitchen Lighting
Layer your lighting to create a functional yet inviting space. Use a combination of task lighting, ambient lighting, and accent lighting to illuminate your kitchen effectively. Pendant lights over an island or dining table can add a touch of style and sophistication.
Don't Neglect the Details
In a contemporary kitchen, the details make all the difference. Consider upgrading to soft-close hinges and drawer runners for a luxurious feel, and invest in high-quality hardware for a refined finish.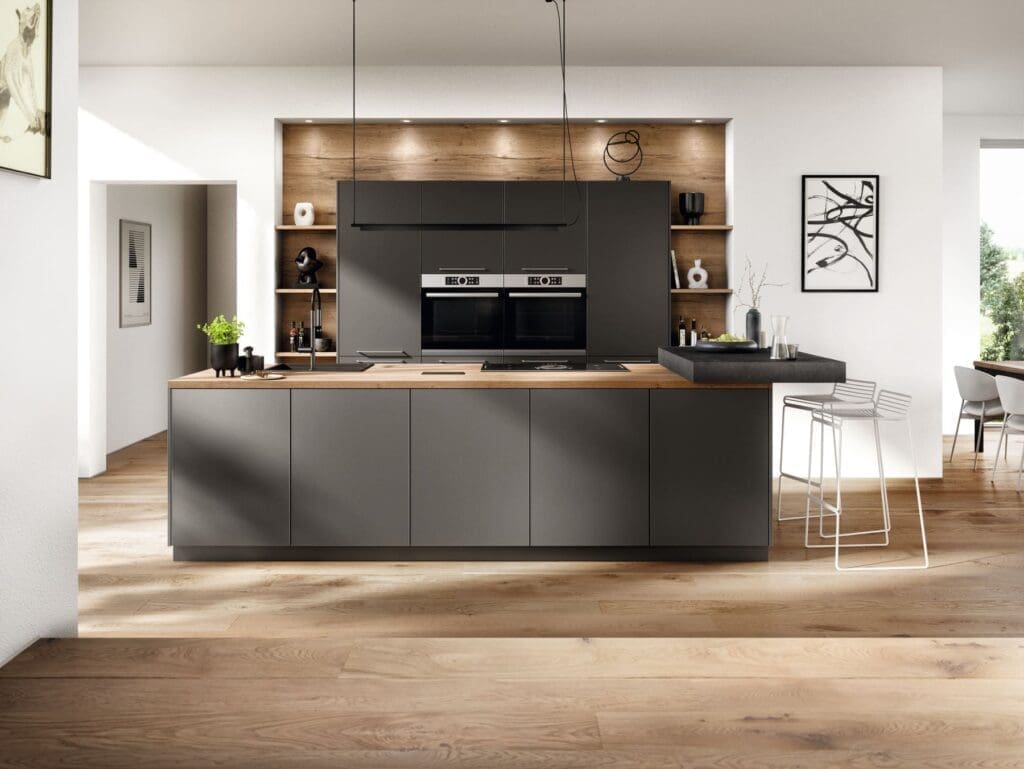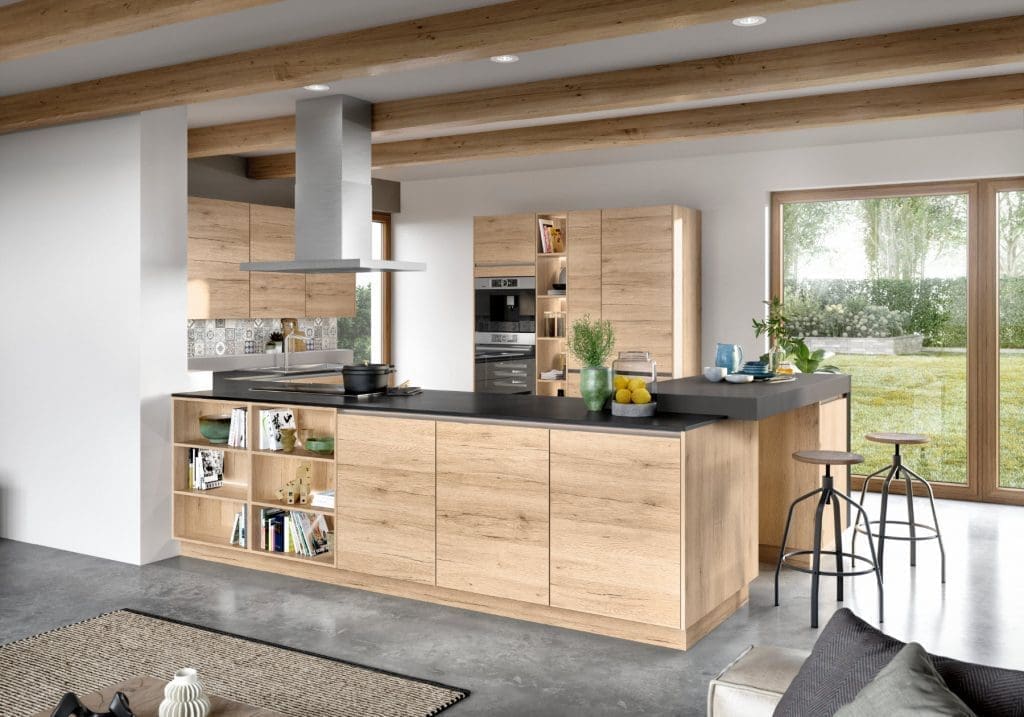 Inspiration for Your Contemporary Kitchen Design
Industrial Chic Kitchens
Combine exposed brickwork, concrete, and stainless steel for an urban, industrial feel. This popular kitchen style is perfect for lofts and warehouse conversions, or for those who want to bring a hint of grit or drama to their contemporary kitchen design.
Scandinavian Simplicity
Scandi kitchen design is known for its simplicity, functionality, and natural materials. Incorporate light wood, clean lines, and muted colours to create a warm and inviting space with a Scandinavian touch. Open shelving, minimalistic cabinetry, and simple layering of texture and accessories will contribute to this aesthetic, making your contemporary kitchen feel both homely and inviting.
Inspiration for Your Contemporary Kitchen Design
Monochrome Elegance
A monochrome kitchen colour scheme is an enduring choice for a contemporary kitchen. Opt for white or light grey kitchen cabinetry and contrast with black or dark grey worksurfaces and splashbacks. Add a touch of luxury with gold or brass accents in the form of hardware, light fixtures, and accessories.
Eco-friendly and Sustainable Kitchen Choices
Sustainability is an increasingly important consideration in kitchen design. Choose eco-friendly materials such as reclaimed wood or bamboo for your cabinetry, worktops, and flooring. Energy-efficient kitchen appliances and LED lighting will also contribute to a greener, more environmentally friendly kitchen.
Bold Kitchen Accents
If you're looking to make a statement in your contemporary kitchen, consider incorporating bold accents through colourful cabinetry, patterned tiles, or unique light fixtures. This can add a touch of personality to your space while still maintaining the clean lines and minimalism that define contemporary kitchen design.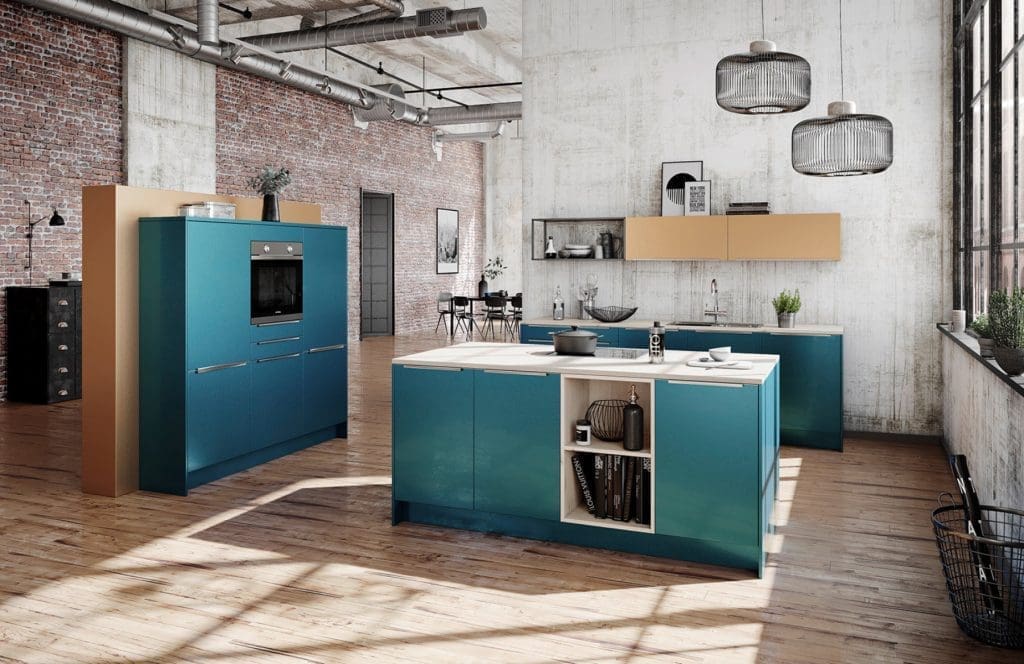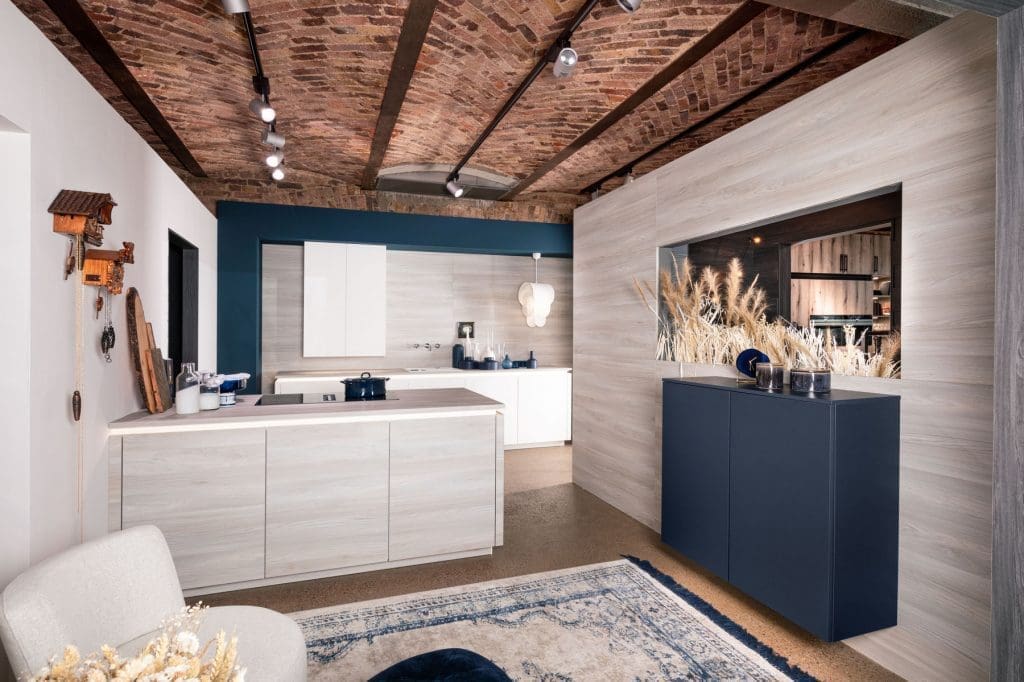 Achieve your Perfect Contemporary Kitchen Design
In conclusion, designing a contemporary kitchen in the UK is all about striking the perfect balance between functionality and style. By staying informed about the latest trends, carefully planning your layout and storage, and drawing inspiration from various sources, you can create a stunning and practical kitchen that will serve as the heart of your home for years to come. Whether you prefer the simplicity of Scandinavian design, the grit of industrial chic, or the elegance of monochrome, there's a contemporary kitchen style to suit your taste and needs.
For help in designing your perfect contemporary kitchen design talk to your local Kitchen Expert today.