Industrial kitchens have been growing in popularity over the last decade, offering a kitchen style that blends different textures and materials to create a statement kitchen full of character. This trend favours an open design with warehouse-style kitchen features to create a look reminiscent of industrial spaces. It's a timeless kitchen style, bringing an easy talking point to any home, but is it still in demand? Below you'll find out everything you need to know about industrial kitchens for the modern home!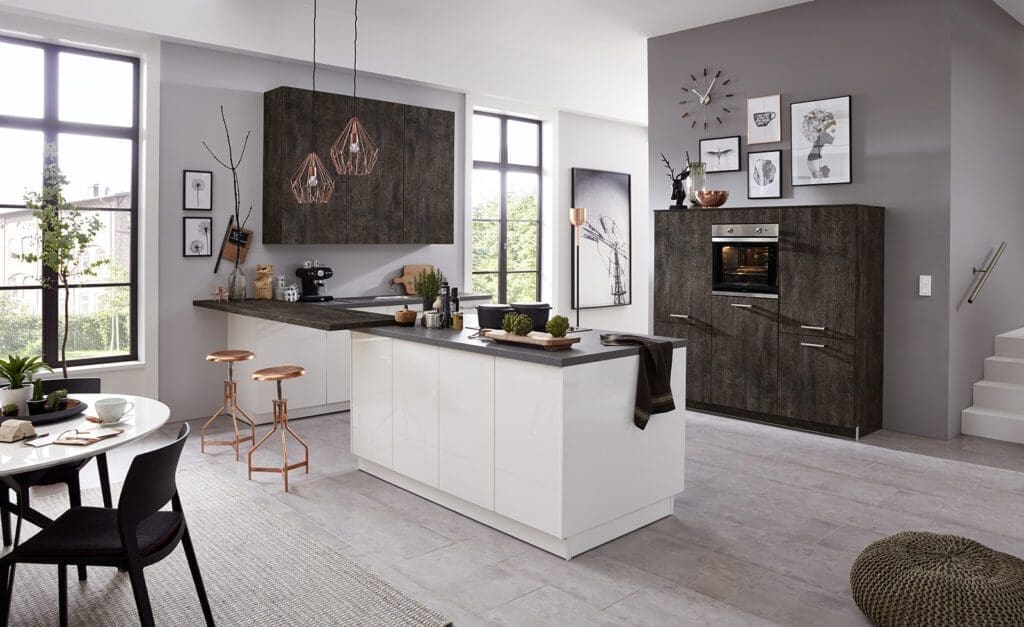 What is an Industrial Kitchen?
Industrial kitchens are most often associated with open, minimalist kitchen spaces, typically featuring raw materials and metal accents. This kitchen style has been a popular choice since the 1980s and blends functionality with aesthetics. As the name indicates, it's a kitchen style meant to emulate the look and feel of industrial and commercial kitchens and in so doing, upgrade your cooking experience.
Whilst commercial-grade utilities and appliances are the choice for professional kitchens, domestic kitchens with an industrial theme can easily include a wide range of kitchen appliance and finish options, fully tailored to each individual and their style of home and cooking. Industrial kitchens have a distinctive character and the look is easy to achieve if you know what to include!
What Are Characteristics of Industrial Kitchens?
In an industrial style kitchen, you'll often find high ceilings that create an open and airy feeling. This is further enhanced by the kitchen's minimalist style. Emphasis is placed on having functional furnishings and appliances that conform to the kitchen's industrial character, with statement pieces appearing throughout. Lots of metallics are used to create visually interesting elements that give the kitchen a one-of-a-kind charm. It allows for a sleek overall look that's great for gathering with friends and family!
Raw and rustic materials are similarly characteristic of industrial kitchen trends, including exposed brick walls, visible pipes and ceiling beams. This adds to the style's intentionally 'rough' aesthetic. It tends to feature vintage or repurposed furniture, giving the space some character, as well as open shelving. When it comes to colours, you'll mostly see metallics, greys, and blacks due to the abundance of different metals and natural materials. However, bright splashes of colour are also fairly common, and unique light fixtures in combination with warmer tones are a great way to add some warmth to the space.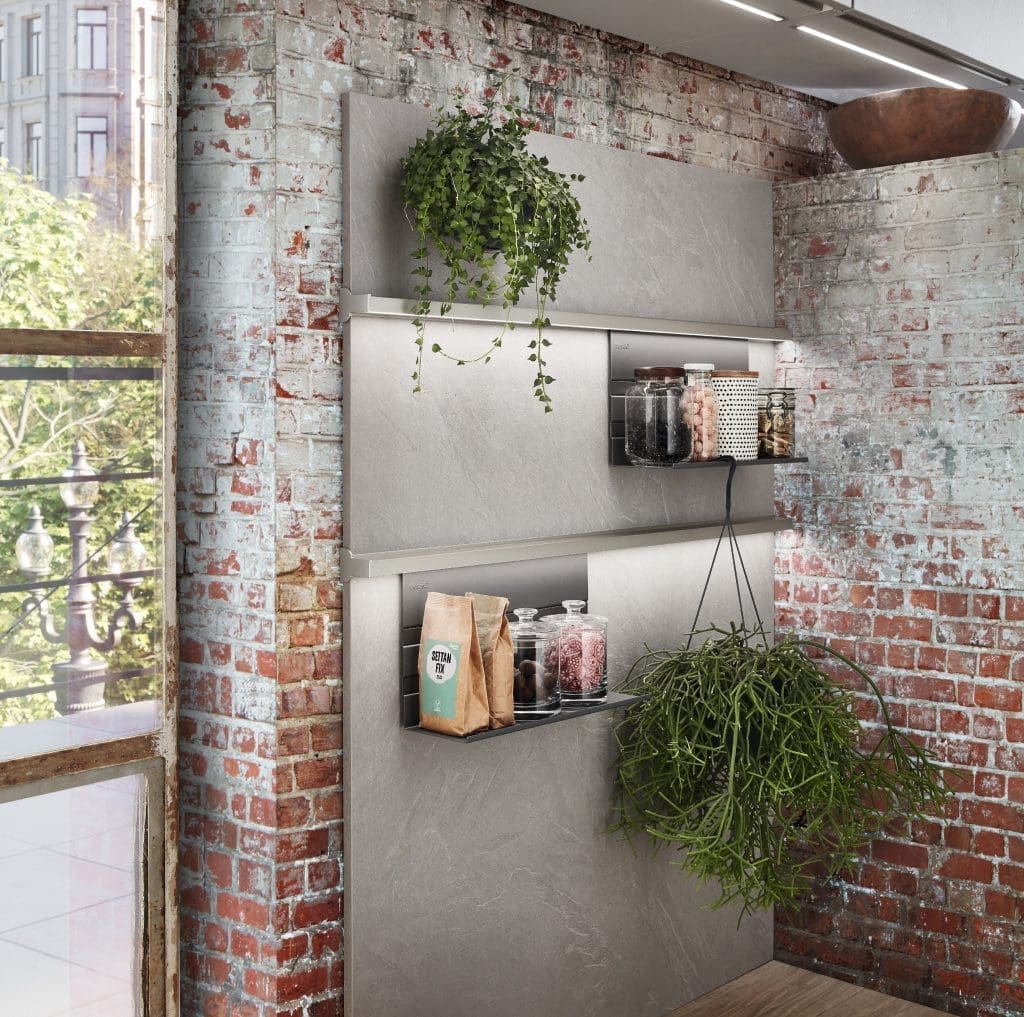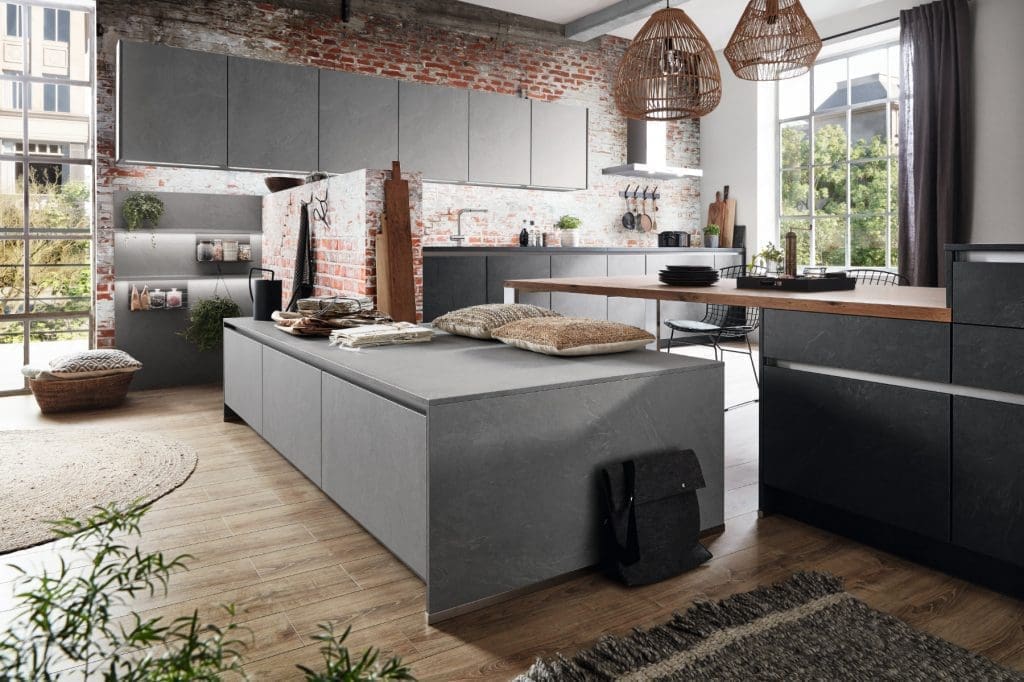 Which Textures and Materials Are Featured in Industrial Kitchens?
The Industrial kitchens' sleek look is greatly enhanced by a unique combination of textures and materials. The style often makes use of raw materials that might already be present in the kitchen in combination with shiny metal surfaces. Exposed brick walls and reclaimed wood elements are very popular and help add a unique character to any modern kitchen! These 'rough' materials are paired with lots of metals, such as in appliances, pipework or framed shelving. This helps create a minimal yet sophisticated and functional kitchen design with a lasting, timeless quality.
Stone and Concrete in Industrial Kitchens
Another material often found in industrial kitchen designs is stone or concrete, which helps emulate a factory or warehouse kitchen look. Concrete is most often used in flooring, whilst stone and concrete both appear in luxury kitchen door finishes, whether as a real veneer or else with the look of it. Its texture and tone help tie the entire kitchen aesthetic together with character and flair. Concrete is a raw material that can greatly enhance your kitchen when paired with sleek surfaces, creating a sophisticated kitchen design with lots of character!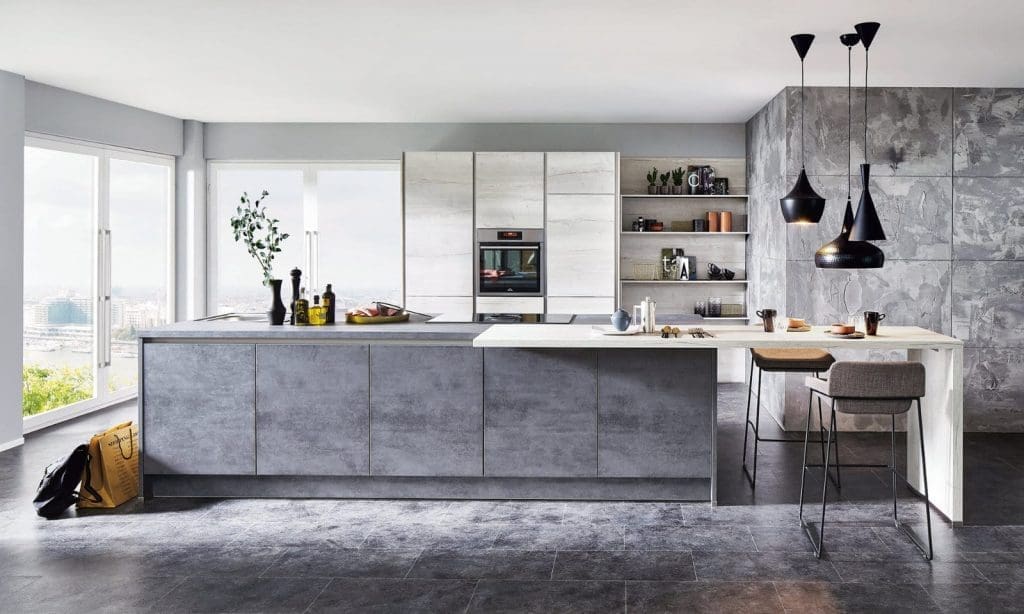 Metals in Industrial Kitchens
Industrial kitchens also remain a popular kitchen trend due to their functional aesthetic, which is often enhanced by metal finishes and appliances. The presence of metal enhances the factory-like look of the kitchen while also giving you lots of opportunities to include statement pieces! If you don't want your kitchen looking too bare, metal finishes on sinks and furnishings can help it stand out. Popular metals for this kitchen style include black or brushed metal, as well as copper, brass or even rose gold. Warm-toned metal pendant lights, for example, are a great way to create a statement piece that blends well with the overall sleek and industrial design.
Industrial Kitchen Appliances
The kitchen appliances you choose are also important in terms of enhancing your kitchen's industrial character. In most industrial kitchens, you'll often find black appliances that help create the desired aesthetic. Matching black ovens or black sinks are a great help in terms of tying the space together. You'll also see built-in appliances accompanying this style, allowing for a seamless blend with the rest of the kitchen. Another common feature is a rustic farmhouse style sink! This can be an ideal statement piece, and rustic elements typically work well with the industrial style.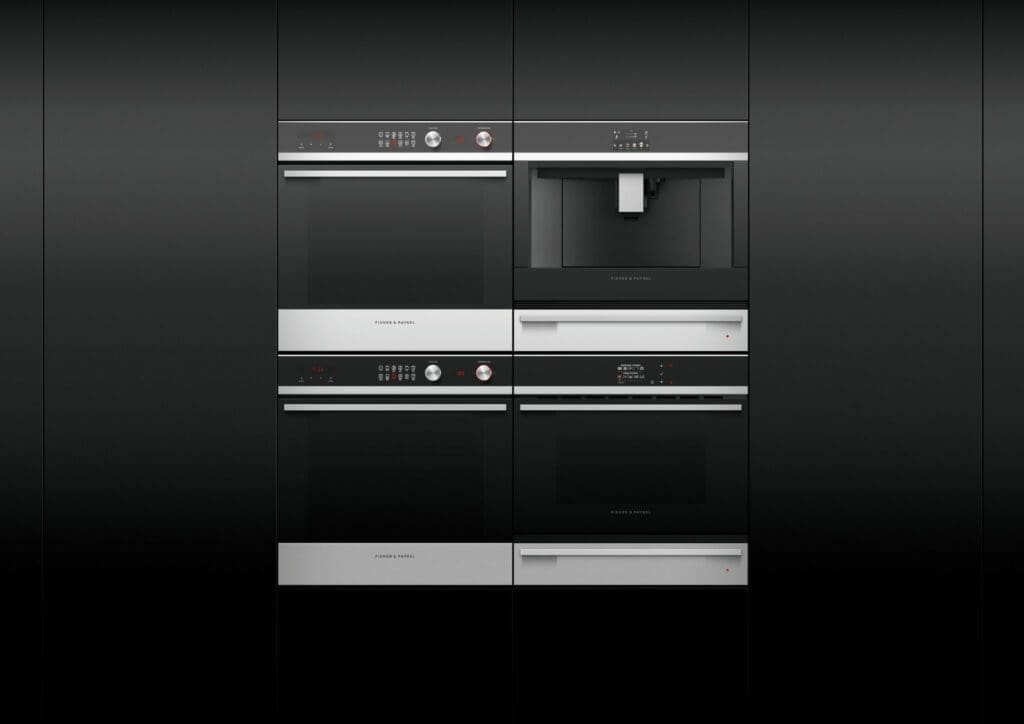 Why are Industrial Kitchens Still So Popular?
If you're wondering if the industrial kitchen trend is still popular within modern kitchen design, the answer is yes! These kitchens are still sought-after because they perfectly combine functional elements with a unique and charming aesthetic. The trend emulates the look of warehouses and factories, allowing you to add lots of metals and raw materials to create a sophisticated and elevated kitchen design.
Because they make use of durable and raw materials, industrial kitchens are also easy to maintain. Metal finishes and stripped surfaces ensure a distinctive kitchen design that is sure to make your kitchen stand out. Industrial kitchens have a timeless quality about them, having proven that they're able to weather most other kitchen trends and stand the test of time!
Find the Perfect Industrial Kitchen For your home!
There you have it! The industrial kitchen trend remains popular for modern homes because it offers a timeless and durable yet sleek and sophisticated design. This style allows you to combine different materials while emulating factory and industrial settings. The resulting look is a distinctive kitchen design that has a lasting charm and character, perfect for modern homes! This trend has enjoyed popularity for many years and doesn't show any signs of disappearing from modern kitchen design.
Need help finding the perfect industrial kitchen for your home?…Talk to your local Kitchen Expert today!