German handleless kitchen systems are not new, but over many years have come to be synonymous with modern and contemporary German kitchen designs. Originating in Germany, the handleless kitchen continues to evolve, whilst placing specific demands on the manufacturer to ensure the aesthetics, ergonomics, and practicality all work as intended whilst surpassing customer expectations. Here we look at 10 reasons to choose a luxury German handleless kitchen design for your home:
1) German handleless kitchens Look Fabulous!
A key aesthetic goal when designing a German handleless kitchen is continuity of the visual lines the handleless channels create. Kitchen carcasses must have machined rebates to accept continuous lengths of the profile that serves as the channel your fingers can access to open doors and drawers. Many German manufacturers have done this for years and have specialist machinery just for the job.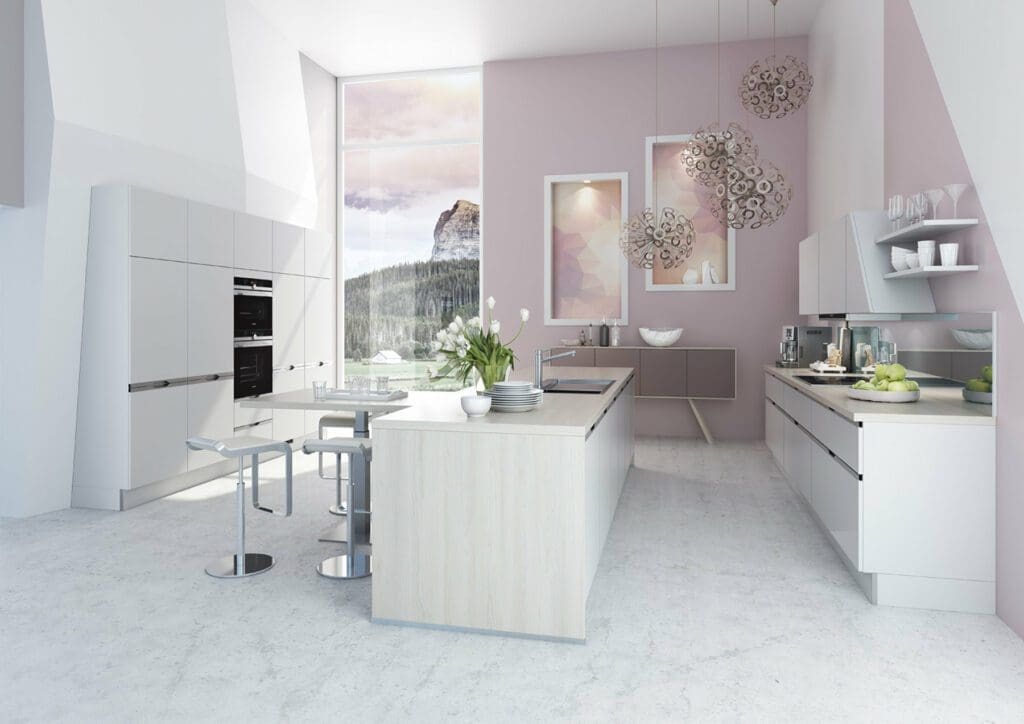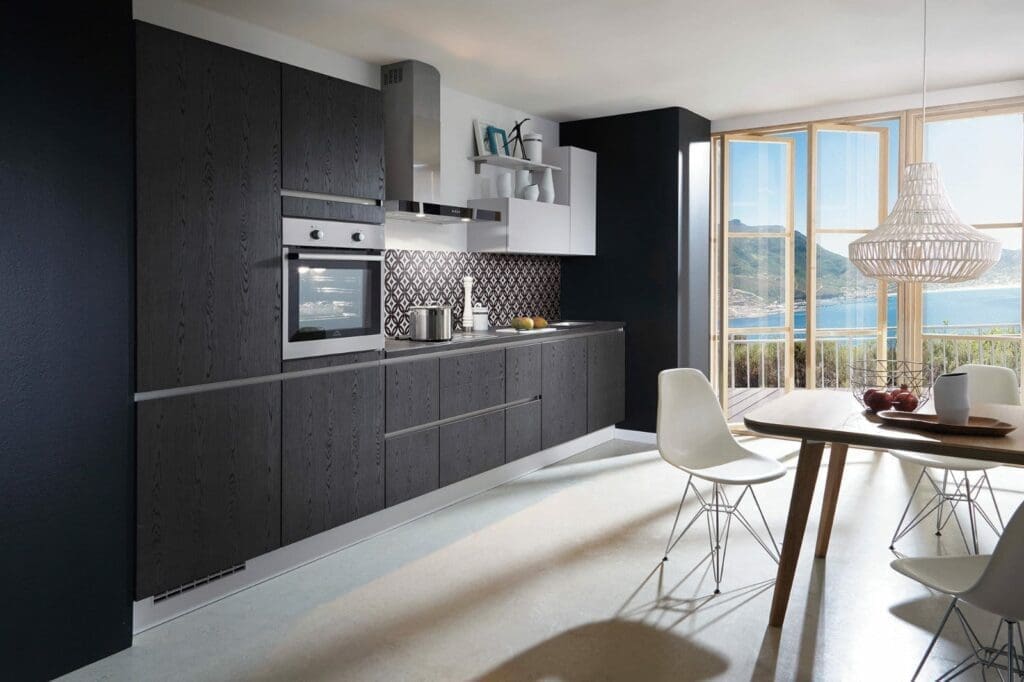 2) They Work with Fridge or Freezer Housings
These appliances represent a specific challenge when designing a handleless kitchen. The appliance itself is undersized versus the advertised 600mm width so it will fit inside a cabinet that has an outside diameter of 600mm. Unless specifically machined for the purpose, the fitting of a handleless kitchen channel is therefore impossible. A good manufacturer of German handleless kitchens can resolve this by rebating one side of the carcass as such that a vertical handleless channel can be fitted. It's important this is done correctly, as the suction of the door to prevent warm air ingress needs to be overcome by your fingers to comfortably open the door.
3) German handleless kitchen Systems Integrate with Dishwashers
If you want to include a dishwasher within a run of drawer units featuring handleless channels, you either accept that the visual flow will be interrupted, or else you work with a manufacturer that makes a false door designed to protect the visual continuity when fitted to a dishwasher. Many German Kitchen manufacturers can offer exactly this.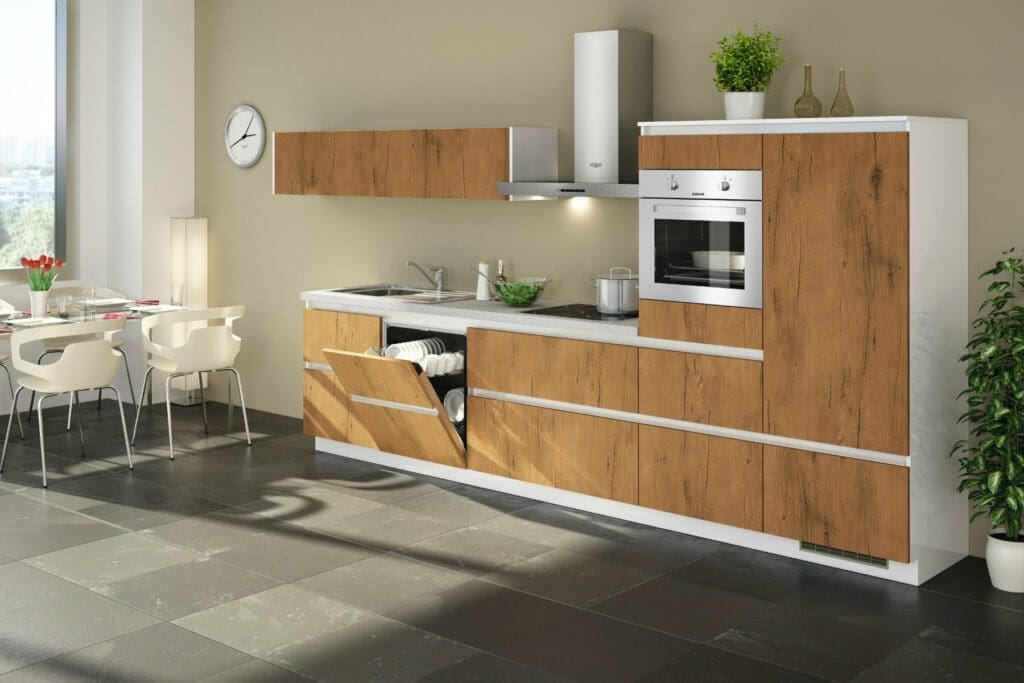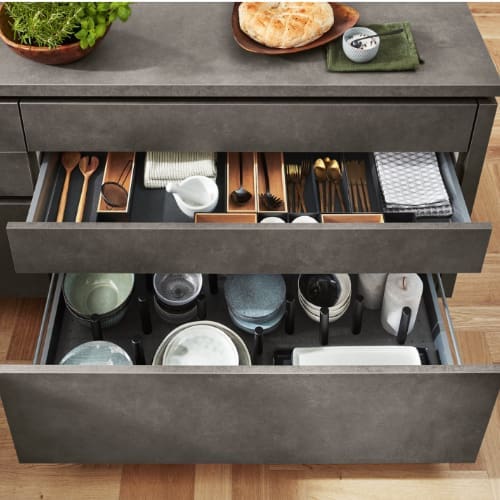 4) German handleless kitchens Offer Internal Drawers
Whilst a bank of base units featuring only pan drawers would look great in a handleless form- it would be hugely lacking in practicality for cutlery and utensils. Instead, if you use a quality German kitchen manufacturer, they will have a wide range of internal drawers, and may have a carrier mechanism that brings the internal drawer out with the larger one unless you depress a small button. This adds practicality and convenience, whilst protecting the aesthetics of your kitchen design scheme.
5) Handleless Kitchens Come with Corner Joining Kits
Corners on handleless kitchens needing joining. There are two ways to do this; one involves using a special set of internal and external angle connectors that act as a sleeve that the handle inserts into at the join. This ensures a perfect finish with no flex or space for dirt to ingress. The other way to do it is through a professional fitter with a capable saw.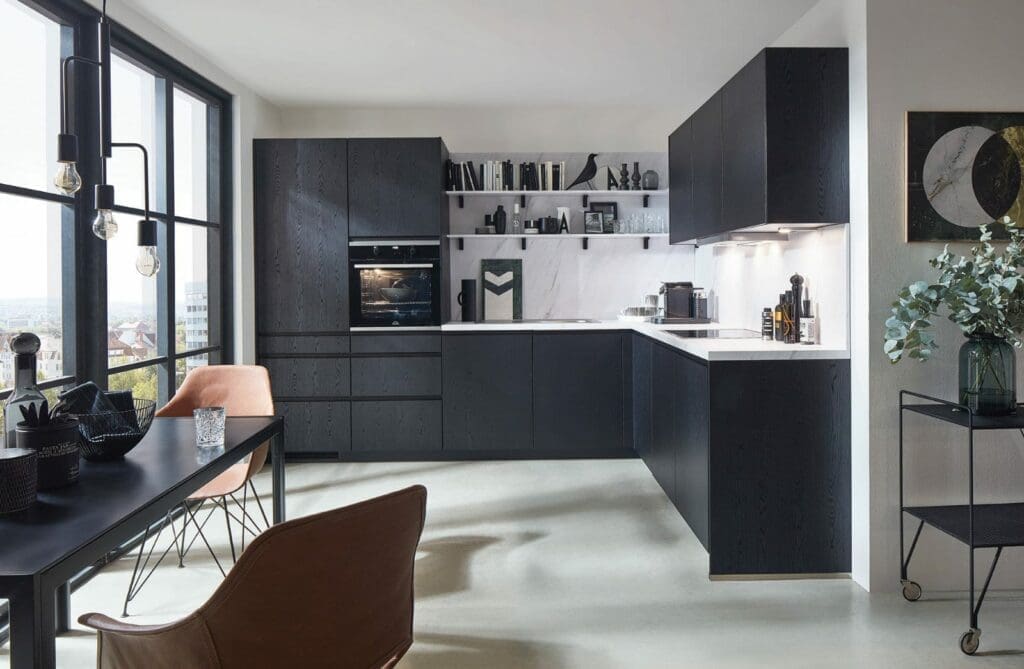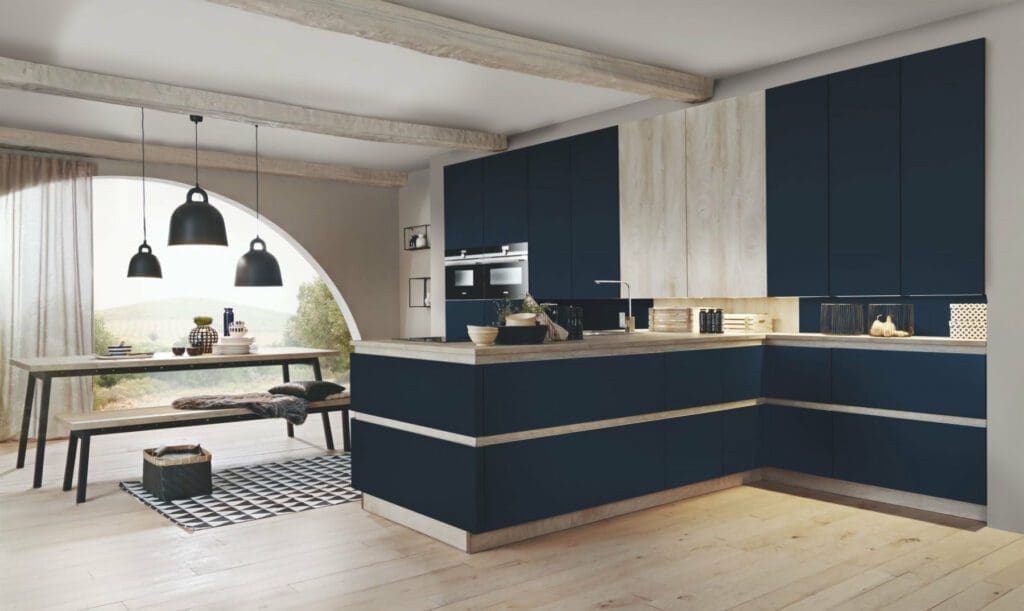 6) You Can Choose Different Handleless Kitchen Colour Options
Many manufacturers of Handleless German Kitchens supply the profile in different colours. This is great for a designer in creating either harmony or contrast; however, you're opening the drawers and doors of your kitchen with hand positioned so that your fingers are behind the door; where do you think that positions your wedding ring… right against the profile. Therefore it's important to ensure you buy from a manufacturer that has a robust, quality focused colour spray painting process.
7) German handleless kitchen Components Will Be High Quality
Kitchen manufacturers differ significantly in the quality of their profile materials, the fixings and the joining kits. German companies typically have excellent quality assurance standards and quality focused purchasing agreements; If it says its stainless steel- then its stainless steel.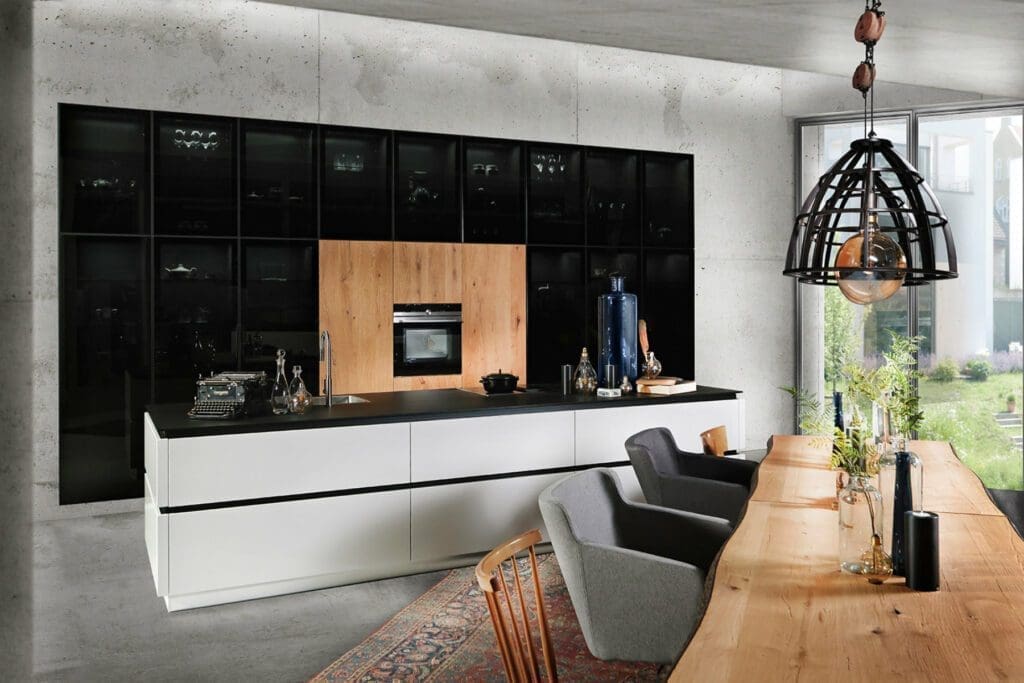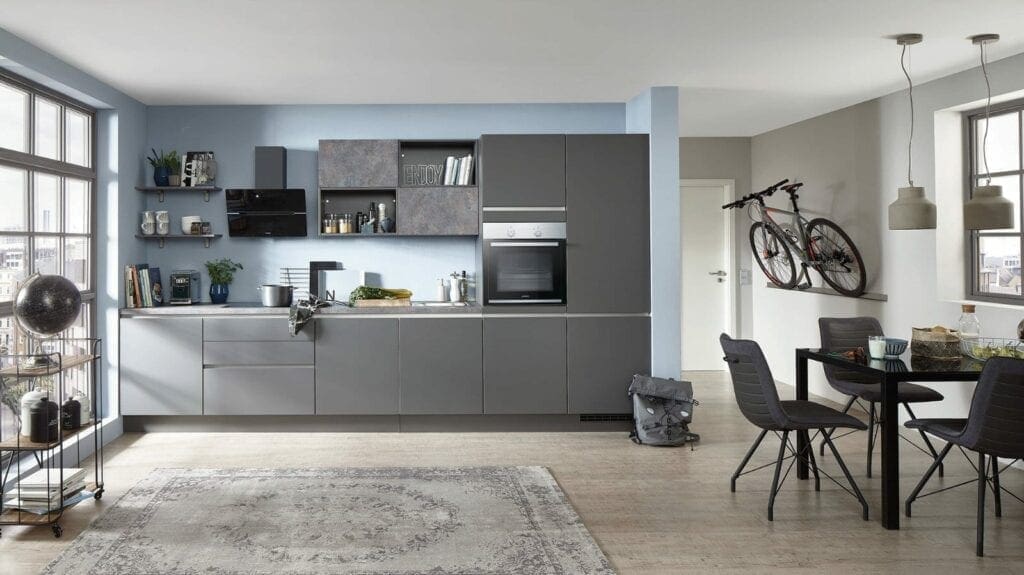 8) You can get Long Lengths of the Handleless Profiles
If you want a long run of cabinets, you'll want long sections of the handleless profile otherwise you'll see numerous joins, which can degrade the look of your design.
9) You Can Illuminate the Handleless Channel
The underside of the worktop can be rebated so you can fit a lighting system which illuminates the channel. This can provide subtle lighting that can even be colour tuned if you select the right system.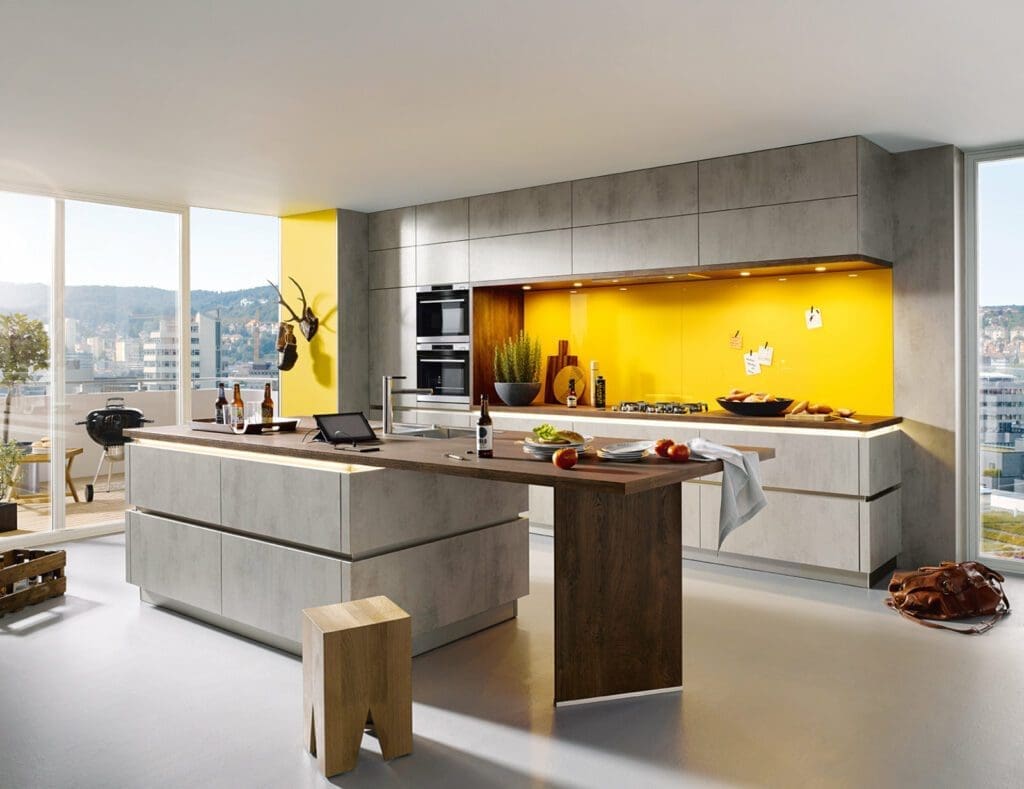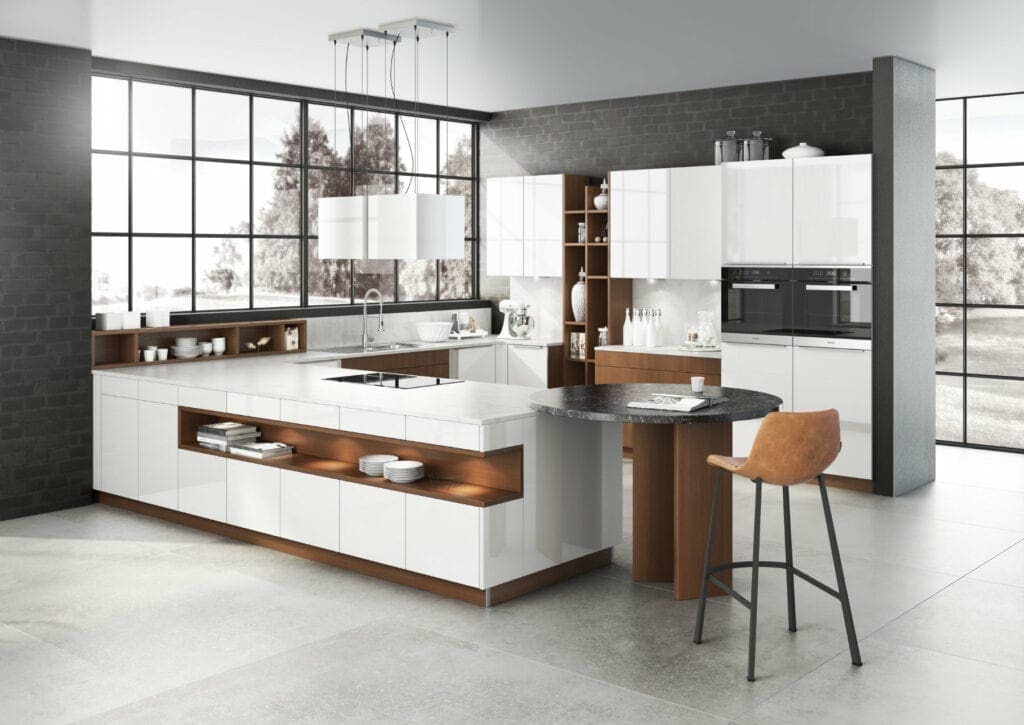 10) Touch to Open, Tap to Close.
Of course, with a handleless kitchen system you can do away with the labour of opening your own doors or drawers completely! Systems such as Servo Drive by Blum come with electric servos that not only reduce the labour, but they also get rid of the need for the handleless access profiles completely. The design and integration of these systems are available from many manufacturers of high quality handleless German Kitchens.
Take time to carefully evaluate the handleless system of the kitchen you are buying. Time spent investigating the quality of the components and asking questions about the paint, & finish etc, will prove well spent as you will end up with a more durable, ergonomic, and aesthetic kitchen design in your home.