As we come to the time of year when many kitchen companies release their new collections, the Kitchen Experts have been reflecting on the most popular kitchen colours and styles of recent times. In the last few years, there has been a steadily increasing trend toward grey tones and muted kitchen colours, and one such tone that has stood out from the crowd is the Cashmere kitchen.
The rise of the Cashmere kitchen, sought after within both gloss and matt kitchen finishes, is something we are not in the least surprised about. Much as we love the classic and ever-popular white kitchen colour, Cashmere offers a refreshing change from white, but also shares many of the same qualities that are key to the white kitchens' success. This goes a long way towards understanding its increased popularity, and so brings us to the question of what exactly is it about Cashmere colour kitchens that have made them so appealing?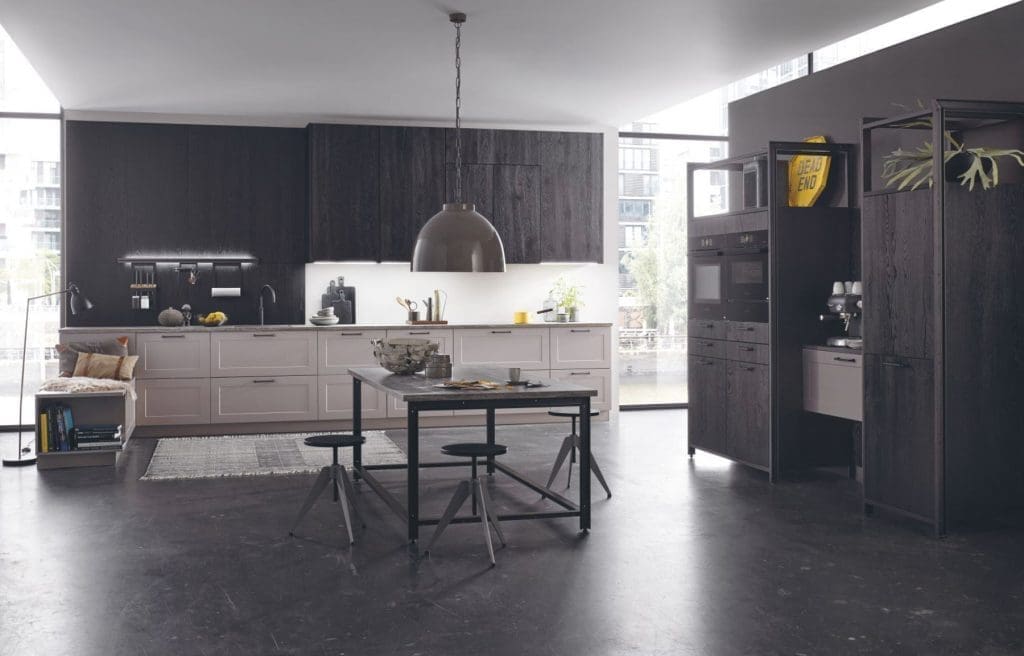 Why Does the Cashmere Kitchen Colour Work So Sussessfully?
Like the Cashmere wool after which it is named, the Cashmere kitchen, within both colour and nature is light, warm and inviting. This is an effect easily accomplished within Cashmere kitchen doors, where it can often prove challenging for other colour tones.
Cashmere is from the warm side of the colour wheel and not too far removed from the pale and neutral tones of white or cream. This similarity is significant as white continually proves the most popular kitchen colour, and largely so because of the benefits of its colour properties.
Cashmere Kitchen Benefits
A white kitchen can make a room feel brighter and larger, which is especially important for small kitchens, but in all size and layouts, most people appreciate this effect within their homes. However, at the same time, not everyone wants a white kitchen, and this is where the Cashmere colour comes into its own as its light colour tone can produce the same space-maximising effect as white kitchens. It therefore offers the same benefit of being suitable for use within any kitchen size or layout.
Also, like white kitchen tones, Cashmere is a neutral and accommodating tone so works well in most settings, balancing rather than dominating other colours and complimenting finishes. The added warmth of cashmere can also help tone down the starkness of white, useful for anyone who is worried a white kitchen may appear 'clinical.'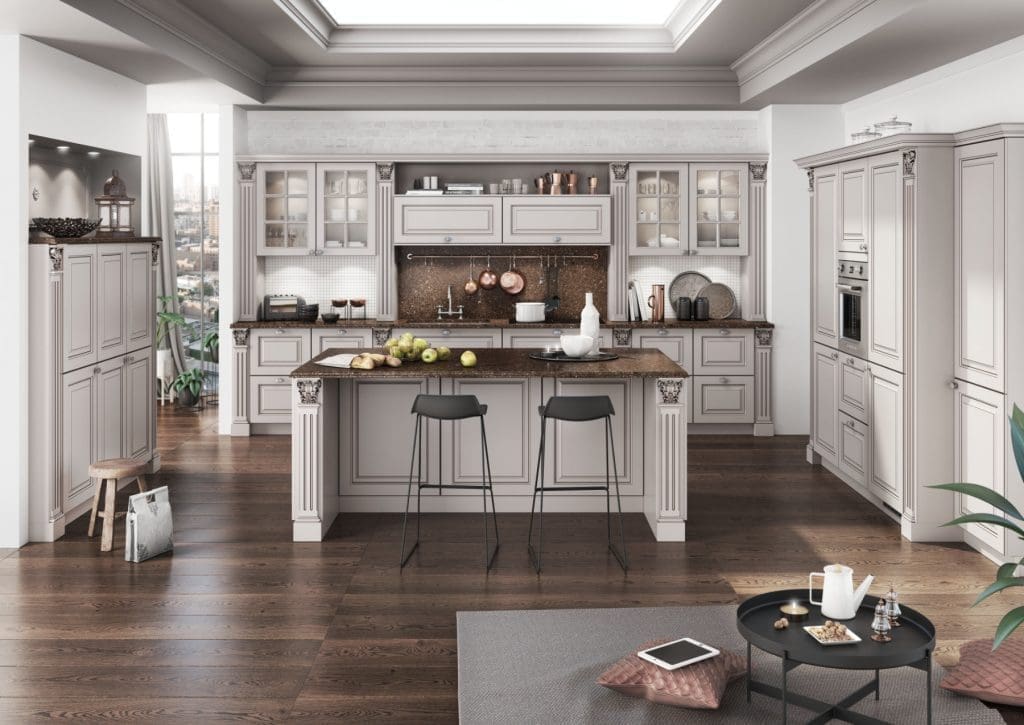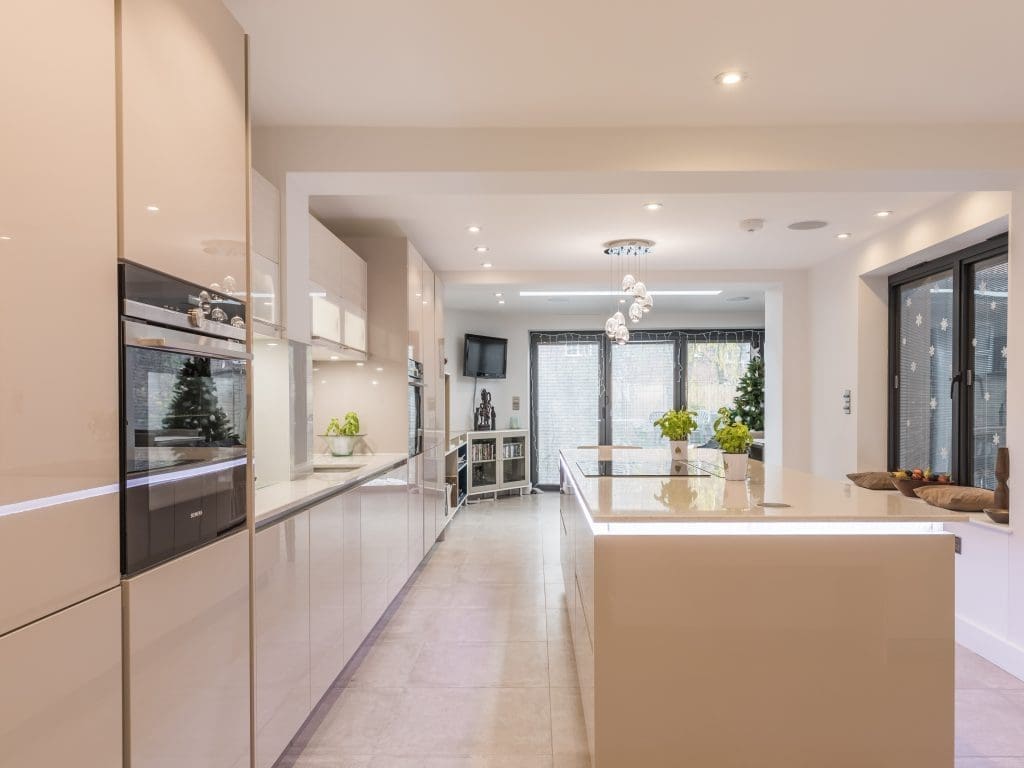 The Gloss Cashmere kitchen
As mentioned, the Cashmere tone can have the same effect as white tones in making a space feel larger and brighter, and this is especially so within a gloss finish because a gloss door surface will reflect light back across a room, for the impression of a larger space. For this reason, the gloss cashmere kitchen is at its best in conjunction with ample lighting effects, natural or otherwise, to enhance the warm kitchen feel that the glossy colour tone creates. Whilst an inviting space, the overall look of the gloss cashmere kitchen tends to be modern and stylish. The gloss cashmere kitchen is also a practical choice of kitchen finish, easy to wipe down and maintain.
The Matt Cashmere Kitchen
An entirely different effect to the gloss cashmere kitchen, the matt kitchen finish absorbs rather than reflects light. In the Cashmere colour, this brings a sophisticated elegance to the look of the kitchen whilst still enhancing the impression of space. The matt Cashmere colour is solid yet has a calming feel to it, and its silky-smooth surface is detectable in looks as well as touch. The overall impression of the matt Cashmere colour kitchen is one of understated luxury. This is particularly so within the Cashmere door, wherein the surface of the door reflects light but without creating any reflection; The overall effect of which is a very clean, fresh kitchen look.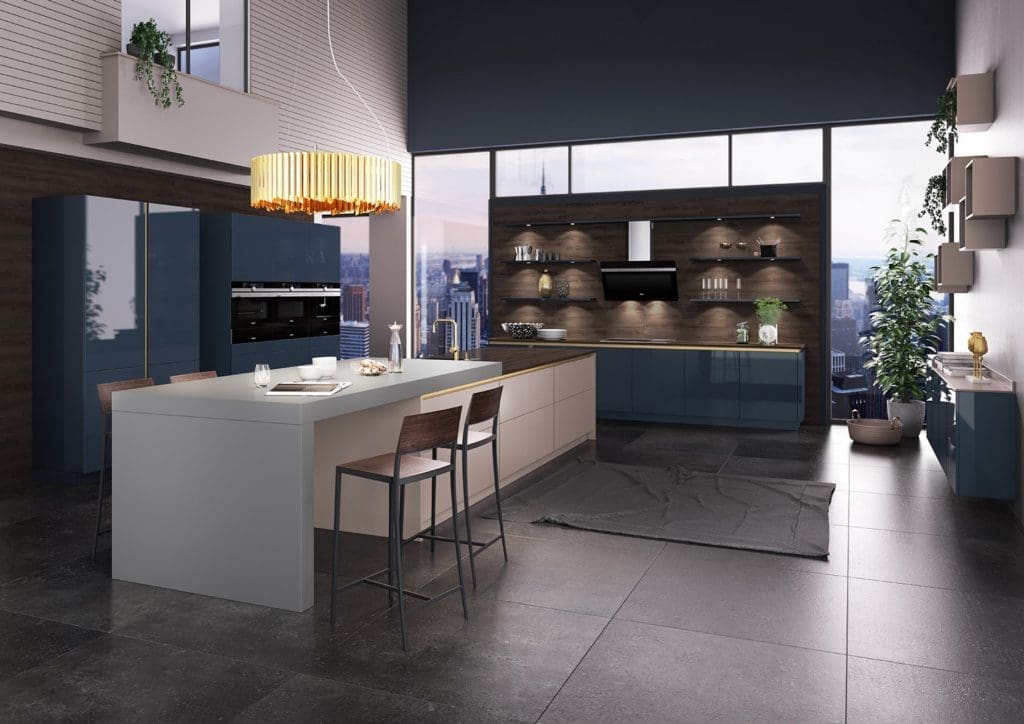 Two-Tone Cashmere Kitchens
The Cashmere kitchen works beautifully by itself but another appealing quality is its versatile nature, allowing stunning kitchen designs through combining the Cashmere colour kitchen door with other colours and textures. An additional colour breaks up a single colour hue as well as introducing a new feature of interest to the design.  Within a Cashmere two tone kitchen arrangement, this colour is often combined with white, perfectly harmonising for a balanced and attractive kitchen effect. But white is not for everyone. So, if you still want a light colour contrast then Cashmere also works well with warm tones and textures such as oak and other pale woods.  
The Cashmere kitchen tone isn't a bold or dramatic colour but for a more noticeable contrast, it works in tandem with darker tones and textures. This includes dark woods, black kitchen doors, navy, or shades of grey. With such a warm and versatile option as the cashmere colour in either gloss or matt, the possibilities for creative two-tone kitchen designs are many and wide.
The future of Cashmere kitchens?
The popularity of the Cashmere colour kitchens is largely due to it sharing many of the qualities key to the white kitchens' success, including its capacity to suit, or moreover, enhance the impression of any kitchen space and size. In addition to this, the soft, versatile colour tone ensures Cashmere makes a sound choice as an alternative to the white kitchen, ideal for creating a warm and inviting kitchen, within a luxurious and elegant design. With such desirable qualities, the Cashmere kitchen is certainly a look which is here to stay.  
For help in planning your perfect kitchen in Cashmere or any other colour, please contact your local Kitchen Expert today.