The Best Kitchen Lighting For All of You Needs
Appropriate kitchen lighting is crucial for a successful kitchen design, both for decorative purposes and functionality too. And while some kitchens benefit from generous natural light, others need help brightening the space. Luckily, there are many kitchen lighting solutions available, from recessed downlights to stunning pendant lighting, which will elevate your kitchen atmosphere. But, which lighting solution should you choose? Deciding which type of lighting you should select for your kitchen style and whether you should have warm or cool lighting are just two things you need to consider when picking what kitchen lighting looks the best.
Here, we explain everything you need to know about kitchen lighting, including what lighting options are available as well as top tips for choosing the right type of lighting to benefit your kitchen design.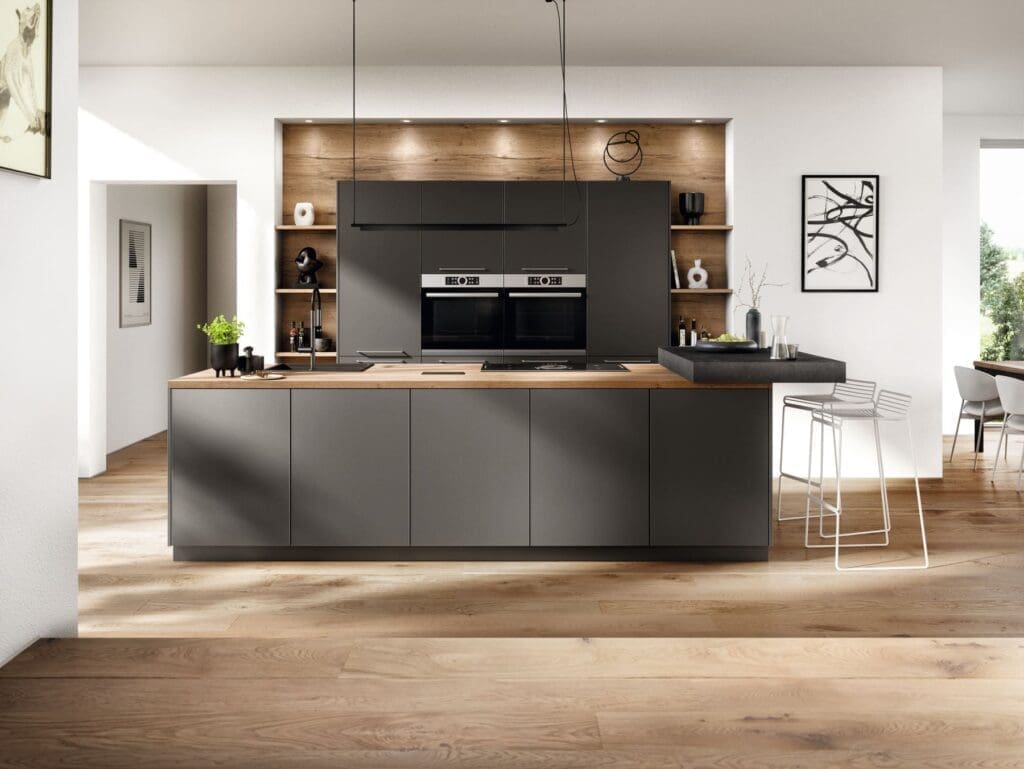 The importance of lighting solutions in modern kitchen design
Deciding what lighting you should have in your kitchen is a vital part of your kitchen design. You want your lighting to make your space bright, airy and welcoming. However, there are also functional benefits that come with the right lighting, which is that it improves your kitchen's visibility and safety while you are cooking and preparing food. The right lighting can also dramatically improve your mood, and in terms of aesthetics, it can create a beautiful focal point in your space.
You need to consider the design of the lighting fixtures, where you want to install them, and how they fit into your kitchen style.  Different types of lighting, such as accent lighting, will introduce a new dynamic, so should always be considered so they complement your kitchen style, décor and layout, along with your needs.  
Different types of kitchen lighting
Knowing the importance of kitchen lighting solutions is key, but so is understanding the different types of lighting. There are a few options you can choose that can brighten your space, with each type of lighting serving a different purpose:
Task lighting
Accent lighting
Ambient lighting
Task Lighting
Task lighting is essential for kitchens, as it focuses light on a specific area to enhance visibility. After all, a kitchen has many potential hazards, such as chopping various foods, which requires precision and focus. Task lighting creates a shadow-free environment, where you have a detailed view of what you are doing. Whether you are cooking on your hob or chopping various vegetables, task lighting can help illuminate your space, improving your kitchen's overall safety.
Ambient lighting
While task lighting can improve the safety of your kitchen, ambient lighting focuses on the atmosphere, influencing kitchen mood. Ambient lighting can transform the ambience of any kitchen, as it uses temperature, colour and varying degrees of brightness to create a comfortable and welcoming space. If you are looking for a way to add depth and warmth to your room, ambient lighting can do precisely that. Popular ambient lighting solutions include recessed spotlights, wall-mounted fixtures and ceiling lights. The lighting fixture you select should complement the layout and design of your space.
Accent lighting
Accent lighting focuses on adding a decorative touch to your space rather than just illumination. Accent lighting could be the solution if your kitchen design does not have a focal point, as it creates a focus for your area. Popular accent lighting options include recessed lights, wall sconces, table and floor lamps, or a chandelier for a truly elegant ambience.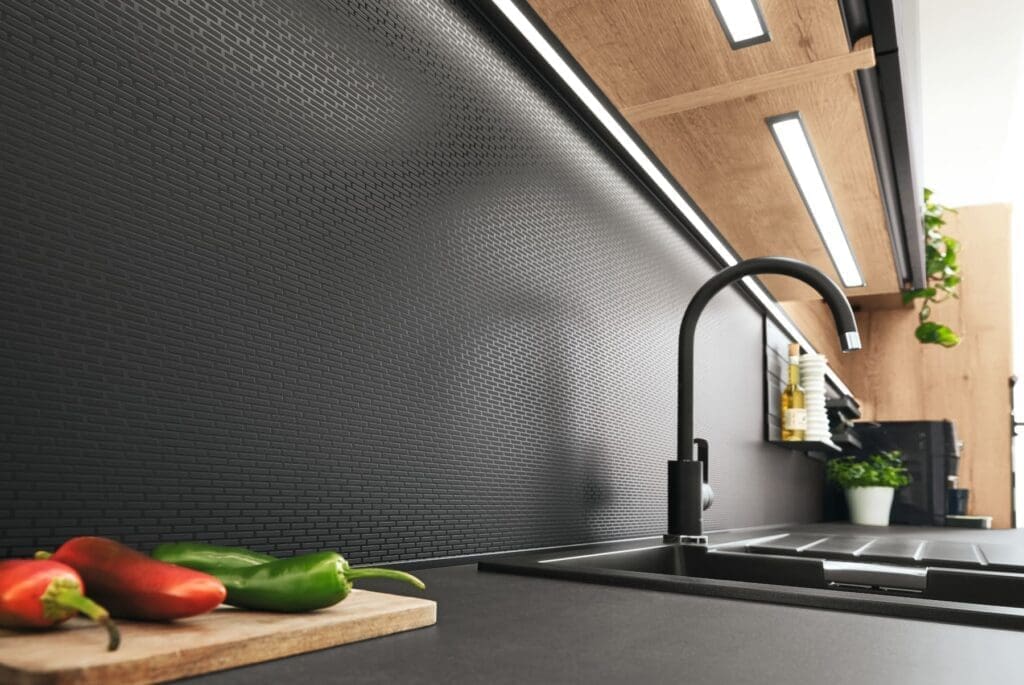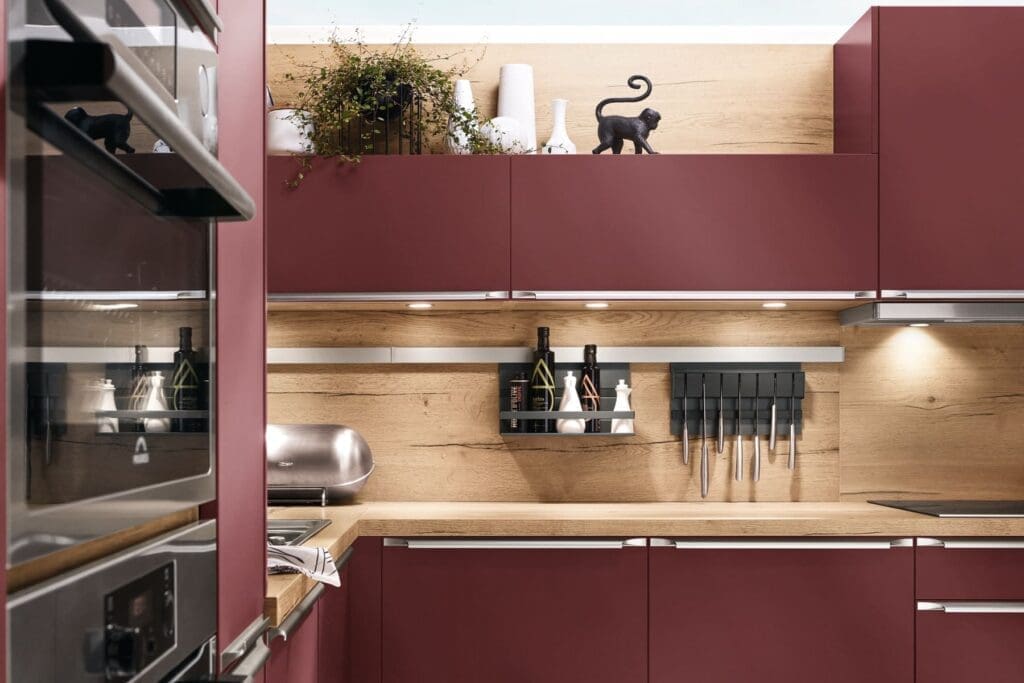 LED kitchen lighting
More and more homeowners are moving away from incandescent bulbs and instead opting for LED technology to light up their kitchen space. LED kitchen lighting is especially popular for modern kitchens, as they are more energy-efficient, modern and longer-lasting than standard bulbs. Light-emitting diode (LED) technology generates lights through electroluminescence, which means they require no external circuitry. LEDs also have a longer lifespan, which means you will not need to change your bulbs as often, resulting in you saving money in the long term.
LED lighting is a step into the future, especially with the option of remote-controlled LED lighting, which will quickly modernise your kitchen. The key benefit of remote-controlled LED lights is that you can control various components, depending on the features you select. For example, you can control the intensity, temperature and colour of your kitchen lighting. With this added control, you can transform your kitchen from a welcoming, calm room for breakfast into an energetic and playful room to entertain guests.
Kitchen island lighting options
A kitchen island is a luxury addition, and often the versatile focal point of any modern home. From prepping food, entertaining guests, or even doing work or homework, you want this focal point to be illuminated in style, which is why choosing the right kitchen island lighting is essential! The lighting above your kitchen island should complement the rest of your kitchen. For example, if you opt for a modern yet elegant and sophisticated appearance, a vibrant chandelier could be the perfect solution. An eye-catching chandelier will add some creative charm to your kitchen and complements various worktops and kitchen styles to create a personalised design.
For a sophisticated yet classic look, many homeowners opt for low-hanging pendant lights above the kitchen island, to create a balanced, symmetrical appearance. Oversized, decorative lighting is also a popular option, especially for those wanting to make a statement, while bold and colourful lighting fixtures are also a modern choice.
While there are many kitchen island lighting options available, one of the most popular options is clear glass pendant lighting. This lighting option offers simple beauty that works in various kitchen styles. The light will pass through the clear glass, which means it will not block the light from reaching different areas of your kitchen. The elegant and sleek beauty of glass pendant lighting will complement different kitchen styles, from modern or rustic to even mid-century modern.  
Kitchen cabinet lighting
While kitchen island lighting options can create a dramatic look for your space, kitchen cabinet lighting can help with the day-to-day tasks of your kitchen. For example, kitchen cabinet lights will ensure you can find what you are looking for, while also creating an uplifting vibe in your space.
Popular kitchen cabinet lighting includes LED strips underneath each shelf in your cabinet to ensure you can see everything within, from spices to plates. You can even invest in motion sensor lights, which makes finding something in your cabinet much easier, especially when you are in a rush and need to find a specific ingredient quickly!
Aesthetically, kitchen cabinet lights will transform your kitchen cabinets or shelving, as they will make your space feel more open and airy. For instance, cabinets with glass doors look stunning with a strip of LED lights to illuminate each shelf.  
The best kitchen lighting for small kitchens
If you have a small kitchen, you might be wondering how you can make your space still feel welcoming and open. The right kitchen lighting can help here, as lighting can open up your space to create a clean, spacious and inviting area. But of course, you probably won't want a giant chandelier at the centre if you have a small kitchen, so you should opt for recessed lighting or under cabinet lighting to add light without taking up too much space.
A lack of proper lighting can make your kitchen feel even smaller and uninviting so when selecting the lighting solutions for your small kitchen, work with a designer who can advise on what will work best for your space. Where possible, they can also help you make the most of natural light to really elevate your space.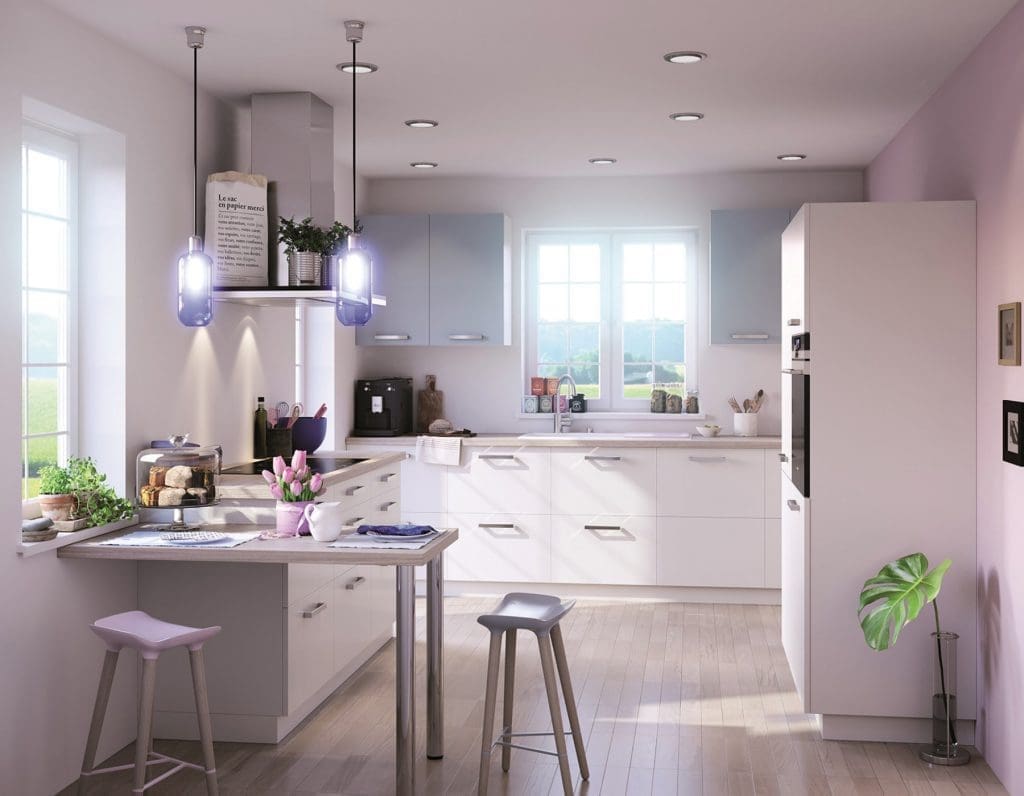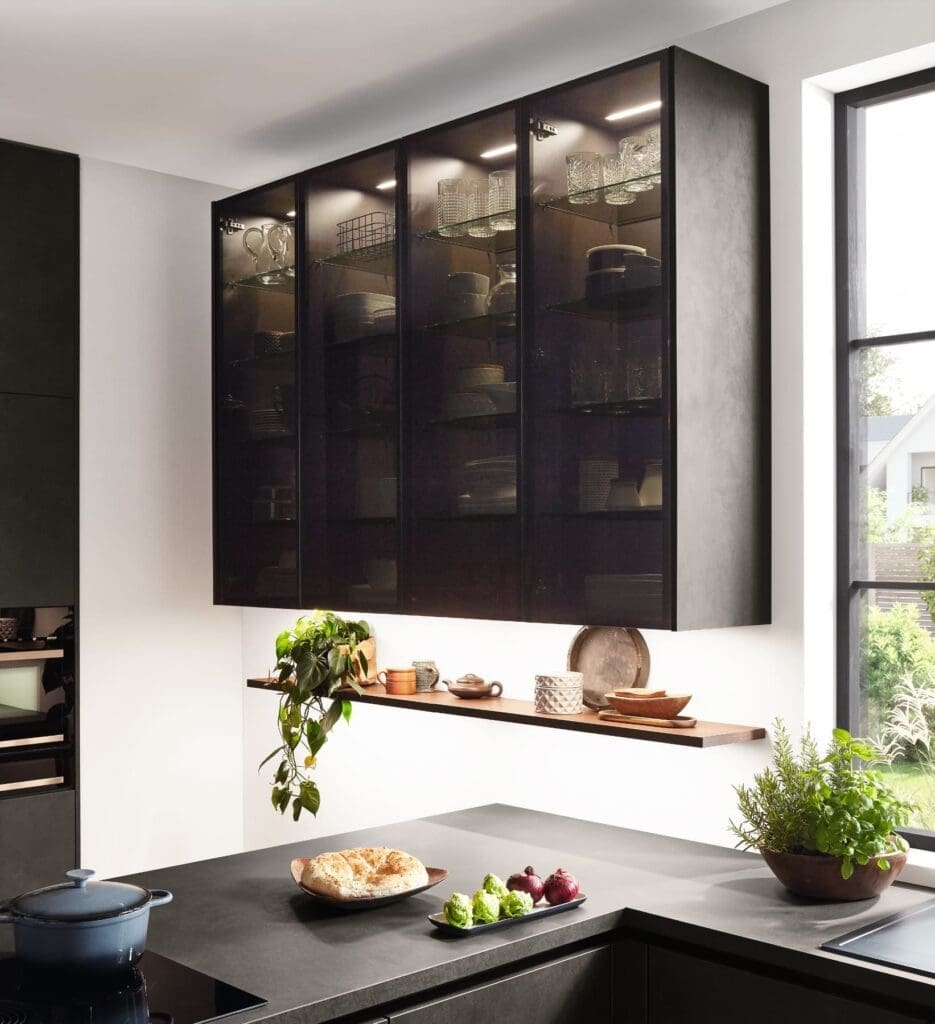 Top tips for your kitchen lighting solutions
One of the essential tips to take away is that you should start planning your kitchen lighting as early as possible. You should consider what lighting you want at the start, as your choice will influence the kitchen layout, structure and design. For example, if you want a kitchen island, you want lighting that accentuates the design rather than task lighting.
Of course, knowing what lighting works well with different kitchen features and layouts can be challenging, which is why a professional kitchen designer can help. A specialist designer will recommend what lighting works well with your space and needs. They will likely even suggest lighting options you might not have considered without them there to help. A professional kitchen designer will help bring your ideal kitchen to life while recommending style solutions that can truly elevate your space.  To find your nearest professional kitchen designer, contact us today.