When designing your perfect kitchen space – there's one ingredient that can elevate your space from ordinary to extraordinary: colour. The UK has a rich tapestry of interior design traditions, and there's no reason why your kitchen shouldn't embody the best of British creativity. Here, the Kitchen Experts explore how to choose your perfect kitchen colour, including how to harmonise hues, balance brightness, and craft a kitchen with a palette that truly resonates.
Understanding the Psychological Power of Kitchen Colours
Blue Kitchen Tones: Serene and calming, blue evokes thoughts of the sky and sea. It's perfect for creating a kitchen environment of tranquillity and thoughtfulness.
Red Kitchen Tones: Known for stimulating the appetite, red is energetic and passionate. It's an adventurous choice for kitchens but can be beautifully balanced with softer hues.
Green Kitchen Tones: Drawing parallels with nature, green kitchens bring feelings of freshness and renewal.
Yellow Kitchen Tones: Sunny and inviting, yellow kitchen tones light up a room, making it an ideal choice for dark or small spaces.
Neutral Kitchen Tones: Grey, beige, and white may appear understated, but they offer an elegant and timeless backdrop for your kitchen space.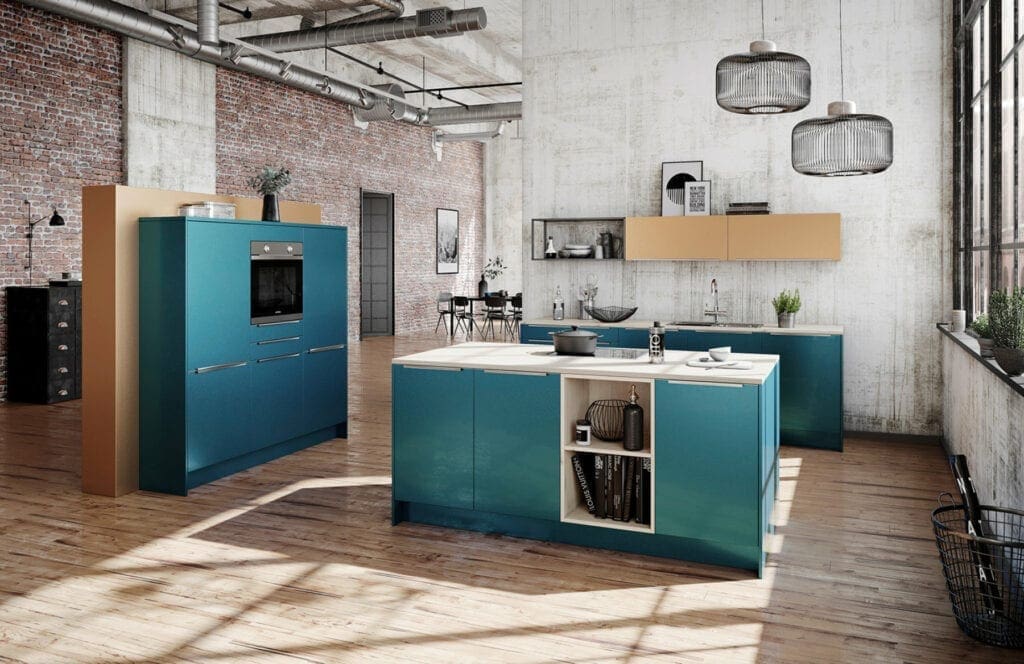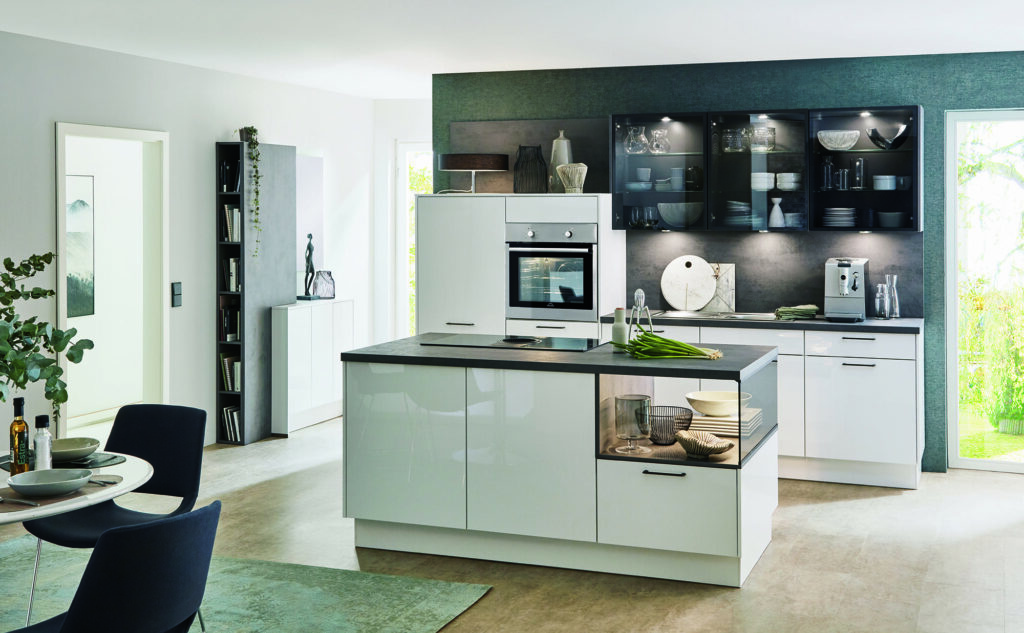 Reflect on The Size and Shape of Your Space: Small Kitchens
Apart from your individual taste, your kitchen's size, shape, and the amount of natural light it receives can influence the kitchen colours that work best. Navigating a compact kitchen space can often pose design challenges, but the strategic use of colour and texture can transform such constraints into a visual delight. Opting for light hues, such as soft pastels or muted neutrals, can create an illusion of spaciousness, tricking the eye into perceiving a larger area than actually exists. Meanwhile, incorporating reflective surfaces, like high-gloss cabinetry, glass tiles, or even mirrored backsplashes, not only adds a contemporary edge but also maximises the dispersion of both natural and artificial light. This synergy of colour and reflection can make a small kitchen radiate with brightness and openness, turning it into an inviting, enjoyable kitchen space.
Reflect on The Size and Shape of Your Space: Large Kitchens
With a larger kitchen space, you have more freedom with regards to which kitchen colours will work. While the elegance of lighter shades remains, there's greater opportunity to embrace the depth and richness of darker, more dramatic kitchen colours. Think deep charcoals, rich blues, or even opulent emerald greens. Thoughtfully applied, these shades can introduce an air of luxury and sophistication. Moreover, the generous proportions of a larger kitchen mean that even with such intense colours, the room won't feel oppressive or boxed-in. Instead, the interplay of light and shadow in such spaces can create interesting visual dynamics, enhancing both the aesthetic and functional appeal of the kitchen.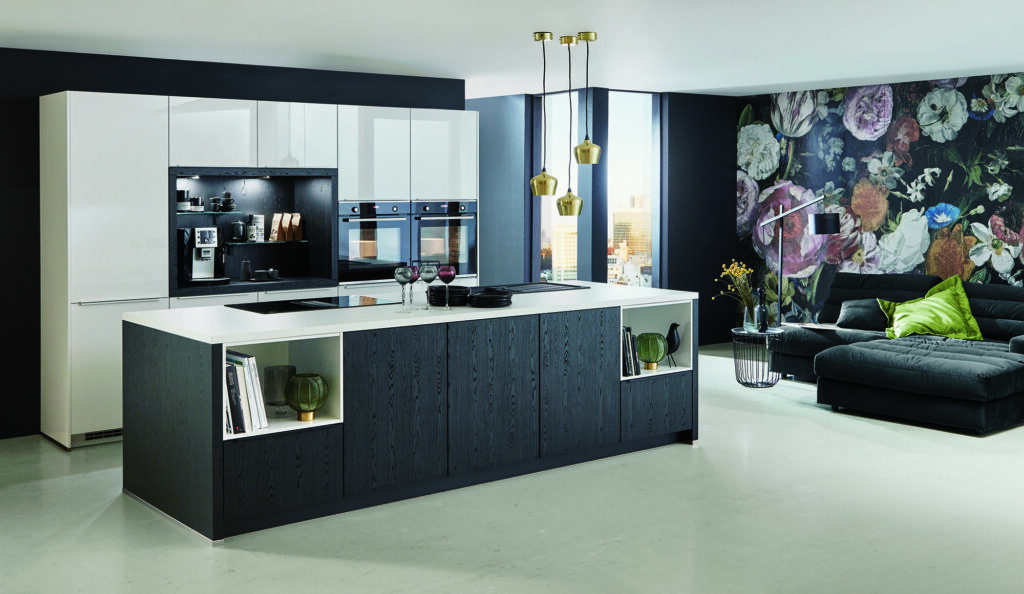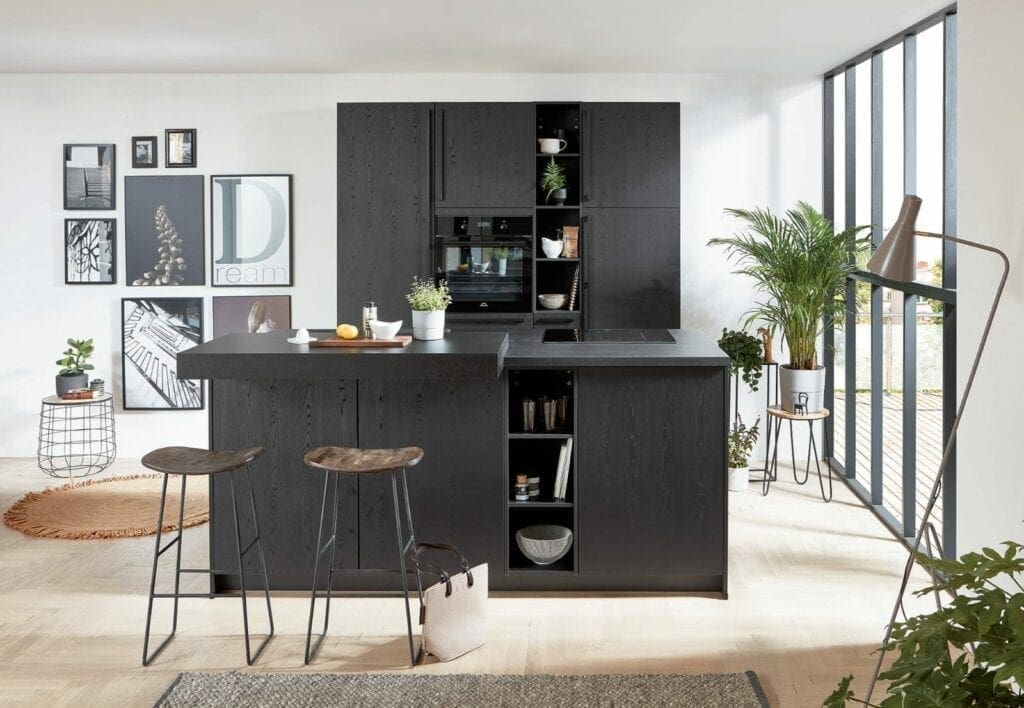 Natural Light
The gift of generous natural sunlight in a kitchen is akin to having a blank cheque in the realm of interior design as you can venture into deeper hues without the fear of creating a gloomy space. Natural kitchen lighting uplifts and brightens, and when the sun's rays filter in, they dance off surfaces, casting radiant reflections and adding depth to colours. This means that even if you opt for bolder, deeper tones — be it a midnight blue or a rich terracotta — the space remains vibrant and lively, rather than descending into gloom. It's a chance to make dramatic kitchen colour design statements, with the sun playing the role of a natural spotlight, celebrating and enhancing your choices.
Consider Traditional vs. Modern Kitchen Styles in Colour
The tapestry of British kitchen design unfolds a spectrum from the rustic allure of the countryside to the sleek sophistication of urban aesthetics. Traditional kitchens tend to bask in the warmth of natural wood tones, enveloped by soft creams, soothing blues, and understated greens. On the flip side, modern kitchens more often embrace a world of stark contrasts: from the audacity of bold blacks to the pristine nature of pure whites, often punctuated by vibrant statement shades. But it's not just about colour alone; contemporary kitchen design dives deeper, experimenting with a variety of textures and finishes to create its distinct signature.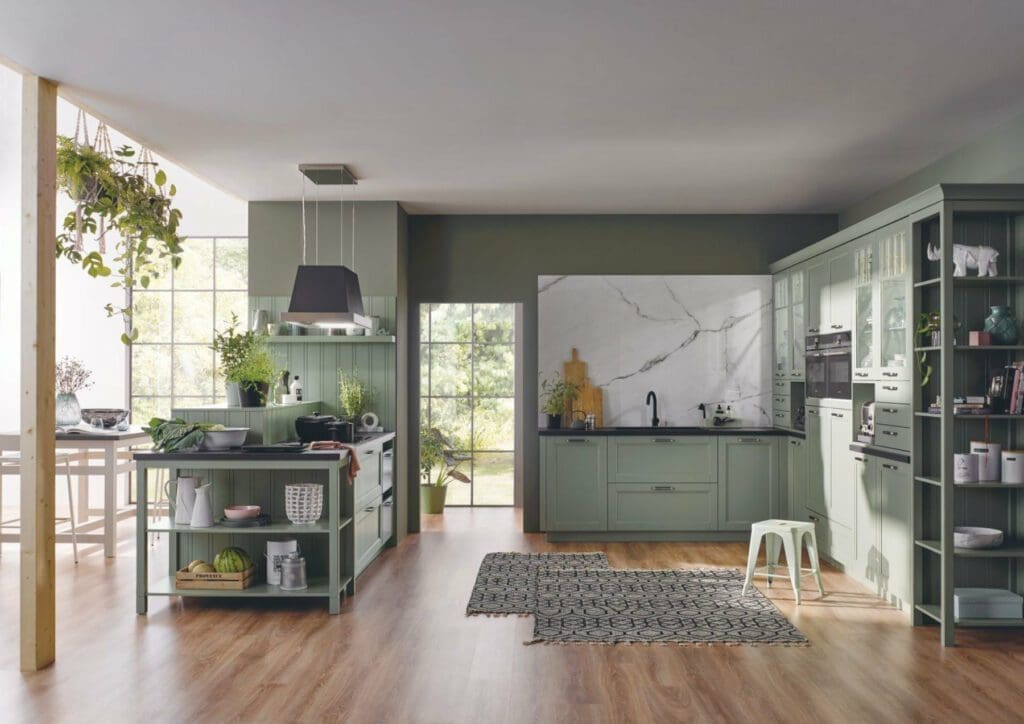 Apply The 60-30-10 Rule
If you want to achieve a successful and balanced kitchen colour scheme, consider employing the 60-30-10 rule:
60% dominant colour: This is your main hue, likely for cabinetry or walls.
30% secondary colour: This is the complement or contrast, perhaps for countertops or the kitchen island.
10% accent colour: This should be a bold hue used sparingly, maybe for bar stools, small appliances, or kitchen accessories.
Embrace the Beauty of Natural Elements
Natural materials, such as wood and stone, carry their own unique spectrum of colours and textures, which in turn brings unmatched authenticity and character to your kitchen space. Consider the warm, rich tones of oak cabinets, which exude an earthy charm, or the veined elegance of a marble countertop, displaying swirls of greys, whites, and sometimes even blues or golds. Rather than competing with these elements, allow them to take centre stage. Design around these natural shades, letting them guide and inform your choice of complementary kitchen colours and textures. By doing so, you not only honour the material's innate beauty but also craft a kitchen that feels harmonious and rooted in nature's own design playbook.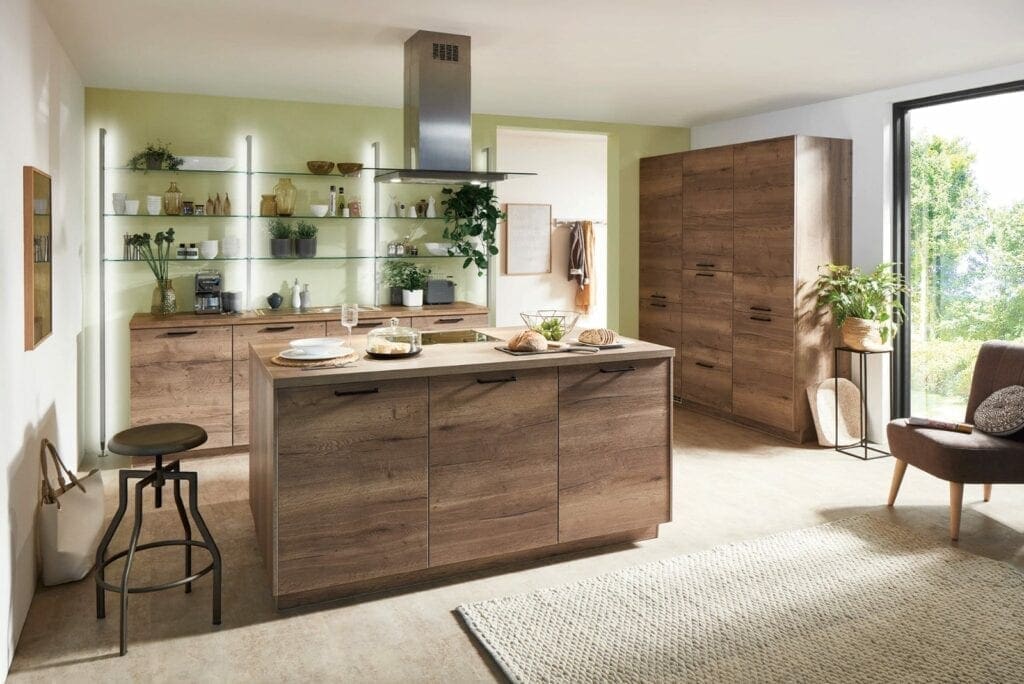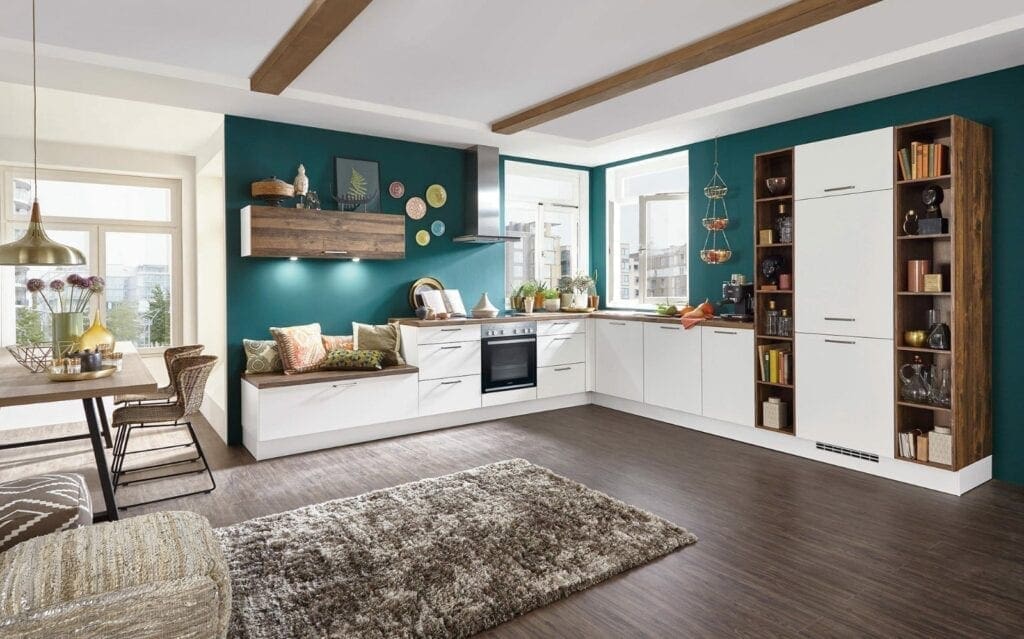 Test Before You Commit
Getting your kitchen colour scheme right is about far more than your choice of kitchen door and worktop colours. A complementary choice of wall paint is also essential and you should always test paint samples on large sections of your wall. Colours can change significantly based on lighting so check your samples at various times of the day and under artificial lighting to ensure you're happy with your choice.
Passing Kitchen Trends vs. Timeless Choices
While it's tempting to jump on the latest kitchen colour trend, remember that kitchens are a long-term investment:
Trendy kitchen hues: These can be fun, giving your kitchen a contemporary edge. If you love a trending kitchen colour, consider using it in ways that can be easily changed, like wall paint or accessories.
Timeless shades: Neutrals, soft blues, and greens, or even a classic British racing green, tend to age gracefully.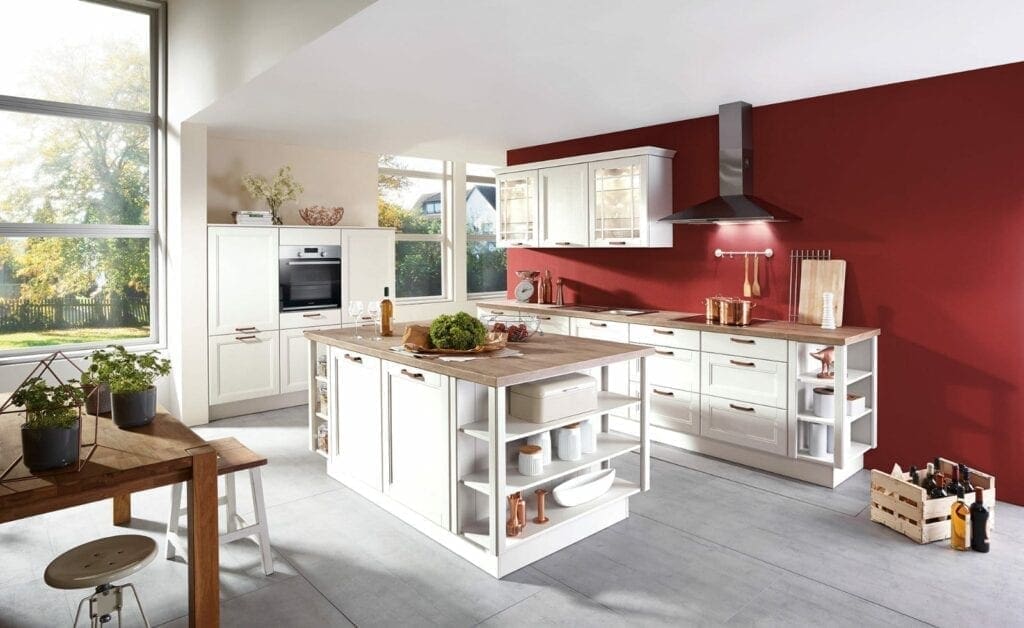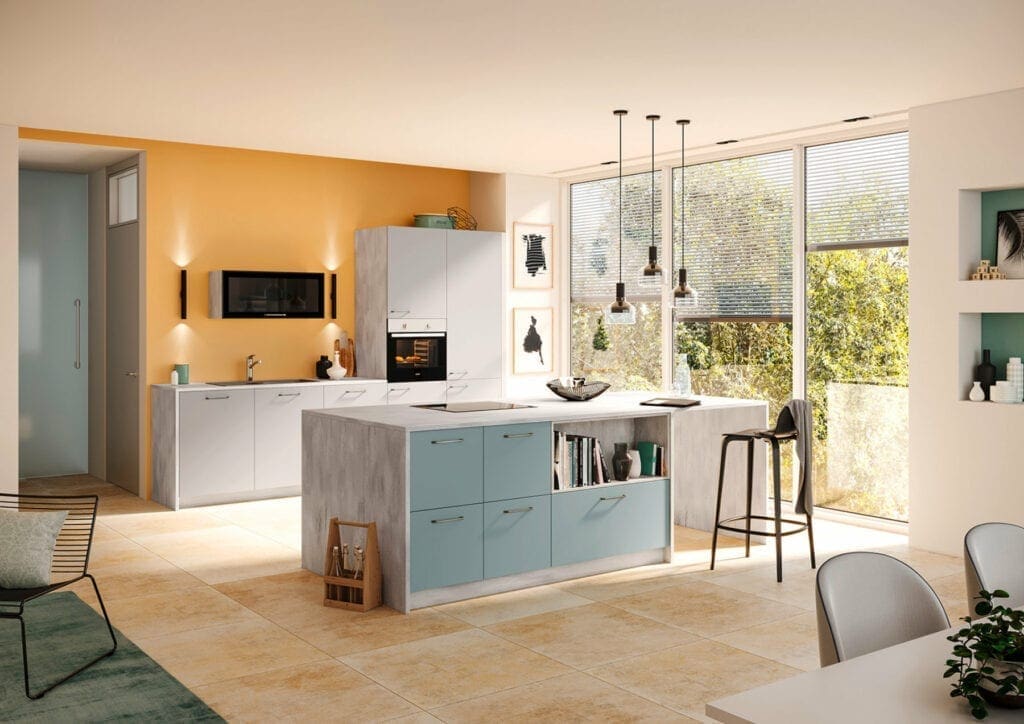 Mix and Match Your Kitchen Colours
When planning your perfect kitchen colours, don't feel confined to one colour but instead embrace the dynamic appeal of duality with a two-toned kitchen colour scheme. This kitchen style artfully blends two distinct shades or textures, and is a look which is extremely popular among homeowners and designers alike. Two toned kitchens offer a fresh, contemporary take on kitchen aesthetics, allowing you to play with contrasts, balance light and dark, or simply introduce a burst of vibrant colour alongside a muted neutral. The 'mix and match' approach adds visual intrigue but also carves out distinct zones within the kitchen, making it both a design statement and a functional strategy. Ideas for two-toned kitchens include:
Upper vs. Lower cabinets: Try a lighter shade on the top and a darker one below, or vice versa.
Kitchen island: Make it stand out with a contrasting hue or material.
Accent walls: Choose one wall to showcase a bold colour or pattern.
Kitchen Colour and Functionality
Kitchen colour isn't just about aesthetics; instead, when contemplating the best colour for your home you should consider its functional properties as well:
Easy to clean: Darker colours might conceal stains better, but they also show up scratches. Light colours might show dirt more readily, but can be refreshing and uplifting.
Mood and energy: If you're a morning person, perhaps a sunny yellow or invigorating red might kickstart your day. If you often unwind in the evening with cooking, soothing blues or greens might be your allies.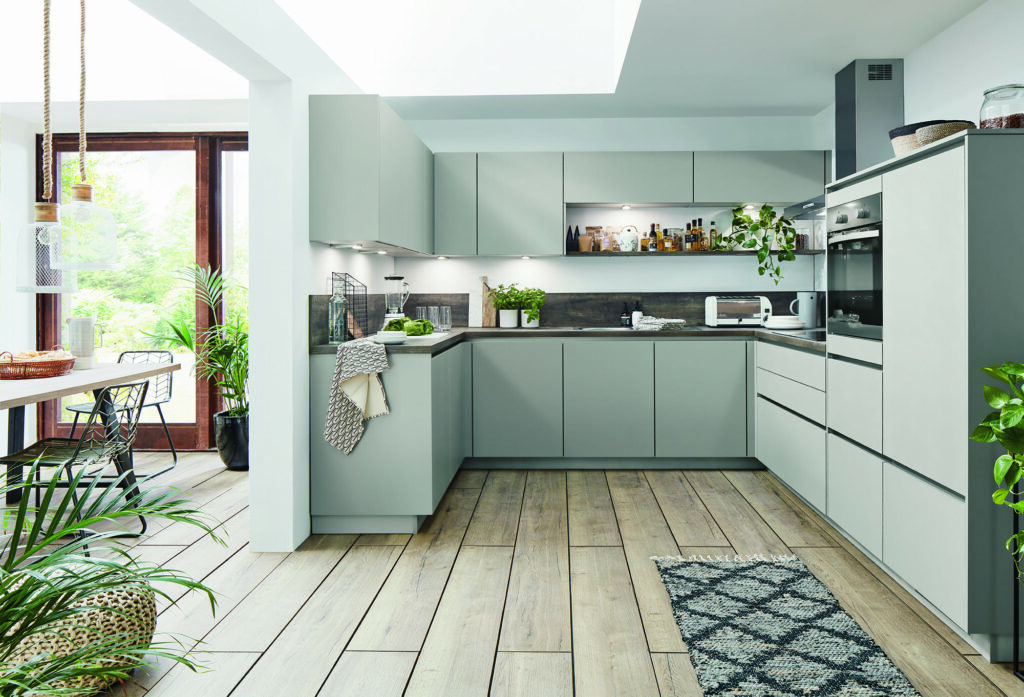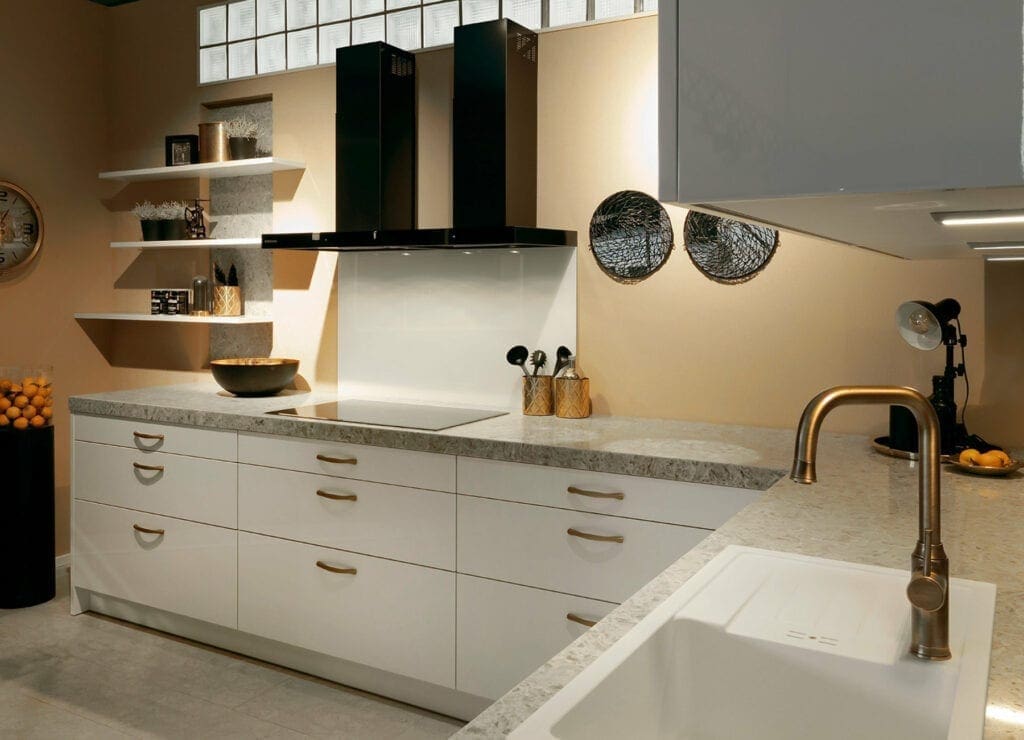 Finishing Touches
Once you've picked your primary kitchen colours, think about the smaller elements which will tie your kitchen look together:
Kitchen Hardware: Kitchen handles and taps in copper, gold, brushed steel – the choices are plentiful and can deeply impact the overall look of your finished kitchen.
Appliances: These can either blend in or stand out, based on your preferences. Retro fridges, for example, come in a range of fun colours.
Soft furnishings: Tea towels, blinds, barstools and chairs offer a chance to bring in splashes of colour, but without a significant commitment.
Start Planning Your Perfect Kitchen Colour Scheme Today
In conclusion, selecting the right colour palette for your kitchen is a blend of personal preferences, functionality, and aesthetics. But remember, the kitchen is where memories are made, quality time is spent, and meals are crafted with love. Talk to your nearest Kitchen Expert who can work with you to ensure you achieve the right kitchen colours for you; colours reflecting the warmth, joy, and soul of your home and family.