Achieving the Best Kitchen Layout
Looking for the best kitchen layout? …The main objectives for any new kitchen design are to accomplish a pleasing aesthetic within a kitchen that functions smoothly, facilitating your everyday needs and uses. Achieving this goal is largely dependent on effecting an appropriate and efficient kitchen layout.  This will benefit yourself, your family, houseguests, as well as future homeowners, should you later decide to sell your home.  So just how do you ensure the best kitchen layout when planning your new kitchen?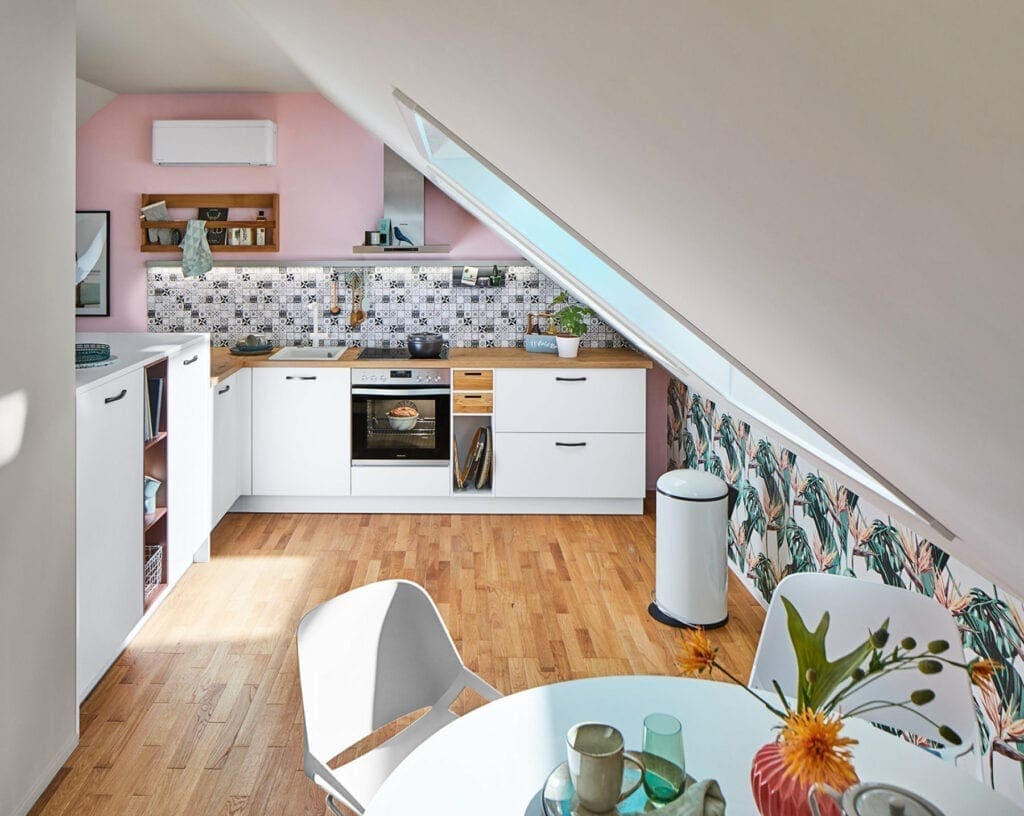 1) Evaluate your existing kitchen layout
The best kitchen layout for you should meet all your/your family's personal needs, lifestyle, cooking & eating habits. A great starting point for achieving this is to consider your existing kitchen and how you and your family each use it, as individuals, as well as all together. Ask yourselves:-
Do you cook and eat at different times, or do you eat together as a family?
Do you eat in your kitchen or have a separate space for dining?
Do you use your kitchen socially, such as for dinner parties and entertaining friends.
Do any family members use the kitchen for work, homework or watching television?
What kitchen appliances or other kitchen goods do you consider essential?
Do you have enough, or feel you need more space, including for storage?
These type of questions will help establish individual or family routines, requirements and preferences for inclusion within your new kitchen design; it will also help you establish what you might like to remove, change or improve on!
2) Establish a Personalised kitchen layout
Redesigning your kitchen lets you improve on what you like about it and get rid of what you don't! Consider what alterations or additions to the layout would make life easier, and better for you and your family. For example, if your family has grown since your previous kitchen design then you would likely need more storage space and perhaps a bigger fridge and/or freezer. If your family don't eat together because of a lack of space, but you would like them to, then perhaps a kitchen island or breakfast bar could introduce more seating to accommodate this.
Personalised kitchen preferences, especially if there's a predominant kitchen user, can also extend to which direction you would like your cupboard doors to open, often dependent on whether you are right or left-handed. Similarly, for sink drainers, you might choose the left or right side according to which best suits your dominant hand. Other layout choices to benefit a user might include a mid-height oven or dishwasher, preventing bending and straining a bad back when unloading their contents. There are many possibilities such as these, which help enhance personal kitchen use. The best way of incorporating them is to convey your usage, requirements and preferences to your kitchen designer so they can help you fully explore all options.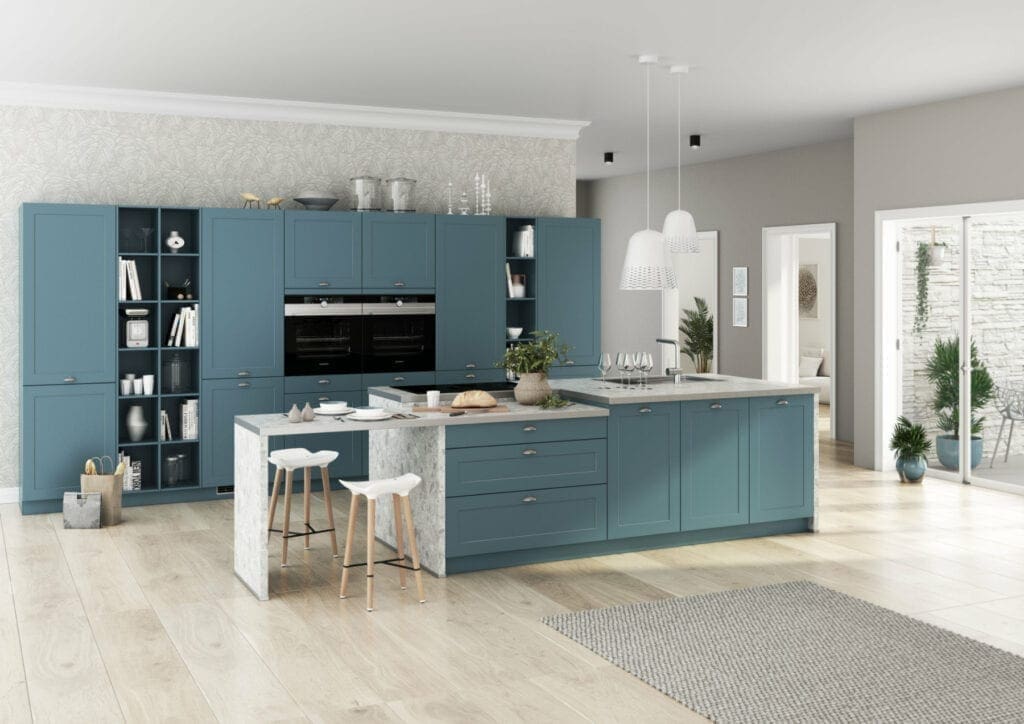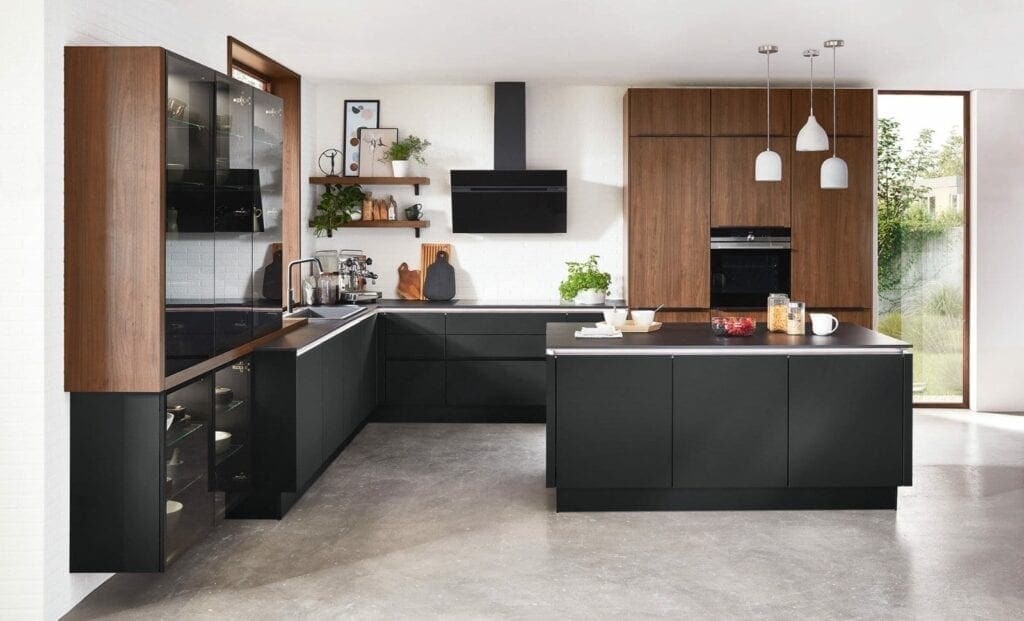 3) The Best Kitchen Layouts Include Working Zones
Incorporating working kitchen zones within your planning stage should also help you effect the best kitchen layout for both you and your space. Separate zones within your kitchen define where different activities take place, such as a food preparation area, cooking area, washing up area and dining area. You can store all utensils and equipment you need for each area within the same site, such as putting your washing up cloths, liquid, sponges and bowls beneath your sink. This makes usage easier but also helps keep the working zone clear of other house members, which is especially important and safer for the cooking area.
4) Decide the Best Kitchen layout for Appliances, Sockets and switches
Your working kitchen zones, as well as establishing how you would like to use your kitchen, can also help you in working out the location of your appliances, sockets and switches. It is important to define where your appliances will sit so you can ensure the plumbing, electrics and lighting are located accordingly.
Similarly, if you use your kitchen for work and social as well as cooking, you might need to introduce more sockets and at specific locations to accommodate additional lighting, laptop chargers, or other accessories such as televisions.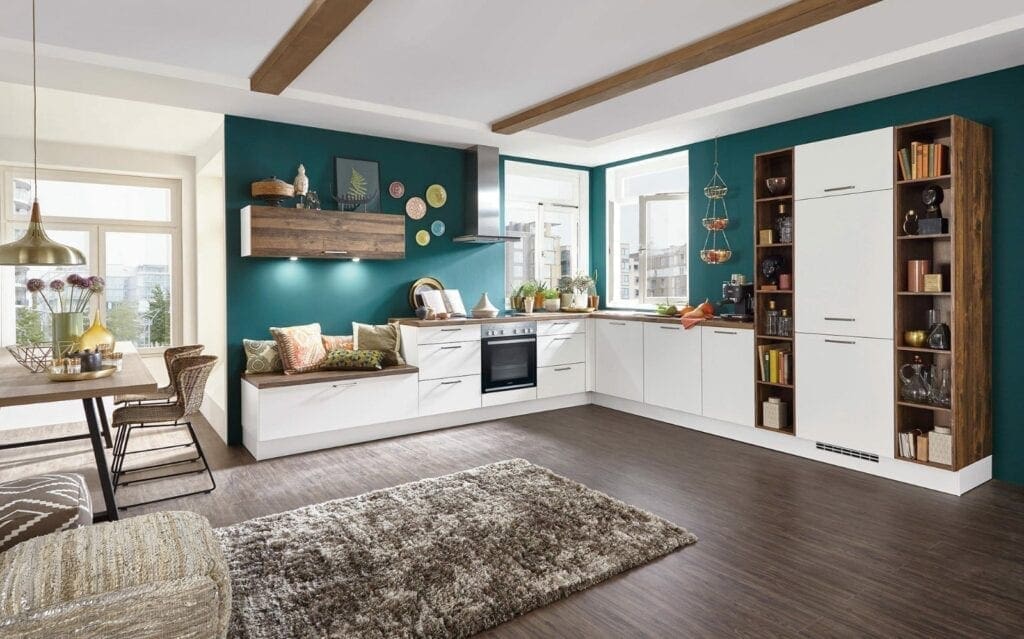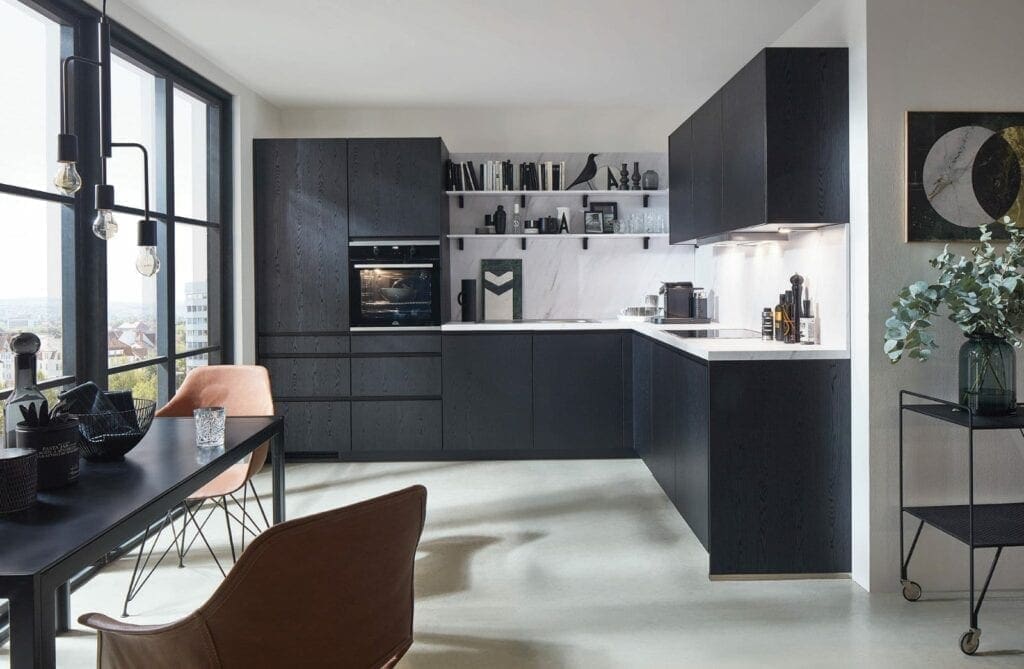 5) Kitchen layout and lighting
When planning a kitchen, you should always ensure enough lighting and use this to enhance functionality. Where possible, plan your best kitchen layout so that the working area of the kitchen is close to a natural light source. This enables a more user-friendly, easy, and enjoyable cooking experience.
Similarly, or as an alternative, if you plan to include a dining table in your kitchen then you might want to locate this in the area that receives most sunlight, and so benefit from it during mealtimes. Where natural lighting is restricted then ensure plenty of lighting options when planning your layout. For example, if the food preparation area is short of light, then introduce spotlights or shelf lighting beneath your cabinets to illuminate the work surface beneath.
6) Plan accessible storage within your design
Within any kitchen design it is key to ensure sufficient storage space, but you can also locate your storage options within areas of the kitchen that will facilitate use. For example, storing your plates and glasses near to your dishwasher will mean travelling less distance to unload them. Including options such as larder cupboards, corner units, or spice racks within your layout is also beneficial as they ensure their contents are highly visible. This means you can easily see and access specific items you require at any given time without the frustration of rummaging around a cupboard.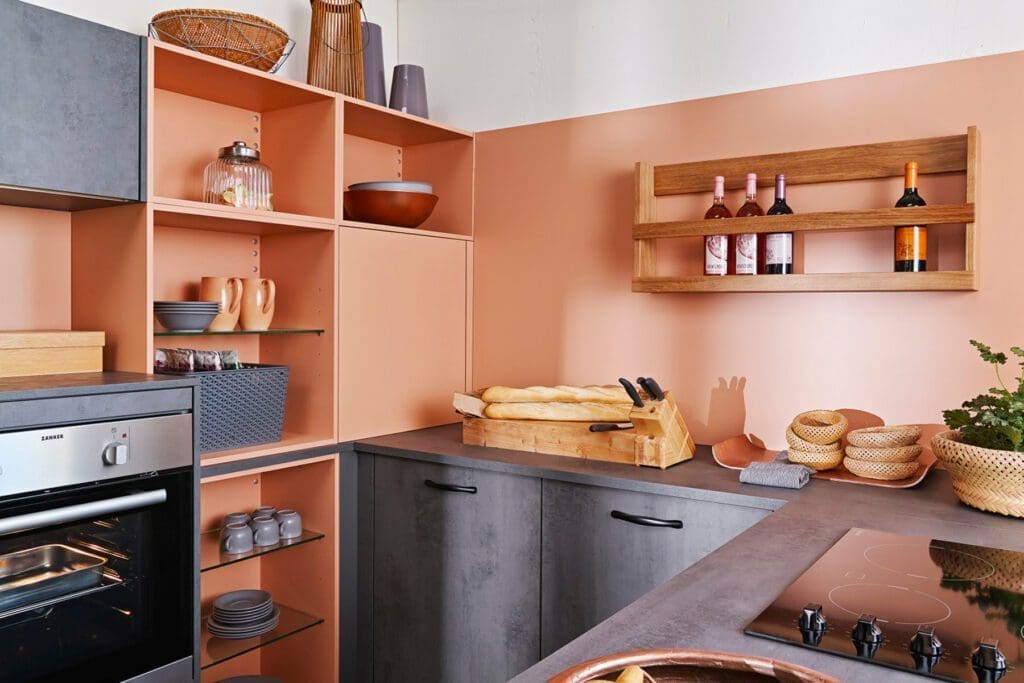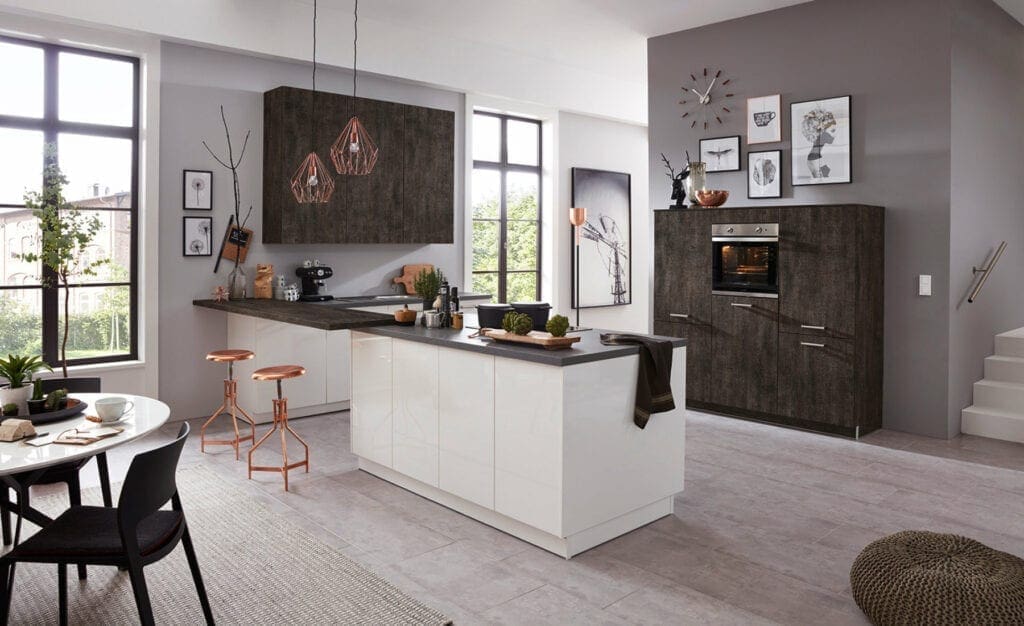 7) The best kitchen layout will maximise space
Making effective use of space is advisable for any kitchen layout, no matter whether the kitchen is large, small, or whatever the shape. Any changes or new additions to the kitchen will need accommodating within the existing space, and ideally within the best possible means and location for simplifying use. For example, if you like to have friends to visit then you could consider adding a breakfast bar to the kitchen island that you had originally intended as a food preparation area; you just need to add stools, and these can tuck neatly underneath when not in use. Another space maximising idea to enhance your kitchen layout might be kitchen corner units. These make effective use of otherwise unused corner space for storage. Similarly, to save on space, consider if a combined fridge/ freezer or washer-dryer might be better for you than separate fridge and freezer, and washing machine and tumble dryer?
8) See what different kitchen layout ideas look like!
Kitchen planner tools are easy to find online and can be useful but the best way of planning and ensuring an effective kitchen layout is to discuss your needs and ideas with a professional kitchen designer. Firstly, they can advise on what will and won't work within your kitchen and will often suggest better alternatives that you perhaps hadn't thought of.
Secondly, most kitchen designers can visit to measure your kitchen, or else require only a rough drawing with measurements to be able to produce visuals of your intended design. From here, you can make multiple changes to the proposed design until you reach the final layout that works best for yourself and your family.
To find an expert kitchen designer near you who can help you find the best kitchen layout for your needs and your space, contact the Kitchen Experts today.