In the realm of interior design, a modern kitchen is typically a gastronomic hub, bringing families and friends together for shared moments of cooking, dining and socialising. However, having a great kitchen is about far more than aesthetics; a well-organised kitchen is also integral to efficient meal preparation and clean-up, and it can help create a harmonious relationship with our cooking adventures. One crucial element that underpins this efficiency is storage. Here we'll delve into the innovative world of modern kitchen storage solutions, focusing on the different types, their benefits, and how they can contribute significantly to enhancing your everyday kitchen experience.
Kitchen Cabinet Storage Solutions
The first thing that springs to mind when considering kitchen storage are the cabinets. These are the workhorses of kitchen storage and can be customised to suit your exact needs. For example:
Pull-out Shelves: Fitted inside your kitchen cabinet, pull-out shelves allow easy access to everything you need within by simply sliding the shelf out. They maximise space and eradicate the need to rummage at the back of a deep cupboard. This solution is ideal for those looking for convenience and accessibility.
Corner Cabinets: Once a headache for home designers, corner spaces are no longer wasted thanks to clever corner cabinets. Solutions like LeMans corner units and Magic Corner units use innovative swivel and pull mechanisms, allowing easy access to the very back of the corner space. These systems can revolutionise the usability of your kitchen, making the most of every nook and cranny.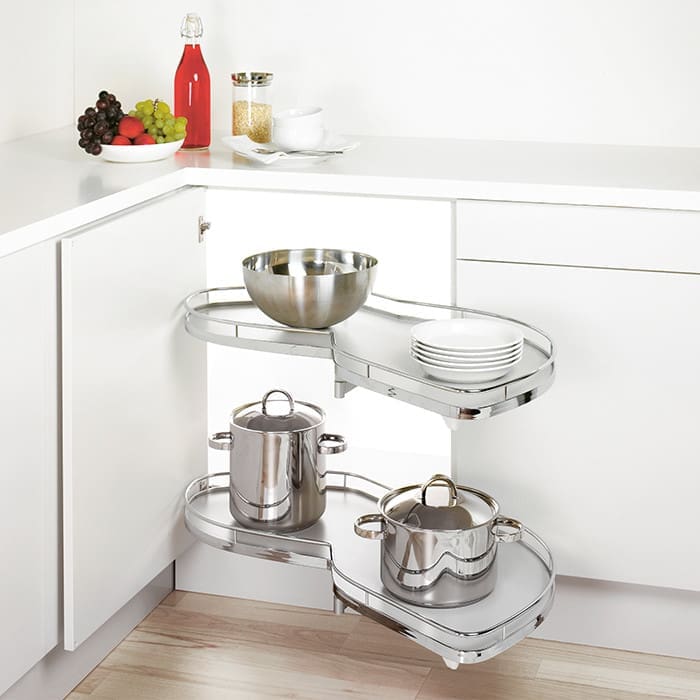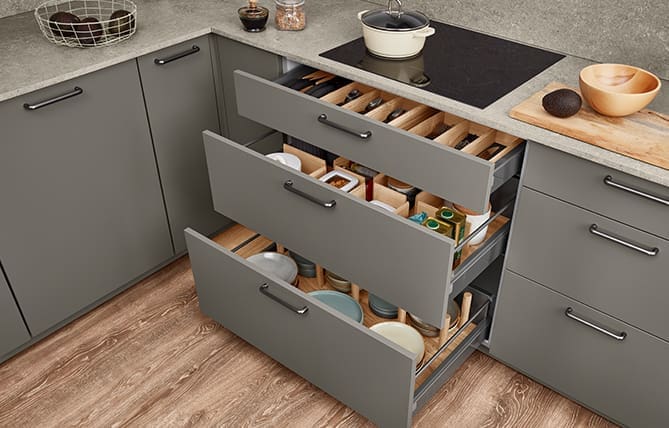 Drawer Storage Solutions
Traditional but effective, kitchen drawers are a powerful tool in the fight against kitchen clutter. For example:
Deep Drawers: Ideal for larger items such as pots, pans, and small appliances, deep drawers are a dream for keeping everything organised and within arm's reach. Combine them with drawer dividers or peg systems to further customise and optimise your space.
Cutlery and Utensil Drawers: These shallow drawers, equipped with bespoke inserts or dividers, are excellent for organising smaller items such as cutlery and cooking utensils, preventing your implements from becoming a tangled mess.
Open Shelving and Hooks
Open shelving is a two-fold solution, offering a stylish way to display your kitchenware while also providing easy access to frequently used items. For example:
Floating Shelves: These wall-mounted shelves offer a clean and contemporary look. You can use them to showcase everything from your favourite dishes or glassware to a collection of cookbooks or decorative art pieces.
Hooks and Hanging Racks: These systems, often fixed to a wall or beneath a cabinet, can be conveniently used to hang anything from mugs to utensils. Hooks are a versatile and easily changeable solution, ideal for smaller kitchens.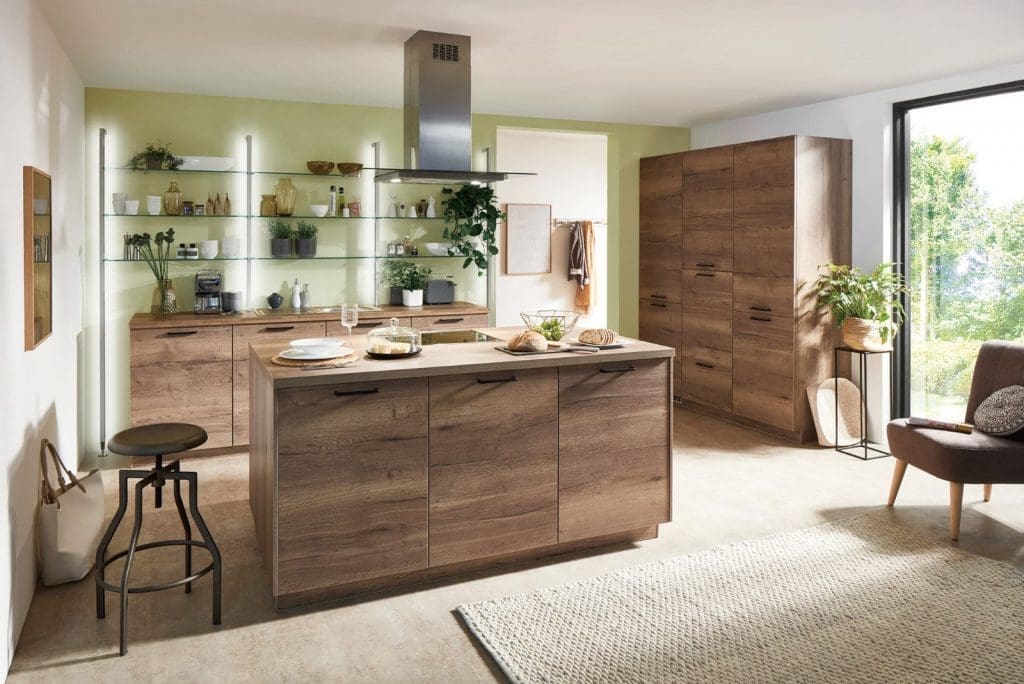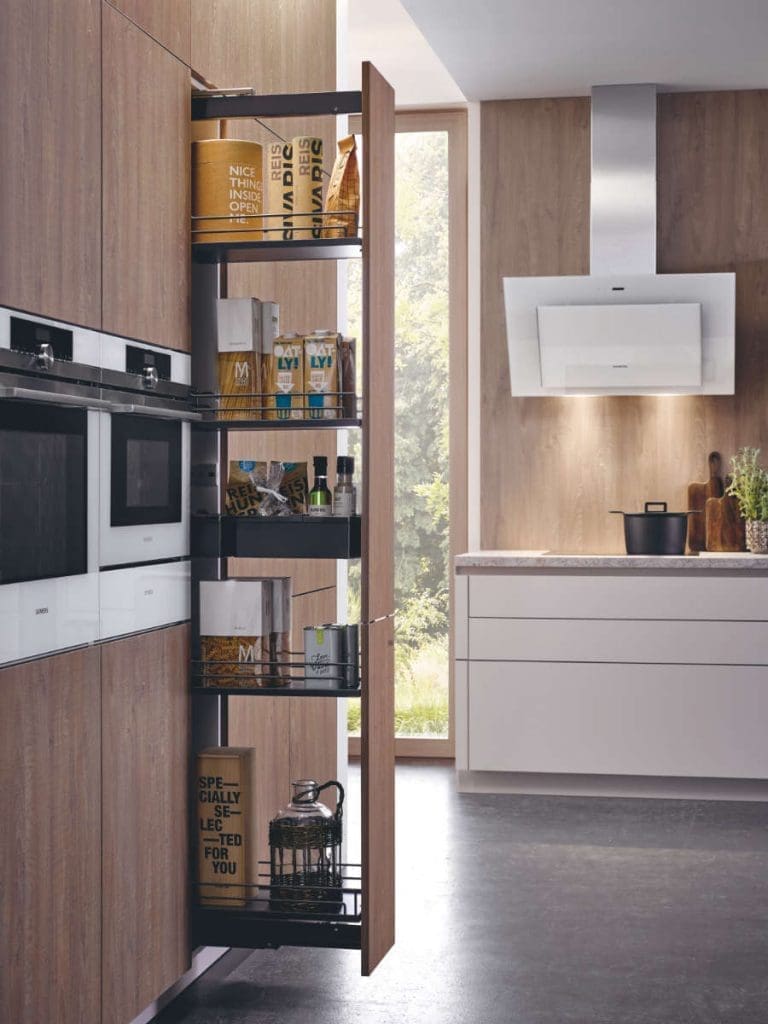 Pantry and Larder Units
A well-organised pantry or larder can be a real game-changer when it comes to modern kitchen storage, providing plentiful and practical storage. For example:
Freestanding Pantries: These are standalone units that offer a wealth of storage options. Often, they will combine shelving, drawers, and hooks to provide a comprehensive storage solution.
Built-in Larders: These units are built into your kitchen's existing layout. They can be tailored to your exact specifications, making the most of your available space. Pull-out shelving and door-mounted racks within these larders can provide a fantastic organisational boost.
Kitchen Islands, Peninsulas, and Trolleys
A kitchen island, peninsula or even a trolley can provide additional storage while also offering a versatile kitchen worktop area. For example:-
Kitchen Islands: With their combination of cabinets, drawers, and open shelves, kitchen islands can significantly expand your storage capabilities. An island also creates a central hub for cooking and socialising, making it ideal for busy kitchens or those that like to entertain frequently.
Kitchen Peninsulas: Similar to islands, kitchen peninsulas offer the same benefits except for the fact that they are attached at one end of your kitchen units, making them a better solution for smaller kitchen spaces as they take up less of your kitchen's floor area.
Kitchen Trolleys: These mobile units are particularly useful in smaller kitchens where space is at a premium. They offer flexible storage and can be moved out of the way when not in use.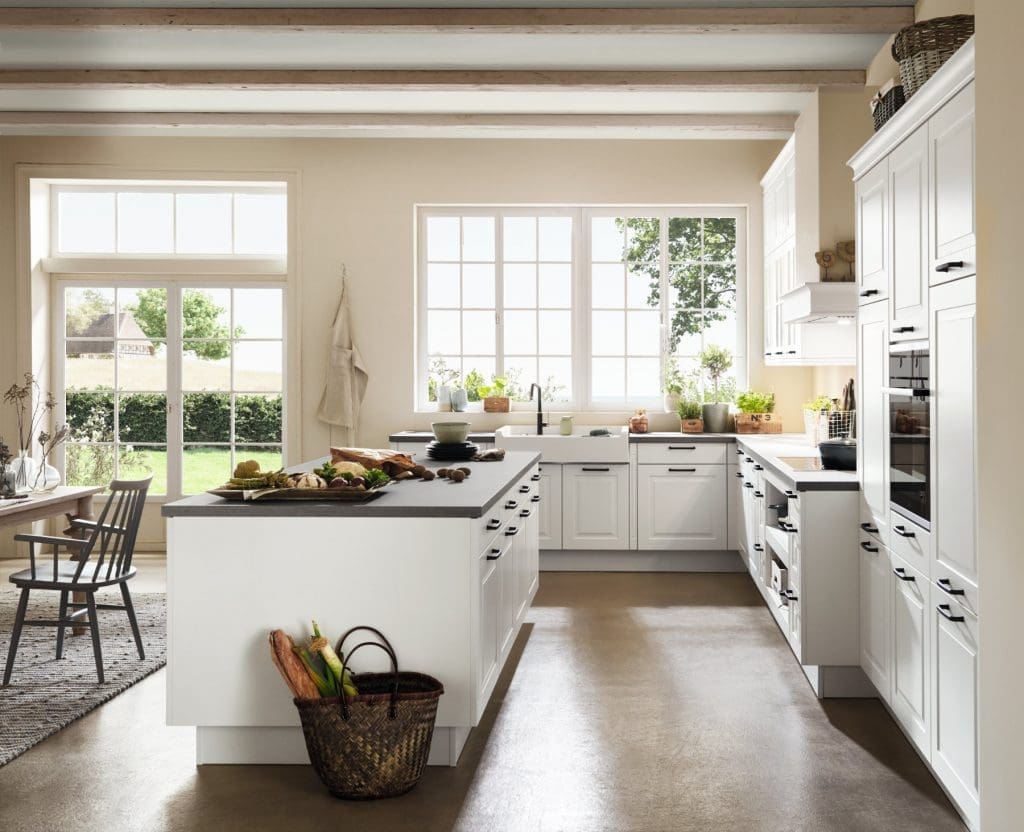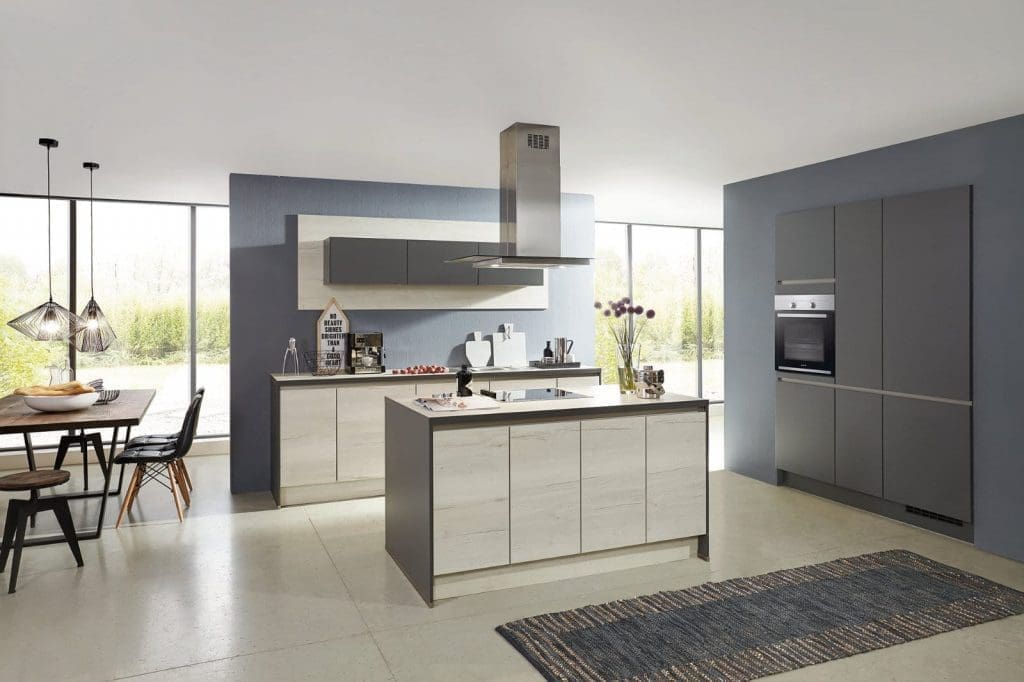 How are Kitchen Storage Solutions Beneficial?
The fundamental benefits of these varied kitchen storage solutions can be distilled into four main categories:
Space Optimisation: By using your kitchen space more efficiently, you'll free up additional room for movement, preparation, and cooking, leading to a more enjoyable experience overall.
Improved Accessibility: Well-organised storage ensures that every pot, pan, utensil, or ingredient is readily accessible. No more hunting for that elusive spice at the back of a cluttered cupboard!
Enhanced Aesthetics: No one can deny that a well-organised kitchen simply looks better. It invites you in and encourages you to create. Plus, by reducing clutter, you allow the beauty of your kitchen design to truly shine.
Reduced Stress: There's an undeniable sense of calm that comes with knowing where everything is, especially in the midst of a challenging recipe! …A well-organised kitchen reduces stress and frustration, allowing the joy of cooking to take centre stage.
Personalise Your Kitchen Storage Choices
Embracing kitchen storage solutions that align with your needs and kitchen layout can transform your cooking experience. You'll find the simplicity and effectiveness of these solutions to be truly transformative, fostering a harmonious relationship between you and your kitchen, and perhaps even sparking new culinary ideas!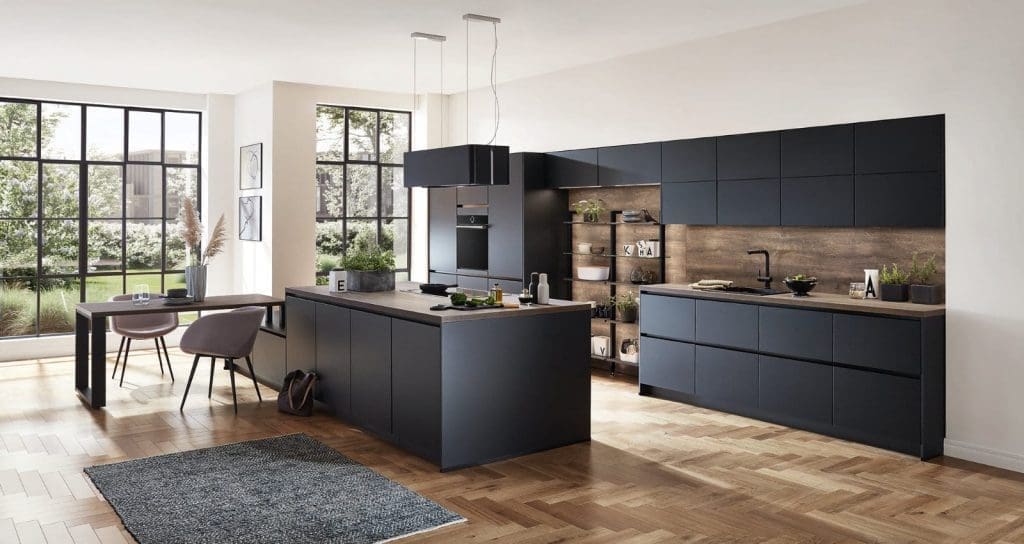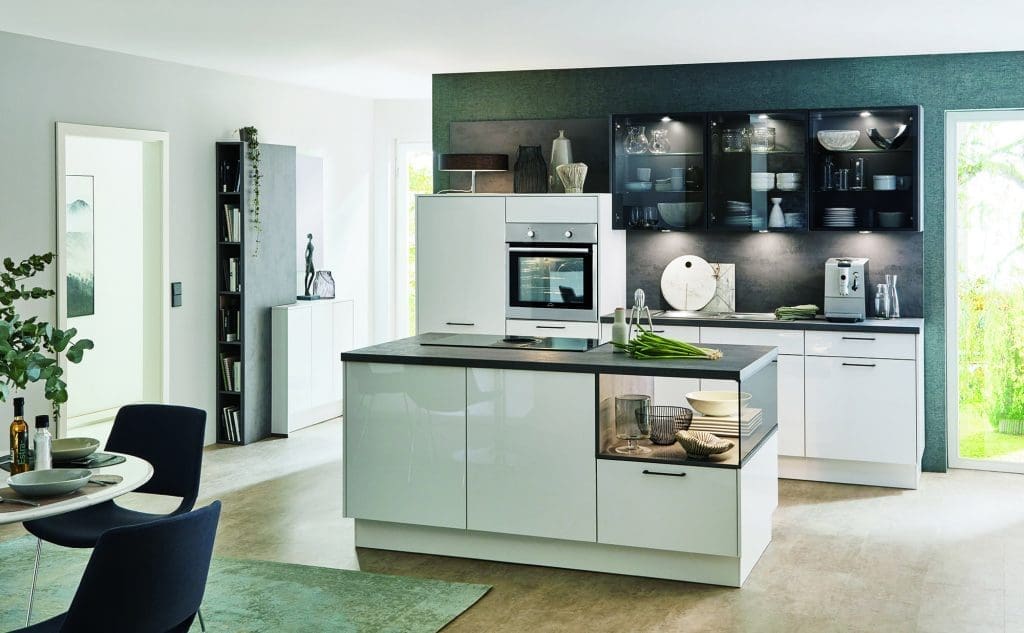 Plan Your Perfect Kitchen Storage with the Help of the Kitchen Experts
In conclusion, whilst the kitchen has always remained steadfast as the heart of the home, kitchen storage solutions have evolved tremendously over the years. Whether your style is contemporary or traditional, whether your kitchen is small or expansive, there's a storage solution that will fit your needs and enhance your culinary experience. By carefully considering each option and their inherent benefits, you can create a kitchen that is not only aesthetically pleasing, but also practical and efficient, resulting in a space that invites creativity, conversation, culinary excellence and countless memories and moments to come!
For help in planning your perfect kitchen layout and storage solutions contact your nearest Kitchen Expert today.